Everything You Need to Know About Bathroom Window Treatments
Aug 22, 2022
When designing a bathroom, it can be easy to think of the windows as purely functional. Maybe you don't think of them as an important design element, like wall tiles or flooring. But covering the bathroom windows is crucial to making a bathroom functional for your clients and delivering a beautiful design.
Bathroom windows are fantastic sources of natural light, which is crucial for your clients while they're getting ready for the day or for a night out. But those same windows can also be a privacy nightmare. That makes covering them tricky because you must offer privacy without sacrificing natural light. And you have to keep in mind that bathrooms can be incredibly humid, meaning the window coverings you select must be durable and easy to maintain.
Today, we wanted to share a few of our favorite window treatment options for bathrooms that will match any design concept.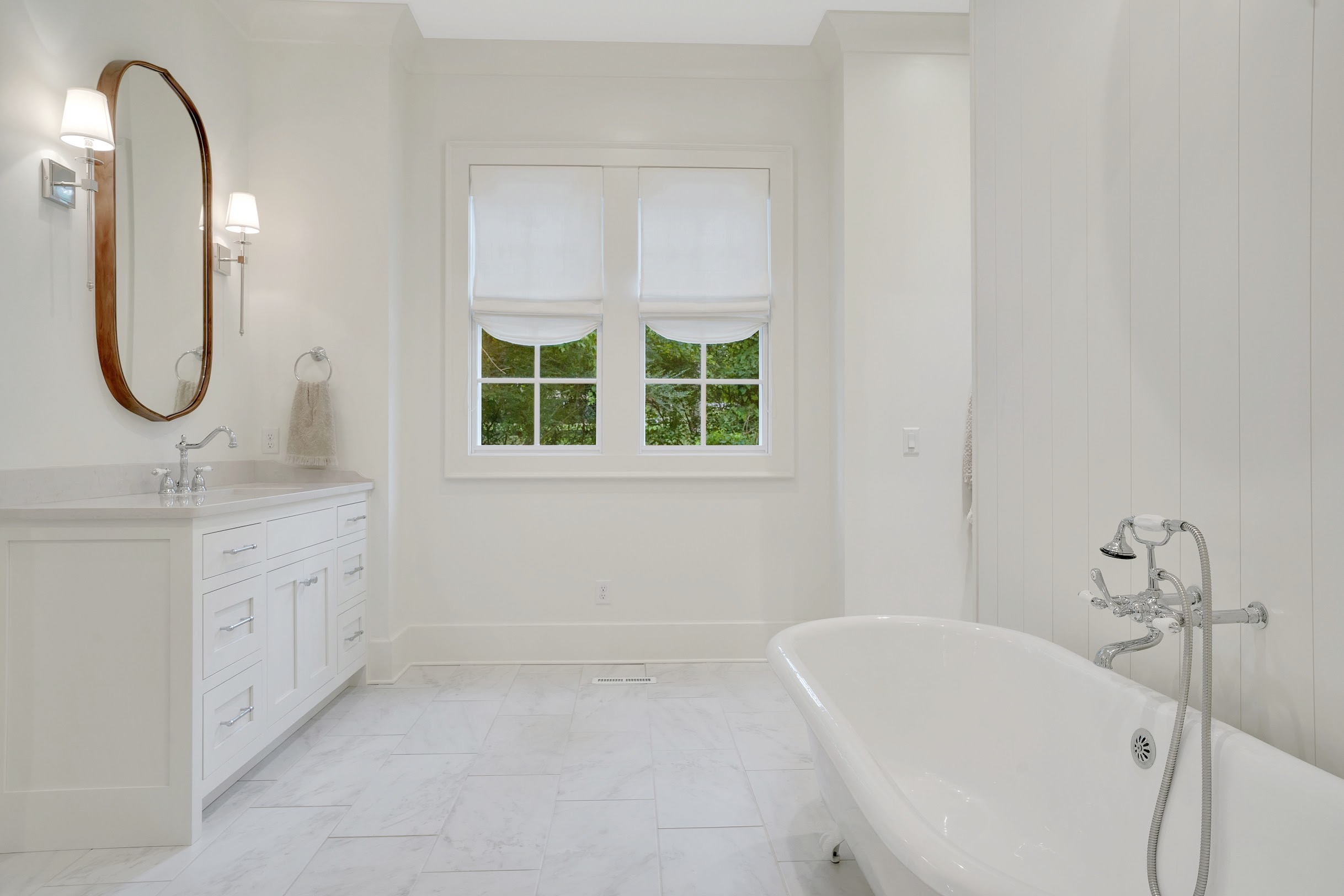 Soft window coverings for southern bathrooms
As long as the window is not too close to the shower or other source of moisture, soft window treatments are a beautiful option. You can choose fabric to complement your design and make a bold statement. Plus, the material will soften the hard surfaces, including the tile and countertops.
Draperies
Drapery panels may be unexpected in a bathroom, but they're particularly stunning in a historic home or alongside a traditional design style. They bring a layer of softness to a room filled with hard surfaces, and they allow you to introduce color and pattern on a large scale. We recommend selecting a performance fabric that does not require much maintenance, dries quickly, and holds its shape in high humidity conditions. Once installed, your clients can open and close their draperies as needed to let in natural light or gain privacy.
Read also: Drapery 101: Everything You Need to Know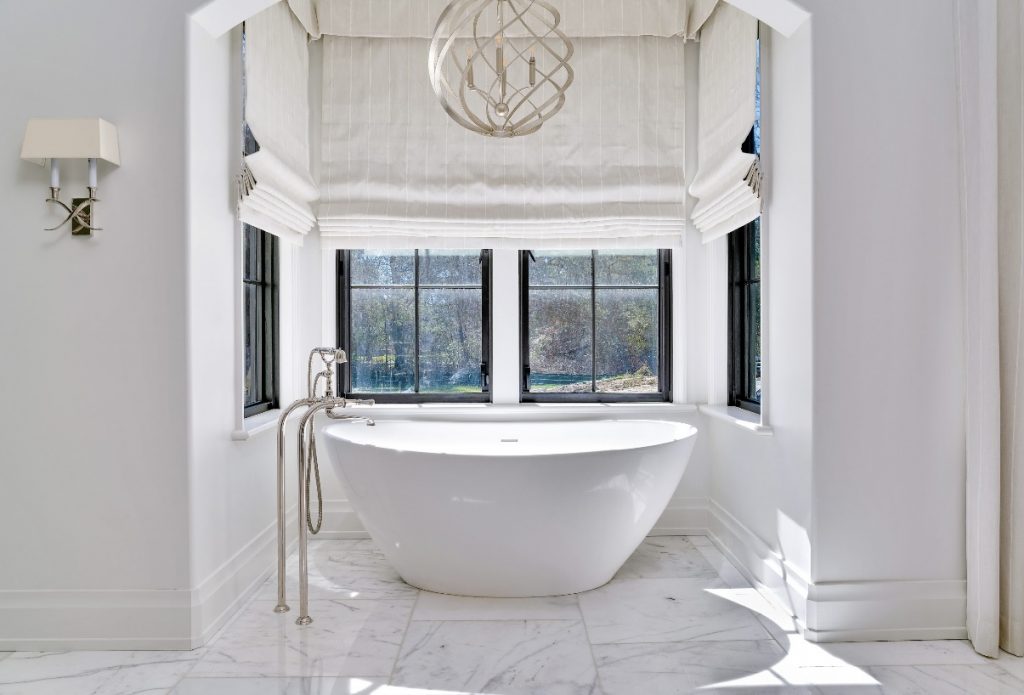 Roman shades
Roman shades provide the softness of draperies but the flexibility and convenience of blinds. When opened, they fold up out of the way to give your clients plenty of natural light. But when closed, they provide complete privacy. As with drapery panels, we recommend selecting a performance fabric that's resistant to mildew and can be easily cleaned. Unlike draperies, though, they do not take up as much visual space. That means Roman shades can help you breathe new life into even the smallest bathroom with limited opportunities to make a design statement.
Read also: Everything You Need to Know About Roman Shades
Sheers
Sheers can help your clients' bathroom feel like a relaxing, luxurious spa retreat. They provide privacy without blocking natural light from streaming into the room. Sheer draperies or shades will soften the harsh light and hard surfaces with gentle texture. For a more playful option, café curtains let natural light flood in through the top of the window while providing privacy at the bottom.
Read also: 5 Reasons to Love Sheers in Your Chattanooga Home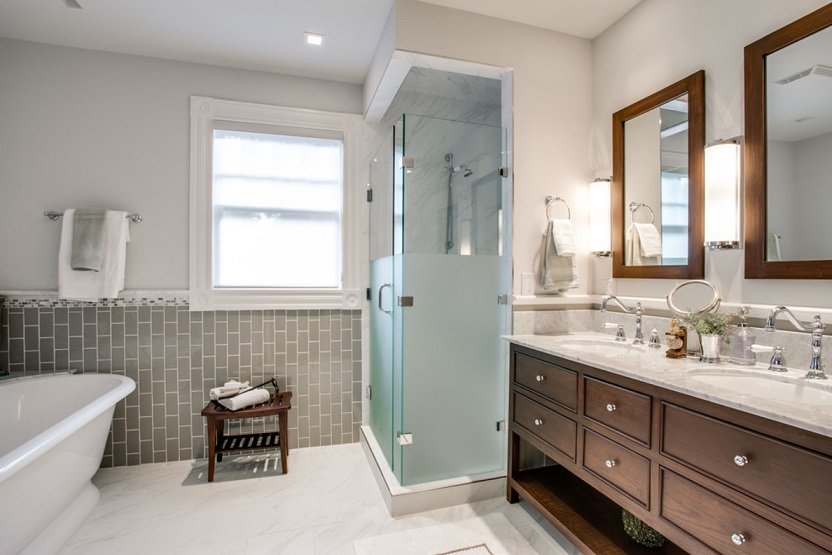 Hard treatments for bathrooms in the southeast
For windows near the shower (or even in the shower), hard window treatments may be your best option.
Window film
Window film allows you to provide your clients privacy in their bathroom without losing the natural light. The views into the bathroom will be obscured from the outside. Unlike most other window coverings, frosted window film cannot be opened and closed.
Blinds
Blinds are easy to clean and allow your clients to control the amount of natural light in their bathroom by tilting the slats to open or close. Blinds can be made from a variety of materials. Real wood blinds are not typically the best option for bathrooms because the wood may warp or discolor from the moisture in the air. Instead, we recommend using PVC vinyl, aluminum, or faux wood. All these options come in various colors to match any style and design concept.
Roller shades
Roller shades are another great option for bathroom windows. They can be raised to add natural light or lowered to provide your clients with privacy. Because they lack slats through which heat can escape, roller shades will help insulate the bathroom and make your clients' homes more energy efficient. Plus, we can motorize them so your clients can easily operate even the most hard-to-reach windows. Or try a top-down/bottom-up option so your clients can have natural light and privacy at the same time.
Read also: Roller Shades: 5 Reasons You'll Love Them in Your Chattanooga Area Home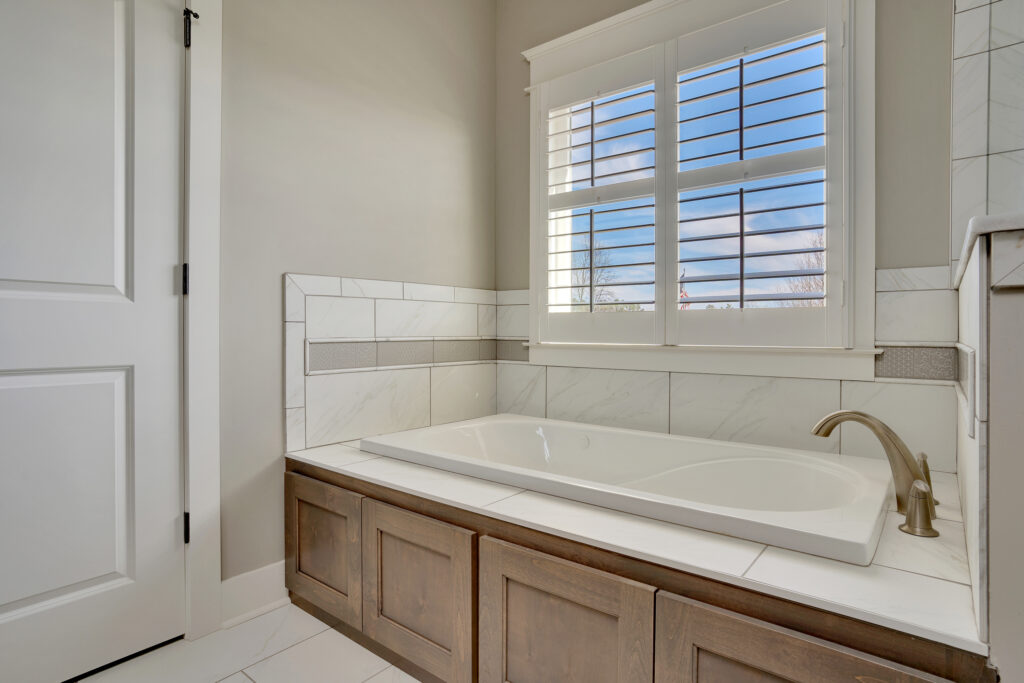 Interior shutters
Interior shutters are a great way to add southern charm to your clients' bathrooms. Plus, the louvers can be tilted up or down to let in light without compromising privacy. Interior shutters are constructed from wood or medium-density fiberboard (MDF) composite. Treated properly, interior shutters can withstand the high humidity present in a bathroom. MDF composite shutters tend to last longer in bathrooms while still giving you the look of real wood.
Read also: Everything You Need to Know About Plantation Shutters in Chattanooga, TN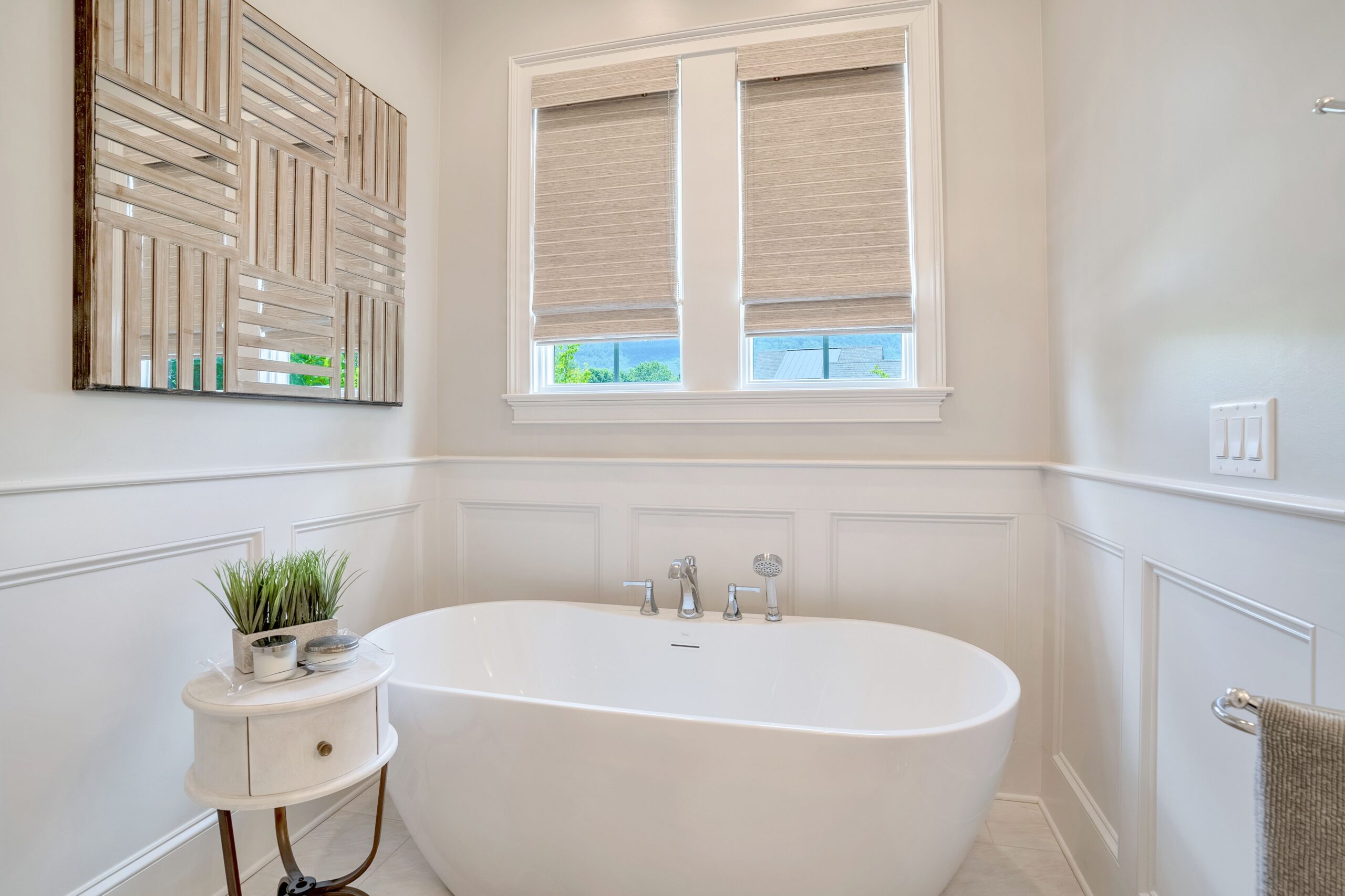 Woven woods
Woven wood shades come in many style options and come in a range of colors from soft neutrals to bold tones. So you'll be able to find the perfect option for your design. The natural texture will add unique visual interest to your clients' bathrooms while letting in soft, diffused light paired with complete privacy.
Read also: Woven Wood Shades Add Texture & Warmth to Your Chattanooga Area Home
Layered window coverings
If you cannot decide between hard or soft window treatments or if you want to create a truly unique look for your clients' bathroom windows, then layer window coverings. Start with a simple yet practical base layer and pair that with completely custom draperies or a top treatment.
Read also: Everything You Need to Know About Layering Window Treatments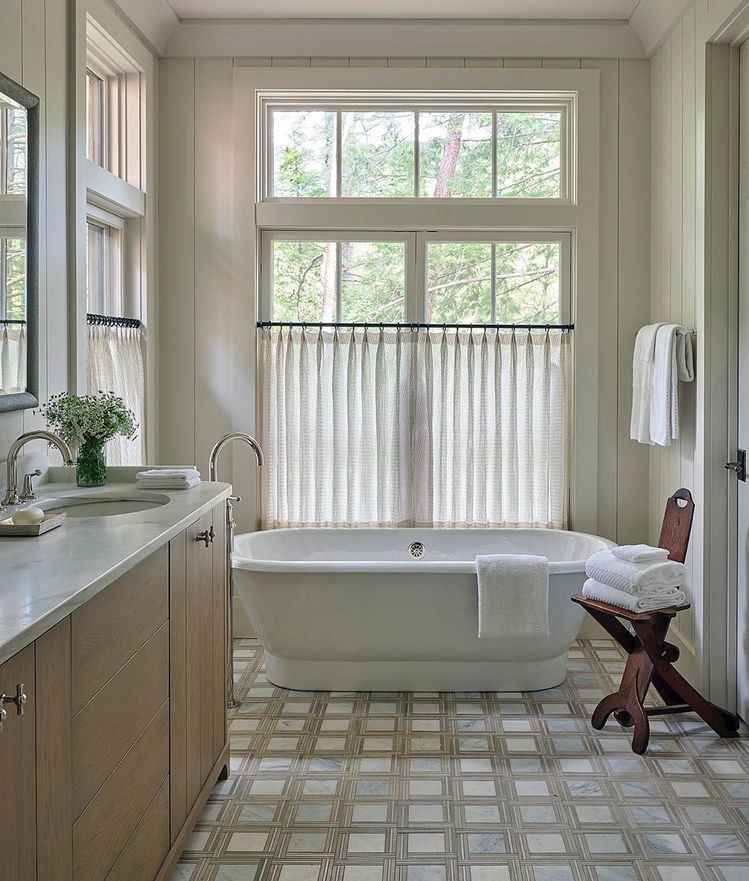 Partner with High Country Drapery Designs on your next bathroom project
High Country Drapery Designs is a leader in custom window treatments and window motorization. Our award-winning team will work alongside you to design and fabricate the perfect window coverings for your clients' bathrooms. We can even create custom shower curtains for a truly stunning look that your clients will love. If your clients want to add smart home capabilities to their bathrooms, we can motorize their window treatments. Contact us today to learn more!