Drapery 101: Everything You Need to Know
May 16, 2022
We love custom draperies here at High Country Drapery Designs. They add beauty, texture, color, depth, and southern style to your home. To help ensure your windows are well-dressed and perfectly framed, we're breaking down some drapery basics here.
Drapery header styles
The header refers to the various types of tops used for drapery panels, most notably the various pleating options. A pleat will give your draperies structure and shape, adding volume and texture. The pleating style impacts how the fabric will hang, the drapery's fullness, the stack back required (the amount of wall space drapery takes up when open), and how functional the panels will be. Let's explore the five most common header styles in the southeast.
Read also: 5 Popular Drapery Pleating Styles in Chattanooga, TN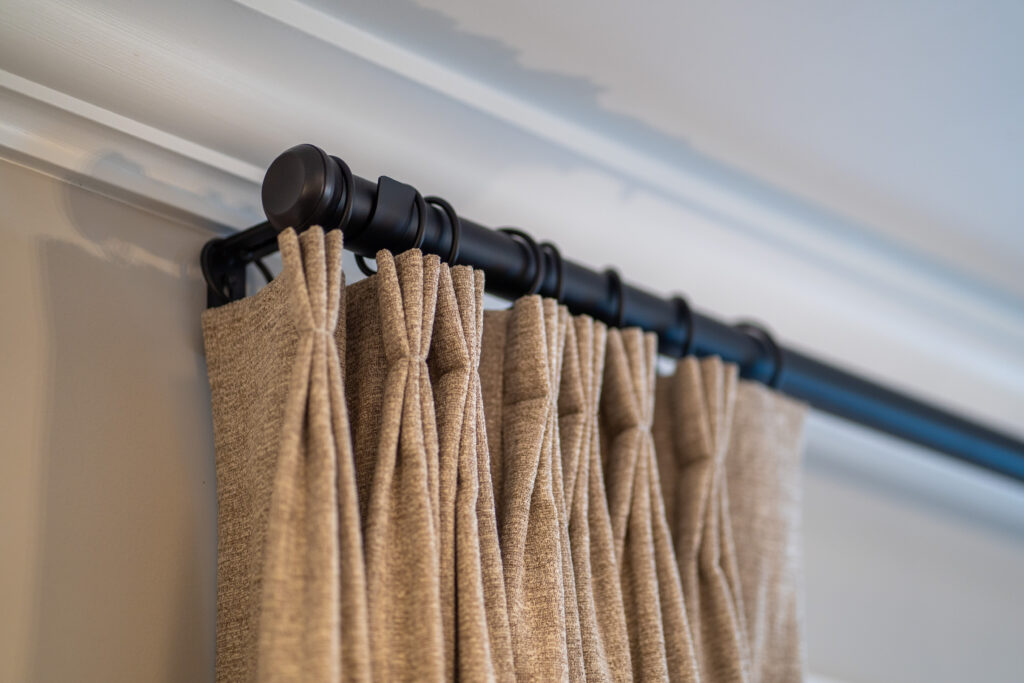 French pleat
French pleats or pinch pleats consist of narrow, closely-spaced folds called fingers. The folds appear to be pinched at the base, forming fans above and below the pleat. A french pleat is a timeless, traditional option that will give your room an elegant, finished look. This particular pleat requires a large stack back, so ensure you have plenty of room on each side of your window for unobstructed views.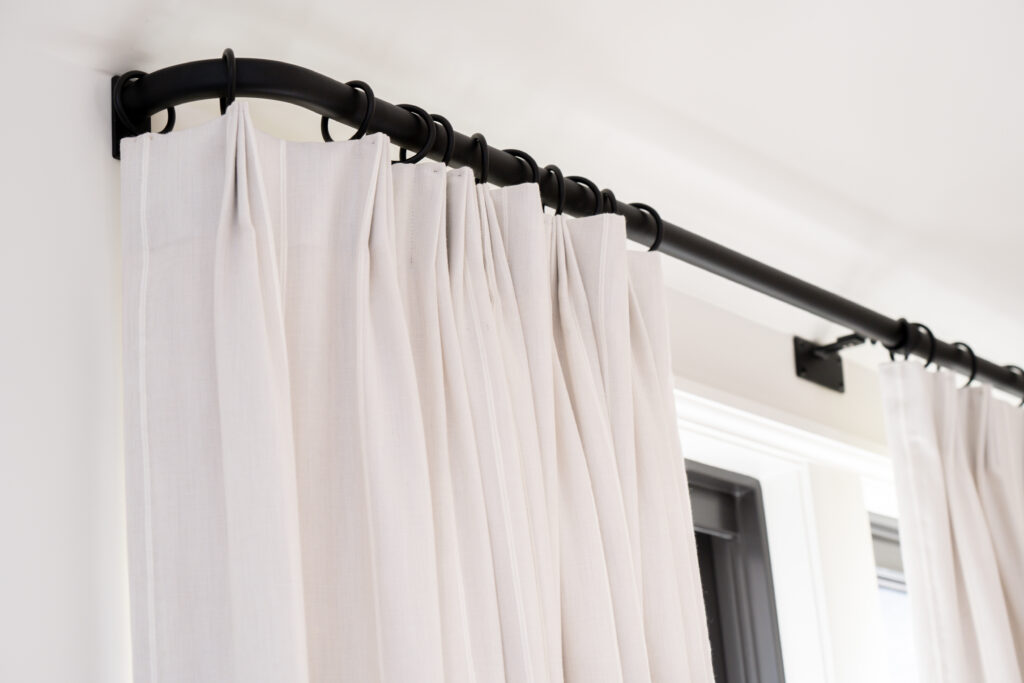 Euro pleat
The euro pleat or Parisian pleat is a modern twist on the french pleat. The folds are pinched at the top and open at the bottom so that the fabric elegantly and effortlessly flows to the floor. Euro-pleated drapery panels are full and require a large stack back but are easy to open and close with minimal styling. We love them in just about any home style, including traditional, contemporary, and transitional.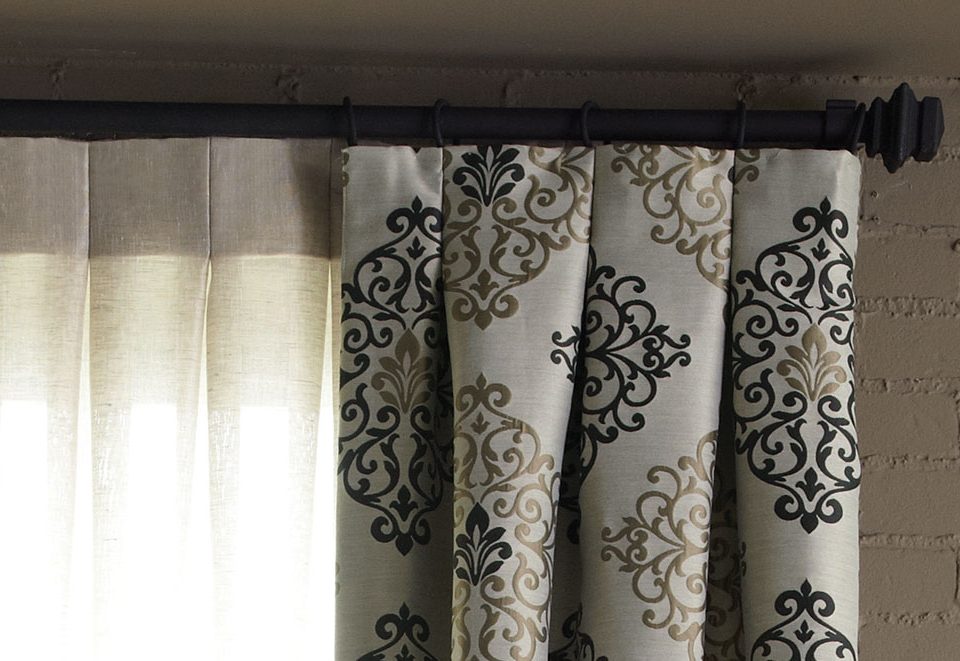 Box pleat
The box pleat or tuxedo pleat is achieved by folding two lengths of fabric away from each other. The folds meet in the middle of the backside of the material. The fabric is sewn together to form a box at the top of the drapery panel, and the shape continues down to the hem. With a box pleat, you get a full, luxurious look with a smaller stack back than a french or euro pleat.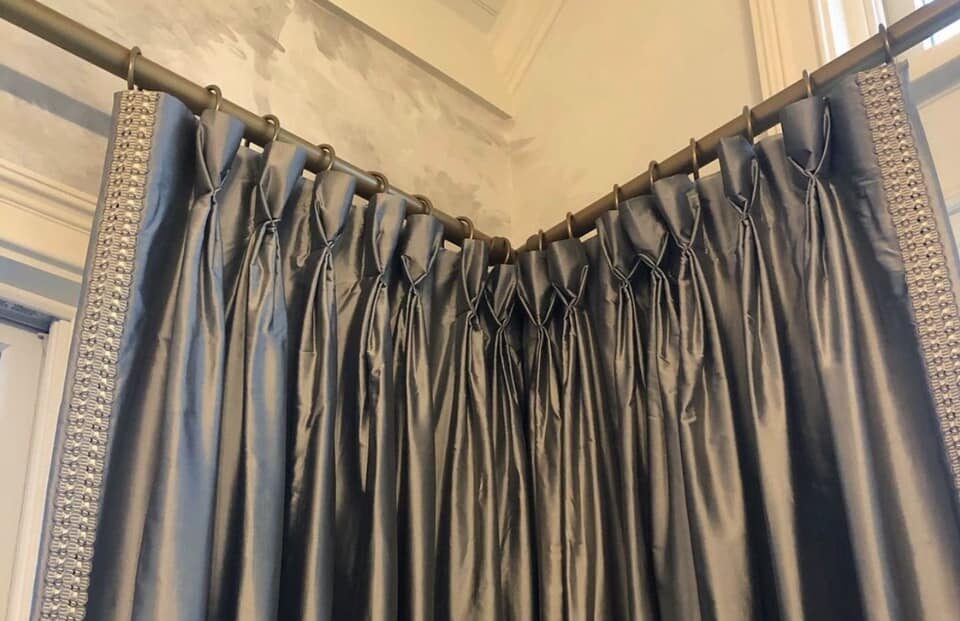 Goblet pleat
A goblet pleat is formed by creating small folds below the header, and each fold looks like a mini goblet or wine glass. This option is elegant and sophisticated and makes any room look more formal. The goblet pleat is excellent for decorative purposes but is not very functional.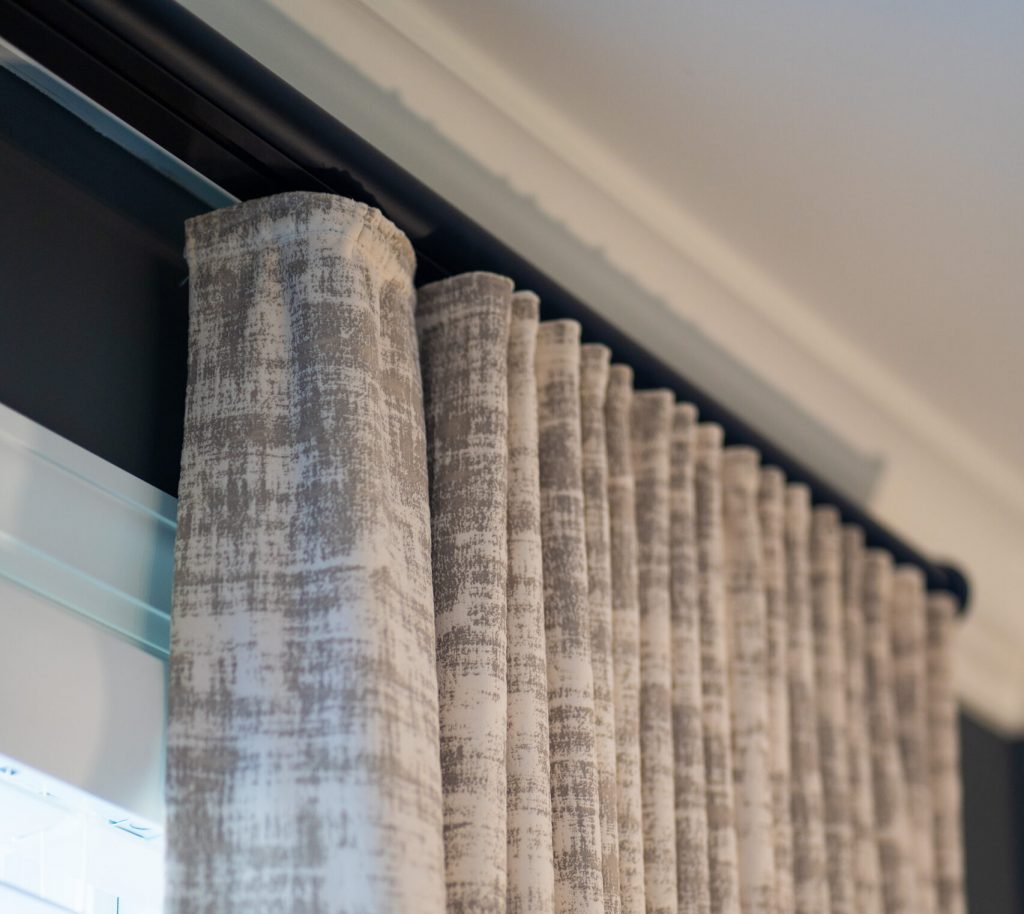 Ripplefold
The ripplefold is a sleek and modern alternative to a more traditional pleat, perfect for contemporary homes. The drapery panel is flat, and the pleating is created by spacing out snaps (called carriers) on the fabric and attaching them to the drapery hardware. The snaps help create an undulating wave pattern. Ripplefold draperies are very easy to operate because the panels glide effortlessly on a specialized track system.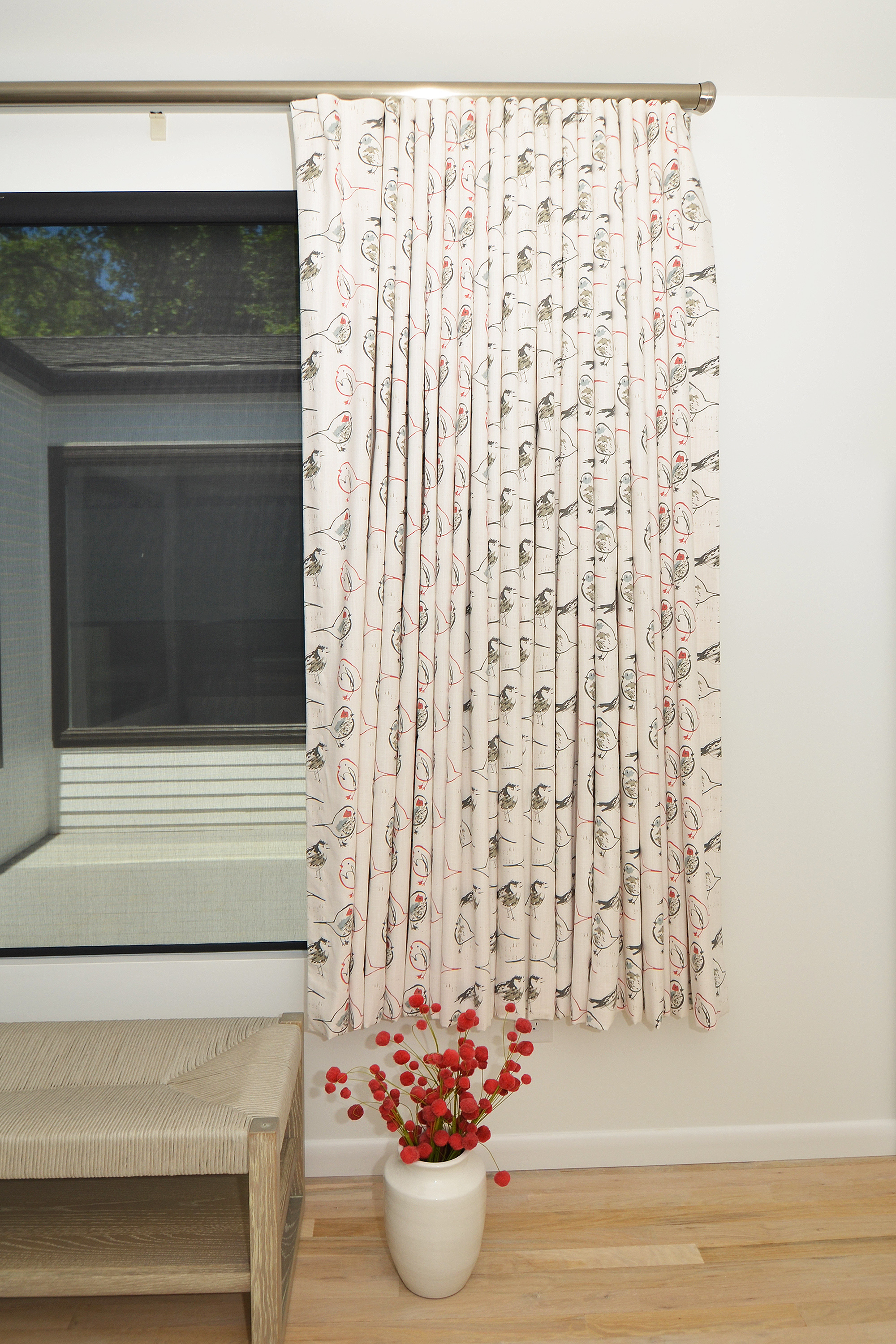 Drapery lengths
Besides choosing a header style, you'll also have to decide how long you want your draperies to be. When determining the best length, consider your window's size and shape and the type of room you're decorating. Here are a few common drapery lengths (from shortest to longest).
Read also: What Drapery Length is Right for Your Chattanooga Home: Hover, Break, or Puddle?
Café curtains
Café curtains are hung at the window's midpoint. They let in a good amount of light while still providing privacy. We particularly love café curtains in kitchens and bathrooms.
Window sill
Window sill draperies hit right at the windowsill, hence the name. They give your space a casual, relaxed feel and work well in kitchens and on windows with nearby furniture that prevents you from installing floor-length panels.
Apron
Apron curtains hit slightly lower than the window sill, typically about four inches below the bottom of your window sill. Like window sill drapery panels, apron curtains provide a casual feel. But they slightly elongate the appearance of the window. They can be very practical in informal areas, like a breakfast nook or above a kitchen sink.
Hover
Hover-length draperies hit right above the floor, leaving a small gap between the panel's hem and the floor. They are easy to open and close and practical because they do not pick up dirt, dust, or pet hair. Hover-length panels are our preferred choice, especially in high-traffic areas.
Break
Break or trouser break draperies provide a tailored, sophisticated look. They sit gently on the floor with a slight break at the bottom of the drapery panel. Break draperies require the fabric to be slightly longer than needed to reach the floor.
Puddle
If you want your drapery panels to make a statement and look luxurious, you might want them to puddle. With these draperies, the fabric pools on the floor, creating a dramatic, elegant look suitable for formal spaces. Puddle drapery panels are the least functional and most high-maintenance, so we recommend them for rooms that receive less traffic.
Hanging your draperies
We're often asked how high and wide to hang draperies. We almost always recommend hanging your draperies several inches (six to twelve inches) above your window frame and six to twelve inches from the outside of the frame. Doing so allows your windows to appear taller and wider. Hanging draperies flush with the window frame is a common mistake that can make your windows appear short and squat.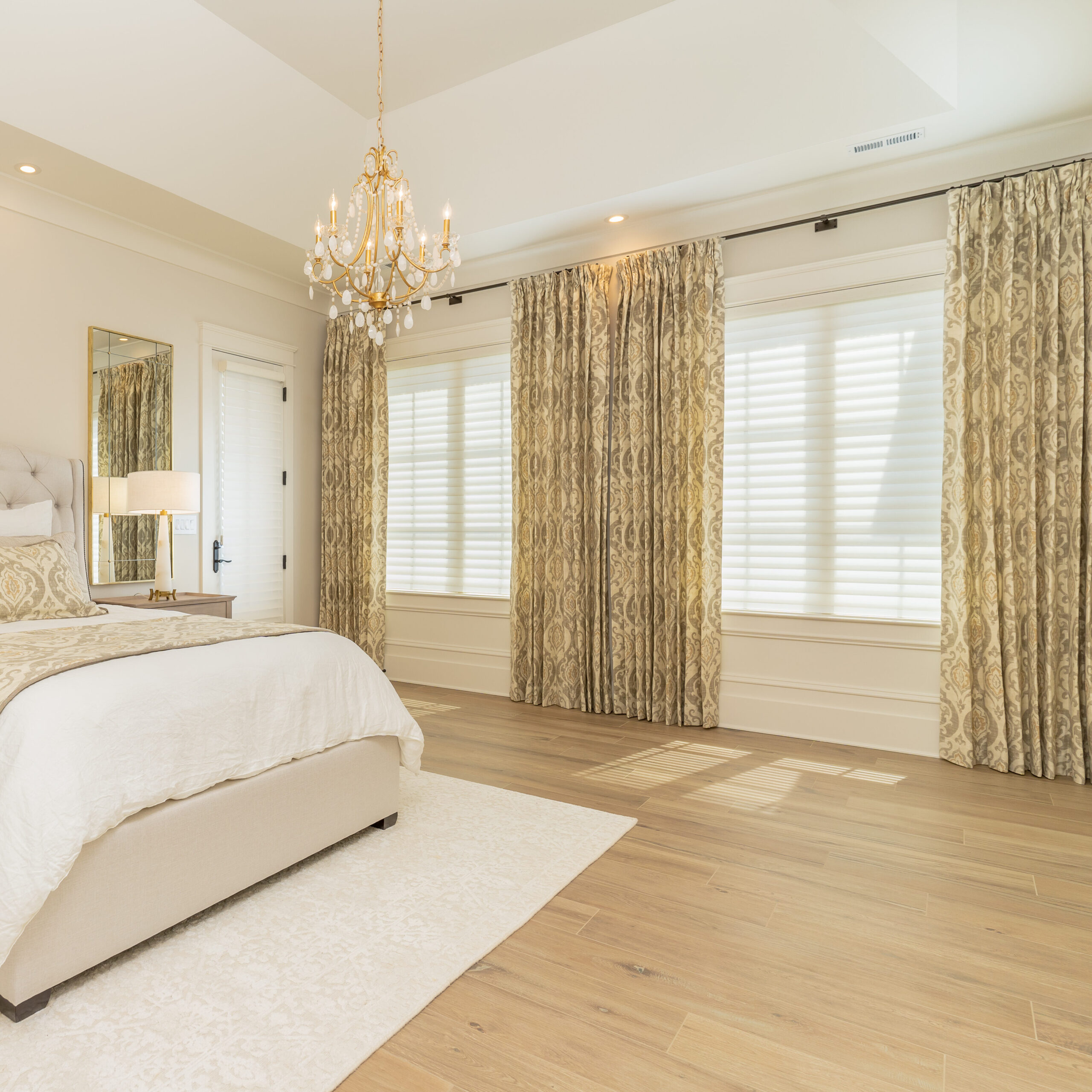 Stationary vs. functional draperies
You may not realize that draperies can be stationary (also known as non-functional or decorative) or functional.
Stationary drapery panels will not cover the window if you try to close them. We often recommend stationary panels if you have another layer that provides privacy or light control (like blinds or shades), but you'd like a layered look. With stationary panels, you can get a full, luxurious look with less fabric.
Functional draperies are wide enough to cover the window when pulled closed. You'll want to use at least one and a half times the fabric to ensure your panels look full when closed.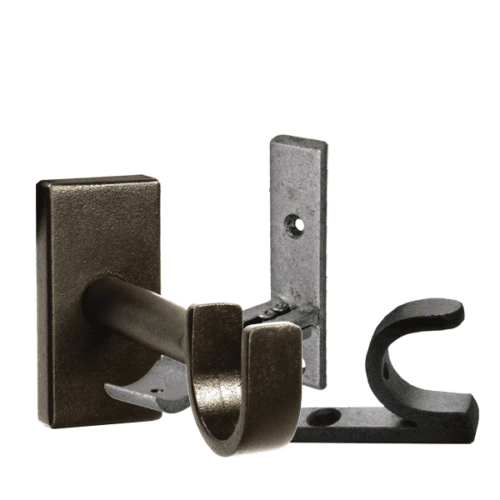 Drapery hardware
Drapery hardware includes all the components necessary for your drapery to hang and function. Your hardware is the final touch and is crucial to ensuring you love the look created. There are five types of hardware to consider.
Read also: What is Drapery Hardware?
Drapery rods
Drapery rods are installed above your window to support the panels. There are two main types of rods:
Traverse rods are made for drapery panels that need to open and close easily.
Decorative rods provide a finishing touch for stationary drapery panels.
Drapery rods can either be straight or curved. Curved rods are called french rods and connect back to the wall.
Rings
Rings are essential for attaching your drapery panels to the rod. They are attached or sewn into the header and are one of the most popular methods for hanging draperies. They are often in the same finish as the drapery rod for a unified look.
Brackets
Brackets allow you to attach the drapery rod to the wall. If you have large, wall-to-wall windows, you will likely need several brackets evenly spaced along the rod to support the weight of your draperies.
Finials
Finials, also called end caps, are accessories placed at each end of the drapery rod. They offer a well-rounded, completed look and prevent your drapery rings from sliding off the rod. If you choose a french return rod, you will not need finials.
Holdbacks
Holdbacks or tiebacks allow you to hold your draperies in place as they frame your window. A holdback is a decorative accessory that keeps your drapery panels open artfully.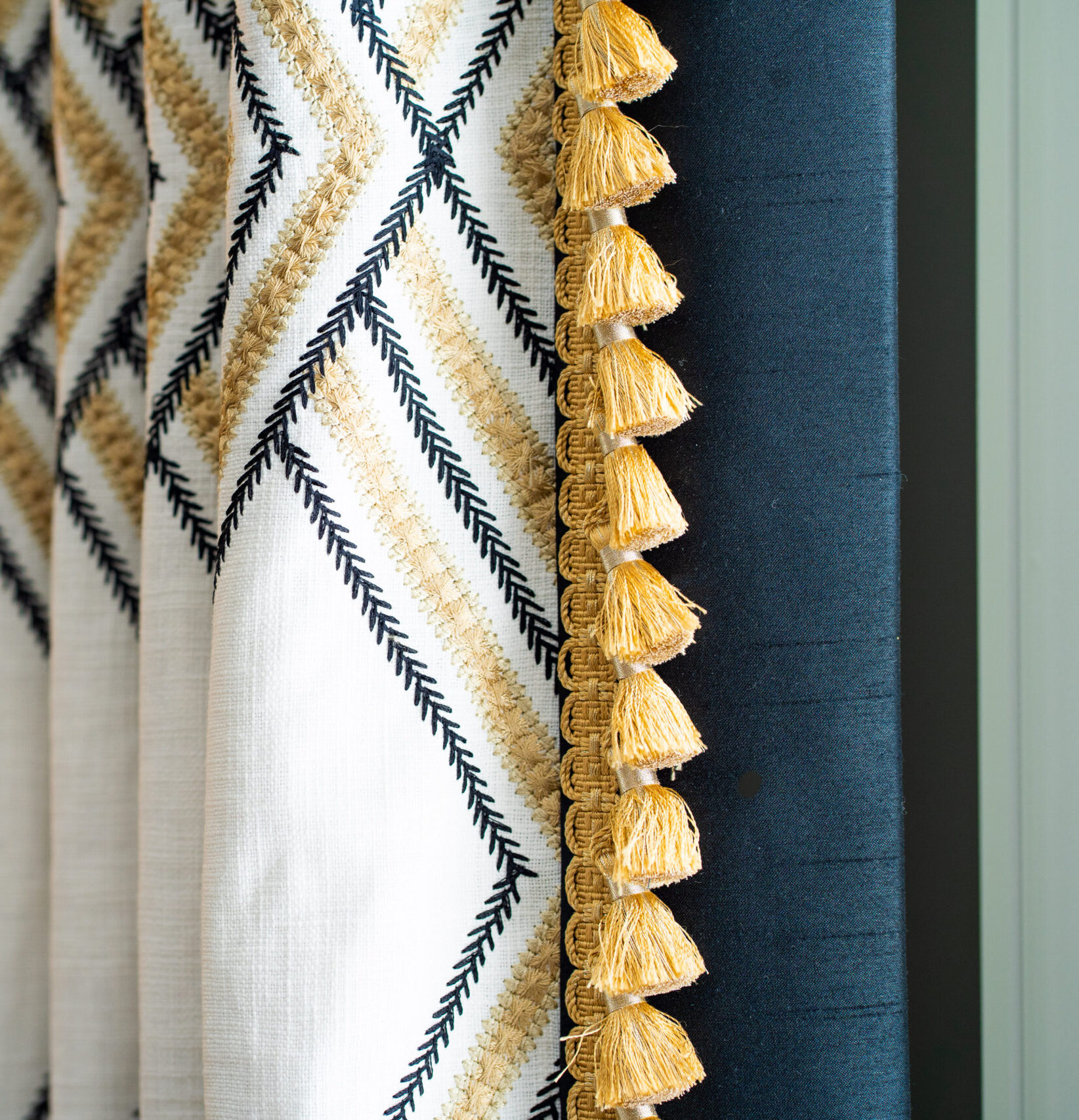 Choosing fabric for your drapery panels
When selecting fabric for your draperies, you have almost limitless options. But choosing the right material can make or break the look, so here are a few things to consider:
Color & pattern — No matter how simple or ornate your panels are, they take up a large amount of visual space, and the color or pattern you select can help you make the statement you want. We love playing with pattern, but try color blocking if you want to add color and visual interest without a pattern.
Durability — Some fabrics may appear attractive but might not stand the test of time. It's crucial to select a material that will last, especially in high-traffic areas like entryways and living rooms.
Ease of maintenance — If you expect to clean your draperies often, consider the material type. Some materials, like silk, may be more challenging to clean and require dry cleaning. Performance fabrics, though, are easier to clean and child- and pet-friendly.
Drapery size & style — The style and size of your drapery panels can impact the material options available. If you choose a formal style (like a goblet pleat), you may lean toward silk or something else with great drapability. Lightweight fabrics, however, help you create a more casual aesthetic.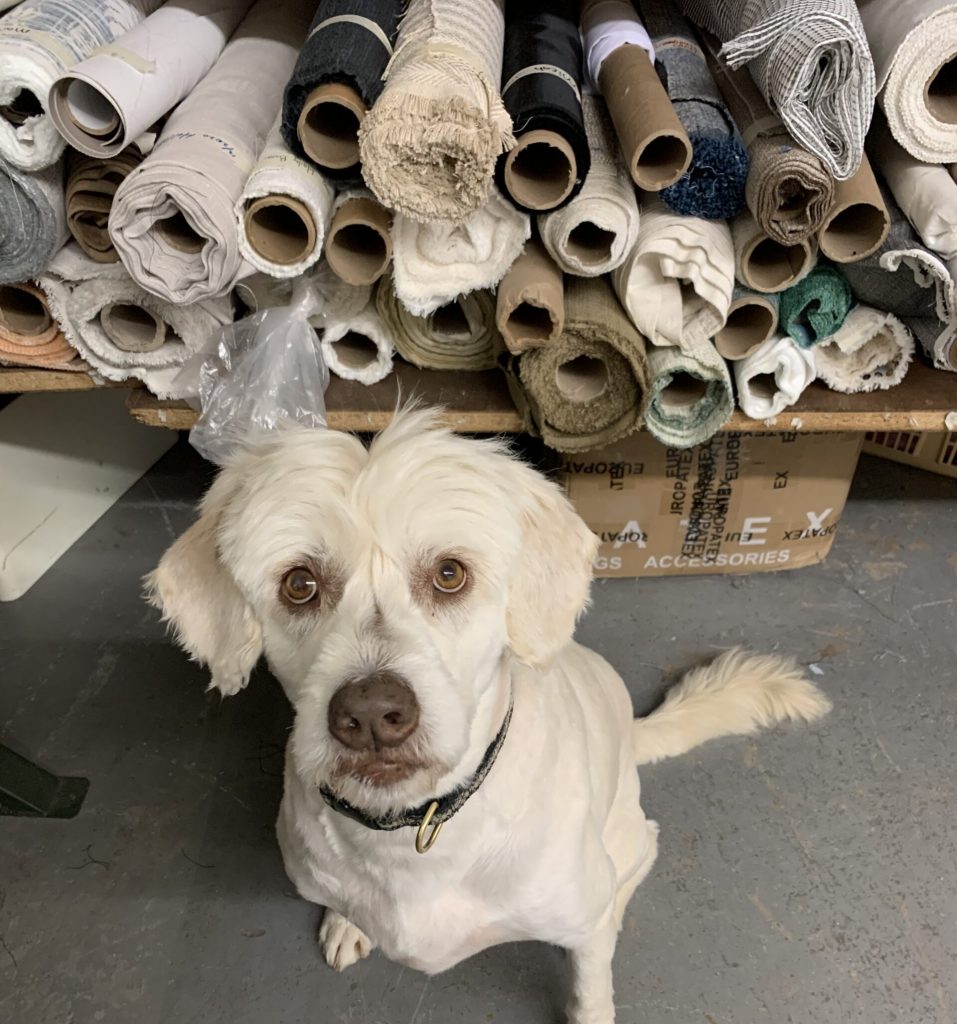 Drapery linings
The lining is the fabric sewn onto the back of your drapery. It's the perfect finishing touch that allows your well-crafted, custom drapery panels to last for years to come. As with everything else we've mentioned, you have quite a few options for linings.
Read also: Drapery Lining Guide: Choose the Right Lining for Your Custom Window Coverings
Sheer
Sheer draperies are unlined and made from lightweight fabrics to create a semi-translucent look. They offer the least amount of privacy and allow the most amount of light to come through your windows. But they do often reduce some sun glare on your television and furniture.
Standard lining
Standard lining is the most basic type of lining. It protects your primary fabric from fading and gives your drapery panels more body and fullness.
Room-darkening lining
Room-darkening lining significantly reduces the amount of light coming in through the window. It also provides privacy, reduces noise pollution, and helps insulate a room. We highly recommend adding room-darkening lining to draperies in bedrooms and movie rooms.
Interlining
Interlining is a third layer sewn between your primary fabric and back lining. It protects your fabric from fading and offers thermal insulation, helping to keep your room cooler in the summer and warmer in winter. Interlining also provides your draperies with beautifully rounded pleats and a luxurious appearance.
All our draperies are custom-designed to meet your needs and match your home's interior design style. We will help you choose everything from the style to the hardware to the fabric and trim. Are you ready to add softness and a finishing touch to your home? Request a complimentary consultation today!