Trend Alert: Box Pleat Drapery for Your Clients' Homes
May 16, 2022
Pleats are folds in fabric to create volume, texture, and detail in window coverings. They're made by folding and sewing a small section of the panel heading in place to create fullness. There are a number of different pleats available for window coverings, including a ripplefold and euro pleat. But today, we wanted to introduce you to one of our favorite new trends in window treatments — the box pleat.
Window coverings are problem-solvers
When you have a vision in mind, choosing the right pleat can be difficult and overwhelming. You have to consider the look you want to create, the fabric and hardware you'd prefer to use, and your client's budget. You'll also have to consider the window itself because some pleating options don't work well with the large windows common in the Chattanooga, TN area.
A well-designed window covering will not just enhance a room's design; it will also solve any problems you might encounter, like not wanting to obstruct your client's mountain views. A window coverings specialist, like High Country Drapery Designs, can help you find the perfect solution for any problem you might encounter with your clients' windows. Because we are also well-versed in pleating styles, we can help you deliver the look you want.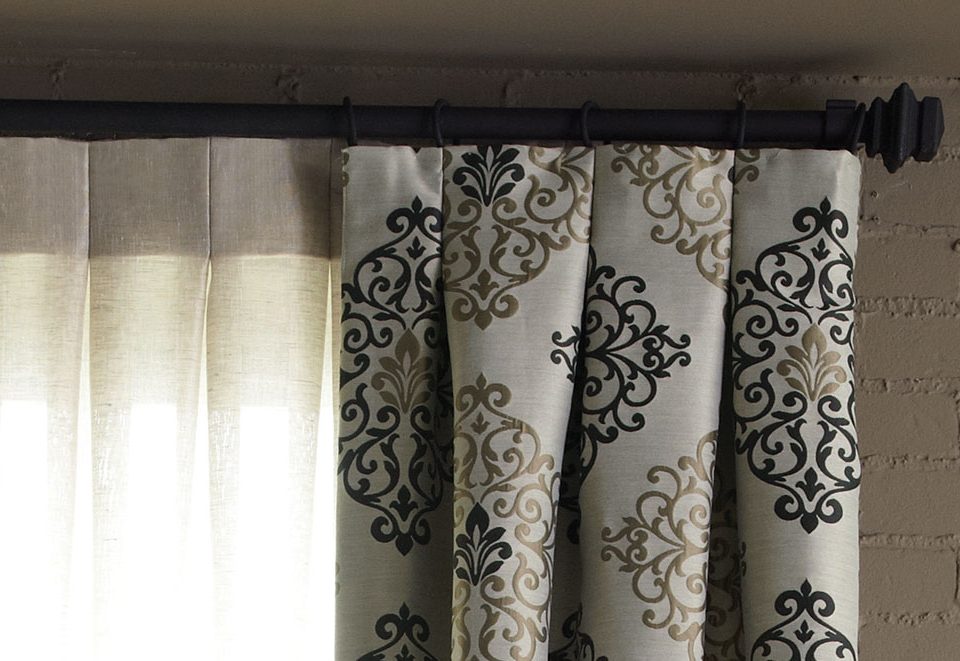 What is a box pleat?
A box pleat is achieved by folding two lengths of fabric away from each other in opposite directions, meeting in the middle of the backside of the fold.
We love how clean this pleat looks and its versatile feel. It works for almost every interior design style, but we particularly love it in traditional homes, mostly because they always look full and luxurious. When the drapery panels are closed, the panel header is smooth and flat. But, when the drapery panels are open, the box pleats stack perfectly in a tailored style. Since this trend is just beginning, now is the perfect time to start incorporating it into your designs!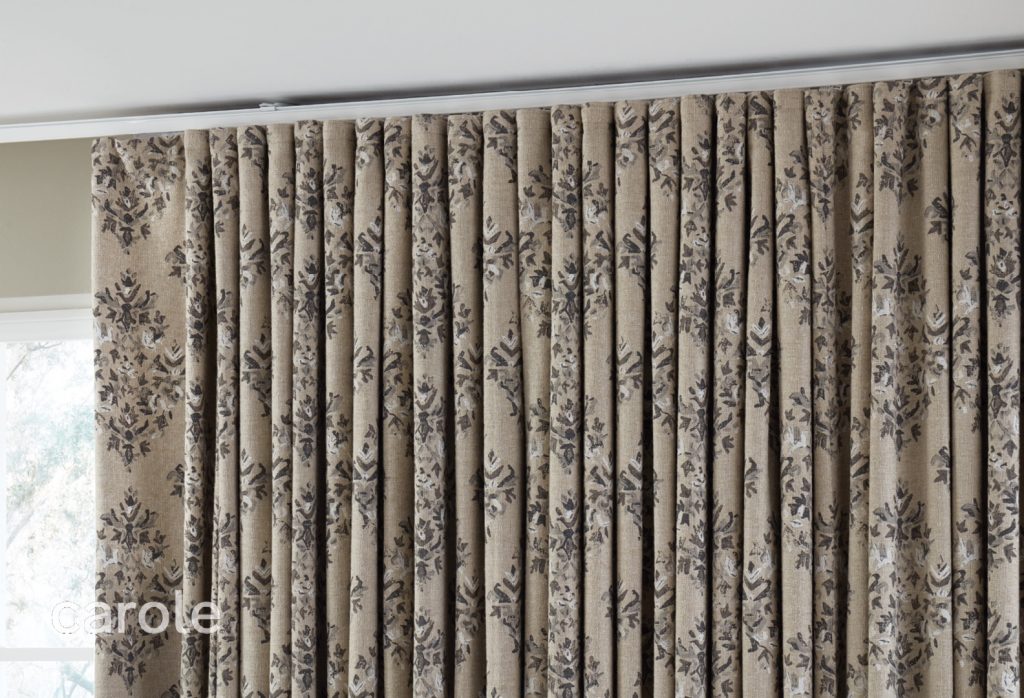 Using a box pleat instead of a ripplefold
Some of our clients have traditional homes that don't have a lot of space outside of the framing of their windows. Typically, we will use the walls to the left and right of the window for the stack back. The stack back is the amount of space the drapery occupies when in the fully open positions.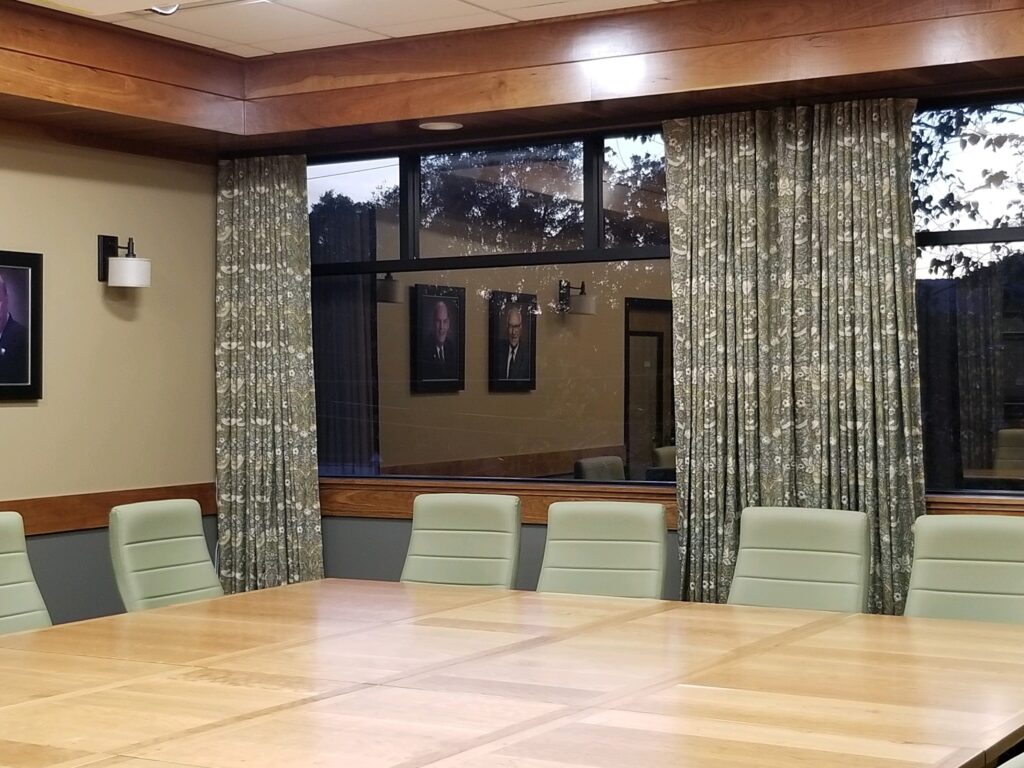 If they don't have the wall space, we will often take the drapery and do a ripplefold. In a ripplefold drapery panel, the panel itself is flat, and the pleating is made by spacing out the snaps. We've found that when you only have one layer, a ripplefold is very pretty in a transitional-style or modern-style home. When it's hanging there by itself, though, it doesn't give the luxurious look that many people with traditional-style homes look for.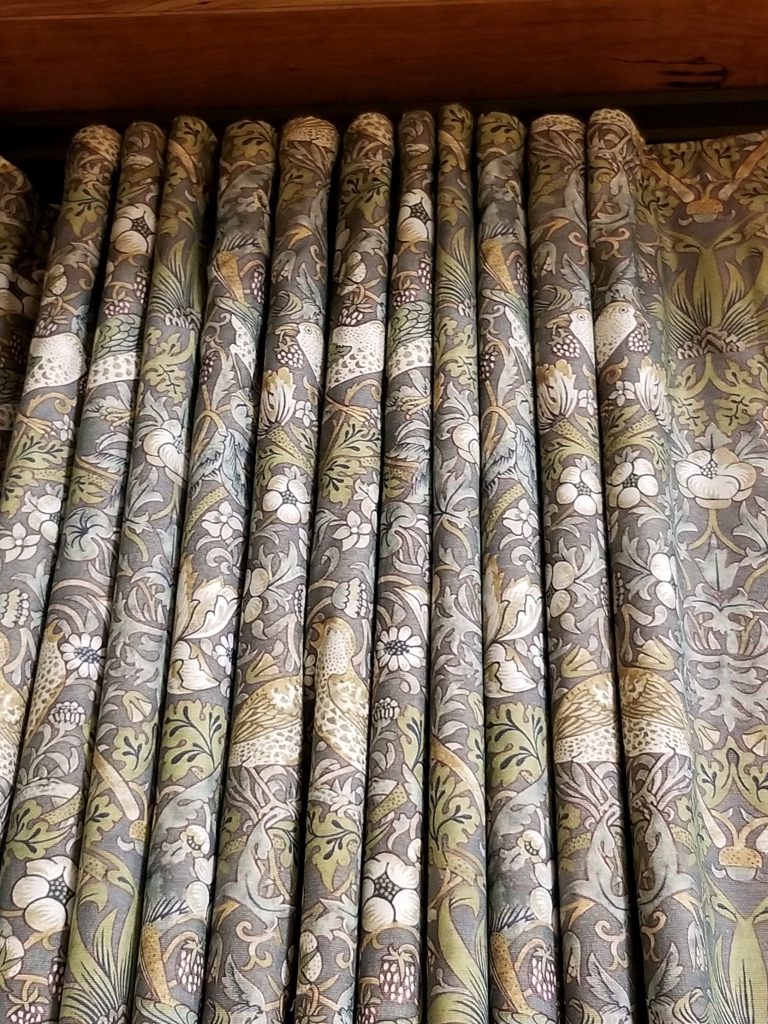 When we use a box pleat header, we've learned that it stacks very similar to a ripplefold, but it creates a uniform, elegant look that is still stunning in a traditional-style home.
During fabrication, we think about which parts of the pattern are shown when the drapery is opened and closed so that it's always attractive. These small details are a sure sign that the window coverings are custom made.
Ripplefold drapes are usually hung on a track, which greatly limits your hardware options. And, the hardware is always visible unless concealed by a top treatment, like a cornice.
Read also: Adding Dimension to Layered Window Coverings with Tableaux in a Chattanooga Home
Many homeowners want the minimal rod with ring look right now, and you're able to achieve that with box pleating. You won't be limited to a track and will be able to use the hardware you want.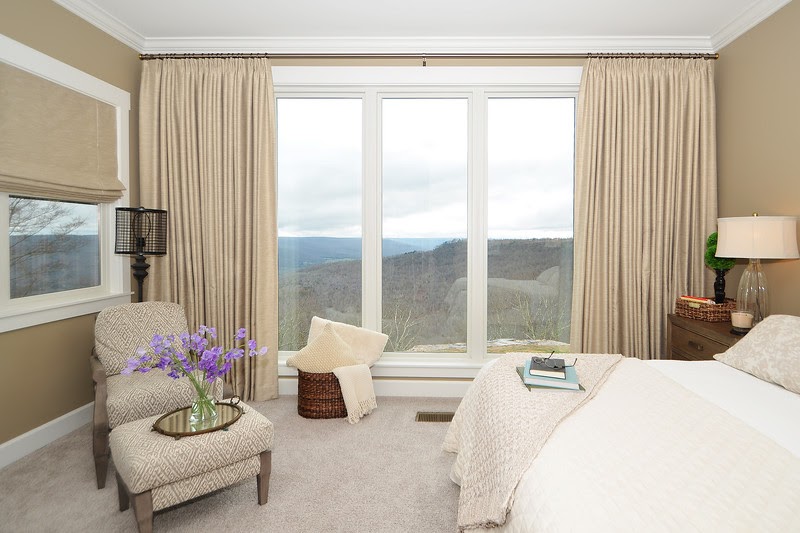 Using a box pleat instead of a euro pleat
Many homeowners in the Chattanooga area have full walls of windows so that they can have beautiful mountain views throughout their home. When you have a full wall of windows, euro pleat drapery will be very heavy, which could cause problems.
It can also be very expensive to cover a large window with euro pleat drapery. Because a euro pleat requires so much fabric, you will have fewer options to choose from to stay within your client's budget.
A box pleat uses significantly less fabric than a euro pleat, so it's a more cost-effective option to create a luxe look. Your clients will not have to spend as much money on fabric to get the look you designed for them.
Box pleat drapery has the same fullness (how many ripples or folds are present when the drapery panel is closed) as euro pleat drapery but uses a lot less fabric, so the panels aren't as heavy. That means you can use the same hardware as you would for euro pleating drapery without worrying about the weight of the panels putting too much strain on the drapery rods.
Box pleat drapery also has much less of a stack back than a euro pleat design. That's great news for your clients because we can help you create the look you want even if your clients don't have a lot of wall space on either side of the window. When the drapery is pulled all the way back, a box pleat will minimize the obstruction so your clients can enjoy their gorgeous mountain views. But, we can still create drapery that is functional and covers the whole wall of windows if your client needs room darkening capabilities.
Are you ready to talk about the right pleating options for your next client project? We can help. We love collaborating with interior designers who are seeking a full-service workroom to serve as a confidant, partner, and fabrication expert. Contact us today!