Woven Wood Shades Add Texture & Warmth
Do you want to elevate the look of your home by adding texture, color, and depth to the space? Then look no further than one of our most versatile and enduring window coverings — woven wood shades.
Woven wood window coverings are made from natural materials, like bamboo, grasses, rattan, reeds, and jute. The textiles are skillfully woven, braided, or tied together to create the base of these stunning shades. They naturally add visual interest and movement to any room in your home.
Keep reading to learn more about these beautiful and unique window treatments.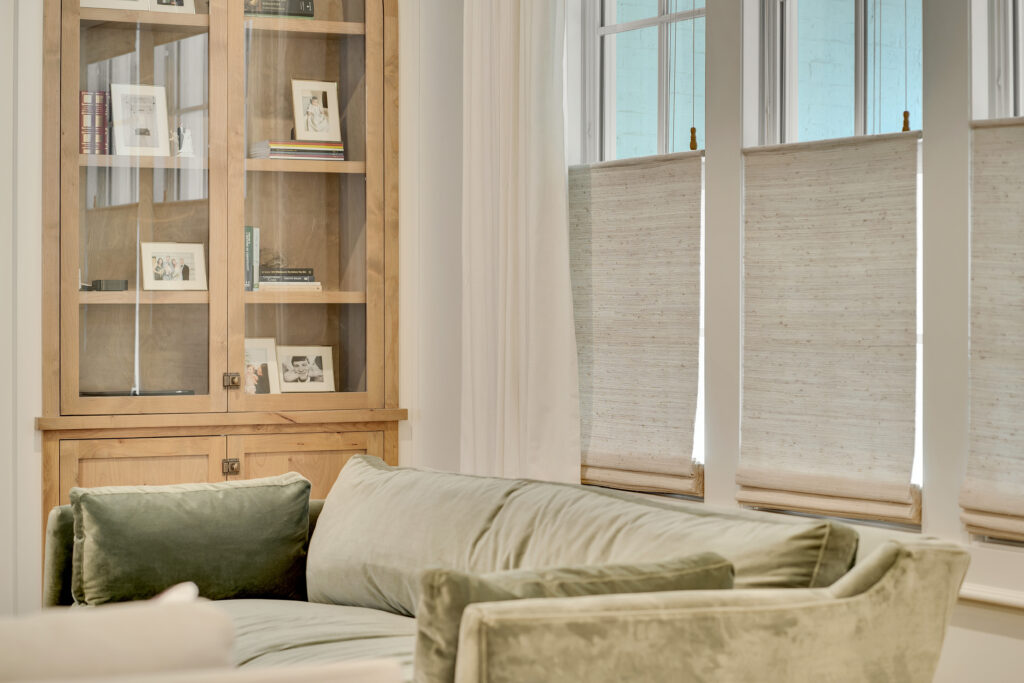 5 ways to customize your woven wood shades
When you choose to install woven wood shades in your home, you'll first have to select which material you prefer. Each natural wood has its own unique texture and color variance.
But that's not the only part of the shades you can customize to ensure they look fantastic in your home.
1. Add edge binding
Edge binding is strips of fabric wrapped around the exposed edges of the shade, providing a more finished and tailored look to the window covering. By adding this refining detail, you can create a custom woven wood shade that fits your individual space and style.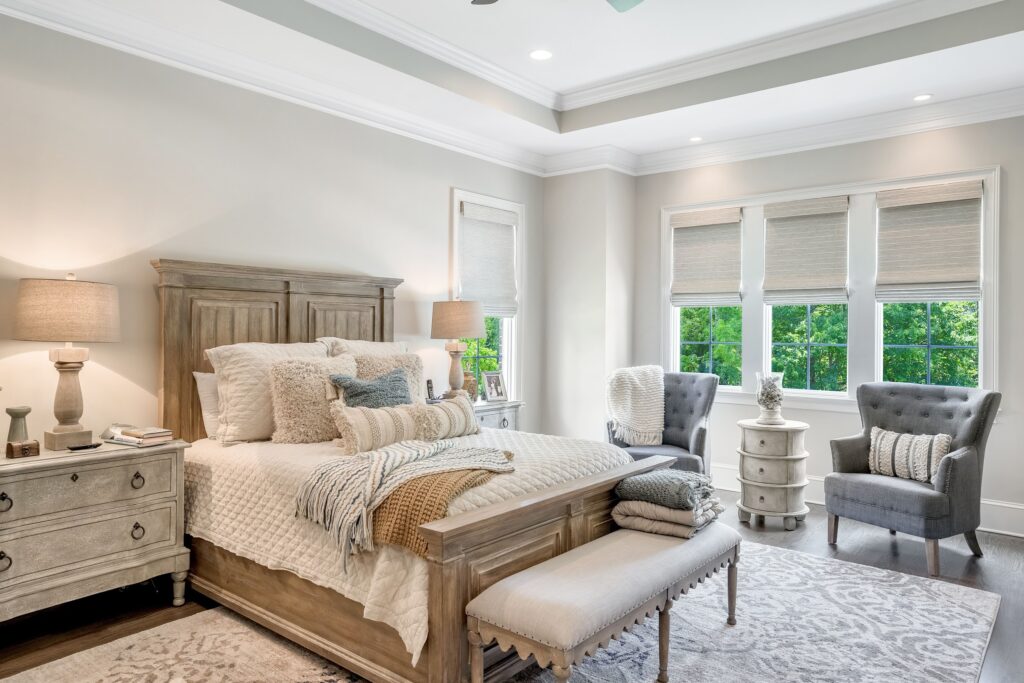 2. Choose a liner
On their own, woven wood shades offer some level of privacy, but they allow you to see through the shade to the outside. That level of view-through naturally varies based on the material used. For example, a thicker bamboo reed will let less light into the room and offer more privacy than a thinner grass weave.
Don't get us wrong — we love how woven wood shades look on their own, especially because they can look completely different from day to night. But if you want a little more privacy or light control, you can add a liner to the back of your window covering.
For increased privacy and light control, add a light-filtering liner. You will not be able to see through the shades when they are closed, but some light will still pass through during the day. If you want to block most of the light coming into the room and achieve the highest level of privacy, opt for a room-darkening liner instead.
Read also: Light-Filtering Vs. Room-Darkening Window Coverings
3. Select the ideal operating system
You can raise and lower your woven wood shades through a multitude of operating systems.
Continuous cord loop: A single cord will stay a constant length when raising or lowering your window covering. Since there are no long, dangling cords, this option offers enhanced safety for children and pets. Continuous cord loops are ideal for larger windows, where the shades will likely be heavier.
Soft-touch: This cordless option allows you to operate your woven wood shades by simply pushing up or pulling down with your hand. Because there are no cords, this is an excellent option if you have children or pets in your Chattanooga area home.
Motorized: Motorized woven woods give you the ultimate lift control because you can raise or lower your shades with the press of a button, on a pre-determined schedule, or by the sound of your voice.
Top-down/bottom-up: Your shades can be lowered from the top or raised from the bottom (or both), so you can maintain privacy while still allowing natural light to stream into the room.
Read also: Window Treatment Operating Systems: Manual, Cordless, and Motorized
4. Decide between an inside & outside mount
Woven wood shades can be mounted on the inside or outside of your window frame.
If you have beautiful architectural details on your trim, you may choose an inside mount to showcase that. An inside mount will also make it easier for you to add draperies or other window coverings for a layered look.
Read also: Everything You Need to Know About Layering Window Treatments
But if you prefer to hide your window trim or want to make your windows appear larger, you may opt for an outside mount. With an outside mount, you will also be able to enjoy unobstructed mountain views when your shades are completely raised.
5. Pick a style
Not only will woven wood shades look different based on the chosen material, but they can also have different styles based on how they fold when raised.
Plain fold: This timeless look adds even more texture to the shades. When your window coverings are lowered, you will still see the folds. But when they are fully raised, the folds become even more pronounced.
Soft fold: The material will cascade in a rippling effect so that the window treatment will retain its loose folds in both the raised and lowered positions. A soft fold shade has softer, rounder folds. This style can add an informal aura and create a romantic and airy feel in your home.
Flat fold: If you choose a flat fold shade, the window covering will hang flat against the window when fully lowered. When the shade is raised, the material draws up in a neat bunch of folds, similar to a cellular shade. They require little-to-no styling or adjusting and provide a clean, tailored aesthetic.
The folding styles we just shared are for woven wood shades created in a similar fashion as a Roman shade. But you have another option, too.
Woven wood shades can also be fabricated as a roller shade, where they will be lowered and raised using a roller function. When they are pulled down, the roller turns to allow the material to cover the window. And when the window covering is pushed upward, the material rewraps around the roller mechanism to shorten the shade. Roller shades made from woven woods take up minimal space when fully raised, allowing you to thoroughly enjoy the view outside your home.
Read also: Roller Shades: 5 Reasons You'll Love Them in Your Chattanooga Area Home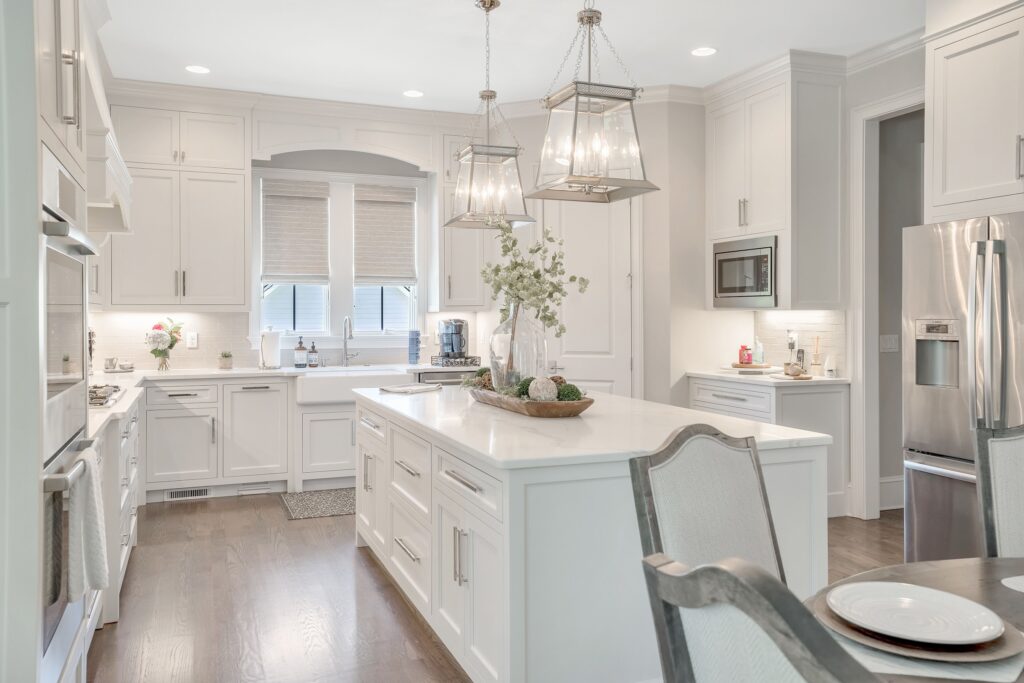 5 reasons to love woven wood shades
Now that you know all the ways to customize your woven wood window coverings, let's look at just some of the reasons we love using them throughout the Chattanooga area.
1. They work great in humid areas
The bamboo, grasses, rattan, and other materials used in woven wood shades tend to have a high tolerance for wet and humid environments. Because of that, you can install them in your bathroom or kitchen, and they'll still look great for a long time.
Read also: Everything You Need to Know About Kitchen Window Treatments
2. They blend in with any home style
Woven wood shades are the chameleon of the window covering world. Depending on how they're customized, they can feel rustic, traditional, or contemporary. No matter what your preferred home decor style, these window treatments will look beautiful within your home.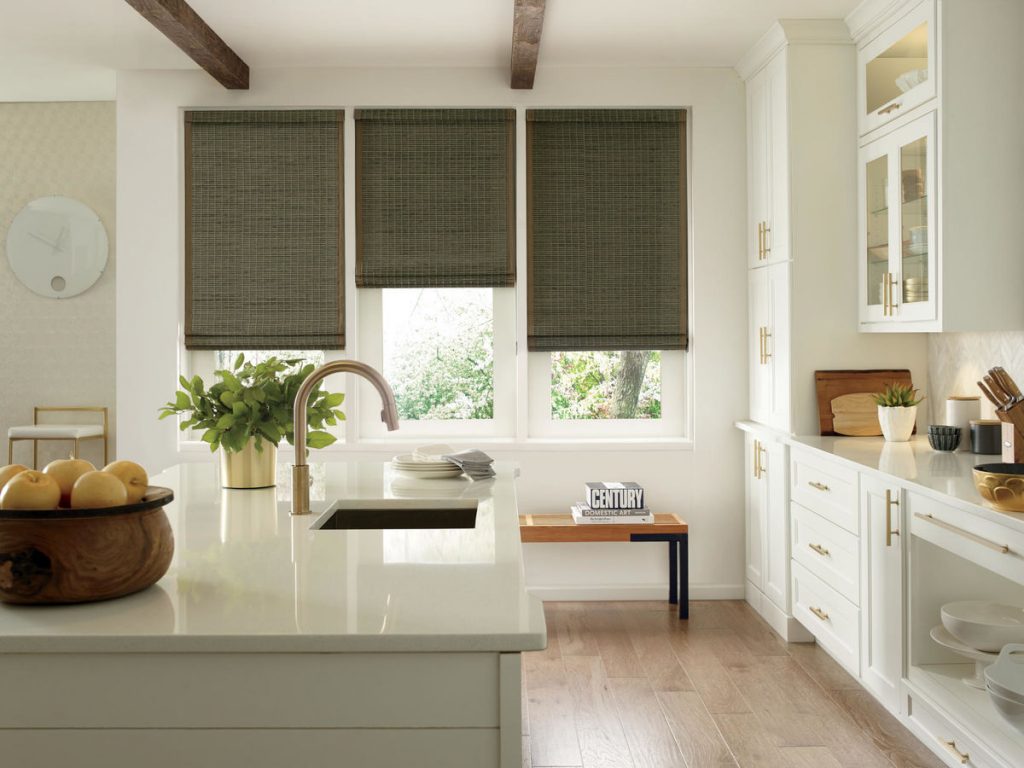 3. They add texture & depth to your space
Each shade is unique and pays homage to the textures and colors found in nature. The neutral tones and beautiful movement found within each window covering adds a distinct layer of texture and depth to any color palette and home decor style.
View woven wood shades in this Jasper Highland sunroom!
4. They add warmth to the room
One of our favorite trends right now is biophilia, which is the idea of bringing natural elements inside the home to make it feel more welcoming. Woven wood shades do just that. We love adding woven woods to kitchens and bathrooms because they can offset the hard surfaces, like cabinets and countertops, to add more character and warmth to the rooms.
Read also: Natural Woven Roman Shades Add Warmth in Rocky Face, GA
5. They're organic
The materials used to create these window coverings are fast-growing and sustainable, making woven wood shades naturally organic and environmentally sound.
Do you want to add warmth, texture, and depth to your home? We can create beautiful and unique woven wood shades that are custom-made to fit your style and space. Schedule your complimentary consultation today!