Kitchen Window Treatment Ideas
May 16, 2022
Everything You Need to Know About Kitchen Window Treatments
Your kitchen is the heart of your home. Whether or not you enjoy cooking, we all love to eat and get together in the kitchen. It's the center of family gatherings and where most people end up during a party.
You want your kitchen to be inviting, but it has a lot of hard surfaces — from your countertops to your appliances. By adding window treatments to your kitchen, you can soften up the space and make it more welcoming. You will need to choose the right window coverings, though, to make sure they can withstand intense cooking activities while providing light control and privacy. Keep reading to learn more about choosing the perfect kitchen window treatments for your Chattanooga, TN home.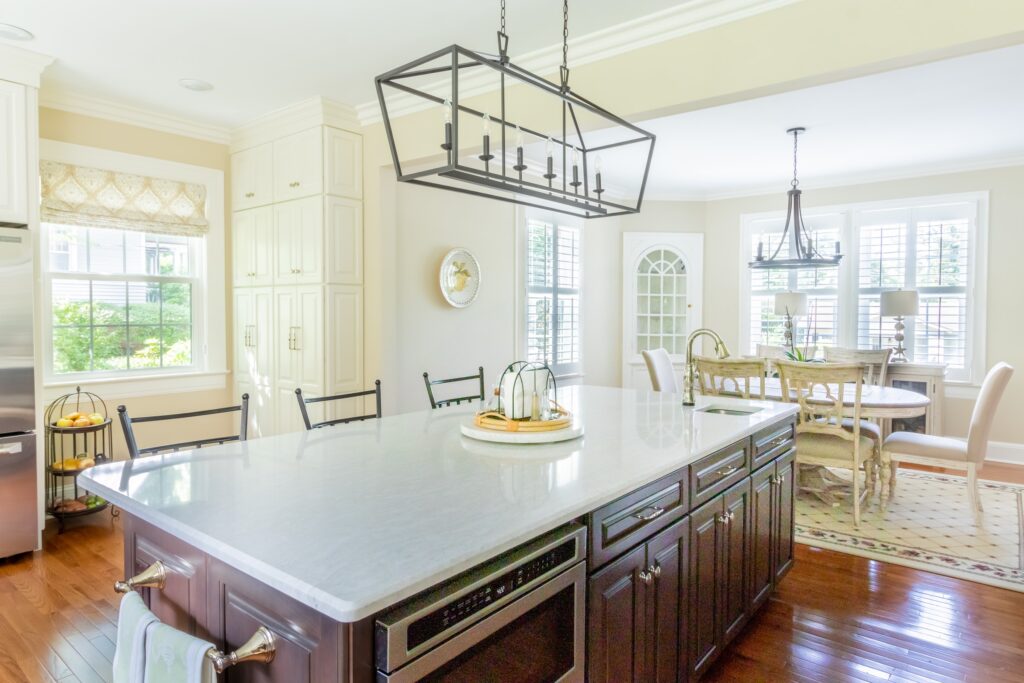 4 questions to ask before choosing kitchen window treatments
Choosing the perfect window coverings for your kitchen can be especially challenging because there are safety and practicality factors to consider and many design elements to contend with – tiles, cabinetry, and countertops.
To help you choose the most appropriate window treatments for your kitchen, we've come up with four questions to ask:
Where are your windows located? Window location matters, especially in the kitchen. If your window is near the stove, for example, you might want to forego fabric window treatments that might catch on fire. For windows over the sink, you might choose an option that doesn't obstruct your mountain views.
Could the window treatments get splashed with food, grease splatter, or water? If the answer is "yes," choose window coverings that are easy to clean and won't absorb odors from food, cooking oils, or the dishwasher.
How often do you cook? If you cook often, you will want your window treatments to be durable and easy to clean.
How much light does your kitchen get? Direct light from the sun can damage your home by raising the interior temperature, fading wood floors, and even dulling cabinet finishes. If your kitchen receives a lot of natural light during the day, choose window coverings that offer light control to protect your kitchen surfaces from harsh UV rays.
Our favorite kitchen window treatment ideas
Once you've answered those questions, you can start to consider which type of window treatments are right for your kitchen. To help you decide, we've gathered our favorite options.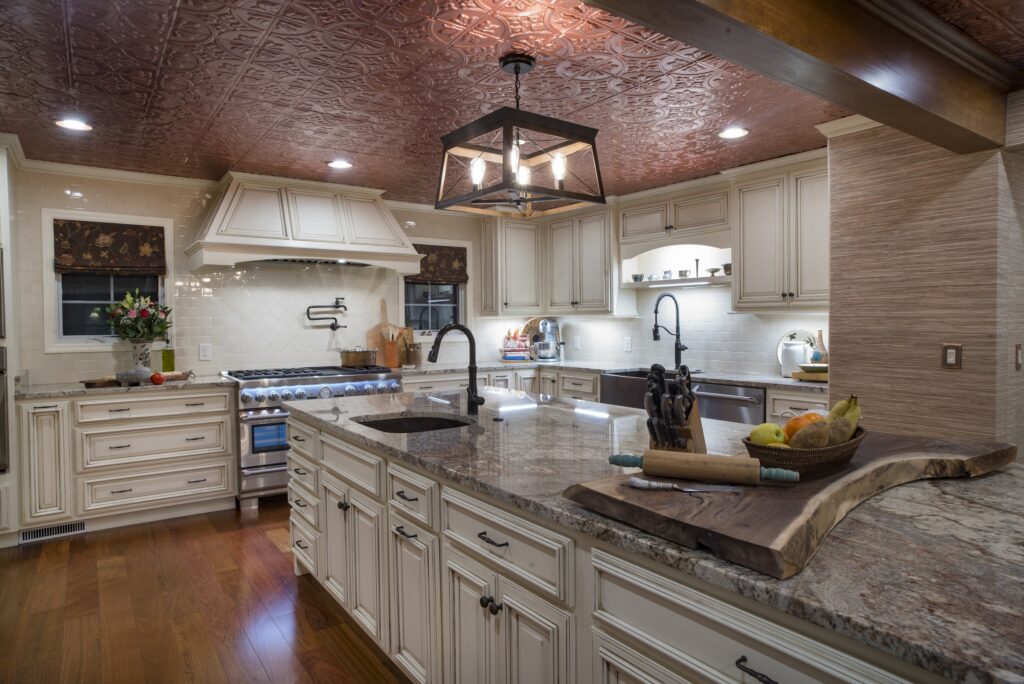 Roman shades
Roman shades are perfect over your sink, in the breakfast nook, or on a window door.
We love Roman shades in the kitchen because they combine the beauty and softness of drapery with a clean, crisp appearance, making them great for any traditional or transitional kitchen. Adding a patterned shade can make your windows pop, while using a solid fabric can give your kitchen a clean, classic look.
If you choose to use Roman shades in a food-prep area, we recommend using performance fabric. This high-tech fabric is no match for sticky fingers or kitchen stains, most of which will come out with warm water and soap. We have an extensive catalog of professionally treated fabrics made with built-in moisture-repelling, stain-fighting, and odor-resistant properties — perfect for any kitchen in the Chattanooga area!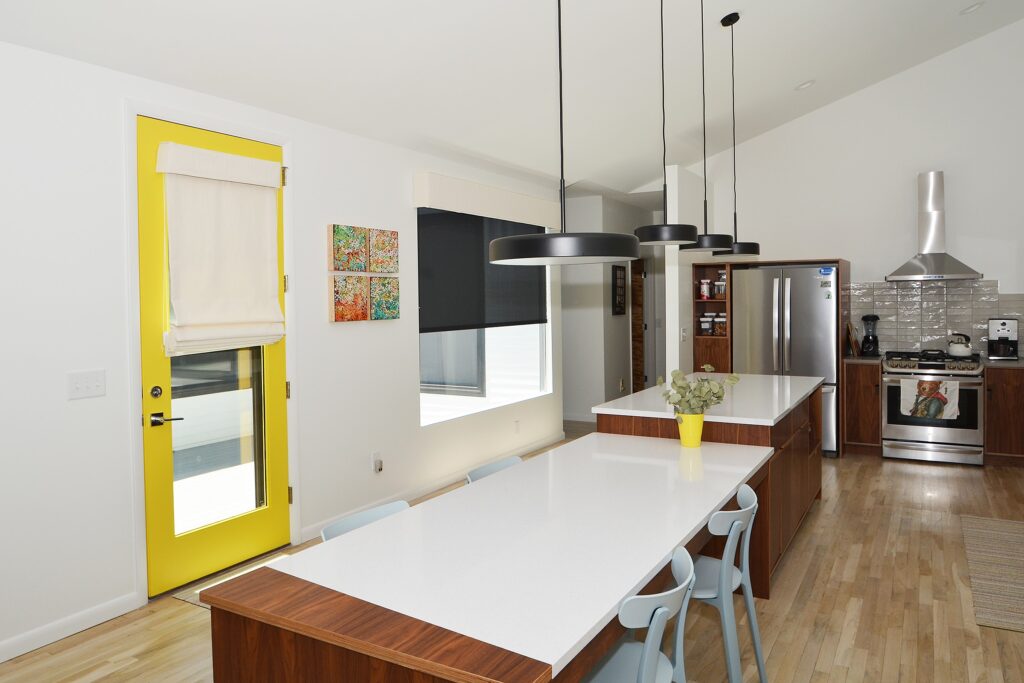 Solar shades
We love solar shades over the sink or in any hard-to-reach area in your kitchen.
When fully raised, these shades are hardly visible and will brighten your view. And when they're lowered, they can keep out the glare from the sun while still letting you look out over the mountains, making tasks like washing dishes or prepping meals more enjoyable.
When you choose solar shades for those hard-to-reach areas in your kitchen, we recommend that you don't use a cordless option because someone in your home might not be able to reach it. Instead, attach the cord to the side of the window or choose a motorized option. No matter which system you choose, we offer a wide variety of colors and transparencies so you can choose one that will match your kitchen perfectly.
Read also: Can Motorized Window Treatments Add Style to Your Home?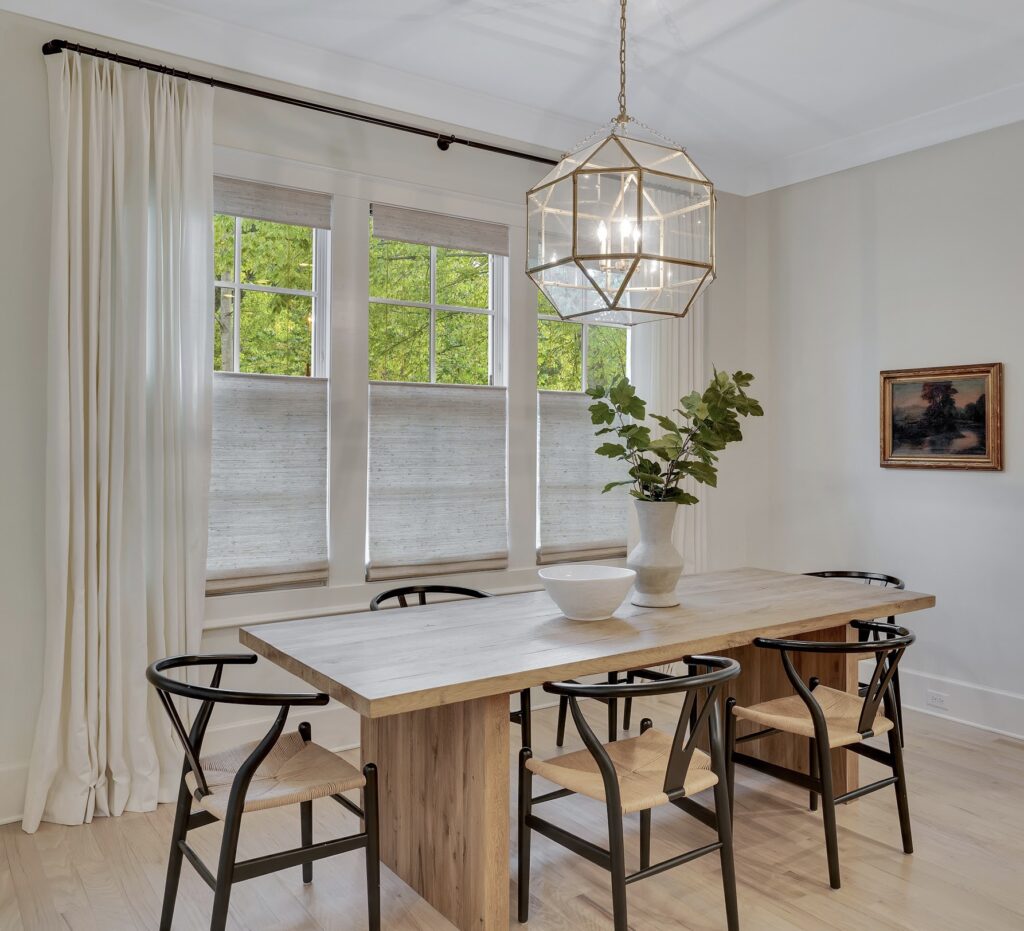 Top-down/bottom-up shades
Top-down/bottom-up shades are great for a breakfast nook or dining area. We particularly love them on large windows surrounding a banquette seating area!
As the name suggests, top-down/bottom-up shades can be opened and closed from the top or bottom of the window. These shades give you a lot of flexibility. You can close them from the bottom for privacy so that your neighbors can't see into your dining area or watch you drink your morning coffee. But, you will still be able to look out your windows at your gorgeous mountain views.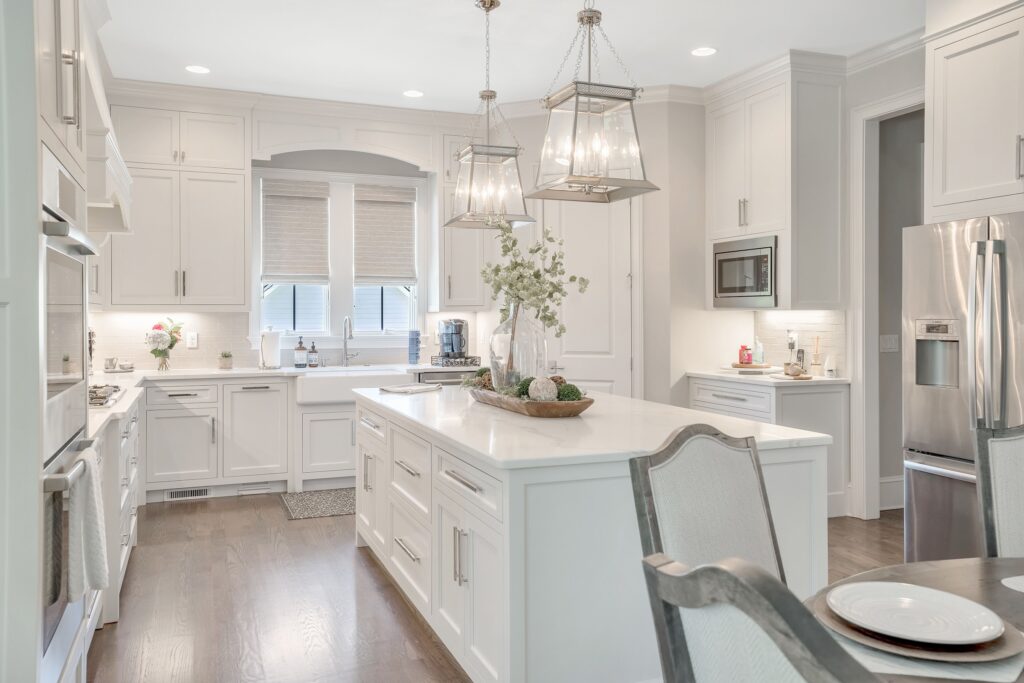 Woven woods
We love using woven wood shades over the sink, in breakfast nooks, and on window doors.
Woven wood window coverings are made with natural materials, like bamboo, grasses, reeds, and jute. These materials can offset your stainless steel appliances and add more character to the room.
Woven woods are durable and hold their shape over time, even if your kitchen gets a lot of sunlight during the day. These window treatments will transform harsh UV rays into a warm glow while adding texture and visual interest to your kitchen.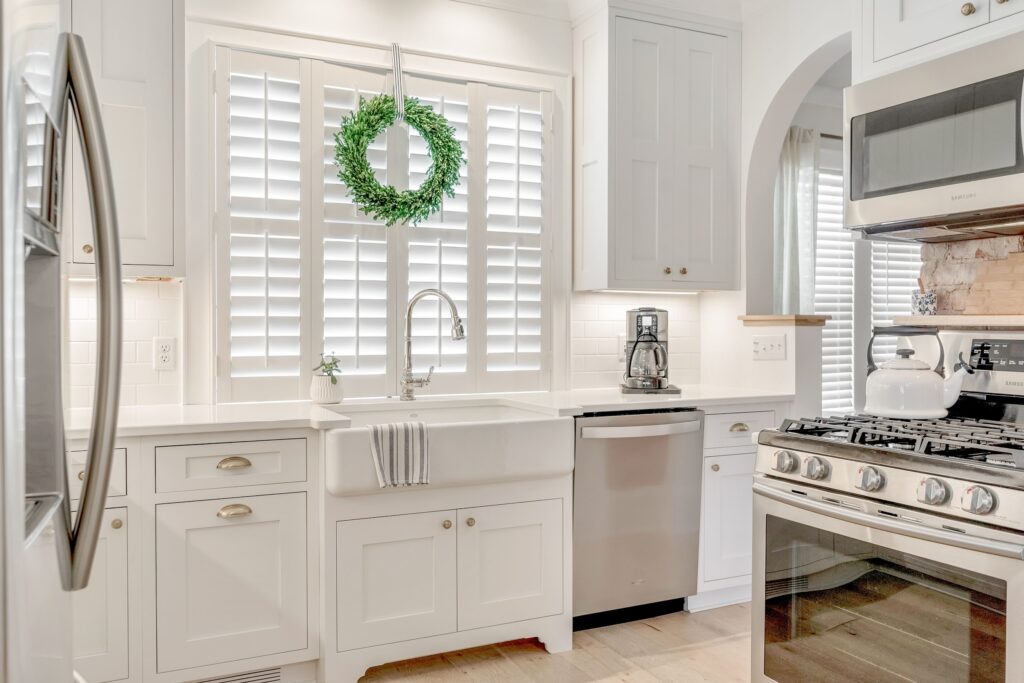 Plantation shutters
Plantation shutters are perfect over the sink, in your breakfast nook, or on a window door. They offer a classic style that will give your windows an upscale look and will never look dated.
We love them in the kitchen because they can take the abuse from water splashes and food stains and be easily cleaned with a damp cloth.
Plantation shutters are also great because you can manually adjust the angle. And we insert a divider bar across shutters, which lets you control the bottom part separately from the top. You will have complete control over both light and privacy.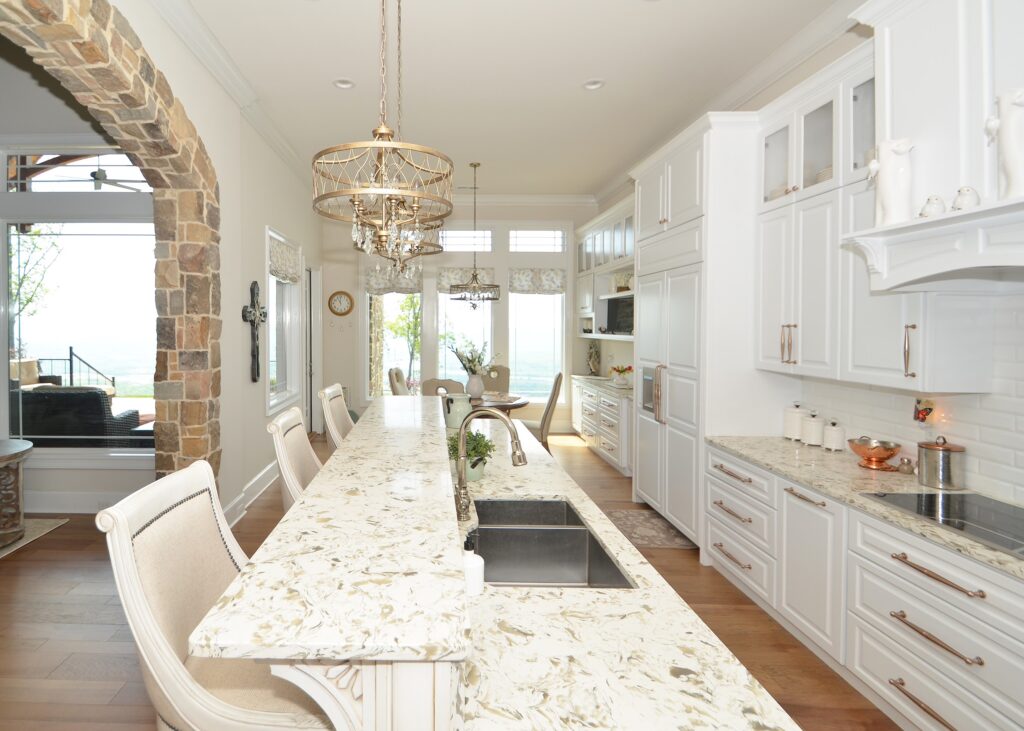 Drapery
Drapery panels might not seem to be a good fit for your kitchen windows, but we love them in a breakfast nook or dining area — anywhere outside the core work area. They are absolutely stunning in bay windows!
Drapery can offer big doses of color and pattern to your kitchen area and impart a sophisticated yet lavish look. When choosing the right fabric for your drapes, our first choice is Carole Fabrics. Their quality and variety of patterns let you create a one-of-a-kind look.
To bring depth and warmth to your kitchen area, we recommend layering your drapery with motorized shades or top-down/bottom-up shades.
Read also: Everything You Need to Know About Layering Window Treatments