CUSTOM INTERIOR SHUTTERS IN CHATTANOOGA
Plantation Shutters for Homes in Chattanooga, TN & All Neighboring Areas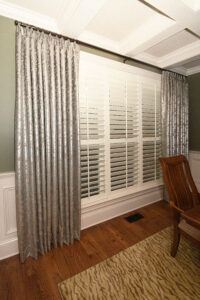 The plantation shutters offered and installed by High Country Drapery Designs can provide traditional style and panache to your home in Chattanooga, TN. Although these shutters were invented over 200 years ago, they have continued to evolve into the present day. Today, High Country Drapery Designs is proud to offer stunning plantation shutters that are made either from wood or an MDF (medium-density fiberboard) composite. Both of these products are visually appealing, with the wood shutters able to be stained any color of your choosing, and the composite shutters available in one of six shades of white.
No matter which style of plantation shutters you choose for your home in the Chattanooga, TN area, you can be sure that you'll receive products that are among the best of their kind.
Our shutters are:
A high-end finishing treatment that will look beautiful in your home for 80-100 years
Sized to suit the windows of your home, and can be made in custom shapes to accommodate circular windows and glass door inserts
Designed to provide 99 percent protection from the sun's damaging ultraviolet rays when they are closed
Made by respected manufacturers
Available with cord-free options for child safety and a clean look
Additionally, you can trust that High Country Drapery Designs is a company that stands behind the quality of its products and services.
For additional information about the plantation shutters we offer to homeowners in Chattanooga, TN and surrounding communities, contact High Country Drapery Designs today.