Choose From A Variety of Window Blinds
At High Country Drapery Designs, we're proud to offer a wide range of world-class window treatments. The window blinds we offer can be custom sized, ensuring a perfect fit every time, and they are engineered to provide exceptional long-term reliability. Plus, they can be customized to meet your aesthetic preferences, with various style, color, and material options available.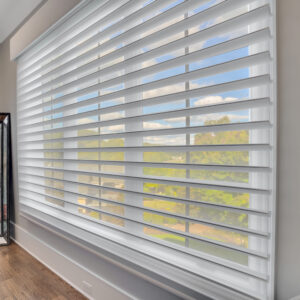 Custom-Made Blinds
Our selection of horizontal and vertical window blinds includes products made from various materials, such as:
Wood Blinds – Available in two-inch and 2 3/8-inch models, our wood options are lightweight and come in 30 different stains and 10 different paint options. These window blinds are also available in designer finishes and with cordless and motorized control options.
Fabric Blinds – A style of vertical blind, our fabric options can resemble drapery and be room darkening.
PVC Vinyl Blinds – These vertical blind options are highly resilient and reasonably priced, and come in room-darkening and semi-opaque varieties.
Aluminum Blinds – These products are one inch wide and come in about 20 different color options.
Faux Wood Blinds – Our faux wood options also come in various shades, and provide homeowners with an inexpensive way to acquire the look of real wood.
What's more, we're also able to motorize your new window blinds if you wish for an easier way to open and close them!
The Best Window Blind Company for Your Project
At High Country Drapery Designs, there's nothing we want more for our customers than for them to have peace of mind and pride of ownership when it comes to their window treatments. Because we source the products we use for our custom window blinds from renowned manufacturers like Hunter Douglas, you can rest assured that the quality of your new custom treatments will be unbeatable. You can simply sit back and enjoy your windows' striking new look for many years to come.
Furthermore, when you turn to us for window blinds, you can be sure that your investment will be protected. We offer a lifetime labor warranty on all products we install, in addition to any existing manufacturer warranties. Plus, we offer financing and same-as-cash options to help you better manage the cost of your order. And if you're a designer working to beautify someone's home with some of our custom window treatments, you can even take advantage of our project management service for a helping hand. We can take care of everything from the measuring and design phases to the install itself.
Schedule Your Custom Blinds Installation
To learn more about the deluxe window blinds and other custom treatments contact High Country Drapery Designs today. We'll be happy to set up an in-home consultation and help you explore your many options for stunning custom window blinds.