Everything You Need To Know About Layering Window Treatments
May 16, 2022
Window treatments like curtains, drapes, blinds, shutters, shades, and top treatments add decoration and privacy to windows in your home. But why stop there? Consider layering drapery over another window covering – for example: pairing drapery and shades together, you can unlock a world of decorative high-end window-treatment combinations. In this post, learn how to take your window treatments to the next level that will create a high-end and functional feel to your home.
Define Your Layers
The first step towards layering treatments in your home is understanding what the different layers are called, what purpose they serve, and different ways you can customize each different layer.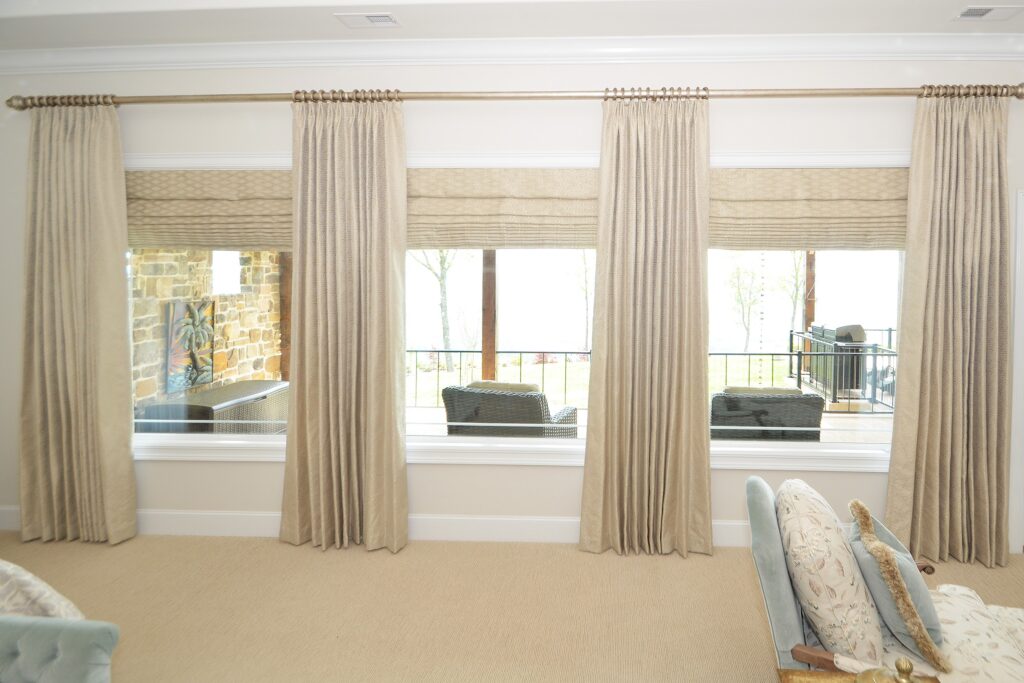 Curtains & Drapes: Regal and flowing in appearance, curtains and drapes are classic full-coverage window treatments. They flank the sides of windows and hang from curtain rods mounted above the window frame. They can be pulled wide open to let light in or drawn shut to block light out completely. Keep in mind, some curtains are purely decorative and cannot be pulled to cover the entire window, so curtains do not always mean privacy, unless you opt for full width with black out capabilities. Drapery can be made out of a solid or patterned fabric and has a wide range of sheerness to achieve the look that you desire. There is also variety in pleating and hardware styles.
Top Treatments: Typically ruffled and stiff, window valances are short soft treatments that hang above the window frame. Because they are so short, they aren't optimal for providing shade or privacy and are best for decoration. Top treatments are available in a variety of fabrics and styles.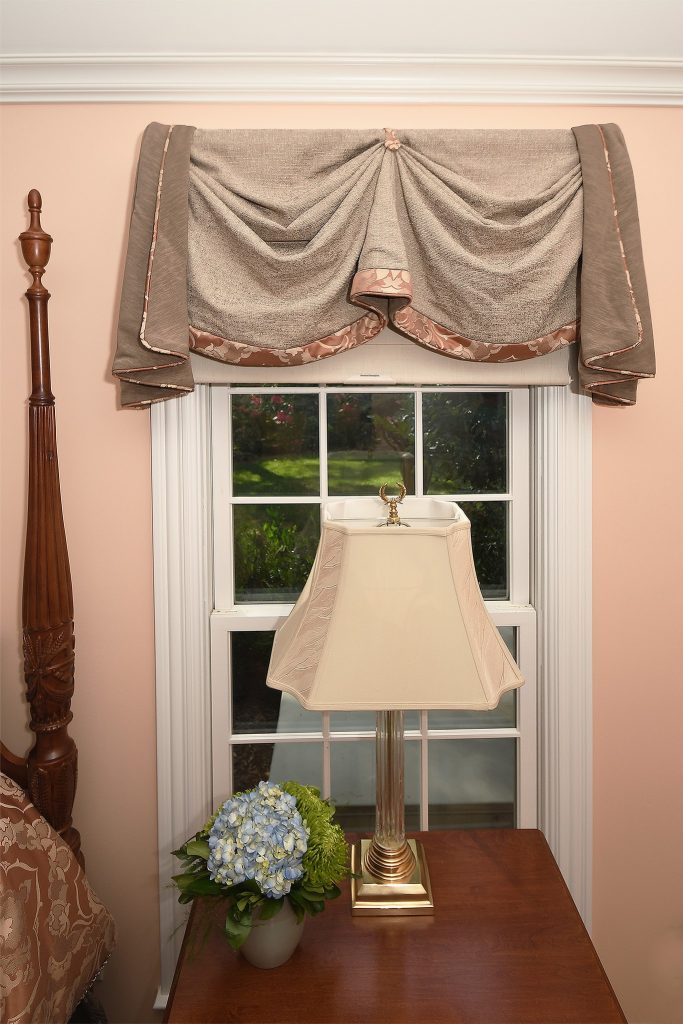 Blinds & Shades: Blinds and shades hang either from the very top of the window frame or just above it and pull all the way down in one sheet. Shades are typically made of one solid piece of fabric, while blinds are made of vertical or horizontal slats that can be angled open or shut, and woven woods function like a shade but are tightly slated which adds a rich textural element. When shut, blinds and shades tend to provide the most solid window coverage of all window treatments.
Roman Shades: Roman shades are more decorative than basic cellular or woven wood shades and can be made of any fabric. Roman shades can be functional or non-functional. Roman shades look great paired with drapery or on their own.
Plantation Shutters: Considered a permanent fixture in your home, Plantation Shutters increase your home value. They are installed directly over top all or half of your window also providing full privacy and light control. Our shutters are available in a variety of styles: you can learn more about plantation shutters here.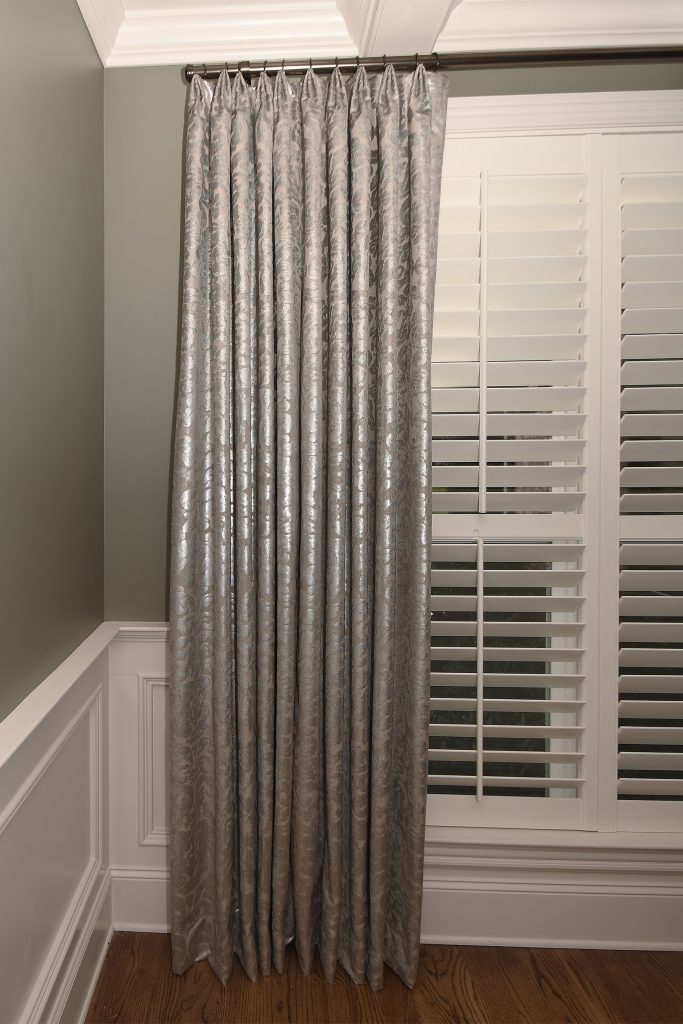 How to Order Your Layers
Once you've decided which of the above window treatments match your personal style and will compliment the other fixtures in your home, it's time to decide how to order the layers so that they'll look best. Some of this process is about making sure you have enough room on your window and in each room (leave that to us), but most of it is about personal preference.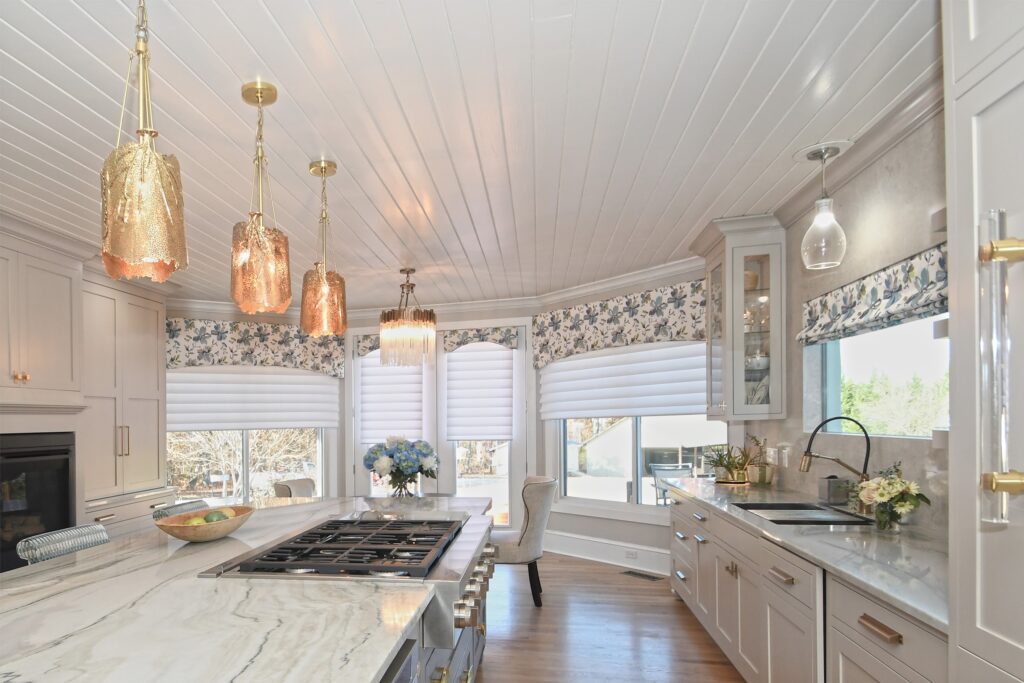 Base Layer
Inside-mounted blinds, shades, woven woods, or plantation shutters hang almost flush against the window, so they're an excellent layer to start with. This layer is more about privacy and light control, the other layers can provide black out capabilities but this layer is really the only layer that has to be functional.
Second Layer
Because of their length and thick folds, curtains and drapes look great mounted over simpler blinds, shades, woven woods, or shutters. This layer is also the perfect place to install sheer liners for a little added texture. For reasons stated before, drapery does not have to be functional. Drapery is the place to play with pattern, texture, and trim. We can also add dimension to drapery with different pleating styles.
Outside Layer
You can stop with two layers or finish your windows' look with an outer layer top treatment. With their decorative appearance and ample texture, top treatments over drapery is the most formal looking combination.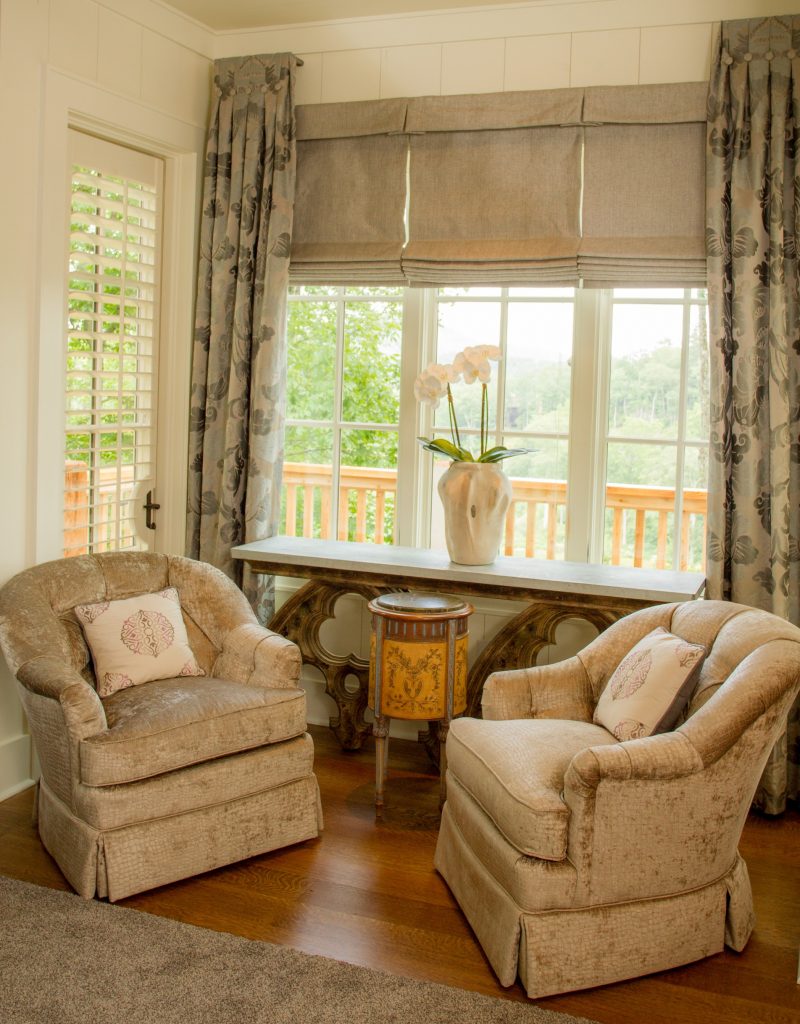 Tip! If your room has several windows beside each other, we will help you consider layering window treatments over the set as a whole in addition to each individual window. This creates a cohesive look without crowding the space.
Window Treatment Layering Tips
Even if you're confident that you want the look of layered window coverings, it can still feel daunting to decide between all the different materials, textures, and designs available. Here are a few tips to help you get inspired.
Mix and match textures. Basic, solid curtains and drapes look great paired with textured blinds, and simple shades pair beautifully with top treatments.
Does your home have smart home capabilities? Consider technology as another layer. Do you want to motorize your layered treatments or maybe just the functional layer? We specialize in high-tech and high-end, so we can help you decide if motorized treatments are right for your home.
Choose pattern sparingly. Layering conflicting patterns on top of each other can look busy and take away from the dimensional look of layered window treatments. We have a large fabric catalog and can advise you on what patterns go together usually sticking with one accent pattern paired with a complementary color scheme.
No window is too small. Layering curtains over blinds certainly looks grand on the larger windows of a living room, but don't limit yourself – any window in your house can benefit from some styled layers.
Are you ready to get started on a design project with layered window treatments? Give us a call today for your complimentary consultation!