Chattanooga's Most Common Interior Design Style: Transitional
May 16, 2022
There are many design styles. Contemporary, Traditional, Farmhouse, or French Country, just to name a few. But the majority of homes in the Chattanooga area are decorated in what is referred to as transitional style. In today's post, we are defining what transitional decor is and what it means to have a transitional home style.
WHAT DOES "TRANSITIONAL STYLE" MEAN?
Transitional style combines a few different types of design styles all at the same time! It's eclectic but there are two major design styles that shine through.
Transitional is a blend of contemporary and traditional. Transitional decor balances classic decor with the style and function of more modern decor. Both traditional style and contemporary styles are well established within the interior design industry so both have pretty specific elements that are associated with their respected design styles. It's easy to spot traditional & contemporary elements in a room.
WHY CHOOSE TRANSITIONAL FOR YOUR HOME?
Transitional style is an elegant and timeless design style that combines new and old—and masculine with feminine—in a fresh way. Many who like a "lighter" traditional look choose transitional because this decor style tends to span multiple decades and always look fresh. Transitional decor retains the classic lines of traditional styles, but the colors and furnishings are typically more modern in their appearance.
The beauty of transition style is its foundation is rooted in classic decor. Furniture, finishings, & fabric that are timeless and do not easily go out of style. This is what makes transitional decor so so appealing to many Chattanooga Homeowners. There is so much longevity with this style, which means that homeowners don't mind investing in transitional style pieces.
Transitional decorating embraces soft lines and comfortable furnishings. Color palettes tend to follow contemporary style and are kept to a minimum. That doesn't mean neutrals are the only colors used, but there may be fewer colors incorporated into the overall decor. The overall style, on the other hand, is less bold than what you would typically find in a contemporary space.
Transitional blends elements of both traditional and contemporary with textures, colors, and furnishings. This style always feels fresh because homeowners can add trendy accents that still fall within the overall transitional definition.
WHAT ARE THE CHARACTERISTICS OF TRANSITIONAL STYLE?
Some of the typical characteristics of transitional decor include the following:
A neutral and tone on tone color palette

creams, taupe, grays and a splash of black or dark brown

Classic furnishings with simple lines and not too many curves
Different textures and fabrics
Simple decor with minimal accessories
Mirrored, glass and metallic finishings and furnishings
Minimal art on walls
Contrast is highlighted through textures or tones
Simple focuses, such as a focus wall
Minimal accessories
Materials that were utilized in the past, but incorporated into the home

refurbished wood, brick, etc

Fabrics such as suede, chenille, and leather
Bold furnishings with classic, simple lines—not too many curves
Mirrored, glass and metallic furnishings and decor
Can be upscale but does not necessarily have to be in order to be considered transitional decor
IS TRANSITIONAL ANOTHER NAME FOR ECLECTIC?
Transitional is often confused with eclectic because like eclectic, transitional blends multiple styles… but these two styles are very different. Transitional will often use contemporary furnishings mixed with antiques, but only very specific traditional pieces are used —sophisticated with simple, classic lines. Eclectic styling is far less refined and consistent and often incorporates over the top patterns and embellishments.
Chances are that you have been in a transitional style home, but you might not have known the style had a name. But transitional decor is not always done well. It can be hard to strike the right balance when you're trying to attain this look, which is why it often takes careful thought…especially when the functionality of a room comes into play.
Here are some of our favorite examples of transitional style:
Transitional Living Room:
Transitional Kitchen:
Image Source: Marie Flanigan Interiors

Image Source: Marie Flanigan Interiors
We love how the roman shade coordinates with the upholstery on the chairs.
Transitional Bedroom:
Mixing wood finishes with a neutral beige and light blue color palette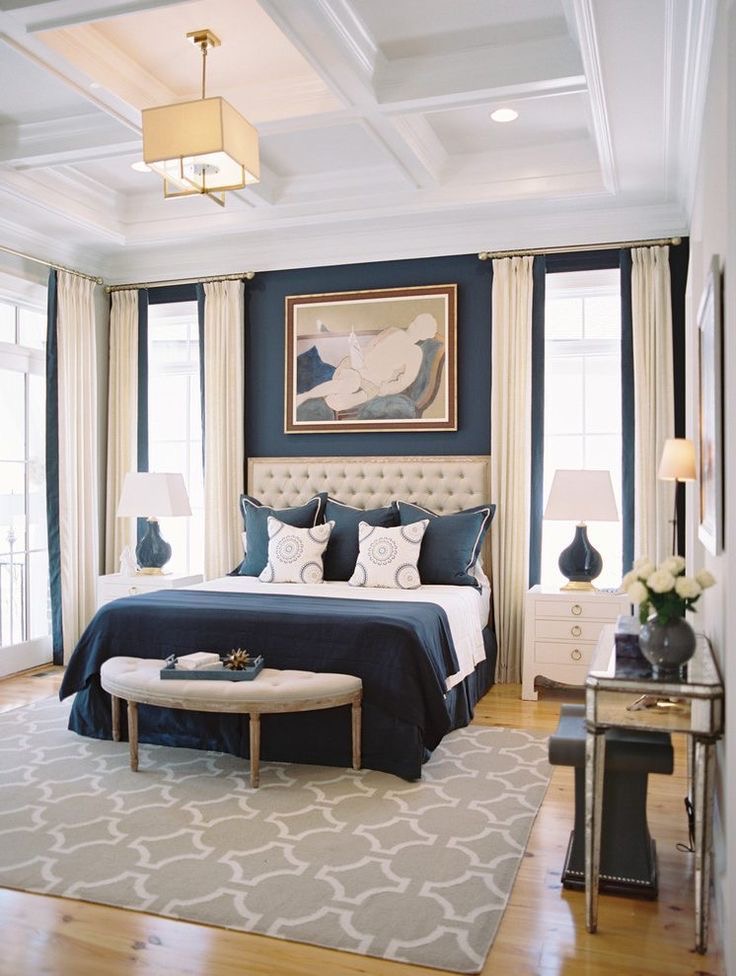 Transitional Bathroom:
Transitional Dining Room: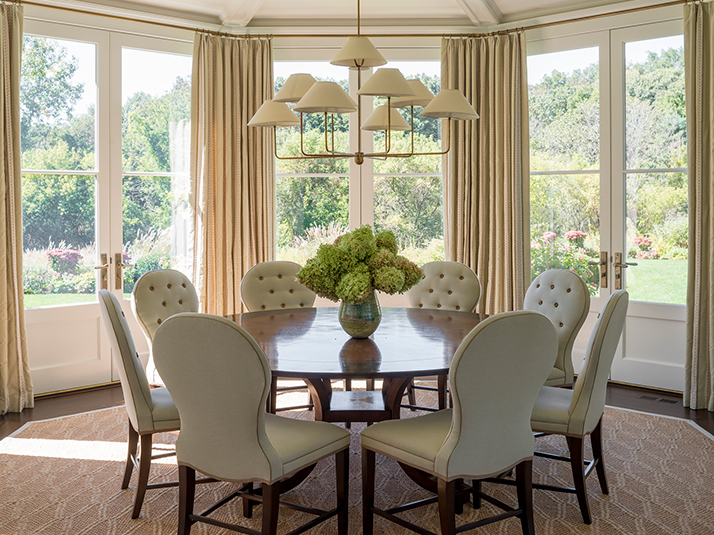 Do you like transitional style? Is it in your home?
Contact us today to get started on your next transitional soft furnishings project!