Natural Woven Roman Shades Add Warmth in Rocky Face, GA
May 16, 2022
We love when you give us the opportunity to design window coverings for rooms throughout your home. It allows us to execute a seamless, cohesive look while still considering the needs of each room. Not too long ago, clients in Rocky Face, GA asked us to create and install beautiful draperies for their living room. We were thrilled when they asked us to come back and design window treatments for their kitchen, powder room, and bedroom. We worked with the homeowners to create a woven wood Roman shade to use in all three rooms. Keep reading to learn more about why we made that decision.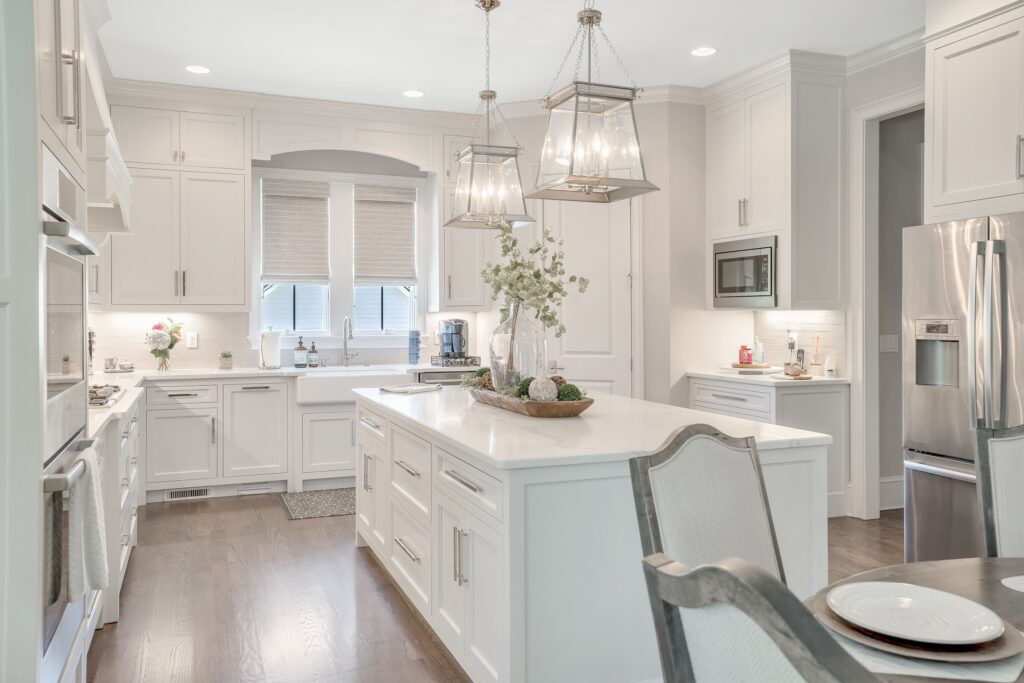 Roman shades are practical for any room
One of the reasons we love Roman shades is because they look great on their own. Our clients wanted window coverings that had a clean, tailored look, were uncluttered, and did not take up much space. Roman shades were the perfect choice for achieving that.
We chose a flat fold because we knew the homeowner did not want to spend much time styling the Roman shades each time they raised or lowered the window coverings. This was especially important for these clients because the window coverings over their kitchen sink may have been difficult to adjust.
Flat fold Roman shades look flat when layered but draw into a neat bunch of folds when raised. They're incredibly functional, which is essential in rooms where the window coverings will be open and closed often — like in kitchens, bathrooms, and bedrooms. These clients in Rocky Face, GA can easily raise their shades to let in plenty of sunlight while doing dishes. But they can also lower the Roman shades in the powder room to provide privacy. We lined the Roman shades to offer room darkening capabilities in the bedroom.
Read also: Light Filtering vs. Room Darkening Window Coverings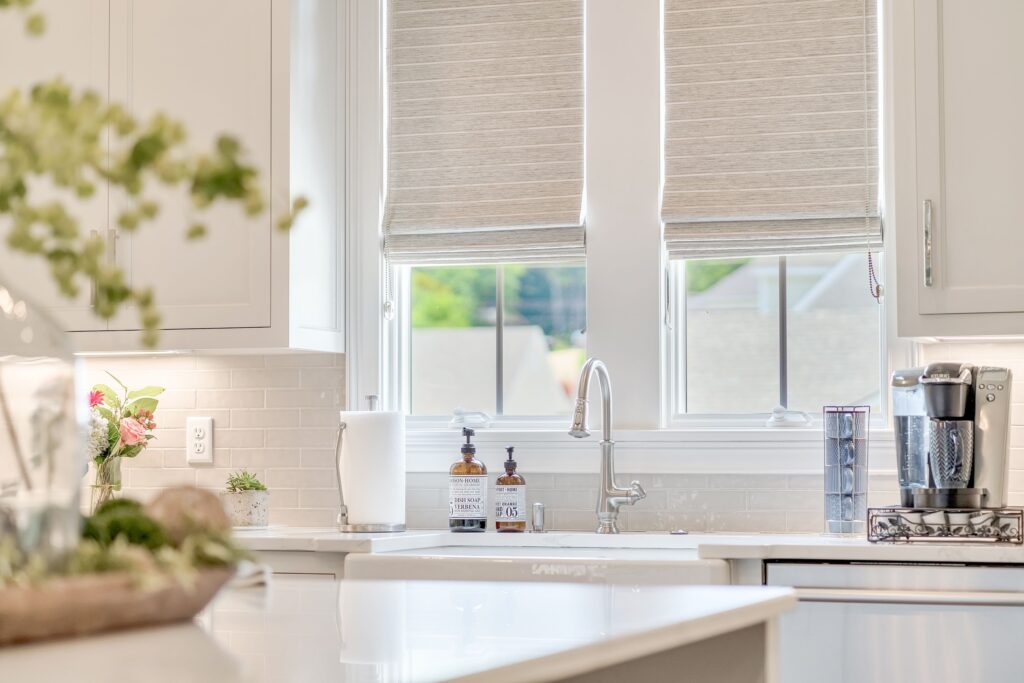 Roman shades are completely customizable
We enjoy designing and installing Roman shades because we can customize every aspect of the window covering to meet your needs. Not only can we create them to fit any size window, but we can also help you choose the perfect fabric, trim, and other embellishments to match your style and complement your decor and furnishings.
This couple chose a neutral color palette because they wanted to highlight the decor used throughout their home. The neutral color of the fabric complements their wall color and furnishings, allowing the pops of blue used throughout their home to stand out and take center stage.
You can also choose how your Roman shades are raised or lowered — manually or through motorization. These homeowners decided to attach a metal chain to their shades. But we can also motorize your Roman shades so that you don't even have to touch them when you want to adjust them. Motorization is especially useful if you have any hard-to-reach windows.
Read also: Benefits of Motorized Window Coverings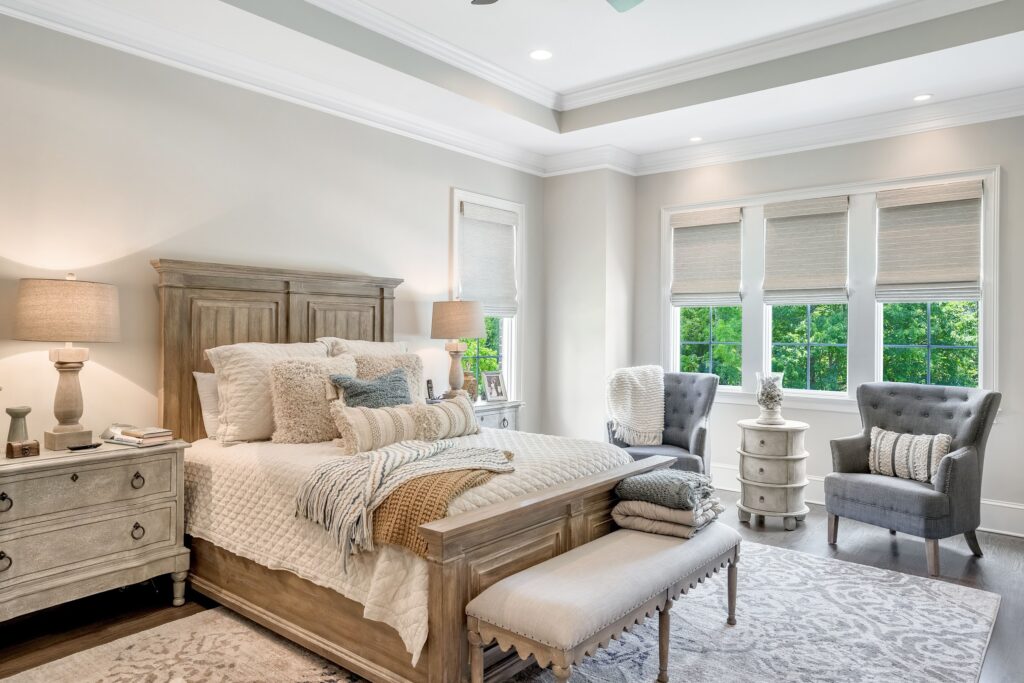 Woven woods warm up your space
Kitchens and bathrooms both have a lot of hard surfaces, like countertops, sinks, and appliances. Without window coverings, these spaces can too easily feel cold and uninviting. No room in your home should ever feel that way. Because of that, we chose to design Roman shades made of woven woods. Woven woods are made from natural materials that can offset hard surfaces and add more character to any room. They soften up the space to make it more welcoming.
You can bring nature into your home by using woven woods to embrace one of the latest trends — biophilia. By bringing natural elements inside, your home will feel warmer and feel cozier.
Woven woods also add warmth to a room by introducing texture and visual interest to the space. These homeowners love to play with texture. By choosing natural woven Roman shades, they could bring in texture that is more subtle than their blankets and pillows.
Read also: Trend Report: Top 9 Window Treatment Trends to Watch in 2021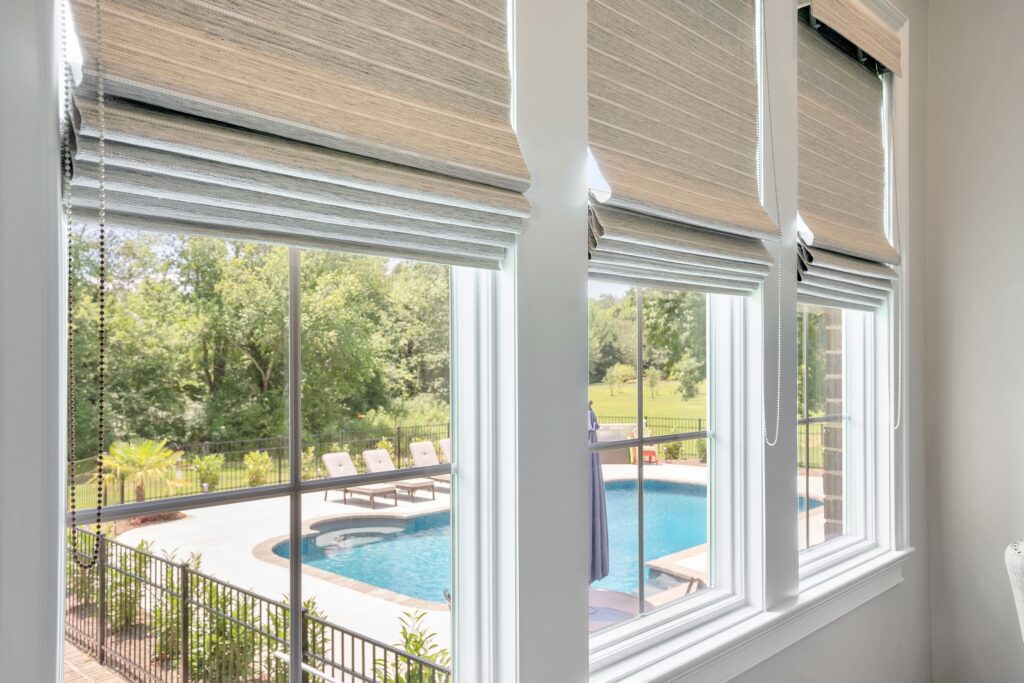 Woven woods protect your home
If you have a room with a lot of sunlight throughout the day, you want to use a material on your window coverings that provides light control. Woven woods do just that. They transform harsh UV light into a warm glow. This allows light to stream into the room (when you want it to) while still protecting your flooring, furnishings, and decor from sun damage.
Woven woods are certainly not the only material that will protect your home, but they are incredibly durable and will hold their shape over time. Even if your window coverings are raised and lowered regularly and are constantly in the sun, they will still last you a long time.
Natural woven Roman shades look amazing in any style home. Do you want to add them to your space? Schedule a complimentary consultation today so we can work together to create the perfect window coverings for your home.