Everything You Need to Know About Roman Shades
May 16, 2022
Roman shades are soft window coverings that hang flat against the window when lowered and feature soft drapes or crisp folds of fabric when raised. They can be either functional or non-functional, and they are more decorative than basic cellular or woven wood shades because they can be made from any fabric and in a variety of styles.
Roman shades are a finishing treatment, so they're all you need on your windows (though they can look great layered with draperies!) They make a charming addition to any home in the Chattanooga area and add softness to rooms with lots of hard surfaces, like kitchens and bathrooms. Keep reading to learn more about Roman shades and how they can fit into your home.
Are Roman shades right for your home?
Rich, full-length draperies can add a lot of drama and elegance to a room. But sometimes, you want a clean, streamlined look for your windows, which is where Roman shades come into play. They are visually appealing and perfect for any room where you want a soft treatment, but where draperies won't work.
We believe that Roman shades look great in just about every home but have put together a few questions to help you decide if they're right for you:
Do you have room for a stack back? A stack back is the amount of space the drapery takes up when fully opened. If you don't have a lot of room, you might use a pleating style with a smaller stack back (like a box pleat). Or you might want to forego draperies altogether and choose Roman shades instead.
Are your windows odd sizes or difficult to reach? Window coverings are great at problem-solving, and Roman shades are a convenient option for any window that's causing issues.
Is the window in a small room or area? Roman shades don't take up as much space physically as draperies, but they still add a lot of style to a room.
Do you have pets or young children at home? Because Roman shades don't go all the way down to the floor, you won't have to worry about your children tugging on them as much or your pets rubbing up against them. If you do have pets or children, High Country Drapery Designs offers a large selection of performance fabrics to choose from.

6 common styles of Roman shades
Roman shades can be dressed up or down to fit any style home. There are several different types of Roman shades, and we can help you choose the perfect option for you based on how you want the shade to look when it's in a lowered position.
Here are six types we see most often:
1. Plain fold
When you think of a Roman shade, you're probably thinking of a plain fold Roman shade, even if you don't realize it. When the shade is lowered, the fold is visible. When raised, the fold becomes more pronounced. This type of shade offers a timeless look that brings more texture and body to your window.
Read also: Trend Report: Top 9 Window Treatment Trends to Watch in 2021

2. Soft fold
In a soft fold Roman shade, the fabric cascades in a rippling effect so that the window covering retains the loose folds in both the raised and lowered positions. It has softer, rounder folds while still maintaining a straight edge along the bottom of the treatment. A soft fold Roman shade (also called a looped or hobbled Roman shade) adds an informal aura and can create a romantic and airy feel.
3. Swag
Swag Roman shades have a tail on each end and a relaxed middle. They're created from carefully crafted inverted pleats along the headrail to ensure a lasting look and shape. Swag Roman shades are primarily a decorative style and not ideal if you plan to use the window covering often. If you're looking for a stationary treatment, though, these shades add an elegant statement to any room.
4. Tie
Like swag shades, tie Roman shades are decorative but not very functional because they take a little effort to have them lie right. We used to see them a lot in kitchens, but now see them most often in nurseries and kids' rooms. They are a lot of fun to design because you can easily add embellishments, like trim, contrasting fabric, or buttons.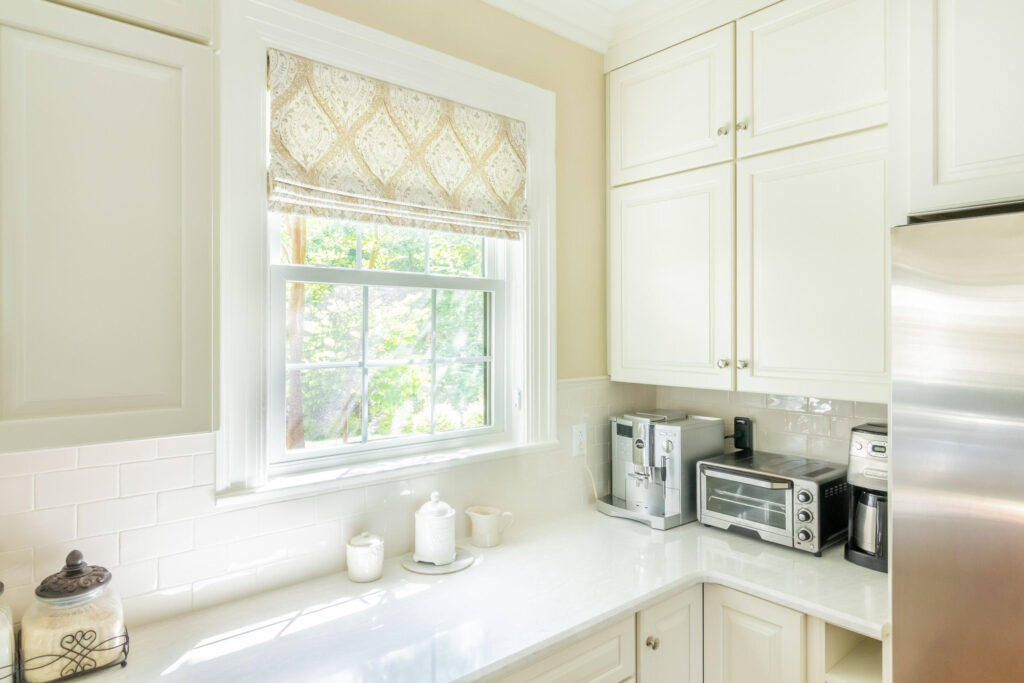 5. Flat fold
A flat fold Roman shade is made of a continuous piece of fabric and hangs flat against the window. When fully lowered, the shade looks flat (as its name suggests), but when raised, the fabric draws upward in a neat bunch of folds that are reminiscent of cellular shades. These shades are highly functional and require little-to-no styling or adjusting of the fabric.
See flat fold Roman shades in one of our recent projects!
Flat fold Roman shades give a clean and tailored look, which is perfect if you want an uncluttered, pristine look. Because of their sleek appearance, these shades complement draperies beautifully. The majority of our client's prefer flat fold Roman shades.
Read also: Everything You Need to Know About Layering Window Treatments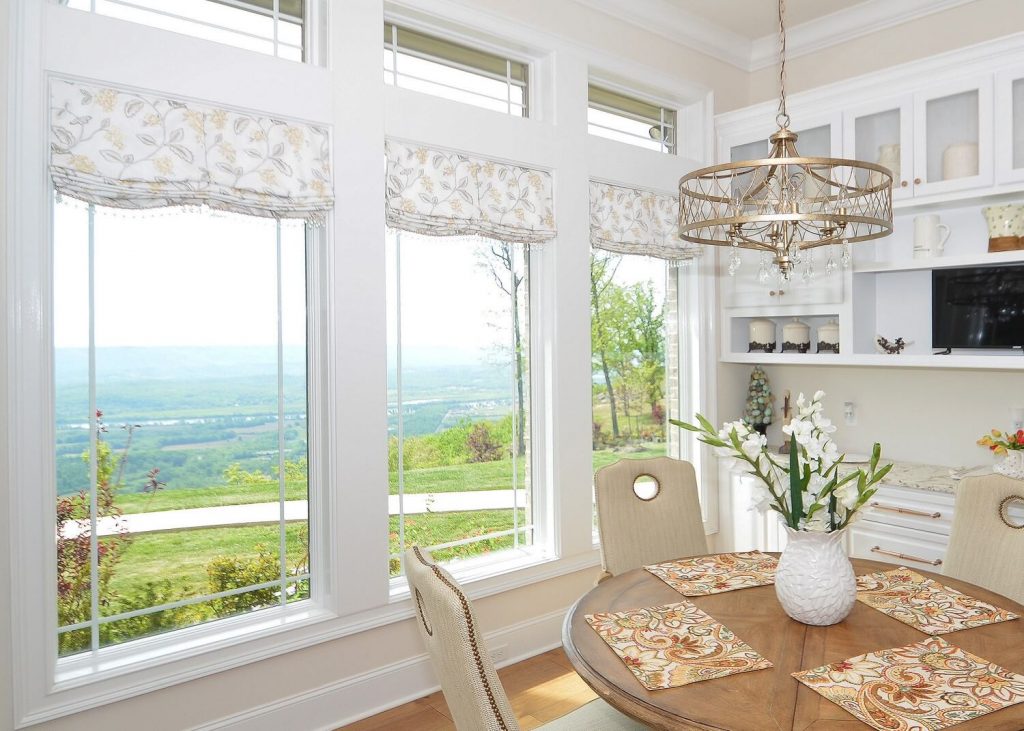 6. Relaxed
Relaxed Roman shades, also called European Roman shades, do not have a rod sewn into the bottom. Because of that, the fabric drapes in a natural, soft curve and has an unconstructed look as compared to other types. This laidback style is mainly decorative and may require some styling to get it to lie just right. It will, though, highlight whichever fabric you chose to use.
See how we used relaxed Roman shades in a Jasper Highlands kitchen.
Roman shades can be completely customized
Besides choosing a style that matches your home, you can completely personalize your Roman shades by adding details like inset borders and contrast piping. Our Roman shades are available in various customizable options, allowing you to choose the perfect product for your Chattanooga-area home.
You can also choose your operating system: corded, cordless, or motorized. Cordless and motorized Roman shades can greatly simplify your life and are great options if you have young children.
Roman shades also offer privacy, temperature control, and light control. You can use a Top-Down/Bottom-Up system to position your window coverings how you like and customize the light balance and privacy in your home.
We can create Roman shades in the perfect fabric, trim, and style to fit your style beautifully. Contact us today to get started!