Newly Renovated Kitchen in Chattanooga, TN Capitalizes on Its Lake View
May 16, 2022
We could sit and enjoy this Chattanooga kitchen all day! When the homeowners were renovating their kitchen, they asked us to create window coverings that would not block their gorgeous lake view. And they wanted us to fabricate a comfortable and stylish custom cushion for their window seat so they and their guests could enjoy the view, a good cup of coffee, and great conversation.
The owners of this beautiful home wanted everything we designed to have a classic, tailored look to complement their new white cabinets and wood countertops. We hope you love what we created!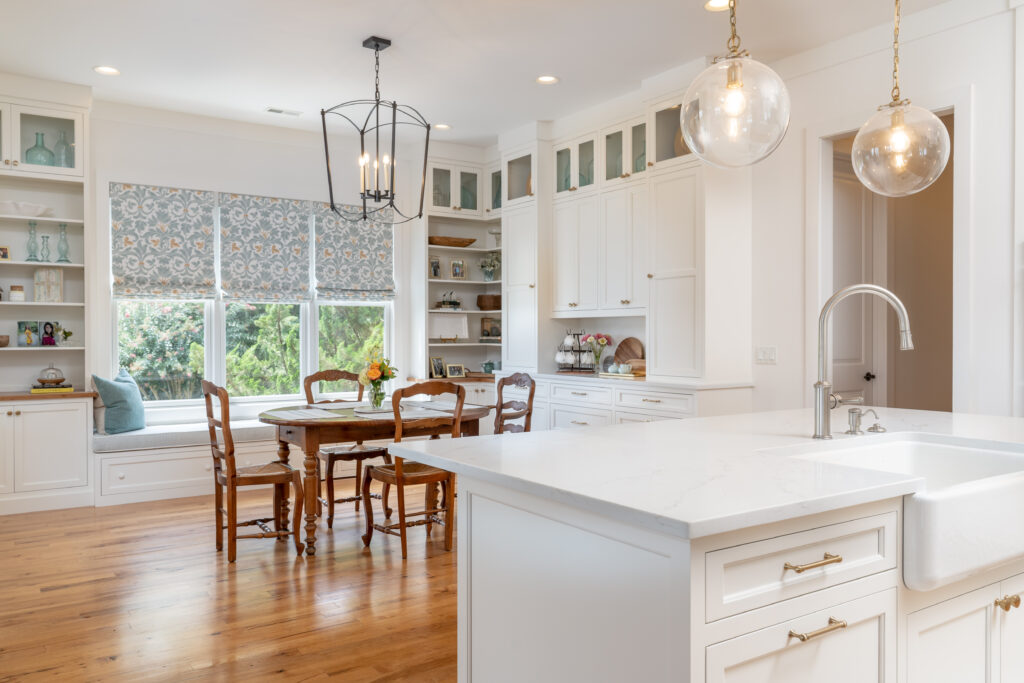 Flat fold Roman shades for a clean & tailored aesthetic
To ensure the window coverings took up minimal space and didn't obstruct the lake views, we chose a flat fold Roman shade.
The flat fold, which is one of the most popular Roman shade types in the Chattanooga area, is made from a single piece of fabric. When the window treatments are fully lowered, they lay completely flat. When raised, the material forms soft folds. The bottom of flat fold Roman shades is straight, which gives them a clean, uncluttered look that does not detract from the lake views in this kitchen.
Read also: Everything You Need to Know About Kitchen Window Treatments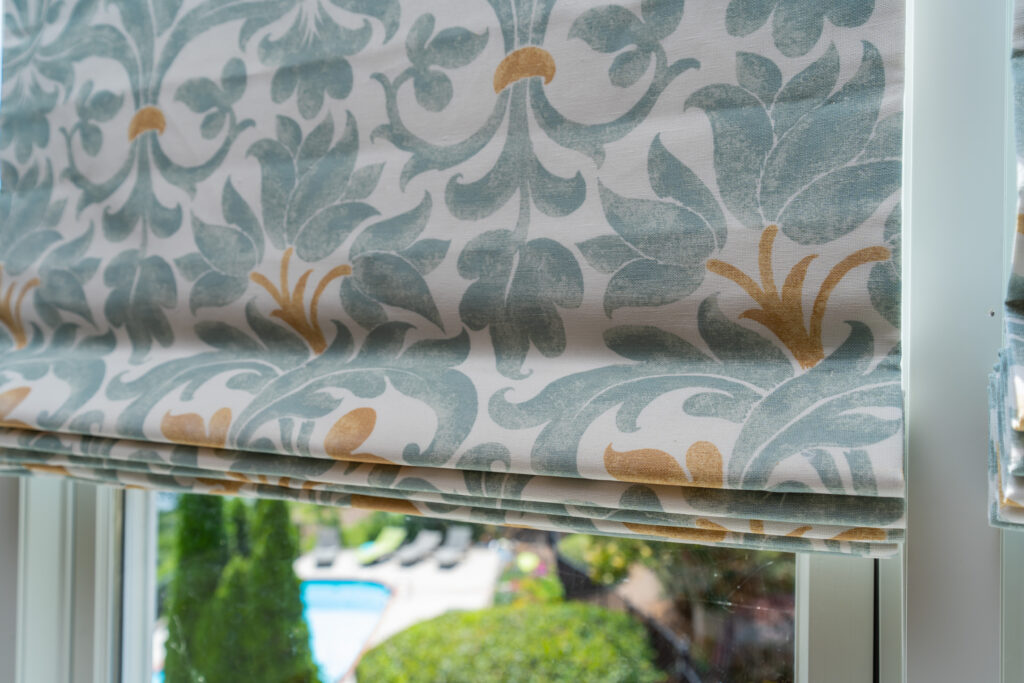 We also wanted the window coverings to be easy to operate to ensure the homeowners could quickly reposition them as needed. For this home, we chose a cordless lift operating system, which is a safe and clean-looking option. A cordless lift system also gives you complete control over where your Roman shades start and stop when adjusting them.
As is common in kitchens, there is not much space surrounding the windows in this kitchen. Because of that, we chose an inside mount. And we absolutely love the crisp, clean look it gives these Roman shades.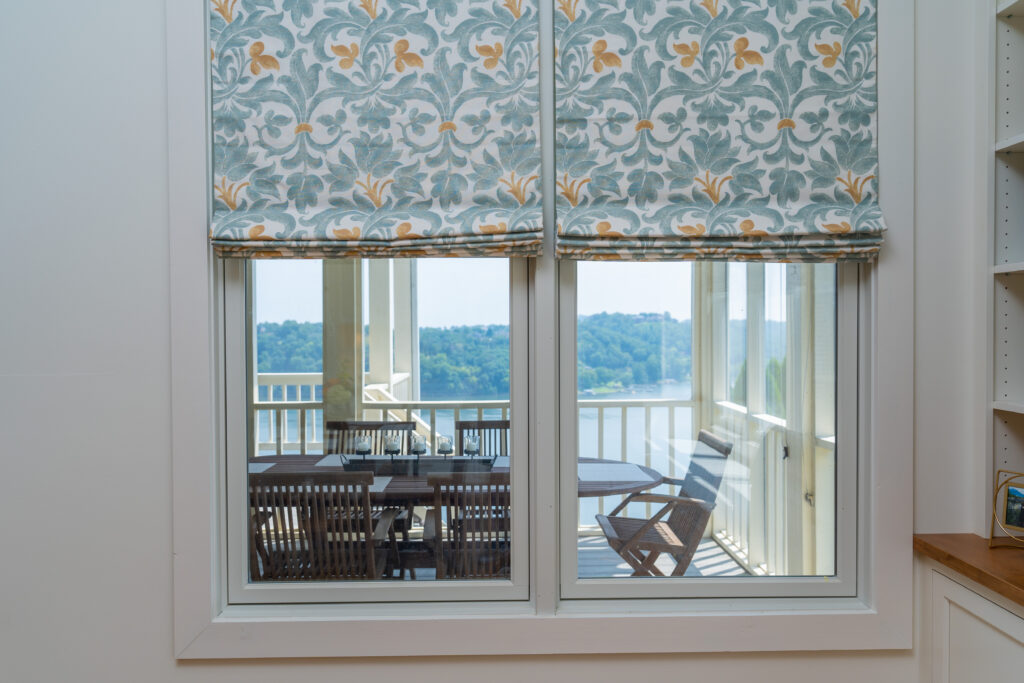 Expert pattern matching sets custom window coverings apart
We also wanted to bring a little bit of color into the kitchen, and these Roman shades were the perfect opportunity. Because the style is simple and tailored, we could choose a more dramatic pattern. That's why we went with this beautiful teal and gold fabric. The material perfectly frames the windows and draws your attention to the stunning views outside.
When you opt for an inside mount across multiple windows, as we did in this kitchen, you generally have two options: to install one large panel that covers the entire window span or to install individual panels for each window. In this kitchen, there is a mullion (the vertical bar between each window) that prevented us from installing a singular panel. That required us to pay extra attention to the pattern when fabricating the window coverings.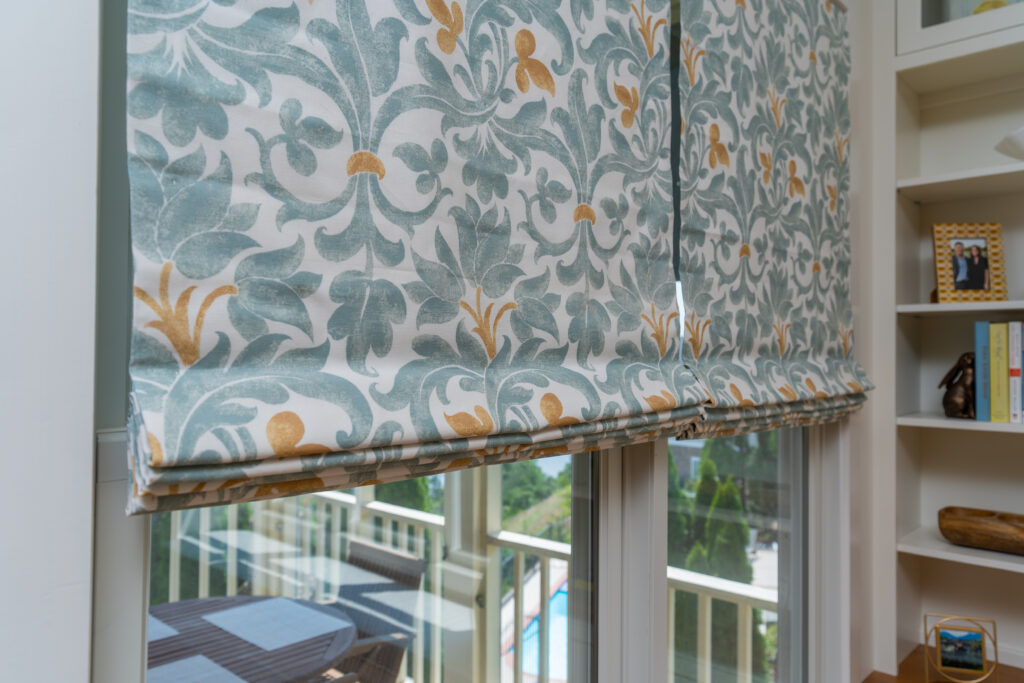 There are two types of pattern matching:
matching the pattern when joining cuts of material together, such as across a seam
matching the pattern motif across an entire project
We created a total of six individual panels for this Chattanooga kitchen, so we needed to match the motif across each one to give the illusion that the panels were a singular unit.
Read also: Is Pattern Matching Important for Custom Window Coverings & Soft Furnishings?
Since we took so much care to highlight the pattern present in these Roman shades, we didn't want the colors and design to be lost when direct sunlight was shining through them. So we lined the Roman shades with a room-darkening liner.
Not only does a room-darkening liner block the sun so you can see the true colors of the fabric, but it also keeps the heat out during the summer. Because of that, your kitchen will stay cooler (even when you're using the oven), and you will not have to run your air conditioner as often.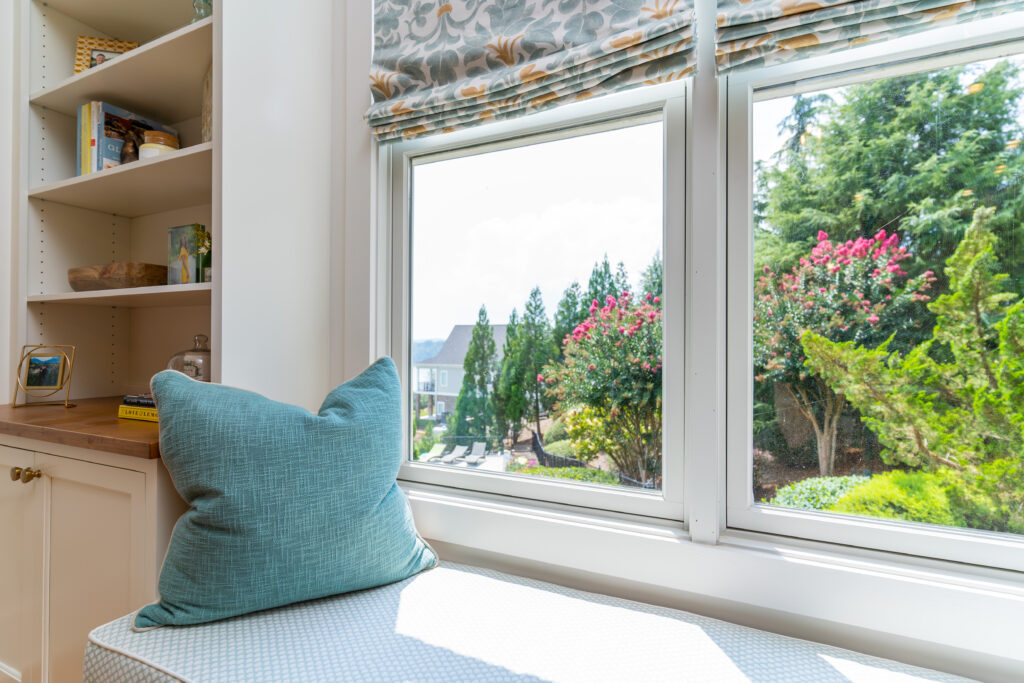 Dracon wrapped custom cushion for a comfortable window seat
We also had the opportunity to fabricate a beautiful and comfortable custom cushion for the seating area in this kitchen. The homeowners had a window seat installed between two sets of cabinets. They wanted to make the bench as comfortable as possible to enjoy their morning coffee while looking out at the lake.
We added Dacron wrapping to the cushion to give it a rounder look and a softer feel. Dracon is a synthetic upholstery batting wrapped around the foam of a cushion to create a fuller appearance.
The Dracon material doesn't compress, so it evens out any slight imperfections in the inner fill material and always bounces back to shape. That means it also helps eliminate wrinkles, making the custom cushion cover fit neatly. Even after you've owned and used the cushion for some time, it will still look as crisp and neat as the day it was installed.
Besides making your custom cushion appear softer and fuller, Dracon also protects your cushion. It dries quickly to prevent mold and mildew, making it perfect for kitchens and high-humidity areas. If you choose a Sunbrella fabric for your custom cushion, the Dracon material will help your cushion better withstand the elements outside.
Read also: How to Clean Your Outdoor Furniture & Sunbrella Fabric This Summer
Adding Dracon between the inner fill material and the exterior fabric will also reduce friction, reducing the wear on the fabric because the fabric and interior foam will never touch directly. You can use and love your custom cushion for a long time.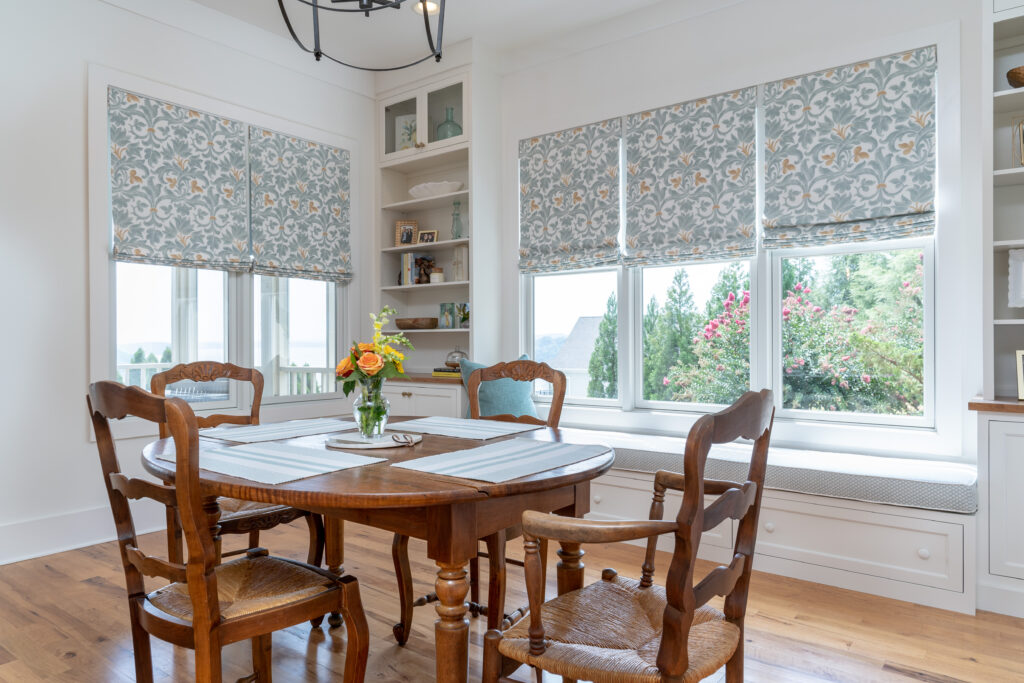 Add welting to a custom cushion for a tailored look
To continue the tailored look within this Chattanooga kitchen, we chose to create a boxed cushion. A boxed cushion has a flat top and bottom and four sides created by sewing a separate piece of fabric to connect the top to the bottom. We carefully match the pattern across those seams, so you will never realize that the cushion is created from multiple cuts of material. Boxed cushions have a neat, classic aesthetic and look fantastic on window seats and banquettes.
We then added piping, also calling welting or cording, for a tailored, finished look. Welting is a fabric trim made from the same fabric as the cushion cover or a contrasting material. The result adds definition to a plain boxed cushion for a crisp, structured style that complements the clean lines of the kitchen and Roman shades. From a technical standpoint, piping further protects your custom cushion. It adds extra strength to the seams to ensure they can withstand daily wear and tear.
For this cushion, we chose Comfort in the color "Chalk" from Carole Fabrics to contrast the ikat pattern used on the rest of the cushion. Using a contrasting material adds a hint of texture and highlights the primary fabric.
Are you renovating your kitchen? Window coverings and soft furnishings add warmth to offset all the hard surfaces in the room. Schedule a complimentary consultation with us today to create the look you've always wanted!