How To Clean Outdoor Furniture Decor Sunbrella Fabric
May 16, 2022
With the long days and warm nights, we want to spend as much time as possible in our outdoor living spaces during the summer. So whether you're enjoying an ice-cold glass of sweet tea on the porch, having dinner on the patio while listening to the cicadas, or playing games in the pool, keep your backyard sparkling clean to make your summer more enjoyable. Keep reading to learn more about how to quickly and easily clean your outdoor furniture and Sunbrella fabrics.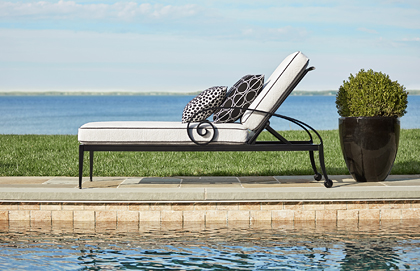 At a glance:
Should I avoid any cleaning products on my outdoor furniture & decor?
We recommend avoiding the cleaning products you would typically use inside your home because they may contain chemicals that could damage the finishes of your outdoor furniture and decor. Instead, use mild soaps and cleaners made specifically for the outdoors.
How do I clean my outdoor flooring?
Before you clean your flooring, carefully move your outdoor furniture and decor to a safe location. Then, sweep to prevent dirt and grime from getting stuck to your outdoor surfaces.
Wood flooring
Use a wood protectant and cleaner to prevent mildew or rot and preserve the wood for longer.
Concrete surfaces
Wash concrete flooring with a combination of dish soap and hot water and clean any particularly stubborn stains with a stiff broom. Then, rinse off the area with a hose.
Stone or brick flooring
To clean your stone or brick surfaces, put a tablespoon of dish soap in some warm water and use a soft-bristled nylon push brush. Then, rinse everything off with a hose.
How do I clean an indoor/outdoor rug?
Cleaning your indoor/outdoor rug is pretty simple. Usually, you'll just need to vacuum it regularly and occasionally give it a gentle shake. If you notice any stains, scrub the stain, then hose the rug off.
How can I clean my grill or fire pit?
Who doesn't love hosting an outdoor cookout or sitting around a fire at night? If that sounds like you, make sure your grill, outdoor fireplace, or fire pit is always clean to protect your home and family.
Follow your manufacturer's directions to properly clean propane and glass fire pits, grills, and fireplaces. If you have a wood-burning fireplace or fire pit, don't forget to sweep out the ashes.
Read also: Outdoor Tech: 5 Ways to Make the Most of Your Backyard
Do I need to clean my outdoor furniture?
Yes, you need to clean your outdoor furniture now and then.
Metal furniture
Wrought iron is one of the most popular choices for outdoor furniture because of its durability. You can easily return your furnishings to "like new" condition by using a sponge or brush and ¼ cup of mild dish soap mixed into a gallon of warm water.
If you notice any rust spots, use steel wool to remove the oxidation. You might also want to repaint your furniture with a rust-resistant finish to prevent future problems.
Wicker, teak, and other wood furniture
You can clean most wood furniture with mild oil soap and a soft brush or sponge to remove any grit and grime.
For teak furniture, you likely don't need to clean it too often. But we do recommend reapplying TeakGuard or a similar product every three to five years to protect your furnishings.
Should I cover my weatherproof furniture?
Yes, you should cover your weatherproof furniture. Although you may not have to worry about how the elements will affect your furnishings usually, covering them can protect your furniture from damage caused by inclement weather.
How do I clean Sunbrella fabric?
We always recommend using performance fabric for upholstery, cushions, pillows, and draperies in your outdoor living spaces. Our favorite outdoor material is Sunbrella®, the industry leader in indoor and outdoor performance fabrics.
Read also: Child and Pet-Friendly Fabric for Window Coverings and Soft Furnishings
One of the biggest reasons we love Sunbrella is that its fabrics are incredibly durable and easy to clean, either by hand or machine.
To hand-wash Sunbrella fabrics, soak the material in a solution of ¼ cup of mild soap per gallon of hot water. If you need to agitate the fabric, you can use a sponge or soft-bristled brush. Then, rinse the fabric thoroughly to remove all soap residue.
Machine washing your fabric is simple and can save time because you can do other things while your outdoor pillow covers or drapery panels are in the washing machine. It can also provide a deeper clean because every inch of the fabric will be cleaned. To wash Sunbrella fabrics, use a mild detergent and cold water.
Whether you choose to wash the material by hand or machine, always allow it to air dry completely.
What do I do if I notice mold or mildew on my Sunbrella products?
Sunbrella is made from acrylic, so it's not likely to harbor dangerous mold or mildew. However, any dirt and grime on the fabric can grow its own mold or mildew.
If you notice mold or mildew, you may have to clean your fabric with a bleach solution. The solution should contain one cup of bleach and ¼ cup of mild soap per gallon of water. Soak the stain in the solution for 15 minutes or blot any set-in stains with a sponge or clean towel. After you've cleaned the area, rinse the fabric thoroughly to remove any soap residue. Then, let the fabric air dry.
Do I need to retreat Sunbrella fabric?
Sunbrella fabrics are coated with a special finish that helps them resist stains and prevents them from absorbing moisture. To ensure your upholstery, pillows, or draperies continue to be stain- and water-resistant, we recommend retreating your fabrics any time you thoroughly wash them.
To retreat your Sunbrella fabric products, apply a thin coat of 303® Fabric Guard after the fabric has dried completely. Let the fabric treatment dry, then add a second, thin coat. Applying two thin coats is more effective in restoring the water-resistant qualities than a single heavy coat of 303 Fabric Guard.
Why should I choose Sunbrella fabric for outdoor furniture & decor?
When you're designing your outdoor living spaces, you have a wealth of fabric available to achieve a beautiful appearance. But it's essential to choose a material that not only looks good but can also withstand the elements and the test of time, which is why we recommend Sunbrella fabrics.
There are five big reasons we think Sunbrella is the best choice for your outdoor living spaces.
1. It's resistant to mold, mildew, & water
Between the hot sun and spontaneous afternoon showers, summer weather is a breeding ground for mold and mildew growth. Because it's made of acrylic, Sunbrella safeguards your outdoor furniture and prevents the fabric from growing dangerous mold or mildew. That means it's safe for you to leave the material outside for an extended period of time.
It's also less likely to absorb water and leave stains, making it perfect for your poolside furniture!
2. It's fade-resistant
Unlike other fabrics (which are dyed only on the surface), Sunbrella dyes each fiber to the core with a UV-stable pigment. That means you can leave your fabric decor and furniture in the sun without worrying about it fading anytime soon. Your furniture and drapery panels will be vibrant for years to come!
3. It blocks UV rays
Here at High Country Drapery Designs, we're always looking for ways to help you protect yourself, your family and friends, and your home from harmful UV rays.
One way we do this is by recommending solar shades for your covered patio or deck. Another way is by using Sunbrella fabrics on all your upholstered outdoor furniture and drapery panels. Sunbrella material blocks up to 98 percent of UV rays!
4. It's easy to clean
As we've already shown you, it does not take a long time or much effort to clean your Sunbrella fabric so it can shine for your summer guests.
5. You can choose from hundreds of colors & fabrics
Sunbrella fabrics come in a variety of gorgeous colors and patterns. So you can find something that fits your needs and tastes, no matter your interior design style. With so many options available, we can help you make your backyard look as if it were part of your indoor living spaces.
Are you ready to update your outdoor living spaces and enjoy the beautiful weather this summer? Then, schedule a complimentary consultation to get started on your next project!