Adding Dimension to Layered Window Coverings with Tableaux in a Chattanooga Home
May 16, 2022
We love working with clients to design custom window coverings that meet their needs and match their design style. That's just what we were able to do for this Chattanooga client! Keep reading to learn more about the one-of-a-kind window treatments we created for their new home and get a sneak-peak at what goes into designing the perfect layered look.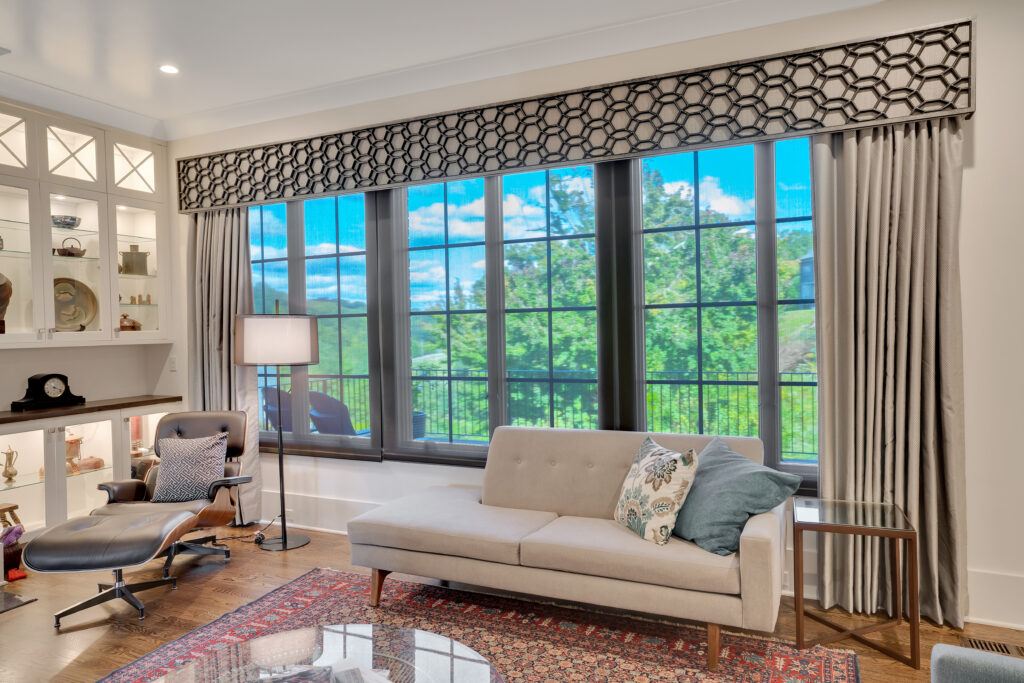 Layering window coverings add style & functionality
We chose to use layered window coverings in the living room, dining room, and master bedroom to blend our client's affinity for high-tech and love for textiles. So, we needed to marry technology with somewhat of a traditional style. This couple's differing styles meet on the platform of an arts-and-crafts style with a lot of mid-century modern flair.
This is just one of the many reasons we love layering window treatments — you can mix and match styles and fabrics to create a unique look that blends multiple design styles. Layered window coverings also allow you to add more texture and depth to your space. You might do this by pairing woven wood blinds with your drapes or by adding a faux iron Tableaux® Decorative Grille to a cornice (we'll share more about this in just a minute!).
Read also: Everything You Need to Know About Layering Window Treatments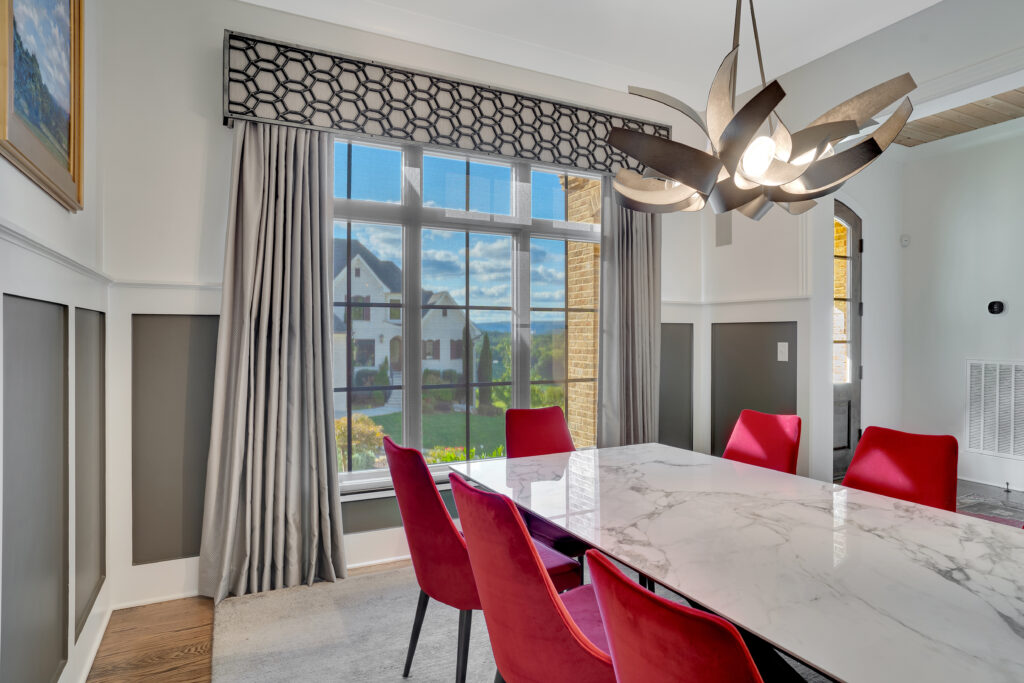 Motorized layers to embrace home automation
This North Chattanooga client knew they wanted a layer of motorization because they wanted to embrace full-home automation. This couple enjoys luxury vacations and often gets to experience automation on their travels. They wanted to bring those same experiences to their home by adding motorization and automation anywhere they could.
Motorized shades and blinds can greatly simplify your life because you can open and close them at the press of a button instead of having to go from room to room, adjusting them manually. You can even set your window coverings up to automatically open and close during specific times of the day.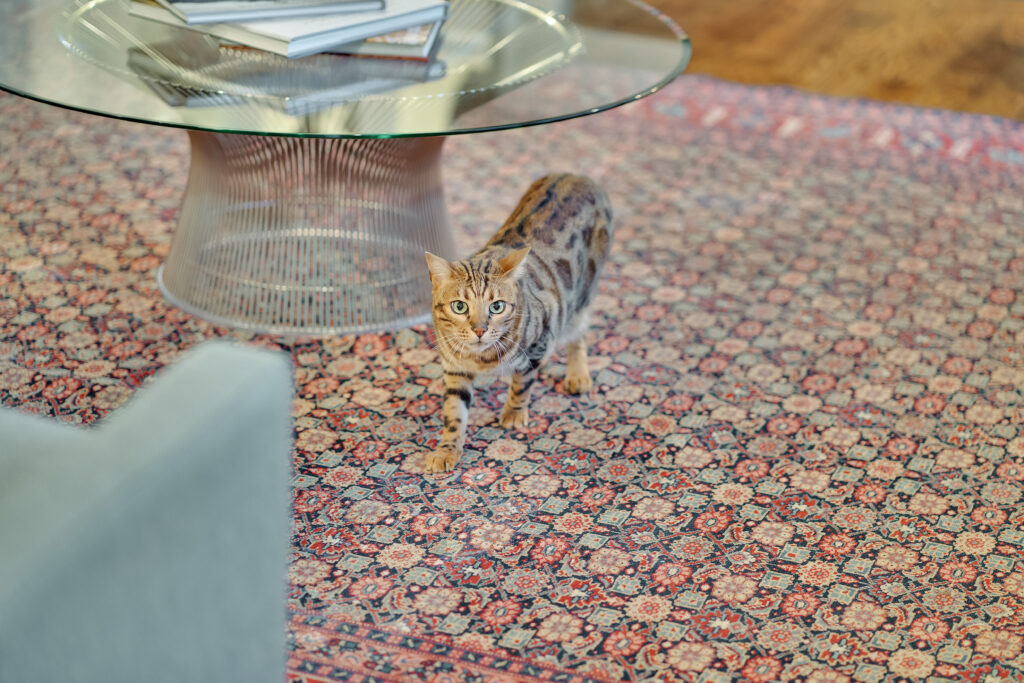 We initially considered doing a soft treatment as a motorized shade for this client, but their cat had to be considered. They wanted something that could be drawn up and out of the way and easily cleaned. They also didn't necessarily need a motorized layer that offered privacy because their house was private enough on its own. So, we chose a screen shade for the living room and dining room that reduced the sun glare. We then added a second layer of drapery to soften the look.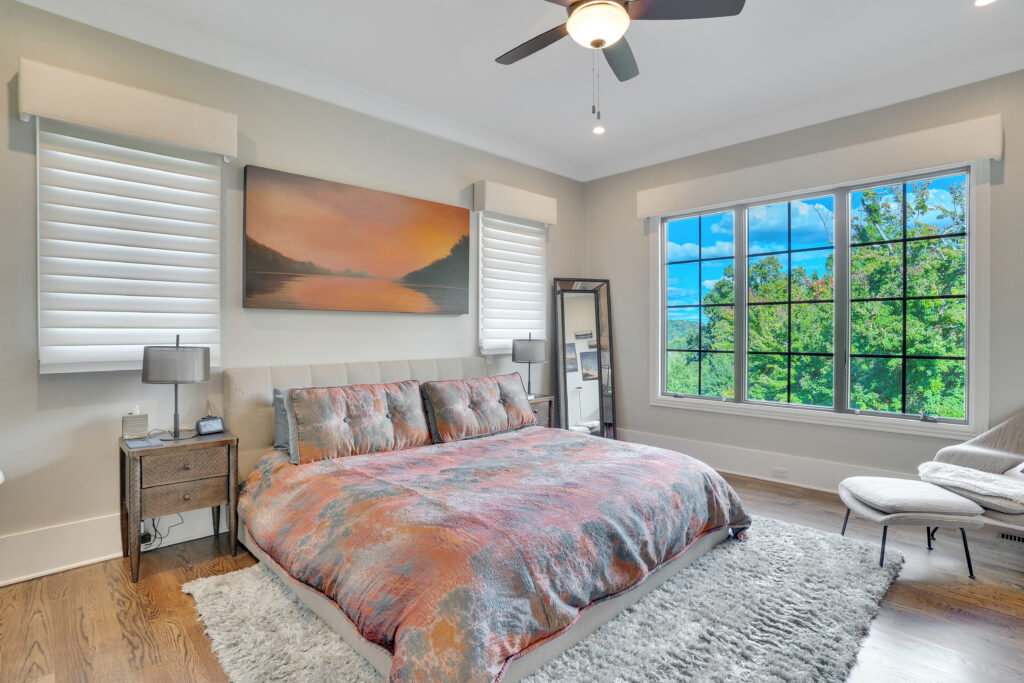 In the bedroom, we chose to use Hunter Douglas Silhouette shades because our client wanted to both darken the room and filter the light during the day. With the Silhouette, you can control how light comes in, while still having a room darkening scenario. These shades draw into a cassette, so they're completely out of the way to give the windows a wide-open appearance.
With the Silhouette, you can control the angle of the vanes. When the vanes are fully open, your shades can gently diffuse light while offering unobstructed views. When the vanes are closed, though, they block out the light to darken your room for a great night's sleep.
Read also: Light Filtering vs Room Darkening Window Coverings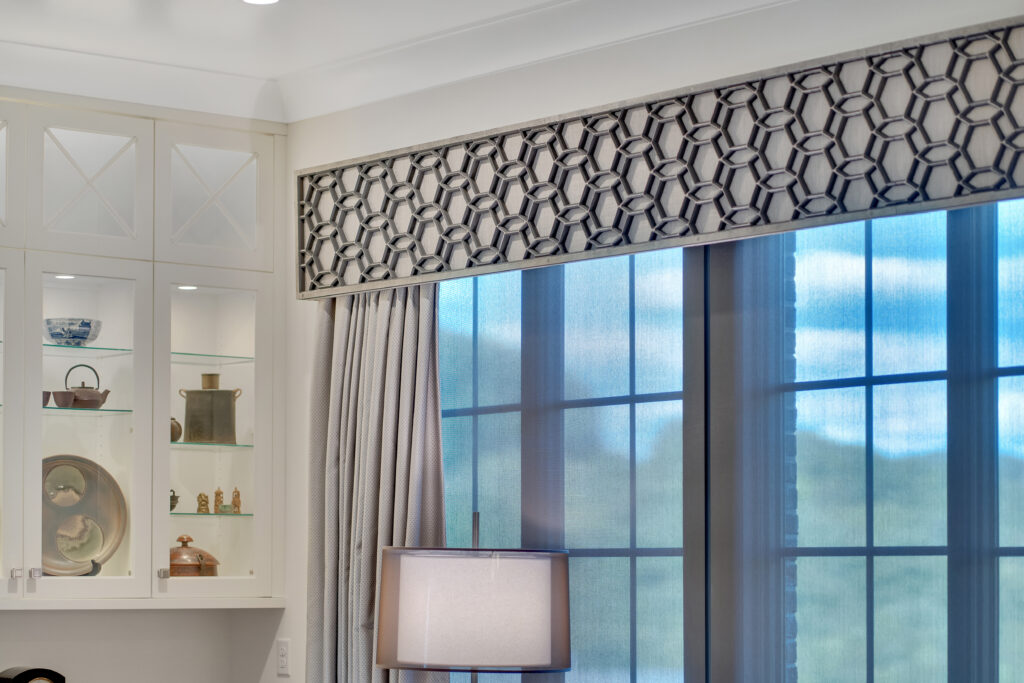 Use cornices to hide hardware
In our client's Chattanooga home, we realized we came in too late to influence how the windows were trimmed out. The builder had not left enough mounting space to do a motorized shade without a battery pack. So, we created a streamlined cornice to hide the headrails of the roller shades. A cornice is an ornamental element used to cover window treatment hardware or add additional color and style to your room.
Recently, Hunter Douglas has released a rechargeable battery pack, so you no longer have to worry about an exposed battery!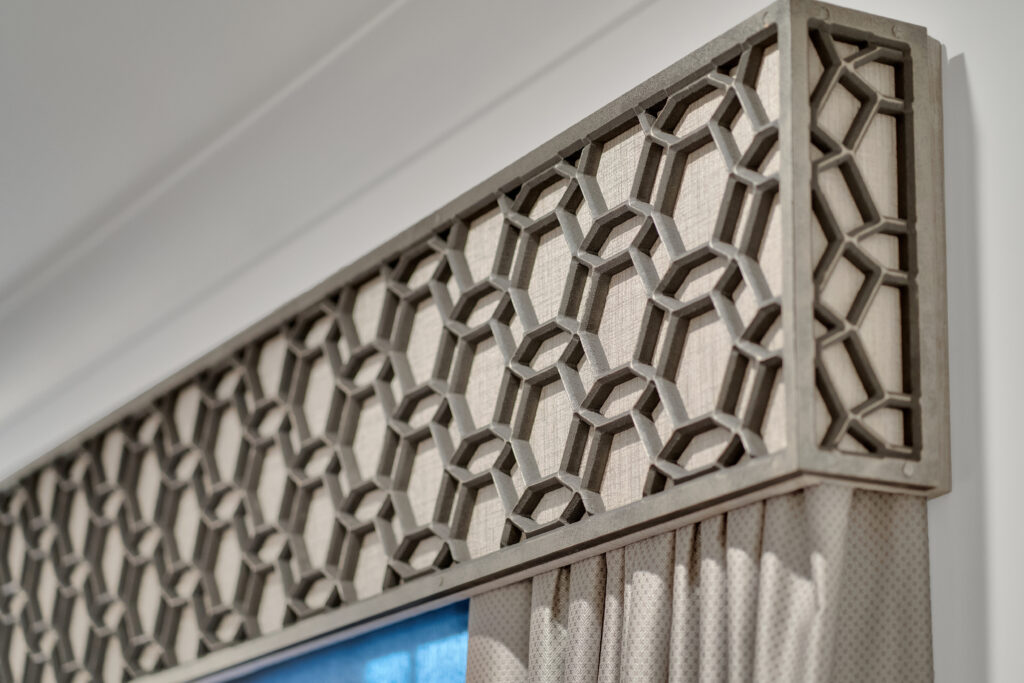 A Tableaux Decorative Grille adds depth & style
We chose to use a Tableaux Decorative Grille to add dimension to the cornices in the living and dining rooms.
A Tableaux Decorative Grille is an openwork architectural art form with design patterns made by cutting openings or holes into various materials. Because of the materials Tableaux uses, the overlay is exceptionally lightweight — weighing a fraction of what wrought iron does. With these decorative grilles, you're able to customize the shape, design, and paint to create a fully customized, one-of-a-kind look.
For the grille design, we took inspiration from the existing architecture in the client's home, particularly the pattern on their glass kitchen cabinets.
In the past, we've used Tableaux Decorative Grilles for odd-shaped windows that would be hard to dress otherwise, like arched or oval windows. In these cases, we often put a screen behind them. Instead of placing a screen behind this particular grille, we installed the grille on top of their cornice.
Whether you want a decorative grille to add texture while seamlessly blending in or to be a focal point in your room, we can make it happen. Schedule a complimentary consultation today!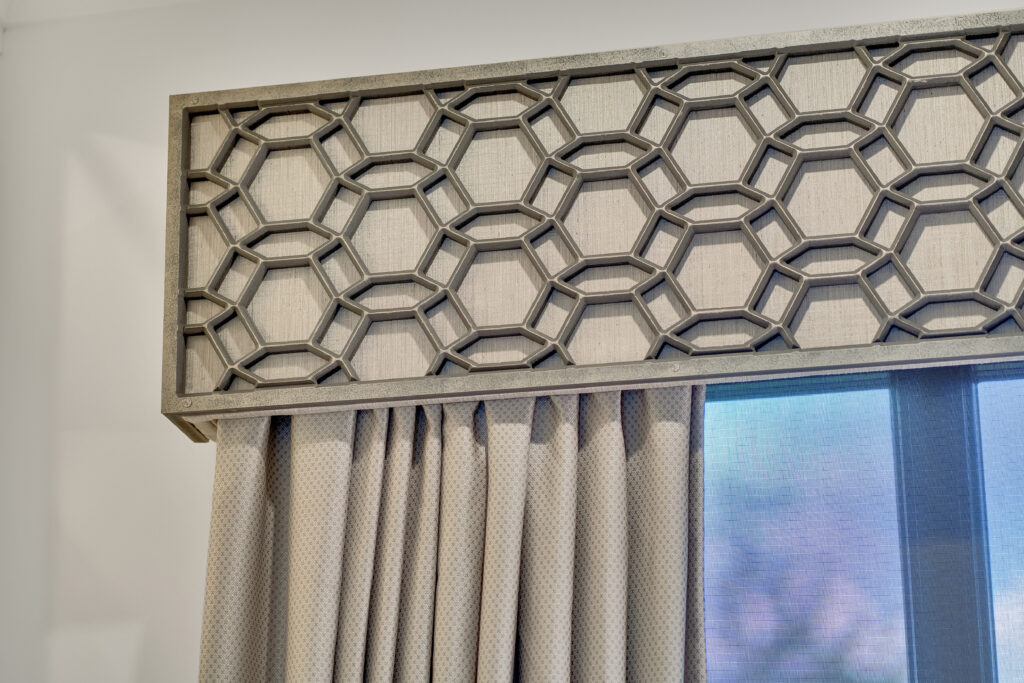 Project design highlights
For this Chattanooga home, we chose Carole Fabrics because they offered so many options, particularly small-scale patterns.
Our client has used a lot of reds in their rugs and artwork and wanted those elements to be the center of attention, not the window coverings and Tableaux. We wanted to minimize the drapery with a small-scale patterned, gray fabric.
We chose to paint the grille with metallic paint to give it the look of metal, so we wanted the backdrop of the cornice to have a similar feel. Because Carole Fabric offers so many diverse and economical fabrics, it was easy for us to pick out something that matched.