Hunter Douglas Silhouette Shades Provide Privacy & Light Control in Chattanooga
May 16, 2022
At High Country Drapery Designs, we're proud to offer a range of motorized window coverings from Hunter Douglas. One of our favorite products (and a favorite of many homeowners in the Chattanooga area) is the Silhouette® Window Shadings.
Silhouette shades are perfect for all your windows because they can help you fill your rooms with light while maintaining a sense of privacy. And they will not block your breathtaking mountain views.
Keep reading to learn more about Hunter Douglas Silhouette Window Shadings and find out why so many Chattanooga homeowners love them.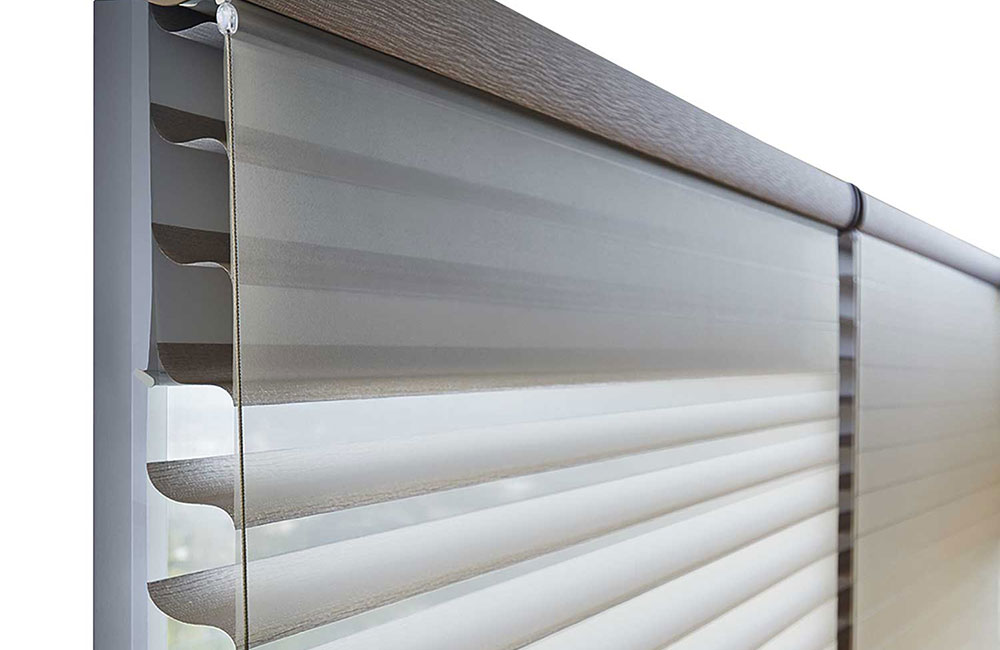 What are Hunter Douglas Silhouette Window Shadings?
Silhouette shades feature Signature S-Vanes™ that appear to float between two sheer panels. The window coverings are created with specialty fabrics that offer a combination of sheer panels and window blinds, so you don't have to choose between light control and increased privacy. Additionally, when your Silhouette shades are fully raised, they disappear into a fabric-covered headrail so your mountain views will not be obstructed.
Not only do we offer the original Silhouette Window Shadings, but we're also proud to provide two other variations: Silhouette ClearView® and Silhouette Duolite® shades.

Silhouette ClearView Shades
ClearView shades are made with specially designed ultra-sheer panels that allow you to enjoy the views outside your home while protecting your furnishings and decor from sun damage caused by harmful UV rays.
The sheer fabric works like magic to offer a clear, vivid view out of your windows. After we install your new window coverings, you'll be amazed to see that the colors, contrast, and brightness seem to be more true-to-life and more beautiful when you look out your windows at your mountain views.
The sheers also work to significantly reduce sun glare and reflect light so that you have a more comfortable and enjoyable experience inside your Chattanooga home.
Read also: How to Dress Your Family Room Windows to Prevent Sun Glare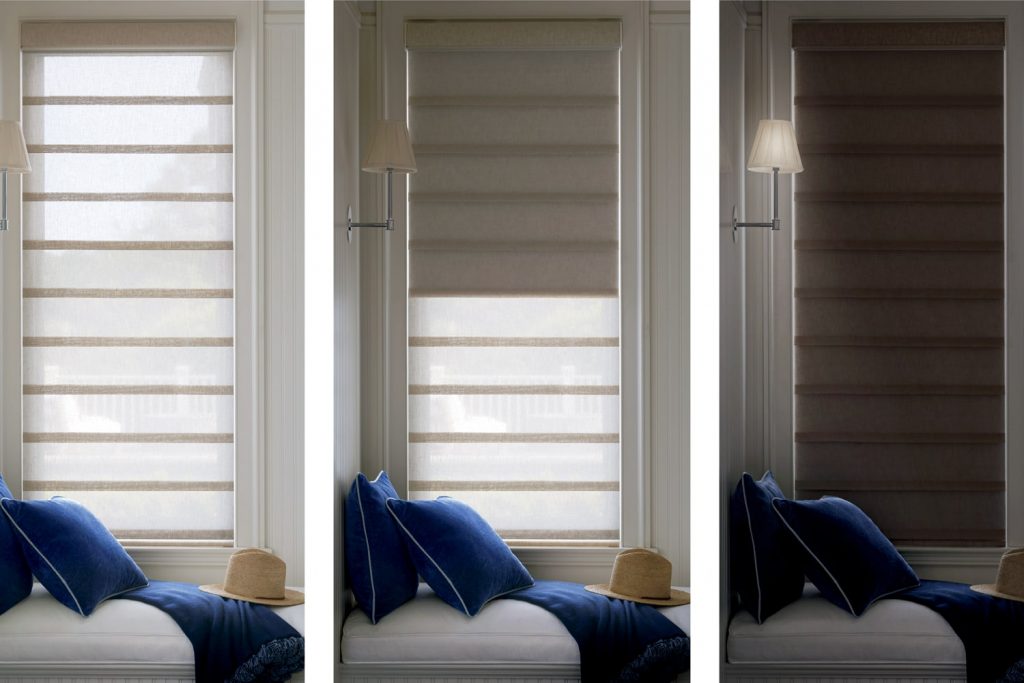 Silhouette Duolite Shades
Silhouette Duolite shades are two window coverings in one: they combine a light-transforming, translucent Silhouette shade with a room-darkening roller shade into a single unit. The roller shade fits snuggly behind the Silhouette shade in the same headrail, so the Duolite shade doesn't take up too much space.
Both shades operate independently from one another, giving you the best of both worlds — privacy and room-darkening capabilities. When both shades are lowered, the amount of light streaming into the room is significantly reduced. Duolite shades are perfect for bedrooms, home theaters, and any space that requires you to block as much light as possible!
Read also: Light Filtering Vs. Room Darkening Window Coverings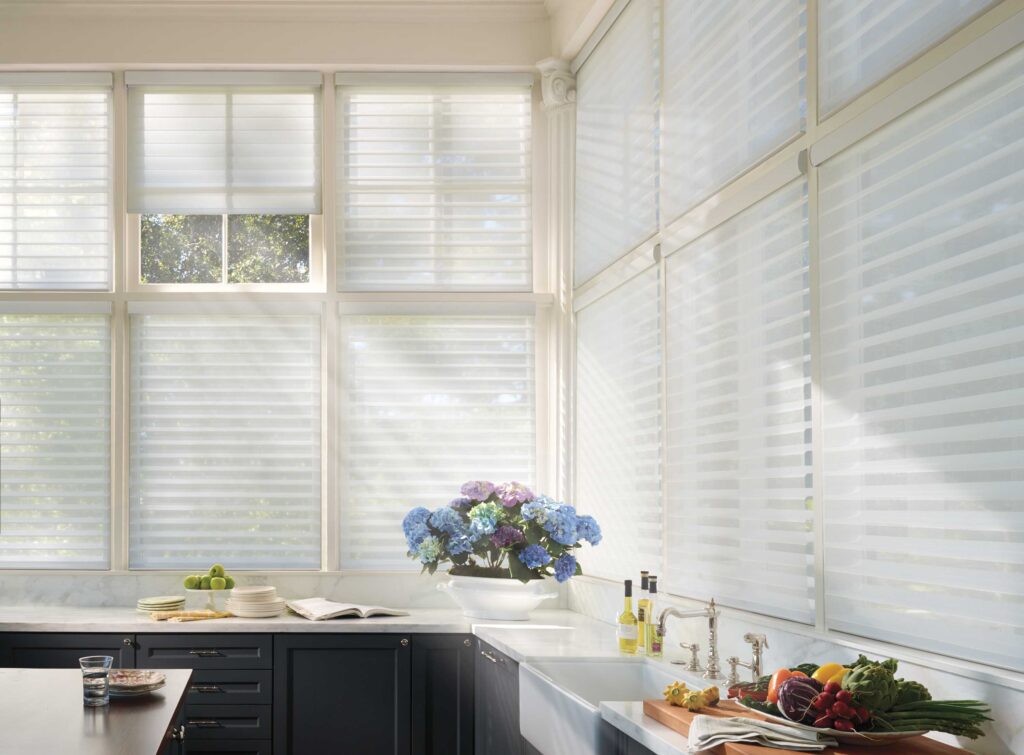 Top 4 reasons to love Silhouette shades
Now that you know a little more about Silhouette shades, let's take a look at why you should install them in your Chattanooga area home. There are many reasons why these window coverings are so popular in the area, but we wanted to highlight the top four reasons we love them.
1. Control sunlight & privacy
Silhouette Window Shadings allow you to effortlessly manage light and privacy in your home at the same time.
You can adjust the unique S-shaped vanes to diffuse harsh sunlight and create beautiful ambient light throughout the room. And when the vanes are tilted, they'll also block the outside world from peeking into your home. Hunter Douglas calls this "discreet privacy" because you can still enjoy your mountain views.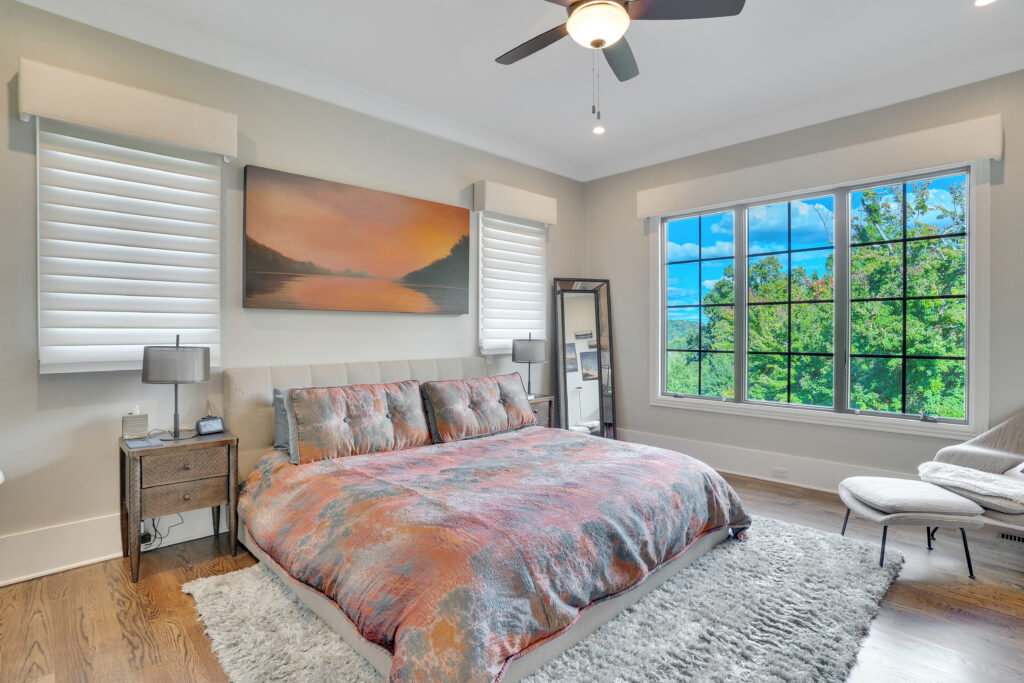 2. Simplify your life with motorization
If you've spent much time around us, you know that we love motorized window treatments. Any of Hunter Douglas's Silhouette products can be motorized!
You can pair your shades with the PowerView® motorization system and schedule your window coverings to open and close on their own. Wouldn't you love to wake up because your shades opened and allowed light to stream into your room? We certainly think that's much better than waking up to a blaring alarm clock.
Besides scheduling when your shades raise and lower and change angles, you can also control them from your phone, tablet, smart home system, or the sleek Pebble® Remote. That means you can control your window coverings on demand with the touch of a button, a tap on your phone, or the sound of your voice.
If you don't want to have your Silhouette shades motorized, you can choose among the following three operating systems:
LiteRise® Cordless System — This method allows you to operate your window treatments by simply pushing up or pulling down with your hand. You won't have to deal with any cords!
UltraGlide® System — This system features a single wand, instead of dangling cords, for enhanced safety.
EasyRise™ Continuous Loop Operation — This method features a continuous loop cord that's specifically designed for smooth and easy operation. It's perfect for opening and closing larger window shades.
Read also: Window Treatment Operating Systems: Manual, Cordless, and Motorized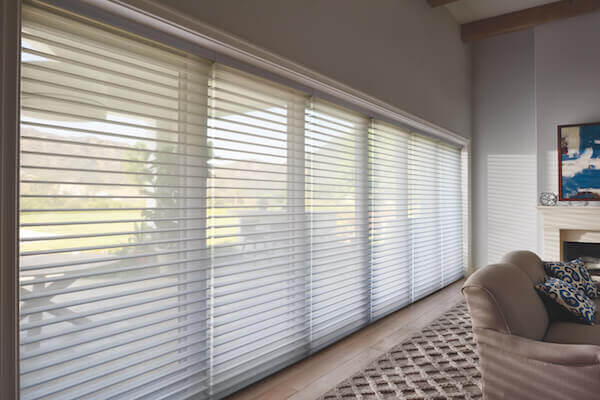 3. Combine style & function
It's a common misconception that Silhouette shades only come in white. You can actually choose from a variety of fabrics in multiple colors and textures to add both dimension and warmth to the room.
The Signature S-Vanes come in three sizes: 2-inch, 3-inch, and 4-inch. You can select the right size for your home to control light and privacy better.
Silhouette Window Shadings provide similar benefits as sheer drapery panels. But, they're easier to operate and will not take up as much visual space because they fit snuggly into your window frame. Silhouette shades can also be adjusted to different positions and angles, giving you even more light control than sheer draperies.
Want to see how Silhouette shades look in a local home? Click here to view one of our favorite projects.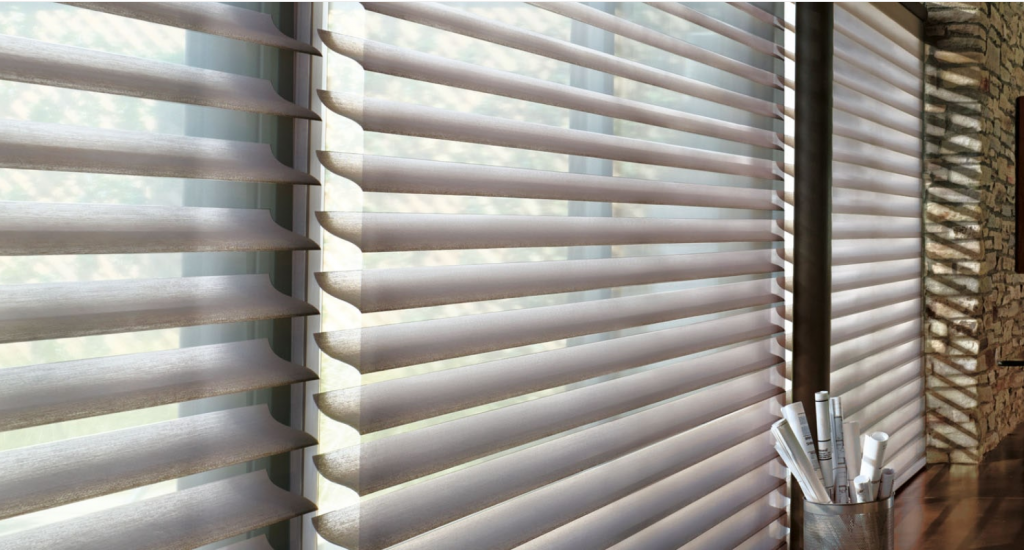 4. Protect your furnishings & decor
Depending on the material you choose, Silhouette shades can filter up to 88 percent of UV rays. They'll also filter out brightness and sun glare to protect your flooring, furnishings, and decor from fading.
Are you interested in adding Hunter Douglas Silhouette Window Shadings throughout your home? Then, schedule a complimentary consultation with us today to get started!