How To Dress Your Family Room Windows To Prevent Sun Glare
May 16, 2022
We have been hearing from our clients that they are having an issue with sun glare on their TVs this summer in Chattanooga. Since we are all spending more time at home these past few weeks, every way that we can make our homes more enjoyable, the better!
Here are some of our favorite ways to dress up your family room windows to prevent sun glare:
Motorized Shades
One product that we highly recommend for light control are Hunter Douglas Silhouette shades.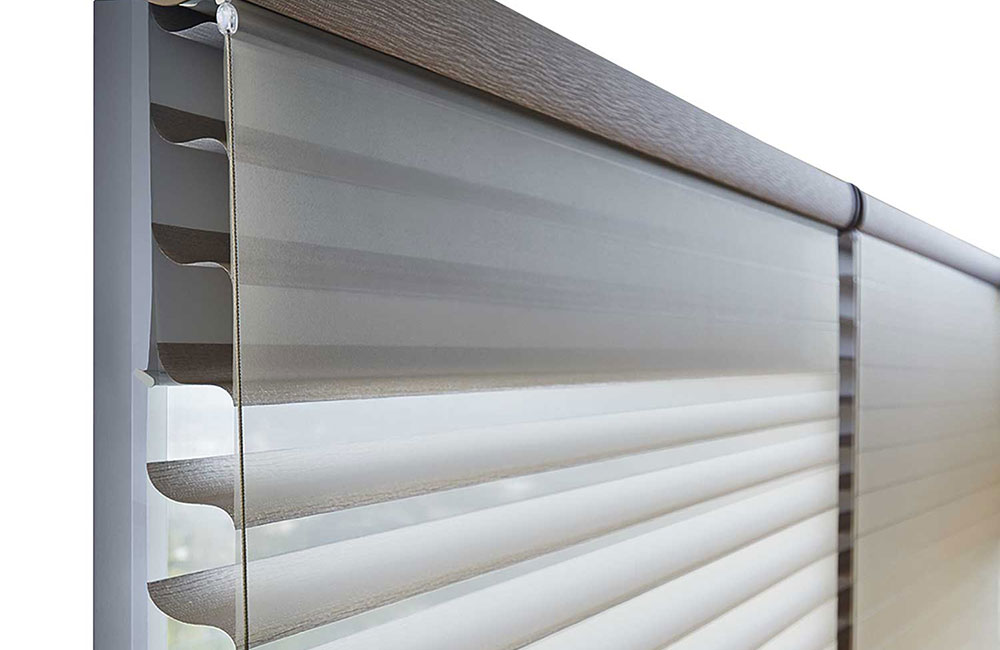 Effortlessly manage light and privacy at the same time. Hunter Douglas Silhouette Window Shadings have unique S-shaped vanes that float between two sheer panels to beautifully diffuse the light into your room and, when the vanes are tilted, lets you block the outside world's view into your home.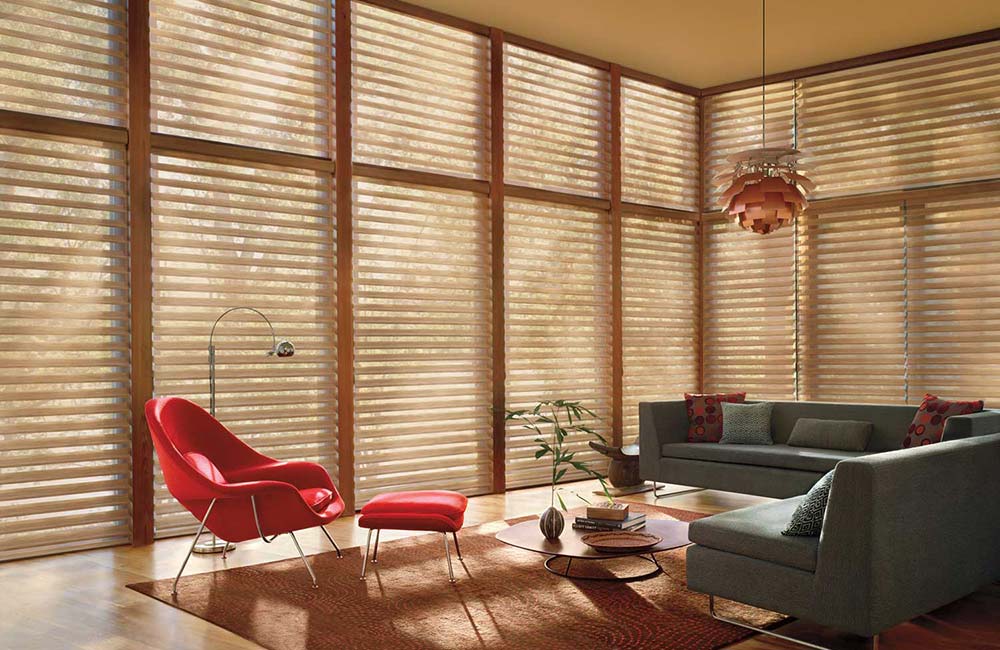 Get the most of your home's spectacular surroundings with our Silhouette ClearView Shadings. With their specialized front and back sheers, they diffuse light and provide UV protection, all without obstructing your view of the outdoors.
Hunter Douglas's Duolite system combines a translucent Silhouette shading with an integrated room-darkening roller shade into a single shade. It's the ideal option for controlling light and privacy in your home.
Vignettes
Another Hunter Douglas product that works well for light control and sun glare are Vignette Shades.
Vignette Modern Roman Shades are crafted with sumptuous fabrics that transform incoming light for a clean, crisp look at the window, so you can enjoy the beauty and allure of your space even more.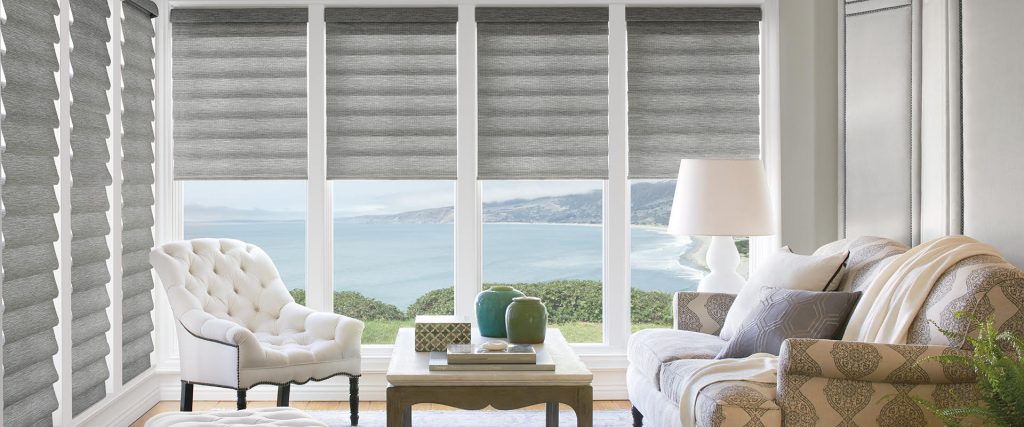 Simple, uncluttered and elegantly tailored. Each Vignette Modern Roman Shade, with flat or contoured folds, is designed for a uniform, crisp and flawless appearance with no exposed rear cords.
Give yourself ultimate control with Vignette Duolite, a system that combines a light-filtering or sheer front shade with a room-darkening back panel that both roll on a single roller. It's the ideal option for controlling light and privacy in your home.
Take pride in the appearance of your windows. Our premium fabrics in luxurious textures and colors are offered in a range of opacities from sheer to room darkening.
Why not add Smart Home capabilities to your window coverings? PowerView Motorization lets you schedule your Vignette Modern Roman Shades to open and close on their own—at any time of the day—with the touch of a button, a tap on a mobile device or the sound of your voice. So forgo the alarm clock, and use light as a wake-up call instead
Draperies Layered with Shades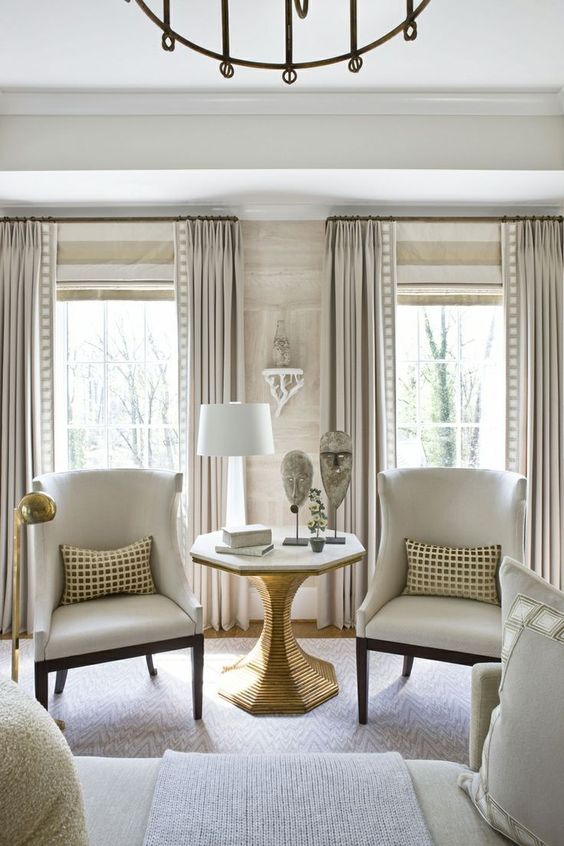 Our next suggestion, draperies layered with shades helps with the light gaps on sides of Roman shades. This is a great black out option if you want to be able to watch movies without the distraction of light coming into your family room. This is also great for motorization.
Plantation Shutters
A classic way to control light in your family room are with our custom locally made plantation shutters!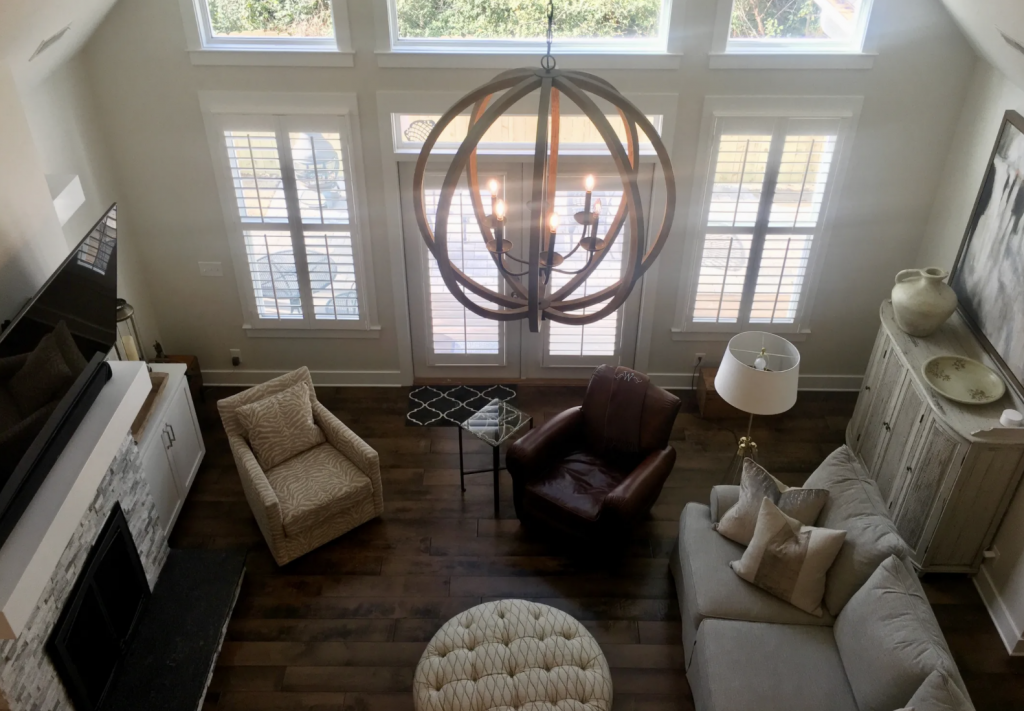 Ranging from Poplar to Basswood, we offer both stain-grade and paint options and allow you to hand-pick the color most appealing to you. Also, if you are looking for faux-wood shutters, we offer these in many of the same color options.
Our shutters come with a lifetime guarantee. If you notice any defect in our craftsmanship of your interior shutters, no matter how long after installation, we will make it right.
Contact us today to get started on your new family room window coverings!