Hunter Douglas Vignette Shades: A Modern Take on the Traditional Roman Shade
May 16, 2022
Do you want window coverings that are simple and uncluttered while still being fashionable and elegantly tailored? Then, you'll want to turn to the Hunter Douglas Vignette® Modern Roman Shade.
The Vignette shade is a modern take on the traditional Roman shade. These window coverings are created with luxurious fabrics and soft folds that transform the light streaming into a room. Each fold is specially designed to create a uniform aesthetic for a clean, crisp appearance that adds sophistication to any room in your Chattanooga area home.

Fabrics available for the Vignette shade
Vignette shades can be customized to fit any interior design style, from traditional to modern or anywhere in between.
Read also: Chattanooga's Most Common Interior Design Style: Transitional
The fabrics available come in a wide array of colors and textures, including silks, linens, tweeds, and natural weaves. They also come in various opacities, including sheer, light-filtering, and room-darkening options. No matter what look you're going for or what your family needs from your window coverings, the High Country Drapery Designs teams can create the perfect Vignette shades for your home.
For some homeowners, the Vignette shade can still look a little too modern for their home, no matter which material they select. If you want to add your own flair to this Roman shade, we can layer them with a multitude of soft window coverings. For example, we fabricated gorgeous cornices for a kitchen in Ringgold, Georgia to hide the homeowners' Vignette shades when fully raised.
Style options for the Vignette shade
Besides choosing from various fabrics, you can also choose between two styles: rolling and stacking. No matter which option you select, the contoured folds featured on the Roman shades will permanently maintain their shape to raise and lower in a sleek, consistent manner.
Rolling style
The rolling style combines the look of a traditional Roman shade with the ease of use and durability of a roller shade. If you choose this style, the shade will roll up into a headrail when raised.
With this style, you can decide between two types: a 4-inch full-fold or a 6-inch flat-fold.
The full-fold mimics the traditional, soft folds of a hobbled or looped Roman shade and showcases beautiful folds that cascade down the fabric. The flat-fold, on the other hand, resembles the tailored folds of a flat-fold Roman shade. The folds are nicely pressed for a crisp and sophisticated appearance.
Read also: Everything You Need to Know About Roman Shades
Stacking style
The stacking style operates more like a traditional Roman shade. When raised, the Vignette shade will stack neatly beneath the low-profile headrail, making it great for shallow window frames.
The stacking style is available in a 4-inch full-fold.
Operating systems available for the Vignette shade
The Hunter Douglas Vignette Modern Roman Shade can be raised and lowered in a variety of ways.
PowerView®: The PowerView system is a motorized option that allows you to raise and lower your shades according to a pre-set schedule, whether you're home or away. You can also operate them from your tablet, phone, smart home system, or the Hunter Douglas Pebble™ Remote.
LiteRise®: The LiteRise operating system is easy to use and lets you operate your window coverings by simply pushing up or pulling down with your hand.
UltraGlide®: The UltraGlide system offers a single cord or wand that maintains a constant length when raising or lowering your shade.
EasyRise™: If you have a large window, the EasyRise system is perfect for raising and lowering the heavier window treatment. This operating system is a continuous cord that never changes lengths.
Top-down/bottom-up: You can position your window coverings however you like by lowering your shades from the top or raising them from the bottom. A top-down/bottom-up system allows you to customize the light balance and privacy in your Chattanooga area home.
One of the great things about this window treatment, though, is that no matter which operating system you select, there are no exposed, dangling cords. That makes these shades perfect for homes with children or pets.
Vignette Duolite®
The Vignette Duolite combines a light-filtering or sheer front shade with a room-darkening back panel that both roll up into a single headrail, giving you ultimate light control. They are the only Roman shades that combine both panels into a single roller, so they don't require as deep a mounting clearance as other options.
Read also: Light-Filtering Vs. Room-Darkening Window Coverings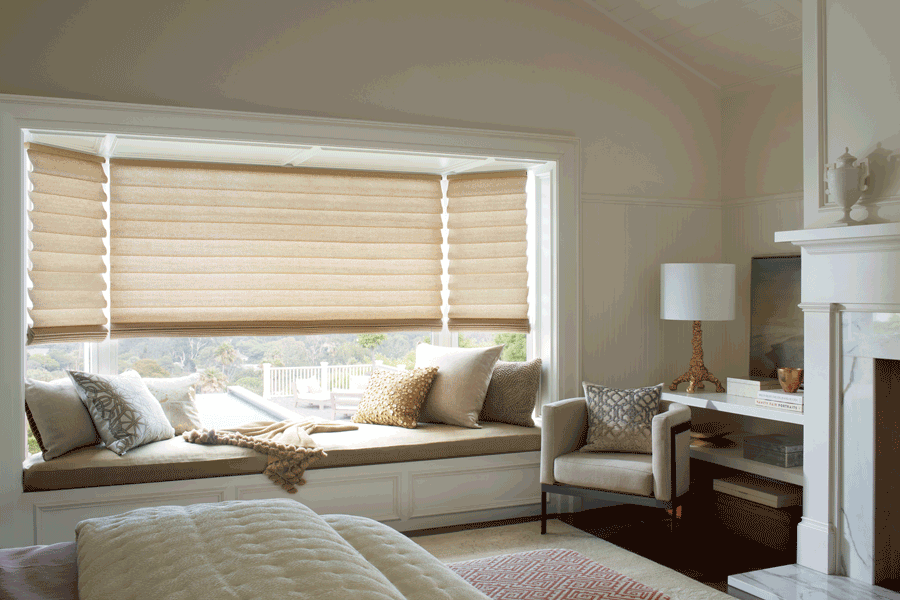 5 reasons to love Vignette Modern Roman Shades
We also wanted to share a few of the reasons you're going to love Vignette shades in your Chattanooga area home.
1. They're durable & long-lasting
Hunter Douglas backs their window coverings with a very generous lifetime warranty. So you'll know they will last you and your family a long time.
2. Vignette shades offer extra insulation
The Vignette shade is a more energy-efficient version of the traditional Roman shade. It traps air, creating an extra layer of insulation to keep your home cooler in the summer and warmer in the winter. That means you will not have to run your air conditioner or heater as often, ultimately decreasing your energy bill.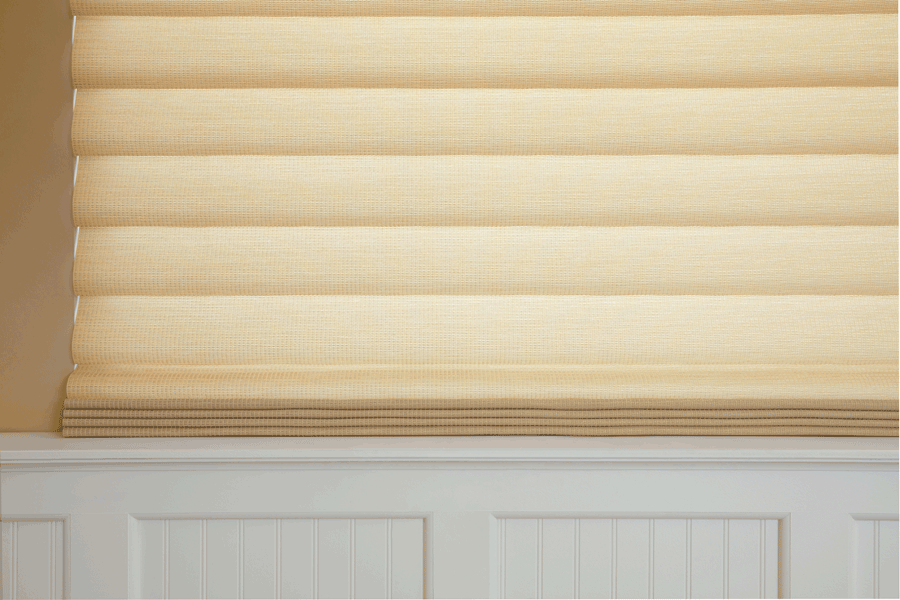 3. They absorb exterior sound
The extra layer of insulation has the added benefit of keeping the noises outside your home to a minimum with the window covering is closed. That makes this shade perfect for bedrooms because you can sleep more soundly each night.
4. Vignette Modern Roman Shades protect your furnishings & decor
UV rays can damage and fade your furnishings, decor, and flooring. Vignette shades will block at least 75 percent of those harmful UV rays from entering your home. And depending on the fabric you select, you may be able to block up to 99 percent of UV rays.
5. They provide privacy without sacrificing your view
The Vignette shade either fully retracts into a fabric-covered headrail or stacks beneath a low-profile headrail. Because the headrail does not take up much space, these window coverings preserve your unobstructed mountain views.
Do you have a room that would benefit from the Hunter Douglas Vignette Modern Roman Shade? We'd love to help you create the perfect look. Contact us today!