Motorized Window Coverings for a High-Tech Kitchen in Ringgold, GA
May 16, 2022
We had so much fun working on this kitchen in Ringgold, Georgia! The homeowners were extremely outgoing and chose one of Chattanooga's best interior designers, Dawn D. Totty. Dawn picked out everything, and we loved working with her to execute her vision and meet her clients' needs. Keep reading to take a look around this beautifully designed kitchen.
Motorized window treatments are perfect for a kitchen
Since this couple was redoing their kitchen anyway, they realized it was the perfect time to add some smart-home capabilities. We were thrilled to help them by creating and installing motorized window coverings throughout the room.
Motorized window treatments are always a good idea in the kitchen because you will be able to easily open and close your window coverings on those hard-to-reach windows, like the one over your sink. And if you don't want to touch your window coverings while you're cooking or washing the dishes, you can simply say, "Alexa, open my shades."
You can also use motorized window treatments to create the perfect atmosphere for any meal. Your window coverings can be raised or lowered automatically, so you will always have the right amount of light for breakfast, lunch, or dinner.
Read also: 6 Benefits of Home Automation in Interior Design
PowerView® from Hunter Douglas makes motorization easy
For this Ringgold, Georgia kitchen, we chose PowerView motorization from Hunter Douglas because it gave the homeowner precise, convenient control over each of their Roman shades. Each shade operates independently, so the couple can experience light exactly when and how they want it.
One of the reasons we love installing PowerView window treatments is that they can be battery-operated to give you the motorization capabilities you crave without hard-wiring the equipment. Hunter Douglas now makes battery-operated motorization even more practical through their rechargeable battery wand. You'll never have to worry about your window coverings running out of power!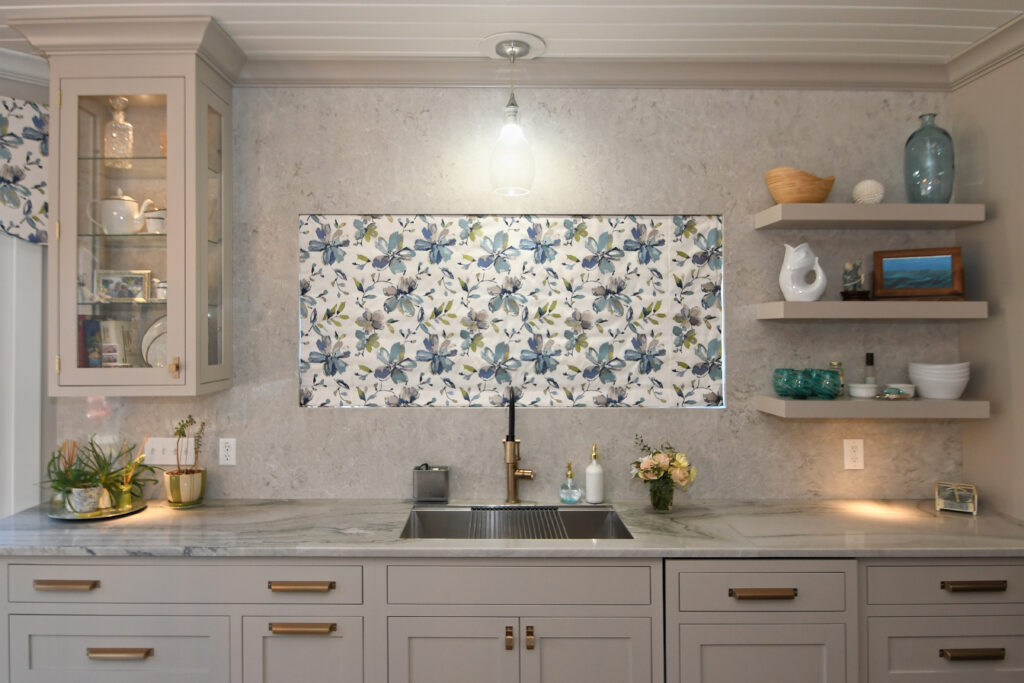 We also like PowerView because it allows you to operate your window coverings in a multitude of ways:
Pebble® Remote — The Pebble Remote is a handheld device that can operate up to six different window treatments. It comes in a variety of colors so that it will match your decor. This couple chose the remote because it gives them on-demand control of their window coverings.
Smart-home system — If you already have a smart-home system, like Google Assistant, Amazon Alexa, or Siri, you can easily connect your window coverings to it. Then, you can control them through voice activation.
PowerView App — Hunter Douglas offers an app so you can control your window coverings even when you're not at home, which adds a level of security if you're on vacation. It also lets you create custom scenes to raise or lower your window treatments on a predetermined schedule.
Read also: Benefits of Motorized Window Coverings
PowerView is available for many different window coverings. In this kitchen, we used it for the Roman shade over the couple's sink and the Vignette® Roman shades on the picture windows in their breakfast nook.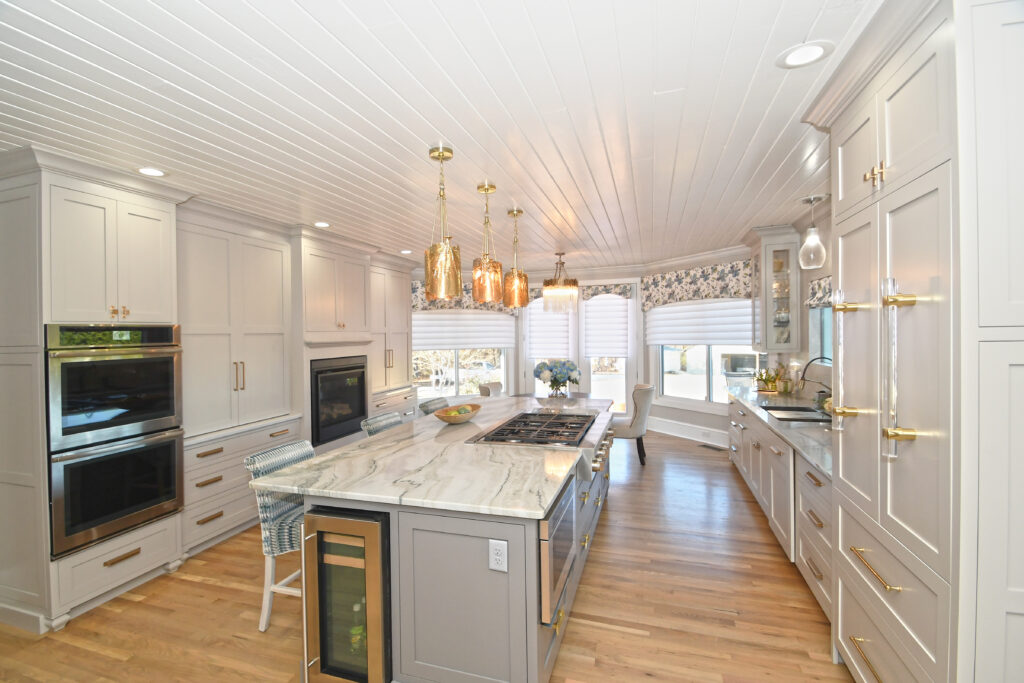 Vignette® Roman shades are beautiful & practical
Vignette from Hunter Douglas is a modern Roman shade that features soft folds. These shades have soft folds to give them a clean, crisp, and uniform look, whether the shades are raised or lowered.
The Vignette comes in two styles:
The rolling style offers a four-inch full-fold or six-inch flat-fold that rolls into the headrails.
The stacking style offers a four-inch full-fold that stacks neatly beneath a low-profile headrail. It's perfect for shallow windows.
For this couple, Dawn D. Totty chose the rolling style in a full-fold in a beautiful, light-filtering fabric. Since they are motorized, the Roman shades do not have any exposed cords and look absolutely stunning.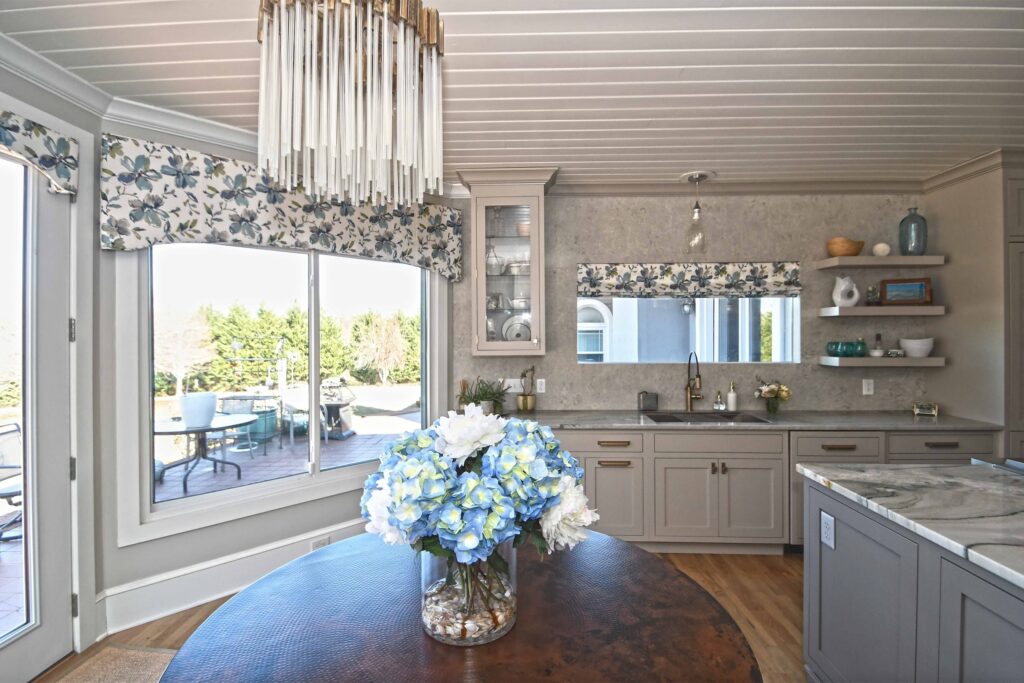 Cornices tie it all together
For the window over the sink, Dawn D. Totty chose a patterned fabric from Carole Fabrics that perfectly complemented the gray kitchen cabinets and added a pop of color to the space.
Dawn wanted to carry that same fabric throughout the design, so she also chose it for the fabric cornices in the breakfast nook. Because they use the same fabric as the Roman shade, the cornices help encapsulate the breakfast nook as part of the kitchen and ensure a consistent design throughout the room.
Cornices are box-like structures attached to the upper part of a window to cover the headrail or curtain rod. In this kitchen, they hide the Vignette shades when they are fully raised. We love that Dawn chose to cover these cornices in fabric because they add softness to the kitchen and balance out all the hard surfaces, like the countertops and cabinets.
Read also: Everything You Need to Know About Kitchen Window Treatments
Do you want to add motorized window coverings to your kitchen in the Chattanooga, TN area? We can work with you or your interior designer to create window treatments that add style and functionality to your home. Contact us today!