MOTORIZED WINDOW COVERINGS IN CHATTANOOGA
Motorization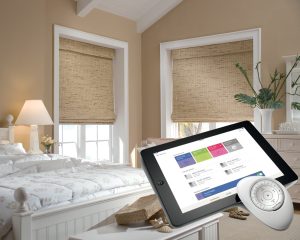 Operate Your Window Shades and Shutters by Remote Control!
High Country Drapery Designs wants to make your life easier, with the convenience of remote control window shades or shutters. Nothing could be simpler to use or more effortless. A motorized shade or shutter system is ideal for hard to reach windows, to enhance privacy, or for those who simply want a more convenient way to adjust their window shades or shutters.
Motorized Window Shades in Chattanooga, TN
Our Hunter Douglas honeycomb window shades are available with an optional Remotelift motorized system that lifts and lowers shades with the touch of a button. You can choose to raise or lower a single shade or all the shades in the room at once, all from one spot. You have complete control over the height of the honeycomb window shades, and can make adjustments from up to 65 feet away with a battery operated remote control unit. There is no wiring necessary, and no messy mechanics visible – your High Country Drapery Designs window shades go up and down like magic!
Automatically Adjust Your Window Shutters
Working with the global leaders in window treatment technology, High Country Drapery Designs is pleased to offer you motorized shutters. You can adjust the angle on your shutters with the touch of a button from anywhere in the room. Or program your Chattanooga, TN shutters to open and close automatically.
Professional Installation and Service
High Country Drapery Designs' expert installation crews are ready to install motorized shutters or window shades in Chattanooga, TN area homes. Our professional installation services helps to ensure your remote controlled window shades and shutters will operate perfectly from the very start.
Start adjusting your window shutters and window shades in Chattanooga, TN at the touch of a button! Contact High Country Drapery Designs today for more information.
Get a complimentary consultation on Chattanooga, TN Window Treatments