Drapery Lining Guide: Choose the Right Lining for Your Custom Window Coverings
May 16, 2022
When designing custom draperies or Roman shades, one of the most overlooked decisions is choosing the right type of lining for your window coverings. Sure, choosing your drapery lining will not be as exciting as selecting the fabric for the front of your window treatment, but it's a crucial decision.
Lining is the fabric sewn onto the back of your drapery panel or Roman shade. And it's that perfect finishing touch that allows your well-crafted, custom window treatments to stand out and last for many years.
Keep reading to learn why you need to add lining to your custom window coverings and to explore your different options.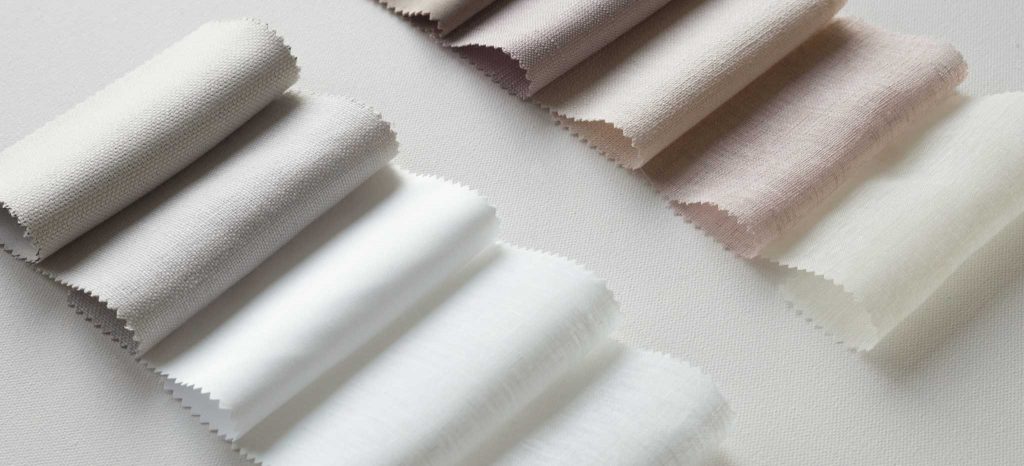 Do you need window treatment lining?
Custom window coverings are one of the best investments you can make in your Chattanooga area home. They can elevate your interior design and even help lower your energy bills. But, adding a lining to those window treatments can help you reap even more benefits.
Read also: How Much Do Custom Window Coverings Cost?
Drapery lining elevates the look of your home
Lining brings a finished, professional look to your draperies or Roman shades because it neatens the back of the window covering and prevents raw edges.
You may have spent a lot of time picking the perfect fabric for your custom window treatments. Without lining, the sun may slightly distort the look of the primary fabric. Adding lining to the back of your window coverings can ensure that the colors and pattern of the fabric appear exactly as you envisioned.
Drapery lining can also improve the body of your custom window treatments. They'll drape better and help you achieve more defined pleats in your drapery panels or folds in your Roman shades.
Unless you plan to use the same fabric in each room, your window treatments alone will not offer a uniform appearance from the outside. Adding lining can help you achieve that uniformity and give you more curb appeal.
Window treatment lining protects your home
Drapery lining is also the secret to a long-lasting window covering. The material can offer UV and moisture protection, which will prevent your primary fabric from fading or being damaged by condensation that may enter through your windows. It will also help protect your furnishings, paint, flooring, and home decor from the damaging effects of harsh sunlight.
When it comes to adding privacy to your home, sometimes draperies or Roman shades alone just don't cut it because the primary fabric may be a little too sheer. But, if you add lining to your custom window treatments, you can experience the level of privacy you want.
Window treatment lining can help you reduce your energy costs by helping regulate the temperature in your home. It will help keep your space cooler in the summer months and warmer in the winter.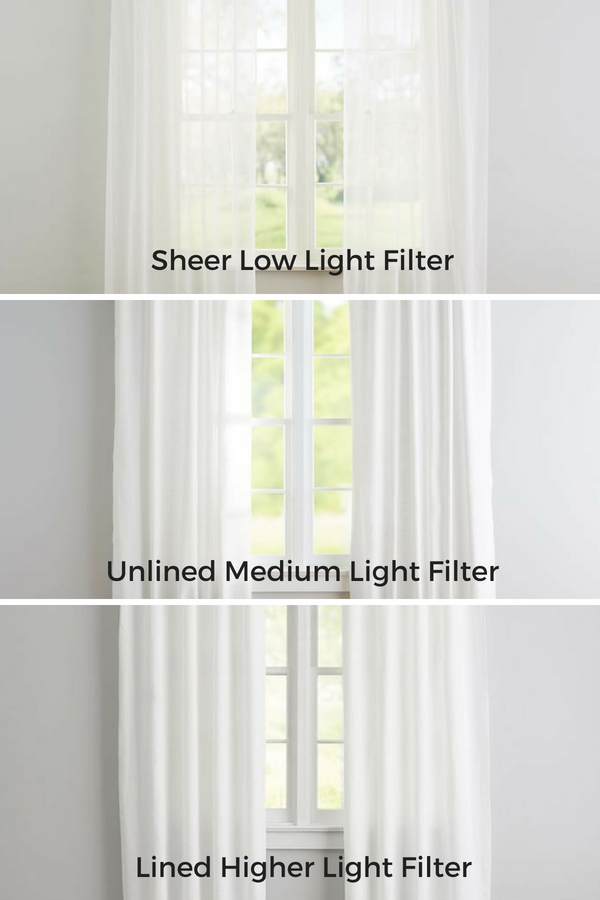 Lining helps you sleep better at night
Not only will lining protect you from prying eyes, but it can also help you block out the outside world by offering a level of noise insulation. That makes lining the perfect option for bedroom draperies so you can sleep in peace and quiet each night.
If you choose a blackout lining, you will have increased light control and light reduction. If you don't want to wake up as soon as the sun starts to rise, your window treatment lining can help darken your room in the morning.
The specific advantages offered will depend on the type of drapery lining you choose, so let's explore a few of those options.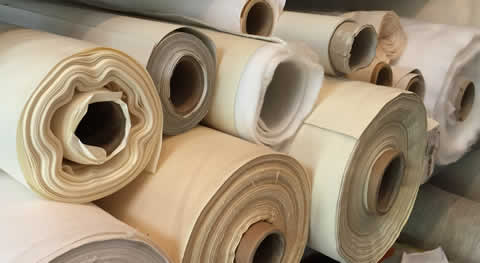 Standard lining
Standard lining is the most basic type you can choose, but it will still offer plenty of benefits. High-quality linings are often made from a blend of cotton and polyester. The cotton provides softness, while the polyester provides wrinkle resistance and moisture protection.
A standard lining will protect your primary fabric from fading and give more body to your custom window treatments. This lining is most often ivory, white, or cream and can help you achieve a uniform appearance from the outside of your Chattanooga area home.
Blackout lining
Blackout lining, or room-darkening lining, blocks much of the light that comes through your windows into your room. The material used is tightly woven and thick, so it also offers thermal insulation and noise reduction. But don't worry, your draperies or Roman shades will not be stiff or unyielding.
This drapery lining is ideal to use in bedrooms because you will not be disturbed by the sun peeking through your window treatments. And because most light will be blocked from your room, blackout lining will better protect your interior design elements from fading. It's also a great choice if you want to improve the privacy offered by your draperies or Roman shades.
Note: Blackout lining will not blackout a room completely. Some light will still seep through from the edges of your window covering. You can learn more about blackout and light-filtering window coverings here.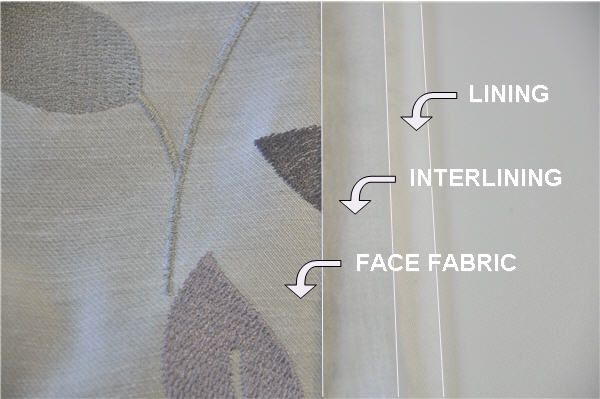 Interlining
Interlining is an optional third layer sewn between your primary fabric and the back lining (either standard or blackout). The extra layer of material will protect your custom window treatments from fading and offer thermal insulation, keeping your room cooler in the summer and warmer in the winter.
We love interlining because it provides your window treatments with beautifully rounded pleats and a more luxurious appearance. It works exceptionally well with larger windows as it creates a high-quality, polished finish and adds volume to your draperies or Roman shades.
As a custom workroom, High Country Drapery Designs offers several different drapery lining options. When you work with us, we'll discuss which lining type is the best fit for your project. Ready to get started? Schedule your complimentary consultation today!