5 Reasons to Love Sheers in Your Chattanooga Home
May 16, 2022
We spend a lot of time talking about how draperies can offer sound-proofing capabilities and block light from your bedroom or home theater. But we love sheer curtains and sheer shades, too, even though they don't provide those same capabilities. Sheers are unlined window coverings made from lightweight fabrics for a semi-translucent look. We recommend using them throughout your Chattanooga area home, especially in bedrooms and bathrooms.
Sheers come in all forms
When you think of sheers, you might focus on drapery panels. But sheer shades are just as fabulous. They combine structure and softness but will not give the same romantic flowing look as draperies. Sheer shades will give you the same light control and privacy capabilities as curtains but with stronger lines for a more architectural feel.
One of our favorite options for sheer shades is the Silhouette® Window Shadings from Hunter Douglas. The vanes seemingly float between two layers of sheer fabric. When the vanes are open, your room will be filled with warm, diffused light.
Silhouette shades also come in a Duolite® option, which combines two window coverings in one. A room-darkening roller shade fits behind the sheer shade for ultimate light control.
5 reasons to use sheers in your Chattanooga home
Sheers might seem a bit frivolous, but they are actually incredibly practical. Keep reading to learn more about why we love sheers of all types!
1. Sheers offer daytime privacy without sacrificing sunlight
Sheers perfectly balance privacy and luminosity! They let in plenty of light while keeping inquisitive eyes out. When you install sheer curtains in a room in your home, you're adding a filter between yourself and any prying eyes without sacrificing any natural light.
The added privacy is one of the reasons why we love sheers in bathrooms and bedrooms. You'll let in natural sunlight to do your makeup or get ready for the day, but you will not have to worry about your neighbors peering into the room.
Read also: Light-Filtering Vs. Room-Darkening Window Coverings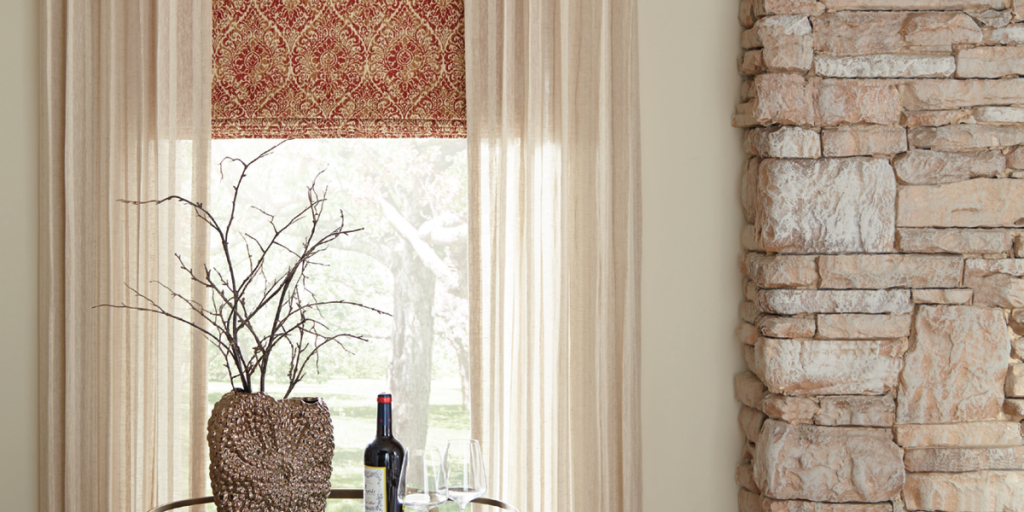 2. They shield your home from harsh light
Not only do sheers act as a filter between you and the outside world, but they also act to filter out the full force of harsh sunlight. Direct sunlight can cause a lot of damage to your furnishings, decor, and flooring. Sheer shades or curtains will shield your belongings from the sun, allowing them to last much longer.
Additionally, filtering out direct sunlight can help keep your rooms cooler. Bathrooms and living rooms often need natural light. But opening your shades or pulling back your drapery panels can expose the room to heat from the sun, causing you to run your air conditioner more often during the summer.
3. Sheers add ambiance to any style of home
By adding timeless sheer curtains to a dark room, you can brighten up the space and give the room a gauzy, breezy feeling as the sun shines softly through the lightweight fabric. Because sheers diffuse light, they'll create the perfect ambiance in any space in your Chattanooga home.
Sheers create ambiance in any style of home, including traditional, transitional, or modern farmhouse — you just need to choose the right pleating style and fabric to match your look. (We can help you do that!)
Sheer curtains even look elegant in historic homes. You can hang them as a wall-to-wall window treatment to achieve a continuous backdrop without hiding the beautiful architectural features of your home.
Read also: 5 Reasons You Need Custom Window Coverings for Your Historic Home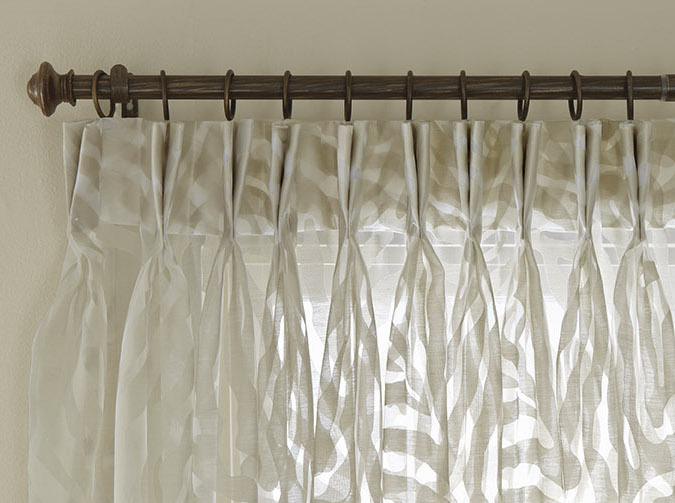 4. They look fantastic when layered with other window coverings
If you want the best of both worlds (light filtering during the day and room-darkening capabilities at night), then we recommend layering sheers with light-blocking drapery panels. You can hang your draperies from a traverse rod so that they can be easily opened and closed. Layering your sheer curtains with other draperies makes them a versatile option.
Read also: Everything You Need to Know About Layering Window Treatments
5. Sheers offer a great transition between your indoor & outdoor living spaces
Indoor/outdoor living has become a huge trend recently, and we expect to see homeowners in Chattanooga continue to embrace it in the coming year. Sheers are a fantastic way to include the indoor/outdoor trend in your home because they give your outdoor living spaces a more defined feeling. Then, when you're in your backyard, you'll truly feel like you're enjoying an extension of your interior living space.
Read also: High Point Market Trendspotting: 7 Trends We Loved in Fall 2021
High Country can design the perfect look for your home
Do you want to add sheer curtains or sheer shades to your Chattanooga area home? Jill Ballew, High Country Drapery Design's principal designer, would love to work with you! She will help you determine what style best fits your and your family's needs and style. Jill will also work tirelessly to find the perfect fabric, hardware, and trim for your project. Schedule your complimentary consultation today to get started!