High Point Market Trendspotting: 7 Trends We Loved in Fall 2021
May 16, 2022
We greatly enjoy heading to North Carolina each fall (and often in the spring) for High Point Market. High Point Market is the largest home furnishings trade show in the world, and we're so grateful that it's only a few hours away from our studio in Chickamauga, Georgia.
During each visit, we have the opportunity to catch up with dear friends and chat with other members of the interior design industry. We also have the chance to scout some of the upcoming trends, so we can help you incorporate them in the design of your Chattanooga area home.
Today, we wanted to give you a behind-the-scenes look at High Point Market and share some of the interior design trends you can expect to see in 2022.
Interior designers, have you been wanting to attend High Point Market but are overwhelmed by the thought? We put together a guide to help you navigate the market and enjoy your first experience.
1. Contrast welting
We were thrilled to notice contrast welting on upholstered furnishings throughout High Point Market. Welting is a cord covered in fabric and then attached to the upholstery to follow the seam of a chair cushion, sofa, or pillow. Contrast welting is simply when the welting cord is made from a different fabric than the primary material.
Using contrast welting on your custom upholstery can elevate the look to give you a classic, polished design. If the primary fabric is bright or bold, contrast welting can really help it stand out. Or you can use contrast welting to connect your custom piece to the rest of your interior design by using coordinating colors.
Read also: Everything You Need to Know About Decorative Trim & Embellishments
2. Bouclé fabric
We saw bouclé fabric almost everywhere we turned, used as upholstery fabric on sleek, modern sofas and soft, curvy armchairs. Bouclé fabric is a popular midcentury fabric, and we're excited that it's making a comeback because it adds visual interest to your furnishings.
The name comes from the French word boucler, which means "to curl." It's made of yarn by the same name and is known for its looped, curled fibers woven together to form a nubby texture. It feels almost springy and has a variated look that hints at the natural material used. Bouclé fabric falls somewhere between the soft fluffiness of sherpa fleece and the natural texture of marled linen.
Although it's traditionally made from wool, it can be made in anything from cotton to silk. That makes bouclé fabric rich and bespoke, adding softness to the edges of any silhouette.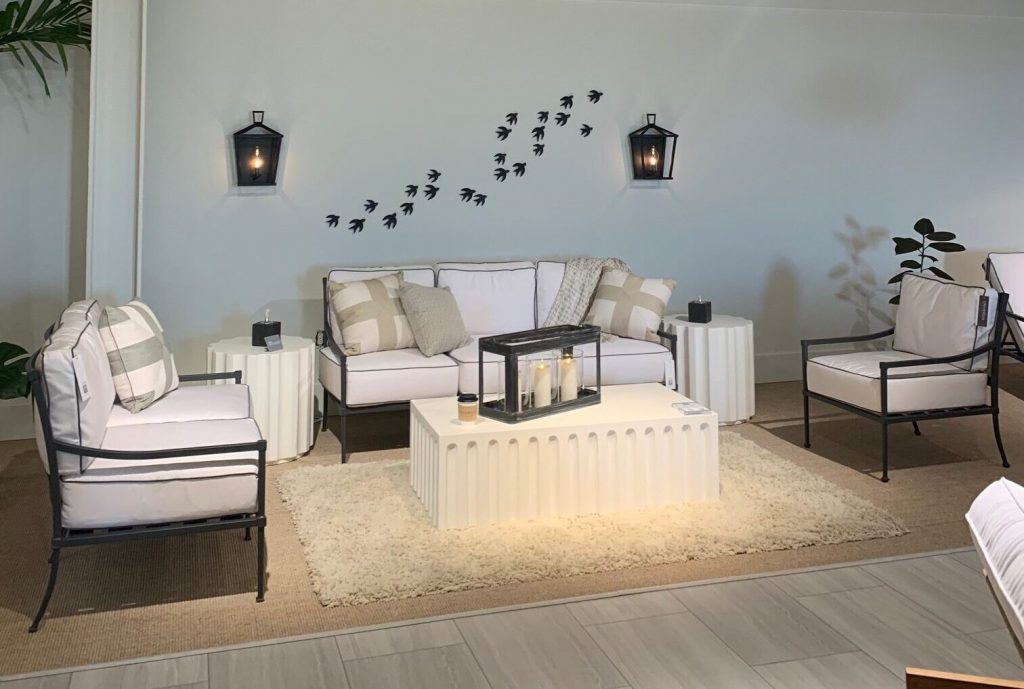 3. Indoor/outdoor living
Indoor/outdoor living has become such a huge trend because we've all longed to get away over the past few years. During the pandemic, most of us experienced wanderlust, longing for a way to retreat. Indoor/outdoor living is a way to travel without actually leaving your home.
Updating your outdoor space is a great way to extend your home's living area and take full advantage of your stunning mountain views. We immensely enjoyed looking through new lines of performance fabric and cannot wait to start using new patterns and prints in the Chattanooga area.
Performance fabric is a wonderful way to embrace this indoor/outdoor living trend because the fabric is easy to maintain. And it looks beautiful on upholstered outdoor cushions, custom pillows, and even outdoor window coverings.
Read also: How to Clean Your Outdoor Furniture & Sunbrella Fabric This Summer
4. Rattan & wicker
Besides performance fabric, you can also embrace this "away" trend by using natural plant materials, like rattan, wicker, and caning. We saw these materials used in furnishings throughout High Point Market.
And not just for outdoor furniture. Natural plant materials are highly malleable and can be fashioned into many interesting, creative shapes for furniture and decor. Furnishings made from wicker and rattan are versatile and durable, so they quickly uplevel any space.
If you want to make a statement in your interior design without adding a lot of visual weight, then objects made from rattan or wicker are the way to go. We personally love using natural plant materials on our woven wood shades. And we enjoy pairing natural plant fibers with warmer metal tones, like brass and gold.
5. Natural wood finishes
Throughout High Point Market, we saw an emphasis on the raw beauty of natural wood. We've always believed that natural wood furnishings can be sophisticated and beautiful, but it was refreshing to see that thought embraced by other industry leaders.
When we say "natural wood," we mean wood that is not painted or stained. It's also not created from engineered timber, like medium-density fiberboard (MDF) composite. MDF composite is a durable material, and we often use it on interior shutters. But we love the look of a natural wood interior shutter or window blind.
Using natural wood is incredibly sustainable, which motivates this trend. And it gives any space a warm, earthy vibe, meaning it will look spectacular in both traditional and modern homes.
6. Alabaster lighting
As we explored High Point Market, we noticed that alabaster stone has started to replace marble in light fixtures.
Alabaster and marble may look similar, but they are very different materials. Marble consists primarily of calcite (calcium carbonate) and is formed when limestone is changed through extreme pressure or heat. The veins in marble come from impurities (like clay) embedded in the limestone. Alabaster is a fine-grained form of gypsum made from tiny crystals that are only visible under magnification. The veining in alabaster comes from impurities like rust.
Alabaster is softer than marble, so we would never recommend it for kitchen countertops. But it looks absolutely stunning in lighting. We saw alabaster used primarily as a lamp base, but it can also be used in hanging fixtures and sconces. Designers used thin, translucent alabaster in hanging fixtures and sconces, allowing light to pass through the stone.
If you want to incorporate this trend in your Chattanooga home, it looks fantastic paired with warm metal tones, like gold and brass!
7. Modern farmhouse
The modern farmhouse interior design style is having a moment right now. Modern farmhouse blends a rustic look with the minimal style of more contemporary design. It allows you to retain a beautiful, sleek design while injecting some personality and a lot of comfort. We love it because it combines brushed metals and neutral palettes with the natural and cozy materials we saw throughout High Point Market.
What trend are you most looking forward to incorporating into your home? Let us know in the comments below & contact us so we can make your dreams a reality!