The Staycation: Summer Home Decor Trend
May 16, 2022
Have your 2020 summer plans been postponed or canceled? Why not invest that money into something that you can enjoy longer than a week or two? We have always been advocates for loving where you live, but with the recent pandemic, it's clear that you'll never regret investing money into your home. There is a lot of psychology based around interior design and the mental health effects of good design. Your space should represent your personal style and life phase, as well as provide a relaxing retreat after a long day.

Fresh mountain air is good for your health – physical and mental. We are blessed to live in an area with the mountains in Chattanooga, Tennessee.
Here are some easy ways to update your home and create the perfect staycation location in your outdoor living space:
Outdoor Drapery
If a Chattanooga outdoor oasis is your dream, embellish that space with outdoor curtains- the must have accent for a gazebo, deck, pool area, balcony, porch, or even a lonely spot in the backyard that needs some stylish pop. An outside curtain can easily transform any nook into a special corner to relax, to entertain (night or day), or simply to create an extension of your living area for additional space.
By partnering with High Country, you'll have the opportunity to choose from our selection of beautiful and long-lasting outdoor drapes. Since many of our fabrics are now designed for both indoor and outdoor spaces, you can count on them to be:
– Durable – You don't have to worry about your drapes being outside in the ever-changing weather.
– Colorfast – Our drapes are dyed in colors that will not fade or wash out.
– Water repellant – There's no need to bring your drapes inside while it's raining.
– Stain resistant – No unsightly stains will tarnish your gorgeous drapes.
In addition to custom draperies, we can create matching seat cushions, pillows, table covers, and more that allow you to create your own private oasis outside. We also offer solar and insect patio shades for sun, breeze, and insect control.
An added bonus of outdoor draperies is you can extend the life of your furniture and artwork simply by protecting them from direct sunlight, and of course protect your skin as well.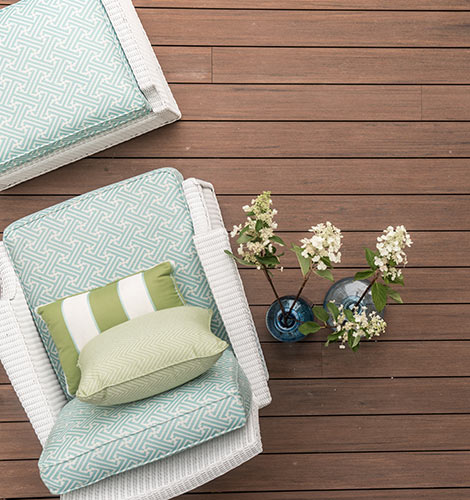 Outdoor Cushions
Outdoor furniture cushions bring tired and dreary spaces to life. Let us manufacture your order using high-quality outdoor cushion materials, then cover them in a fade-resistant fabric from trusted brands such as Sunbrella or Revolution. New cushions add color and comfort. Additionally, we sell made-to-order umbrellas, which can be made with fabric to match or coordinate with your new outdoor cushions.
Create an inviting, comfortable outdoor seating area for you and your family that's beautiful and reflects your style. Our custom outdoor cushions are comfortable, durable, and stylish and add extra seating everyone can enjoy. Whether you're looking for new chair pads, deep seating cushions, a daybed mattress, chaise lounge or bench cushion, we can help you custom design whatever shape, size, thickness, and style you're dreaming of. And it's easy!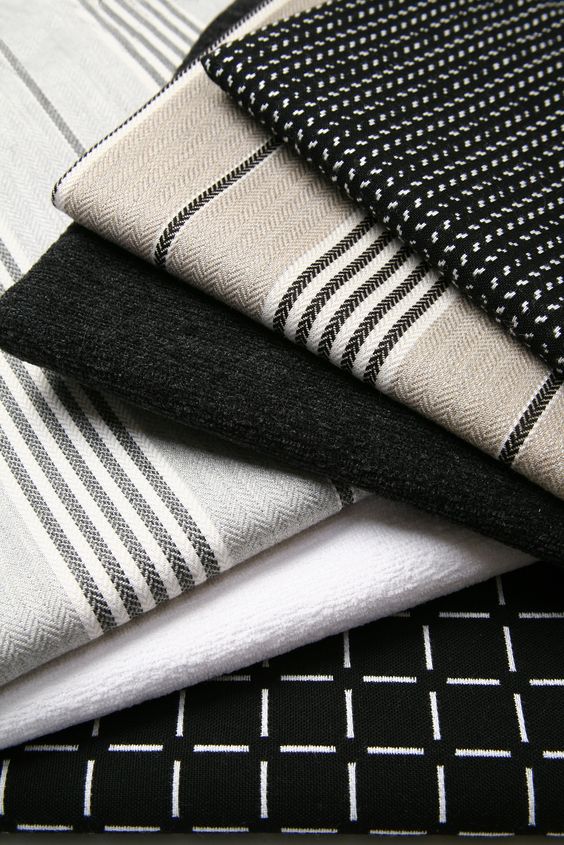 Block The Sun
Many of us just want a shady retreat to escape the hot sun and offer a temperate alternative to the arctic, artificial and costly blasts of air conditioning. If you crave the fresh air, try to capture the sounds of nature and enjoy a dose of real light. Choose a darker and heavier fabric to fend off the sun, or you will be unhappy as a lighter material will not block the heat. If bugs bug you and those citronella candles are offensive, a darker curtain will also minimize those pesky critters. Curtains made from a Sunbrella fabric is a good choice as it is a superior weather-resistant fabric, blocks a majority of the UV rays and keeps mold and fading at bay. This easy-care fabric will protect your outdoor living area from all the residue from trees, animals, weather and nasty food spills. Wind can be fickle too, as it catches the curtains and can create havoc, tipping over candles and making messes. If any of those things bother you, go for a heavier outdoor curtain for the best protection.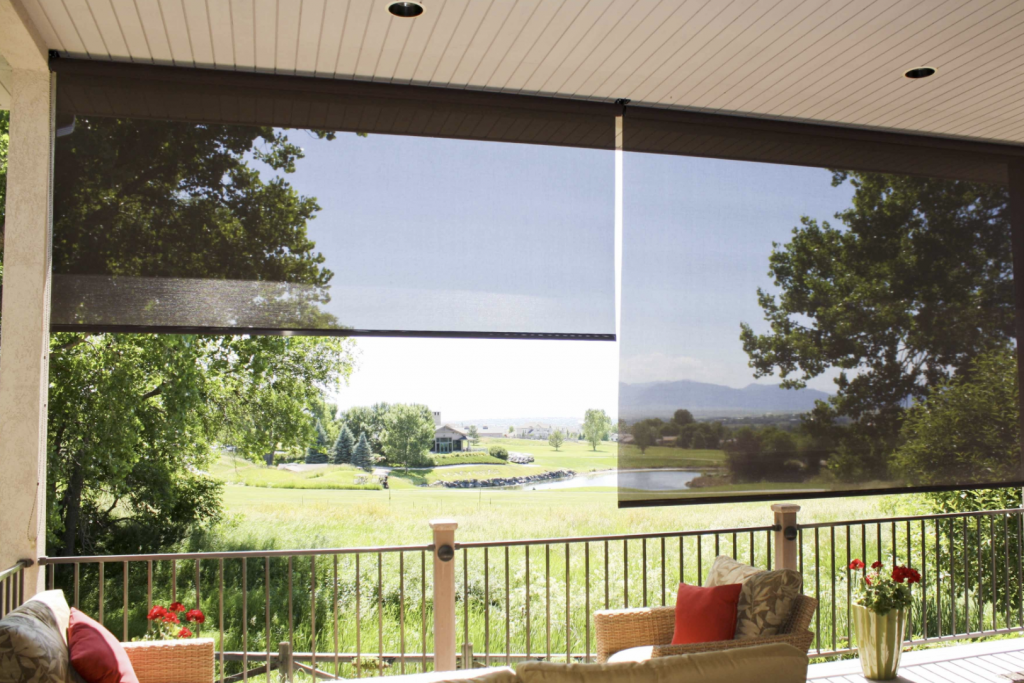 Create Privacy
If privacy is your main concern from annoying street viewers, or bright lights and honking traffic or you really need your outdoor space to become a separate and private room divider, you will also need to choose a heavier fabric to shield you from all the daily and nightly disturbances of living in a place that is not naturally secluded and serene. If you cherish the cloistered look of a secret outdoor spot, don't be disappointed in selecting an outdoor curtain that is too thin, transparent and will ultimately let down your peaceful expectations as you try to unwind at the end of the day.
Trust the Experts
Outdoor living and entertaining can be just as comfortable and high style as the inside of your home – after all, our outdoor spaces deserve as much attention as the rest of our living spaces. As the trusted window covering specialists serving Chattanooga homeowners, High Country doesn't limit our products and services to the indoors. We can extend the luxury to your patio, pool, or deck area with our stunning outdoor drapes that add comfort, style, and even sun protection.
Whatever you're envisioning for your outdoor area, High Country will work closely with you to make it a reality. We'll start by sending one of our skilled designers to your home for a complimentary consultation. After discussing your preferences and needs, we will expertly craft and install your new outdoor drapes.
Let High Country Drapery Designs make your outdoor space as luxurious as you can imagine with custom drapes. Contact us today to schedule a complimentary appointment at your Chattanooga home.