Everything You Need to Know About Decorative Trim & Embellishments
May 16, 2022
To borrow a term from the Trim Queen, Jana Phipps, we're members of the Fringe Friends Club. We love adding decorative trim and other embellishmecushnts to custom window coverings, decorative pillows, and upholstered furnishings. It's like adding frosting to an already delicious cake.
When customizing pillows, window treatments, or upholstery items for your Chattanooga area home, you start with a blank canvas. And High Country Drapery Designs can help bring your vision to life with fabric and trimmings.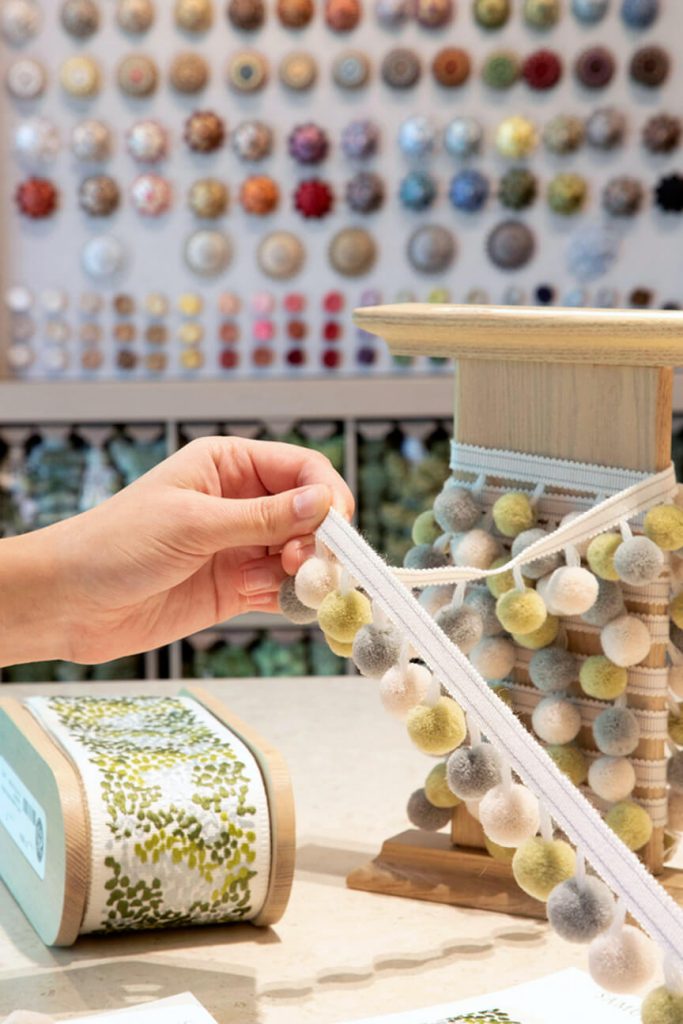 Why is decorative trim used in window coverings & custom upholstery?
Trim was originally designed to be purely functional. It finished a raw hem or fortified the seam of a hard-working piece of furniture. But now, trim is also a powerful ornamental tool. It can help you express your personality, make a statement, embrace a theme, or create a particular feeling within your home. It gives your decor a "designer's touch" and adds a level of visual interest to your space.
Trimmings and embellishments can also help create a cohesive, aesthetically pleasing look in your home. Select a trim to add to your drapery panels. Then, repeat it in a decorative pillow or on a piece of upholstered furniture to tie all the different elements together.
Types of decorative trim
There are three main categories of decorative trim: tape, hanging, and cording. That gives you lots of options to help turn your next custom project from something ordinary into something extraordinary.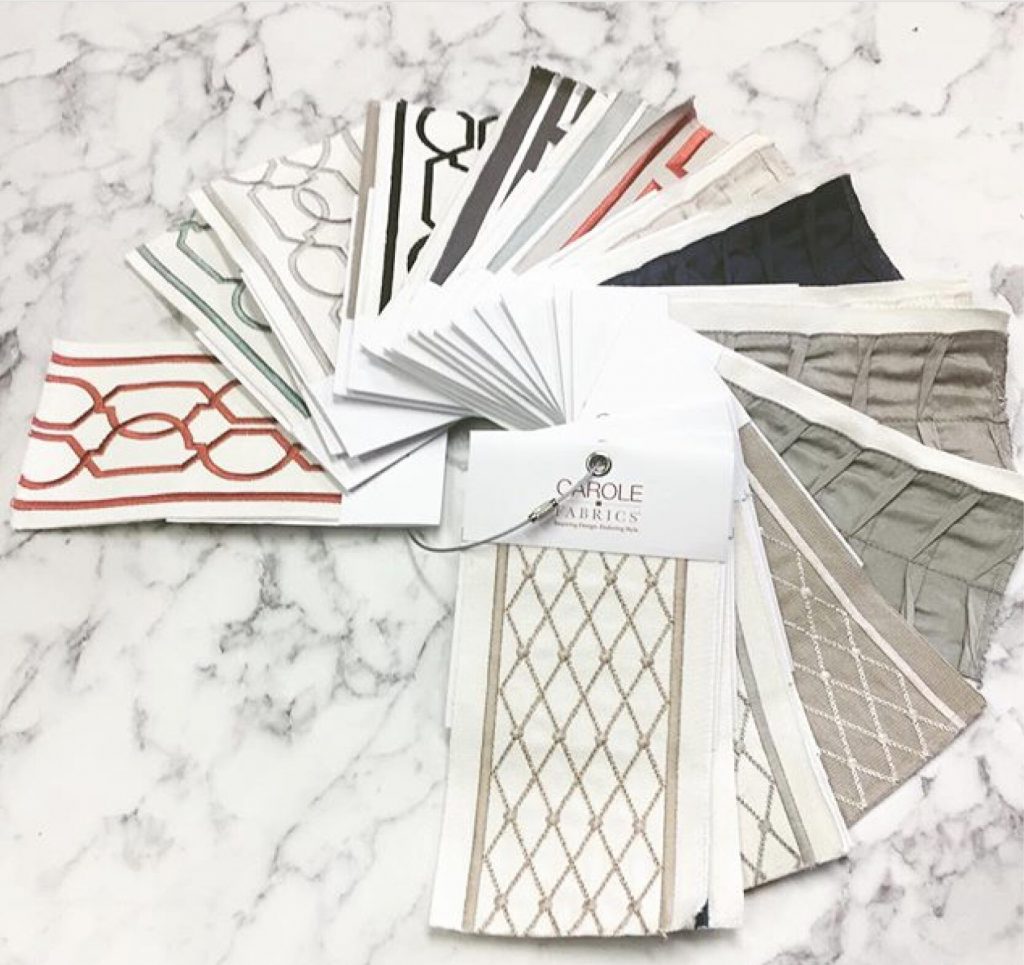 Tape trim
Tape trim is a flat piece of trim that ranges in size from about two inches to six inches. You can use it to embellish tie backs, act as an accent at the top or bottom of your window treatments, or as a leading edge.
A leading edge is the inside vertical borders of two drapery panels that meet at the center. It gives your draperies a pop of color and adds texture, whether your window coverings are opened or closed.
Read also: Master Bedroom Drapery for a Relaxing Retreat in Black Creek
If you (like many Chattanooga area homeowners) have a large wall of windows, you might have three of four drapery panels. Tape trim may be added to both vertical sides of each panel as a leading edge and ending edge.
Tape trim comes in many colors, textures, patterns, and types, including border tape and box-pleated ribbon.
Border tape is a flat, smooth trim generally used to create borders on pillows, slipcovers, draperies, top treatments, and upholstered furniture. It can be made from a solid piece of fabric or by weaving together pieces of fabric.
Box-pleated ribbon attaches to the header of box-pleated drapery, a few inches down from the top, for a classic look.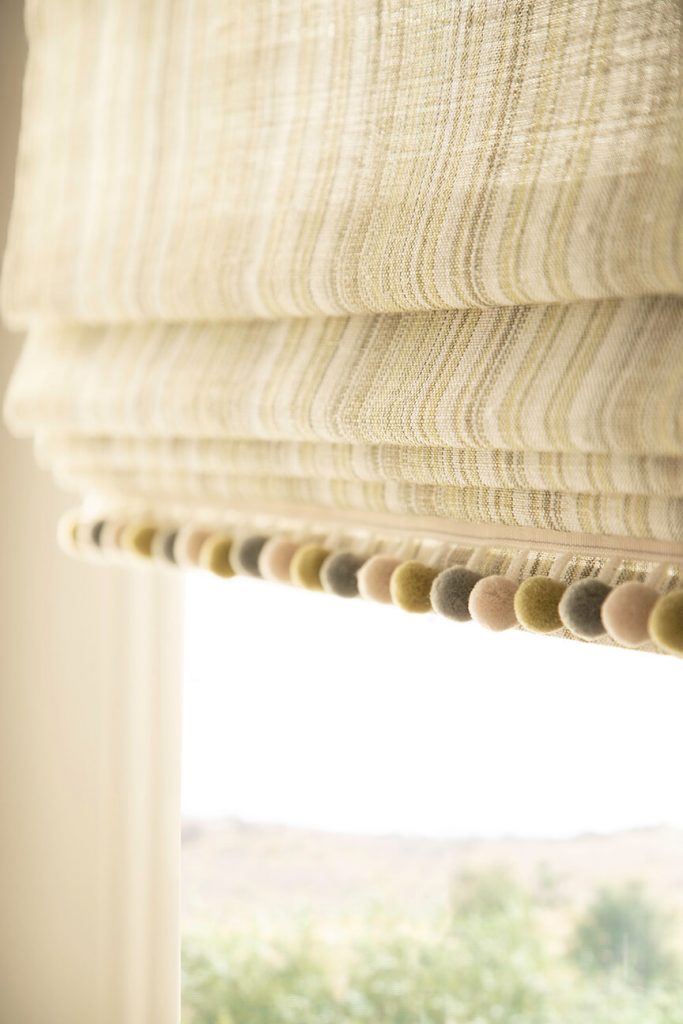 Hanging trim
Hanging trim includes braids, fringes, and other embellishments that hang down from a flat piece of material in a loose manner. These types of decorative trims make them a focal point when added to the bottom of valances, cornices, or upholstered furnishings.
We can help you find the perfect hanging trim to match your interior design style.
Ball fringe consists of a strip of fabric with pom-pom style tassels or beaded tassel embellishments, all of which are ball-shaped.
Bead fringe includes long strands of beads or a mixture of beads and ball-shaped embellishments. Bead fringe can be very intricate to give your window coverings a glamorous touch.
Brush fringe has a full skirt made of cut threads. It often gives your decor a playful look.
Bullion fringe has small braids that hang downward. Bullion fringe looks phenomenal on the edge of draperies, decorative pillows, and upholstered ottomans.
Double tassel fringe usually has an ornate and elegant border with tassels hanging down from it at two different levels.
Eyelash fringe is similar to brush fringe, but the threads are cut to be very wispy and sparse. Eyelash fringe allows you to see the fabric behind the trim.
Loop fringe is similar to brush fringe, but the cording is not cut at the bottom. Instead, it loops from the header to the bottom and back up to the top in a continuous line.
Onion fringe has cords hanging down with little round balls that resemble pearl onions.
Cording
Cording, also called piping or welting, is made of a cord encased in strips of bias-cut fabric or ribbon. It can reinforce and define seams on custom cushions and pillows for a clean, tailored look.
You might be picturing plain cording used at the edges of a boxed cushion, but other types are available.
Braided trim has two finished edges and often includes ornamental, embroidered details. It's generally used for edging on drapery panels, upholstery, and decorative pillows to give your project a finished appearance.
Cable trim is usually made of two or more strands of material twisted or plaited together. It often has a flange, the flat band of fabric that allows us to sew the trim into a seam. Cable trim looks fantastic on its own or added as an accent to a fabric tie back.
Gimp trim is an elegant, flat trim commonly used to cover upholstery tacks or embellish draperies, pillows, and custom cushions.
Galloon trim is an elaborately woven, very wide version of gimp trim and often contains metallic threads. It's used on the edges of drapery panels, top treatments, and skirts of upholstered furnishings.
Picot braid is recognized by its small looped or scalloped border.
Read also: Repurposing Fabric for an Up-Cycled Custom Project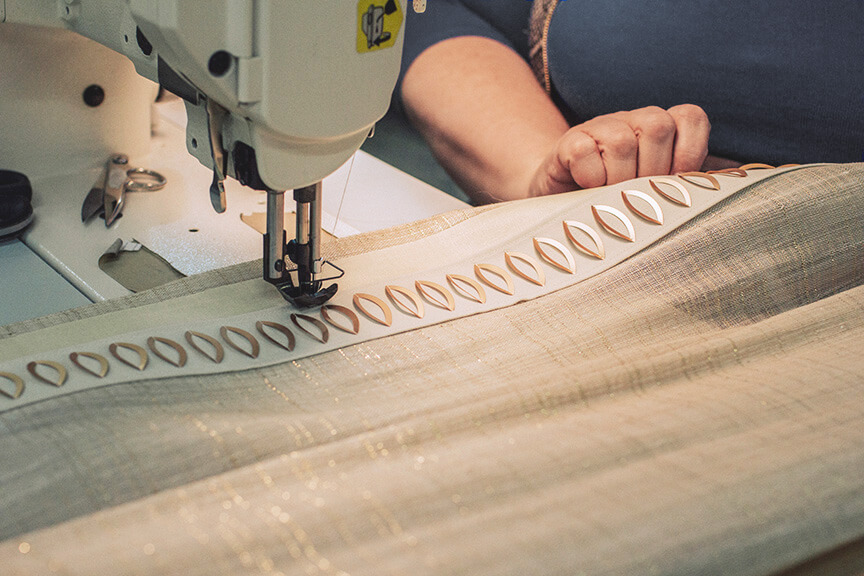 Other embellishments: buttons and frogs
Decorative trimmings are not the only ways you can personalize your window coverings and custom fabric projects. Other embellishments, like buttons and frogs, do not sit flush with the fabric. They give your window treatments a three-dimensional look.
Buttons can include a round button shape covered in fabric or left plain.
Frog fasteners contain at least two strands of material intertwined to look like an overhand knot.
Unlike trim, these embellishments are individual elements, so you can place them as far or close together as you like.
You can add various decorative trims and embellishments to your custom window treatments and other fabric projects. Since trimmings come in a wide variety of colors and designers, the possibilities are virtually endless!
We can help you create a one-of-a-kind look for your Chattanooga area home. Schedule a complimentary today to get started on your next project!