A Warm & Welcoming Kitchen Reveal in North Chattanooga
May 16, 2022
Have you ever walked into a kitchen and instantly felt like part of the family? That's how this North Chattanooga kitchen makes us feel!
The homeowners invited us to create custom cushions for their kitchen banquette and loved them so much that they asked us back to design Roman shades for their French doors. Their beautiful kitchen is all white with clean lines and an open, airy feeling. We love how the banquette cushion and Roman shades came together to soften up the room for a warm, welcoming atmosphere.
Keep reading to learn more about this stunning North Chattanooga kitchen.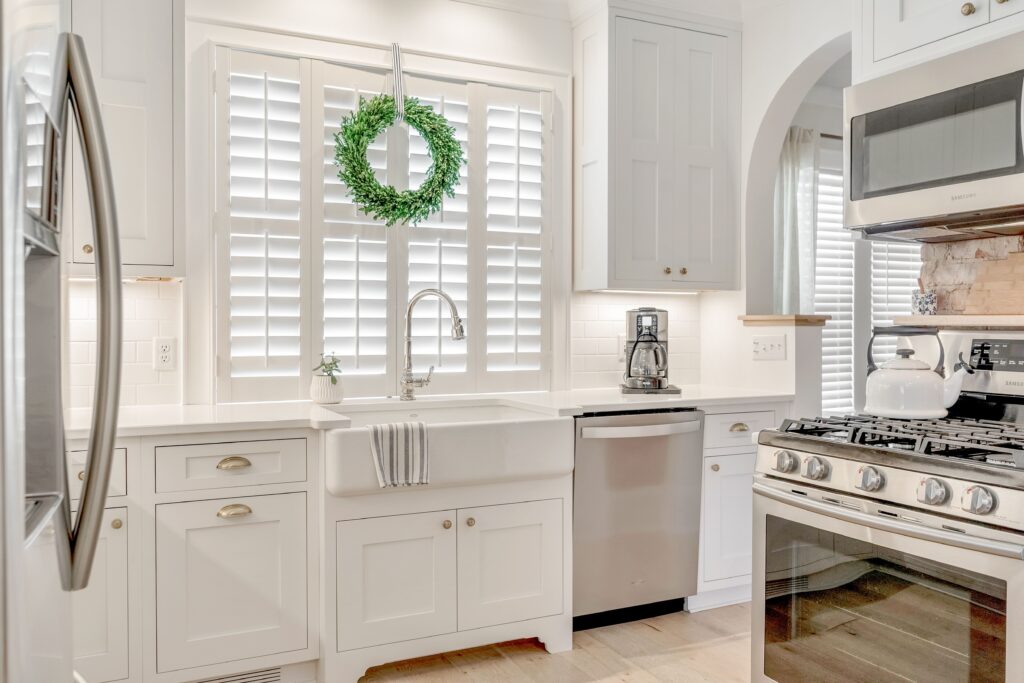 Cozy up for a good meal & great conversation with custom banquette cushions
We love banquettes in a breakfast nook. There's just something cozy and intimate about sitting in a somewhat enclosed space when you're enjoying a good meal or having a great conversation with friends and family.
A banquette is an upholstered bench along a wall, most often in an eating area. It's ideal if you have a smaller breakfast nook because it allows you to make the most of the space and fit many people around the table when you're entertaining.
Banquettes also give you an opportunity to showcase your style in your kitchen by adding a custom cushion. The cushion makes the seating area more comfortable and adds softness to all the hard surfaces, like cabinets and appliances, in the kitchen.
Read also: Everything You Need to Know About Kitchen Window Treatments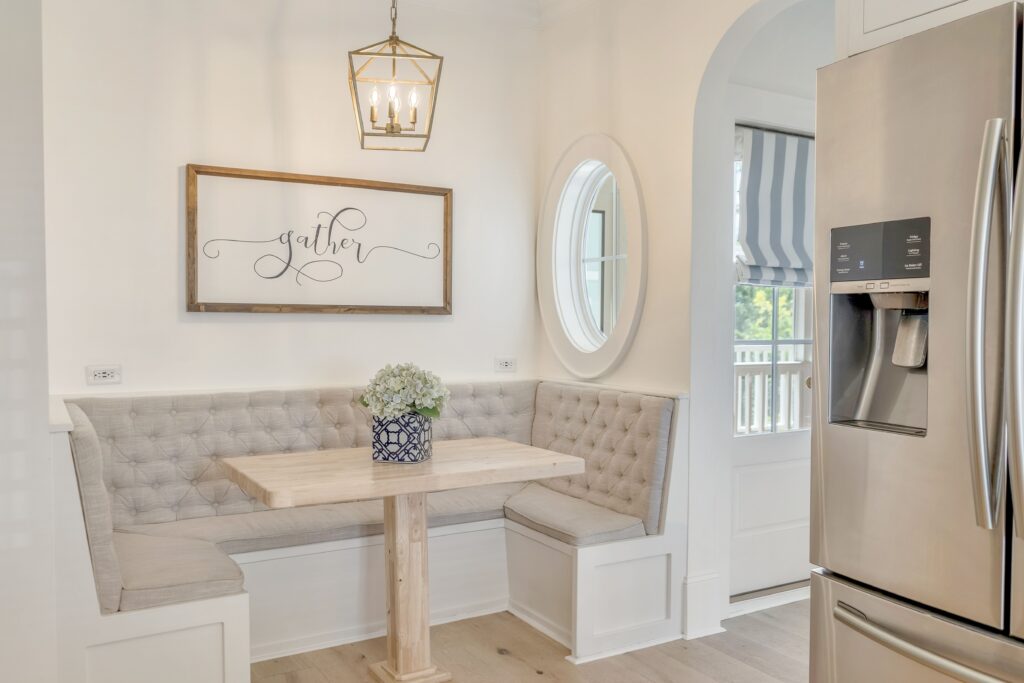 When you choose a custom cushion for your kitchen banquette, you can handpick every detail, from the fabric to the cording to the tufting.
For this banquette, we added cording, also called piping or welting, in the same material as the rest of the cushion for a tailored look. The welting gives the bench seat a defined, tailored look.
We also chose to add tufting to the back of the bench. Tufting is achieved when layers of fabric are tightly stitched into a pattern that's evenly spaced throughout the furniture piece. The depressions are often secured with a button. Tufting is a timeless design element that adds extra charm and texture to the breakfast nook in this North Chattanooga kitchen.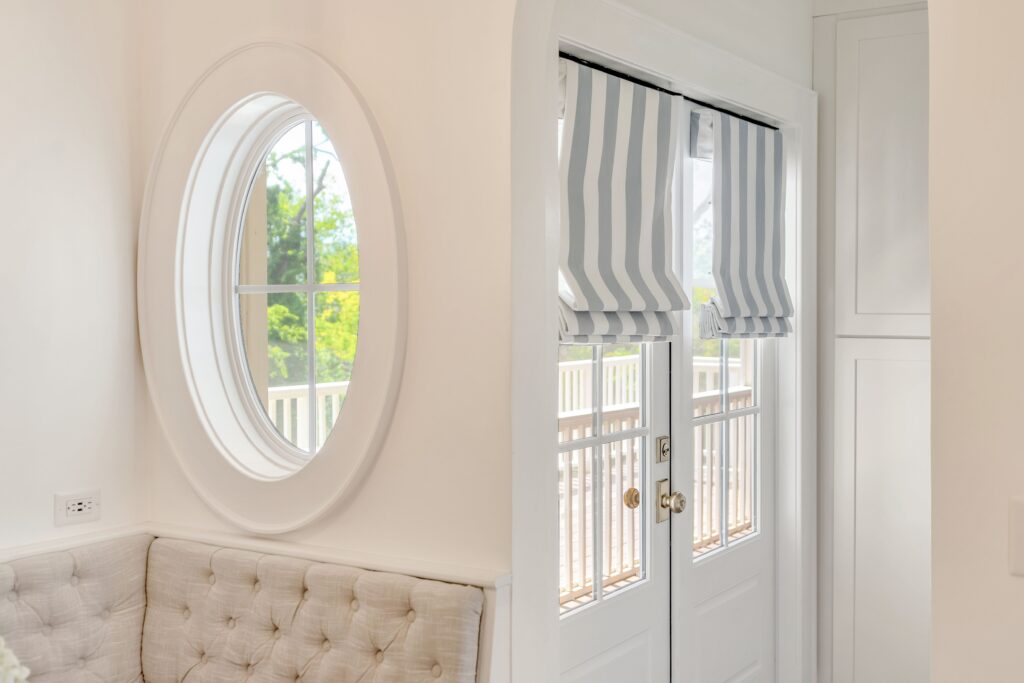 4 reasons Roman shades pair perfectly with French doors
Roman shades an excellent choice for glass doors, so we installed them on the French doors connecting the kitchen to the backyard.
1. They add extra privacy
Since French doors are primarily made of glass, they don't offer much privacy from anyone walking past your home. If you choose not to add some sort of window covering, anyone outside your house can see everything that's happening inside.
Roman shades are a great way to add privacy without sacrificing the light French doors offer. If you want the light to stream into your kitchen, simply open your window treatments and enjoy your view. If you wish to block the view from outside your home, close your Roman shades and prevent nosy neighbors from peering in.
Read also: Modern Home in North Chattanooga
If you choose an easy-to-use operating system, like a soft-touch system, you can easily position your window coverings however you like. A soft-touch system is completely cordless and allows you to control your shades by simply pushing up or pulling down with your hand.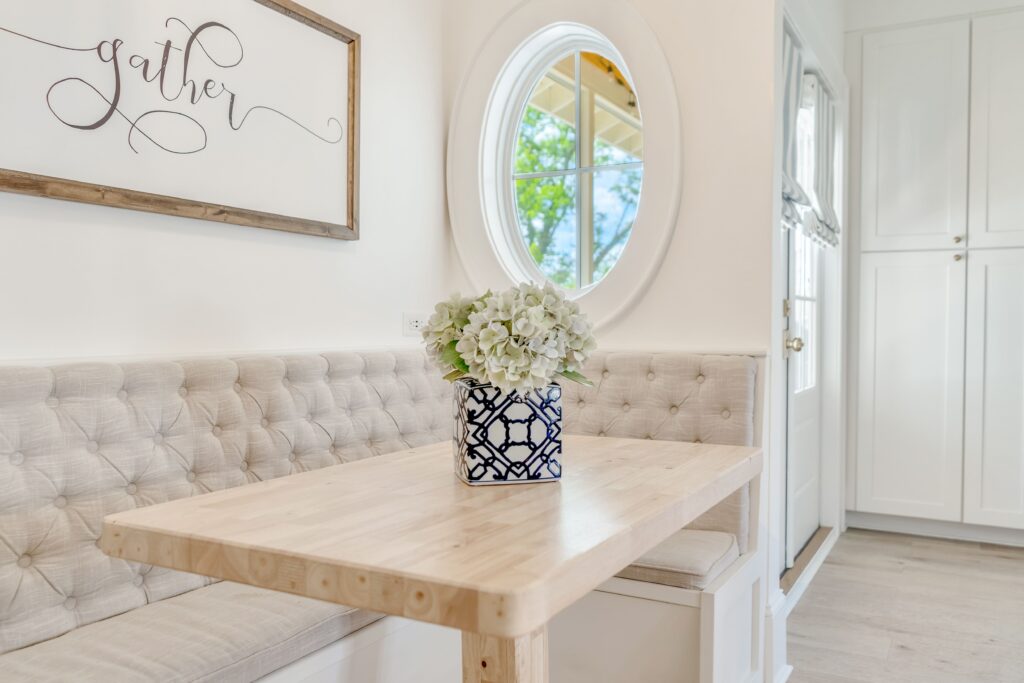 2. Roman shades offer light control
Homeowners often choose French doors because they offer easy access to natural light, which is essential in a kitchen. But you may not want that light to heat up the room during the hottest part of the day or while you're cooking. If that's the case, then Roman shades, especially ones with a light-filtering or room-darkening liner, can help you control the light coming in through the doors.
Read also: Light-Filtering Vs. Room-Darkening Window Coverings
Simply leave your Roman shades open during the day when you want natural light to stream in. You will not have to turn on as many interior lights and can reduce your electric bill. And it will make your kitchen appear bright and airy naturally.
Then when you want to block out some of the light, pull your shades down. With a soft-touch operating system, you can position your shades exactly where you want them to control how much light enters the kitchen.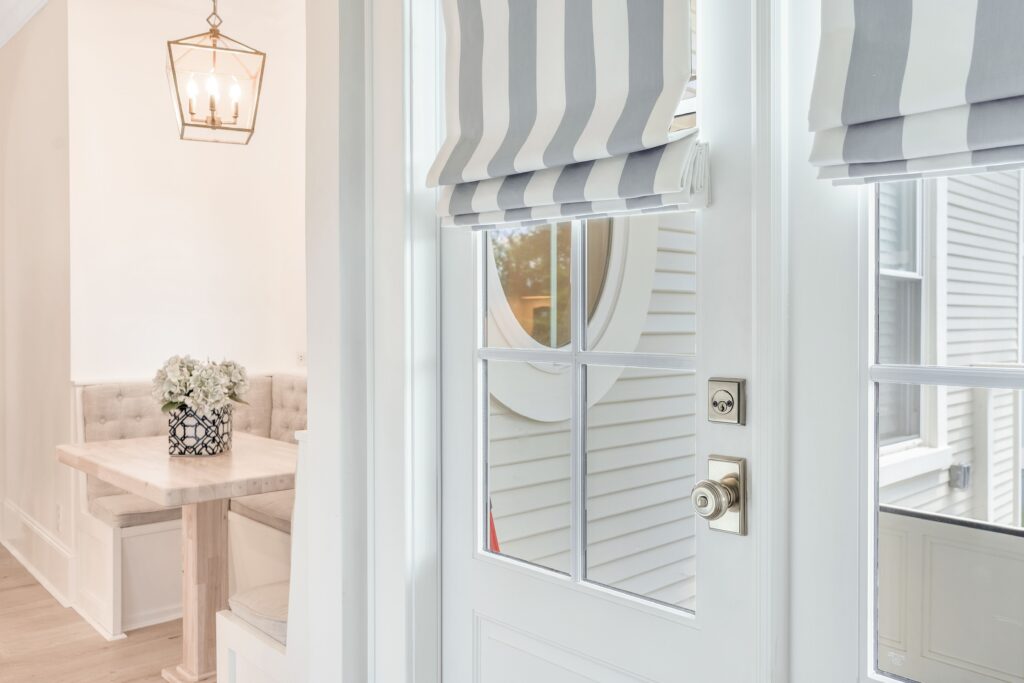 3. The construction is a great match for French doors
When selecting window coverings for your French doors, you need something that has a low profile so you can open your doors easily and so the window treatments fit behind the door handles when lowered. That's why we chose a flat-fold Roman shade for this North Chattanooga kitchen. When the shades are fully closed, they lay flat and can fit behind the door handles without any issues.
Read also: How to Dress Patio Doors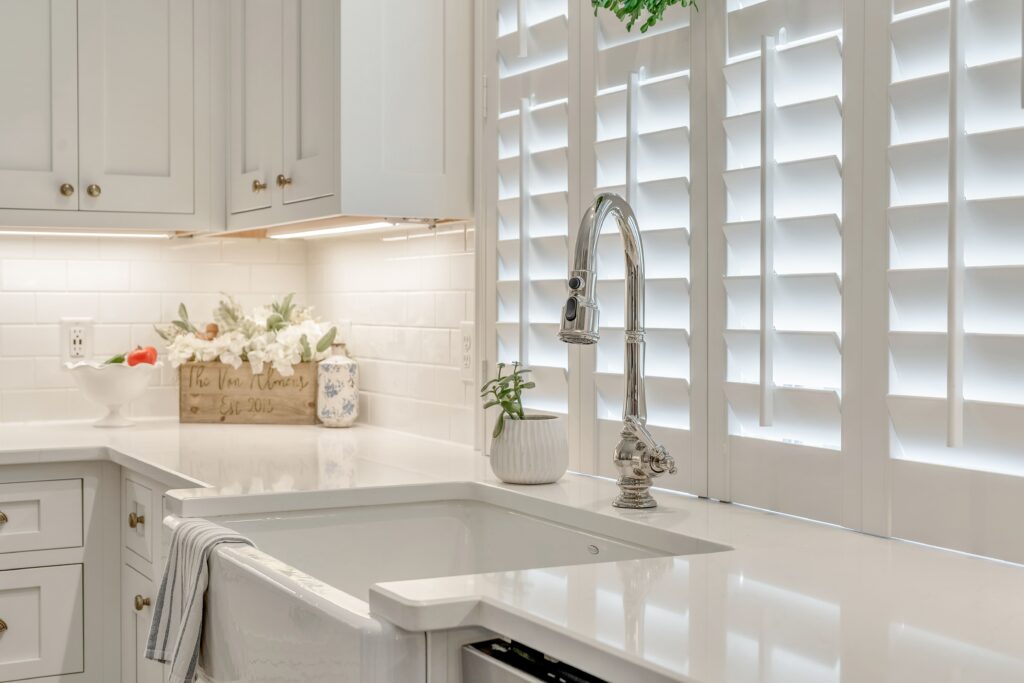 4. Roman shades enhance the look of your doors
French doors are one of the most stylish exterior door options. And Roman shades can make them look even better, especially when you choose a fabric that embraces your preferred interior design style.
For this home, we selected a beautiful striped fabric from Schumacher in the color "Sky." The cabana stripe is an instant classic, and the soft blue adds warmth and color without being overpowering. It invites guests to step outside and enjoy the family's outdoor living space.
Want to breathe new life into your Chattanooga area kitchen? Contact us today to schedule a complimentary consultation!