Master Bedroom Drapery for a Relaxing Retreat in Black Creek
May 16, 2022
We love working with clients on multiple projects! It gives us the opportunity to better understand their needs and help them design a home they're genuinely proud of. When we get to work on multiple projects for a client, it also helps us become better friends with them.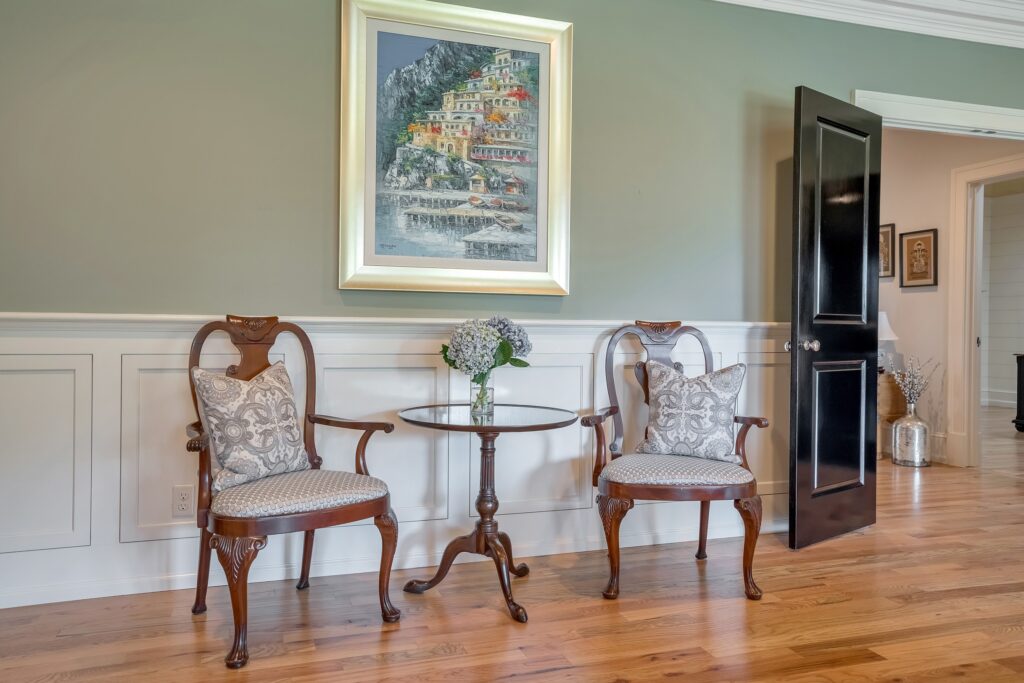 When we first worked with this client near Chattanooga, we upholstered their dining room and foyer chairs. Shortly after, they moved into a new home in the Black Creek neighborhood to be closer to the city, and they asked us to design draperies for their master bedroom. We wanted to give you a behind-the-scenes look at how we chose the fabric, trim, style, and hardware to create the perfect look for this couple.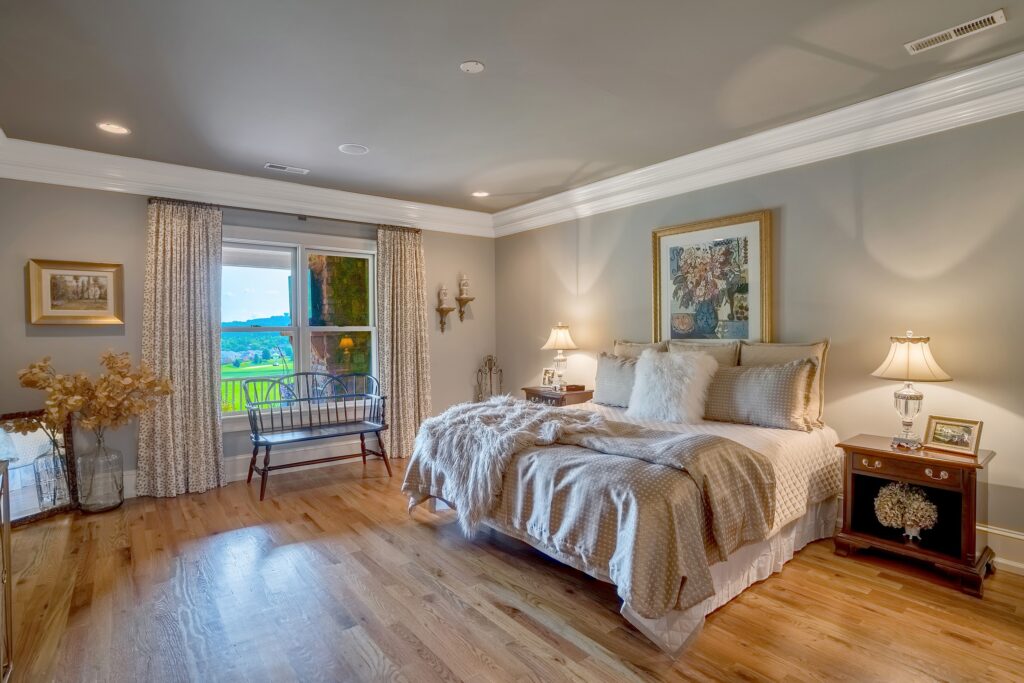 Choosing fabric to create ambiance
We love using Carole Fabrics as often as possible when fabricating window coverings. They offer an extensive selection of high-quality fabrics that allow us to color match your favorite details in your home.
For this project, we wanted to main fabric on the draperies to complement the gold elements used elsewhere in this Black Creek master bedroom. Because of that, we chose Carole Fabric's "Spring Sprig" in the color "Twig."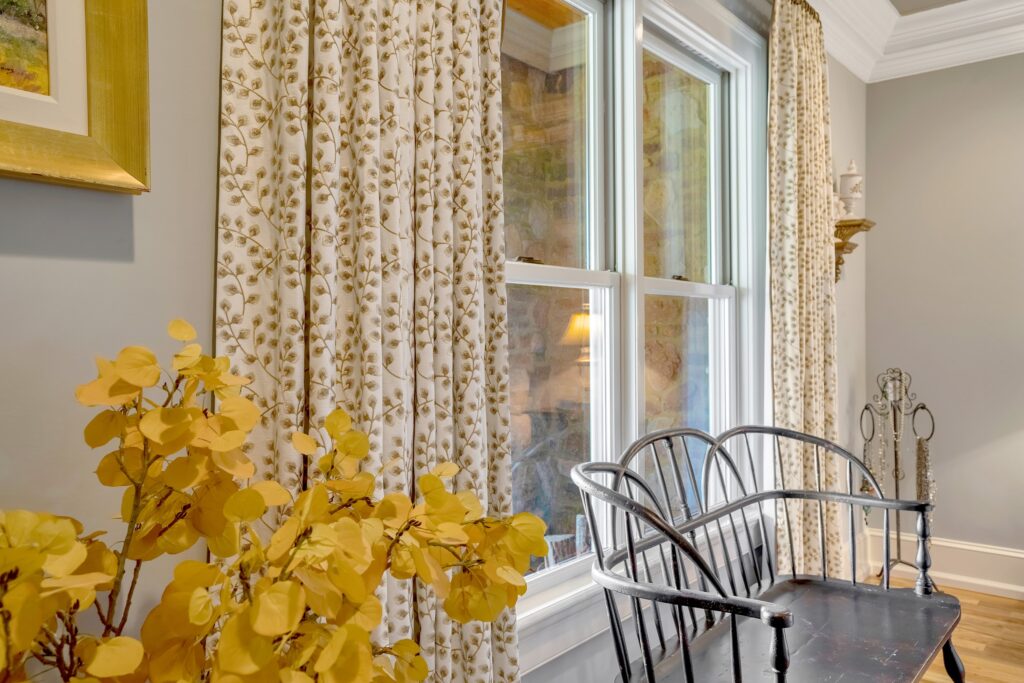 The neutral background of this fabric helps transform the bedroom into a refreshing and relaxing retreat for the couple. We also fell in love with the embroidery detail of the traveling vines on the fabric. The embroidery adds texture to the window coverings and matches the gold details used elsewhere in the room.
If you don't properly line drapery panels, it can be far too easy for the sun to wash out the fabric and cause you to miss the intricate details. But, we take care of everything! We interlined the draperies so that the light doesn't filter through and the couple can see the true colors of the fabric.
Read also: Trend Report: Top 9 Window Treatment Trends to Watch in 2021
Interlining the drapery panels also adds room darkening capabilities to the window coverings. We often add this element to bedroom window treatments to ensure that our clients can get a peaceful night's sleep.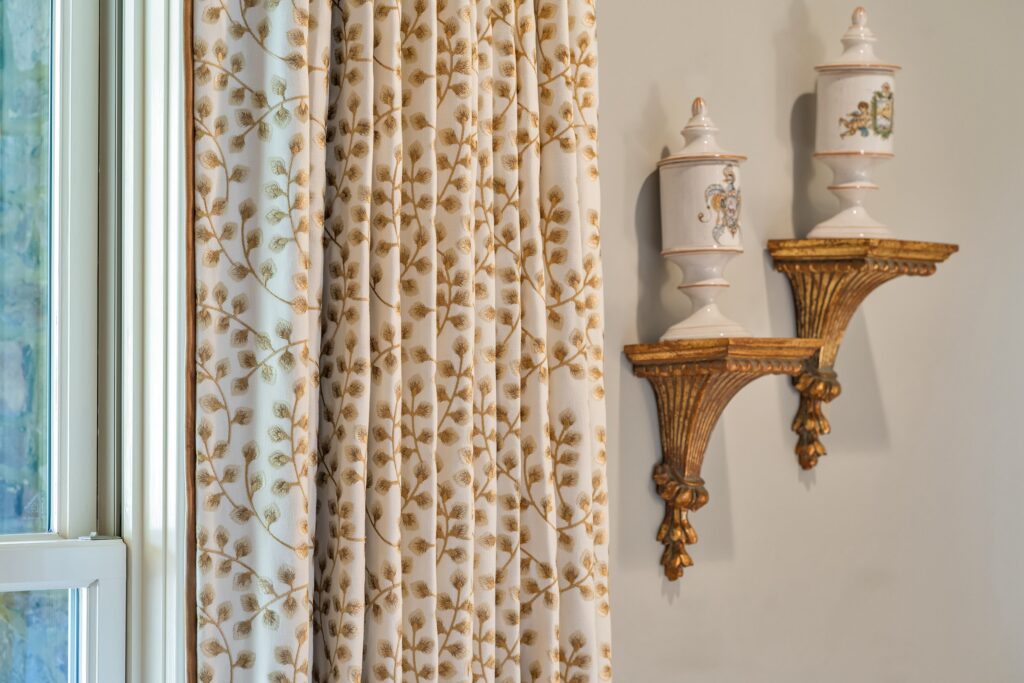 Adding dimension with a leading edge
We wanted to add even more dimension and visual interest to these master bedroom draperies, so we added a leading edge. A leading edge is the inside vertical borders of two drapery panels that meet at the center of the window. Adding trim where the two panels meet adds texture and a pop of color whether the panels are opened or closed. A leading edge creates a luxurious look and makes your draperies a focal point in the room.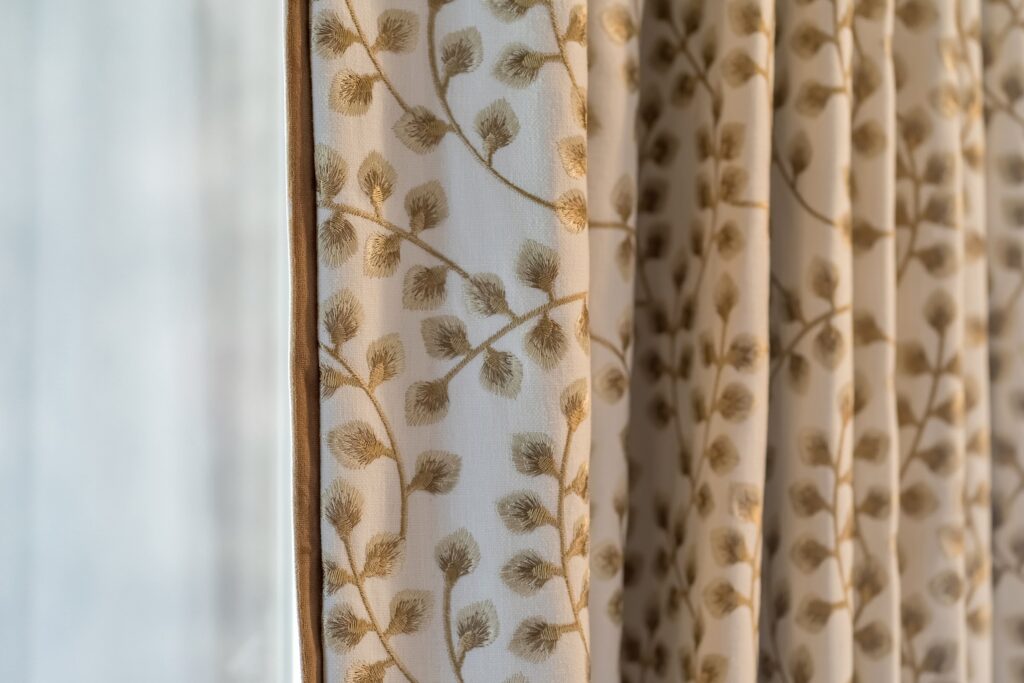 We often use tape to fabricate a leading edge, but we wanted something different for this Black Creek master bedroom. We chose Carole Fabric's "Red Hot" velvet in the color "Mushroom" to add more dimension and texture to these beautiful draperies. The color complements the embroidery details on the main fabric for a cohesive look that still pops.
The color of the velvet also fits into the natural color palettes we expect to see more of next year. Learn more about the top color trends in 2021.
Because we used fabric instead of tape on the leading edge, we were able to make the trim double-sided. When you have custom-made window coverings in your home, you want to ensure that they are one-of-a-kind. By using velvet from Carole Fabrics as the leading edge, we designed unique draperies for our clients that perfectly frame their mountain views.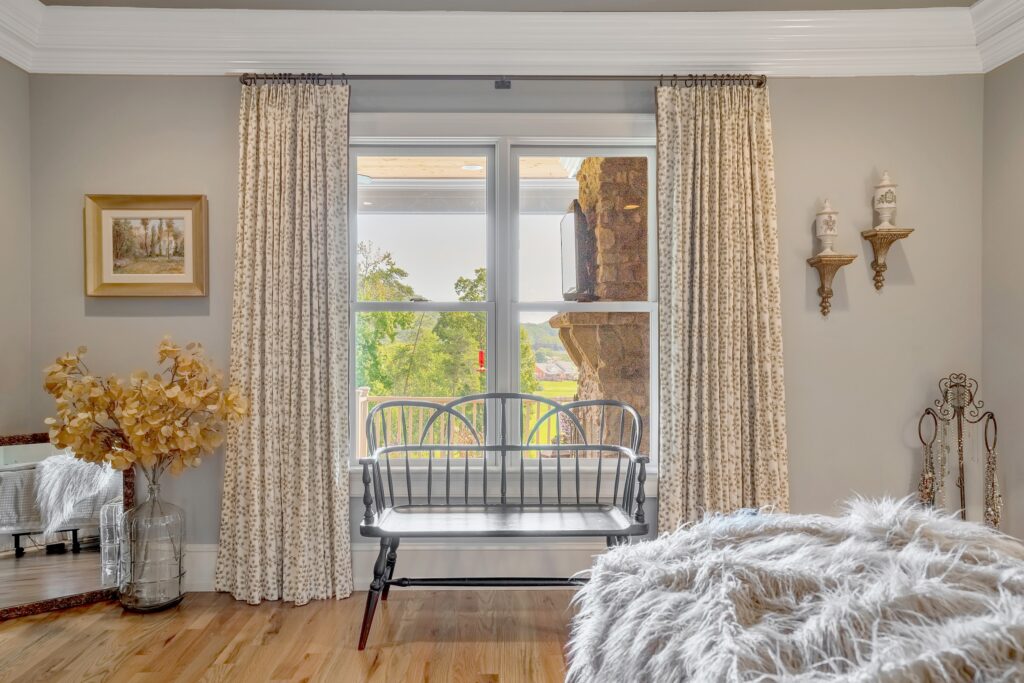 Creating a sleek finish with Euro-pleated drapery
The windows in this Black Creek master bedroom had plenty of space on either side, so we were able to use a Euro pleat instead of a box pleat. A Euro pleat is a clean, tailored pleat that's pinched at the top and open on the bottom, so the fabric flows seamlessly from the top of the drapery panel to the floor. Because it's pinched at the header, the draperies flow elegantly and effortlessly for a lush look.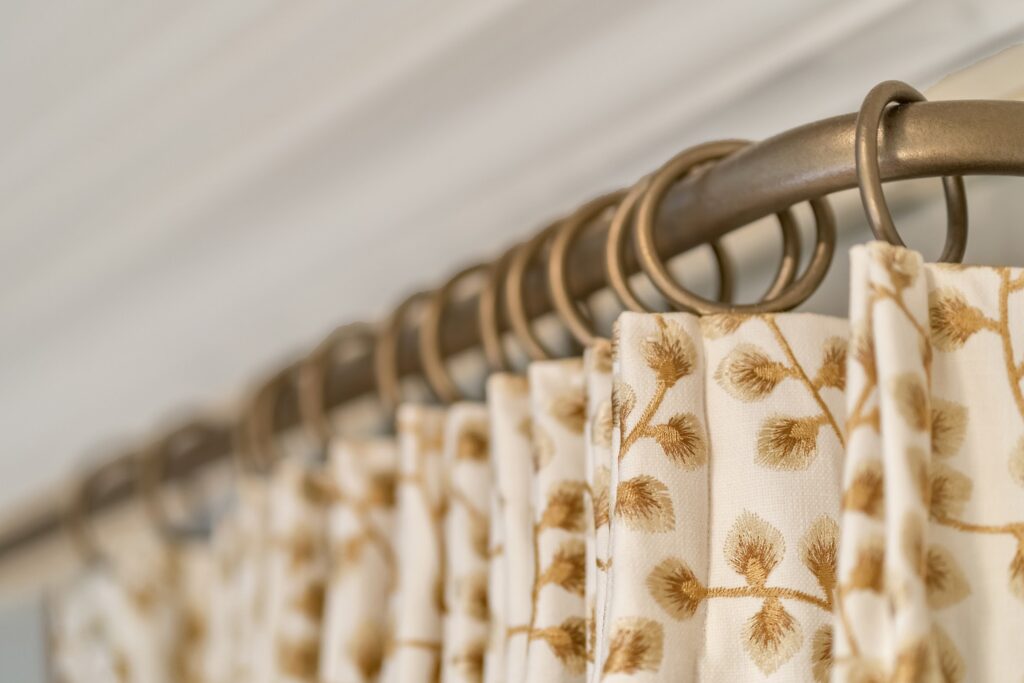 Low-profile hardware shows off the mountain views
This couple has a truly unique view of Lookout Mountain out of their master bedroom window and wanted to ensure that their window coverings would not obstruct that view at all. If we had their view, we wouldn't want anything to stand in the way either! For the drapery rod, we chose a French return, which is low profile and will not block your windows.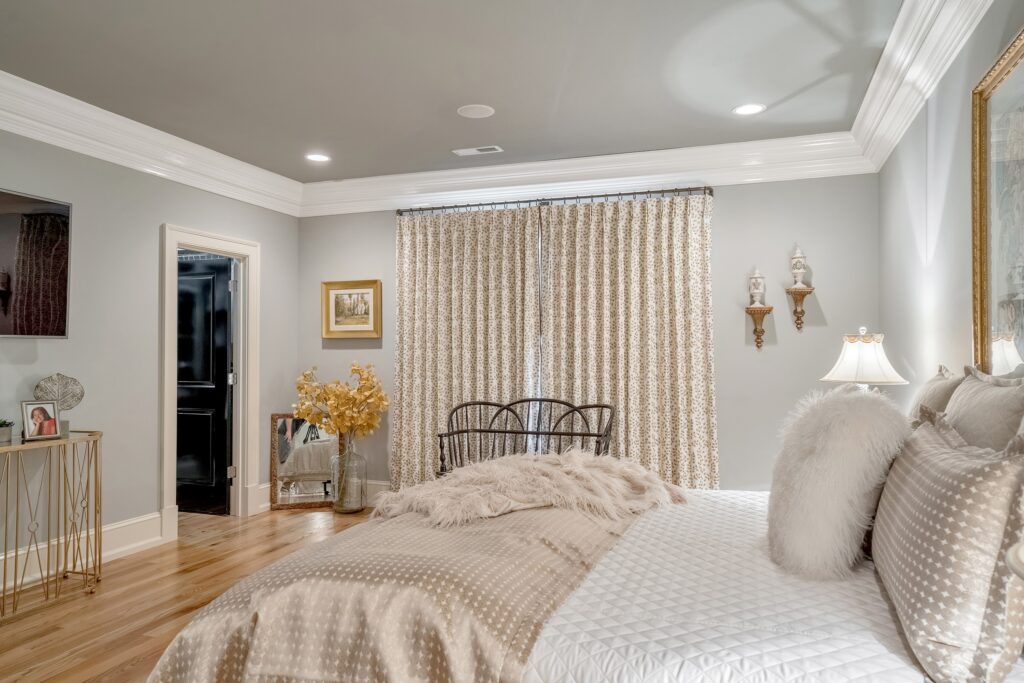 A French return does not require end brackets, allowing the draperies to stack back against the wall for a clean and polished look that's out of the way when opened. But, it also provides full fabric closure on both ends to make the room darker at night. It's one of our favorite hardware options because it truly combines fashion and function.
Are you ready to refresh your master bedroom or your entire home? When you want to update your home to reflect your style better, we're here to help! Whether you want to add new window coverings or breathe new life into your soft furnishings with new upholstery, we can create the perfect look for you and your family. We can't wait to get started on your next project! Contact us today.