What is Drapery Hardware?
May 16, 2022
Because you have so many other choices to make, it's easy to put off selecting hardware until the end of the project. But your drapery hardware is just as essential as your fabric choice. If you do not select hardware upfront, you might end up with draperies that are too long or too short on install day or otherwise don't give you the look you wanted.
But don't worry! We're here to help ensure your drapery hardware takes your window coverings to the next level and exceeds your expectations. Keep reading to learn more about selecting the perfect drapery hardware for your home.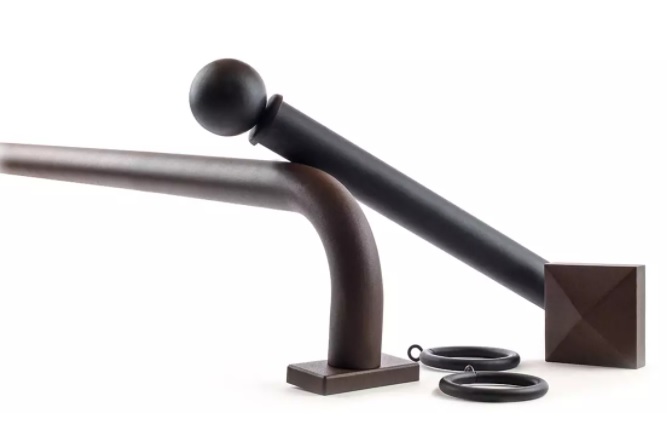 What is drapery hardware?
Drapery hardware refers to all the components necessary for your drapery panels to function well. It's the final touch — the jewelry that adorns your window coverings and completes the overall look.
When making selections for your window treatments, there are several different hardware elements to consider.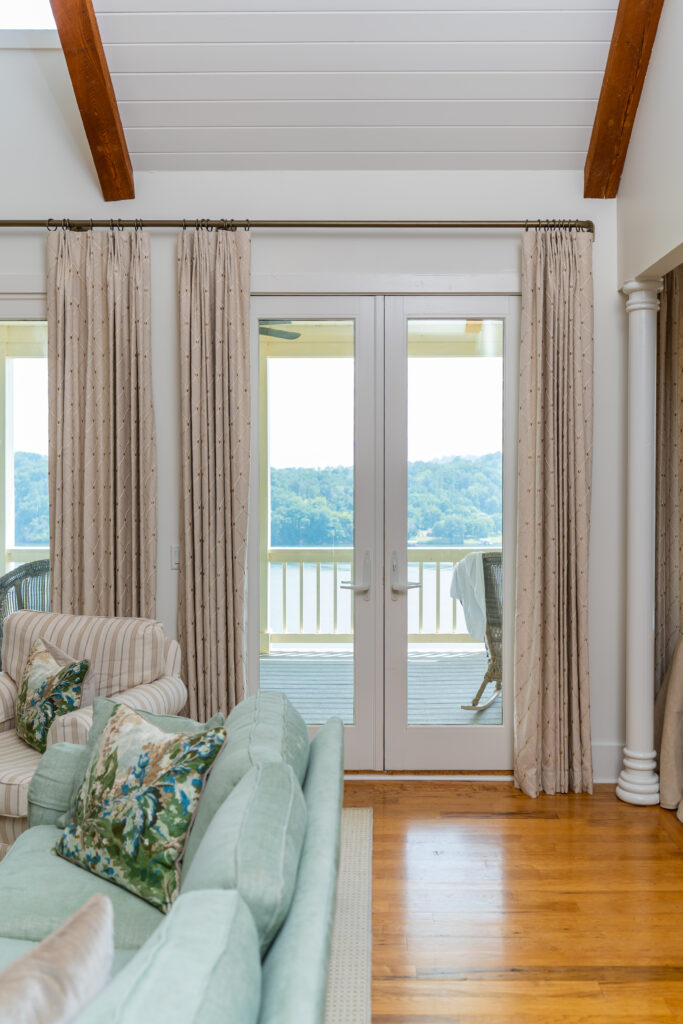 Drapery rods
Drapery rods are installed above your window to support your drapery panels. There are two primary types of rods: traverse and decorative. Traverse drapery rods are made for panels that need to open and close easily. Decorative rods, on the other hand, provide a finishing touch to stationary panels.
Read also: Tab Top Drapery & Industrial Rods in Downtown Chattanooga's Market South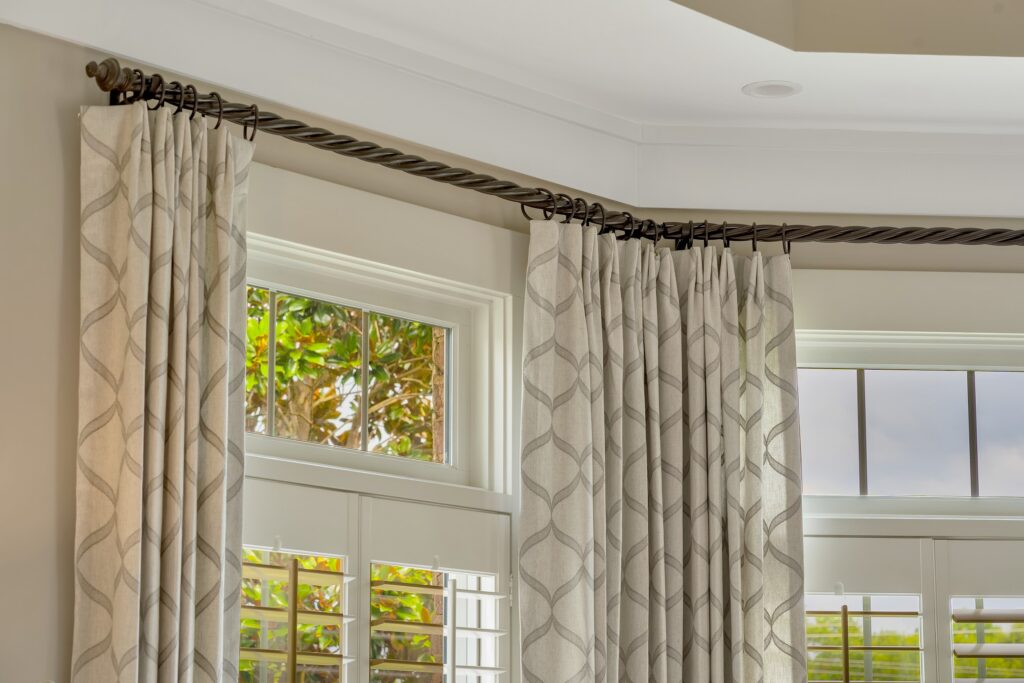 Finials
A finial, sometimes called an end cap, is an accessory placed at each end of a drapery rod. The name comes from the fact that they finish the design.
Finials have both decorative and functional qualities. Not only are they a great choice if you want a well-rounded, completed look, but they can also help keep your drapery rings from sliding off the rod.
We offer a wide range of options to help you choose finials that match your home decor, whether your style is traditional, transitional, or modern.
Drapery holdbacks
Do you want your draperies to be drawn back and frame your windows? If so, you may choose to install drapery holdbacks, also known as tiebacks.
Tiebacks are decorative accessories that split your drapery span from the middle of your window to keep your draperies open in an artful fashion. They hold your panels away from the window to allow you to thoroughly enjoy your gorgeous mountain views.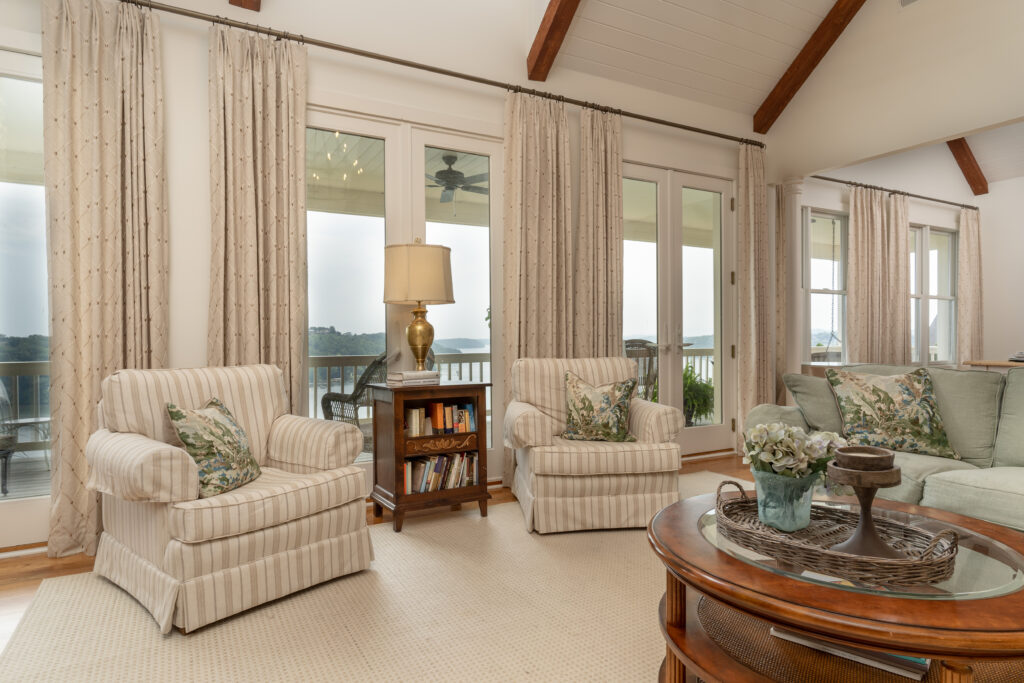 Rings
Rings are hardware accessories attached to or sewn into your drapery header to attach your drapery panels to the rod. They have become one of the most popular methods for hanging draperies and often have the same finish as the drapery rod.
Read also: Glossary of Window Coverings Terms
Drapery brackets
Brackets are supports that attach the drapery rod to the wall. If your window span is small, you may only need a few brackets (one on either end of the drapery rod). But if you have wall-to-wall windows, which are common in the Chattanooga area, you will likely need brackets evenly spaced along the rod.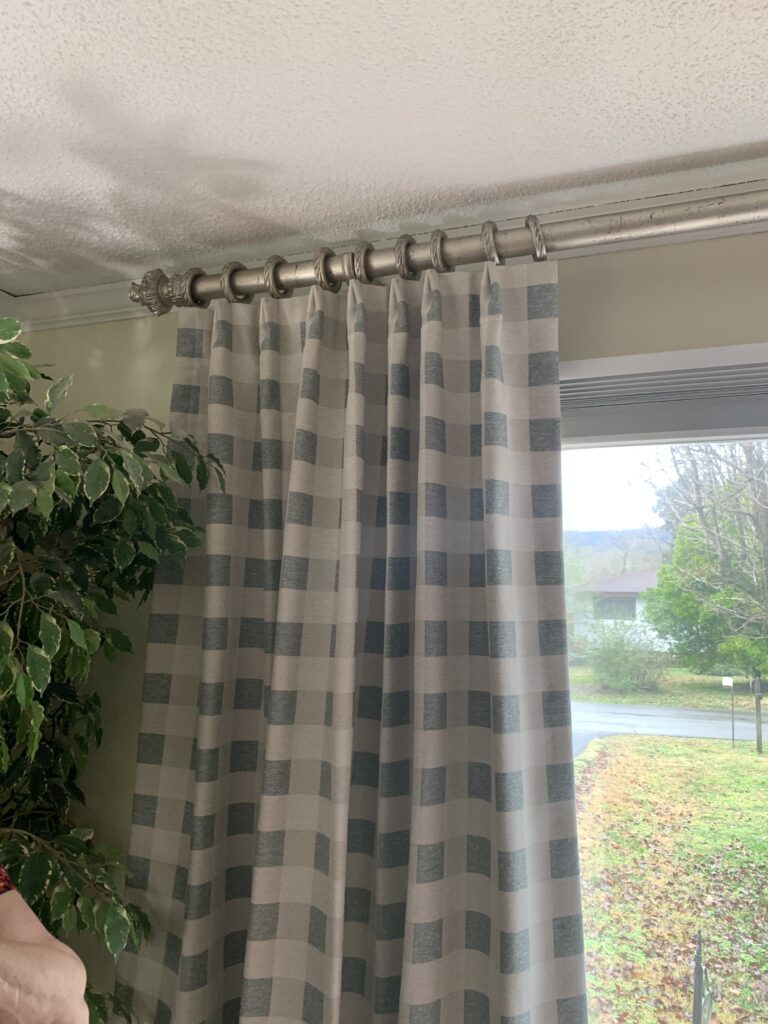 4 common types of drapery rods
When choosing your hardware, one of the first decisions is what type of drapery rod you would like. There are several options, and your selection will affect every other piece of hardware you will need.
1. Metal drapery rods
Metal rods are a popular hardware choice and come in several different finishes to match your home:
Polished metals are a sleek choice with a hint of glamour to help your drapery rods stand out.
Brushed or satin metals offer a slightly softer finish and blend into the finished window covering product. They give you the metallic color without being too bold.
Matte metals are darker metals with almost no shine, so they make a statement of their own.
If you already have metal finishes in your room, you may think that you have to use the same color or finish in your drapery hardware. Thankfully, we are well past the days when you had to use the same metal throughout your home. Instead, you can mix and match several different metals to add aesthetic interest and create depth. To ensure a cohesive design, though, limit the number of metals you choose.
2. Acrylic drapery rods
Acrylic and lucite accents have been a big trend in furnishings for a while, but we're now seeing them become popular in drapery hardware, too.
Many people choose acrylic furniture because it will not visually block the room. The same is true for drapery rods. A lucite rod allows you to make your space feel light and open while showcasing your wall color and trim detail.
We love the look of acrylic drapery rods, but they are not suitable for every design. They cannot handle as much weight as their metal counterparts, so they will not work well for wall-to-wall windows or windows with multiple panels of drapery.
If an acrylic rod will not work well for your project, we can help you embrace the lucite trend through acrylic details like finials and holdbacks.
3. French rods
French rods curve back toward the wall for a seamless look that doesn't require end brackets or finials. This simple yet beautiful design is the perfect solution if you want your draperies to stack back to the wall and eliminate a lot of the light gap on the sides of your windows.
Read also: Master Bedroom Drapery for a Relaxing Retreat in Black Creek
We love using French rods in bedrooms and other rooms where you want true room-darkening capabilities. But we also like using them for wall-to-wall windows or any space where you want to limit the number of wall brackets because the wrought iron can support the weight of large-scale drapery panels.
4. Ripplefold tracks
If you choose ripplefold drapery panels, you'll have to use a specialized track system.
With a ripplefold pleat, the panel itself is flat, and the pleating is created by spacing out snaps, also called carriers, on the fabric and attaching them to the ripplefold track. The carriers create an undulating wave pattern, and the track makes it easy for you to operate your window coverings.
Because ripplefold panels require a specialized track, your hardware options will be limited. Thankfully, the tracks have become more decorative over the years, but you can always layer your draperies with a top treatment to hide the hardware if you wish.
Read also: 5 Popular Drapery Pleating Styles in Chattanooga, TN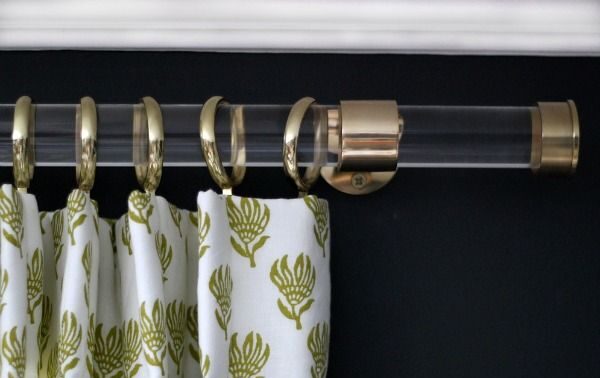 A few considerations for selecting drapery hardware
When you're choosing the perfect drapery hardware for your home, you'll have to consider a few things:
Do you want your panels to be functional or stationary? If you select function draperies, we'll help you choose the right traverse rod.
What is your overall home decor style? Drapery hardware offers a finishing touch to your design. The color, style, size, and shape of your hardware (from your rods to holdbacks to finials) all need to work together to enhance the style of your space.
How heavy is the fabric? The weight and size of your material are directly proportional to the diameter of your drapery rod. If you've chosen a heavy fabric (or if you have a large window span), you will likely need a larger diameter rod.
Call High Country for all your drapery hardware needs
As you can see, you have a plethora of choices when it comes to selecting drapery hardware for your home. It can be overwhelming.
But it doesn't have to be.
High Country Drapery Designs can help you with all your window covering needs, including taking the stress out of choosing drapery hardware. Schedule a complimentary consultation today and take the first step toward getting the look you want!