Tab Top Drapery & Industrial Drapery Rods in Downtown Chattanooga's Market South
May 16, 2022
We were thrilled when one of our favorite local restaurants, Market South, asked for help designing their window coverings. If you haven't had a chance to go to Market South yet, it's a food-hall-style, concept restaurant in downtown Chattanooga. They invite local chefs to test out their menus. We highly recommend checking it out the next time you're looking for restaurants in the Chattanooga area.
When Market South was renovating their space, they asked us to work with their contractor to ensure their window coverings were installed correctly. They had already selected a great fabric but wanted help with the installation process to make sure their tab top draperies added to the overall design of the dining room.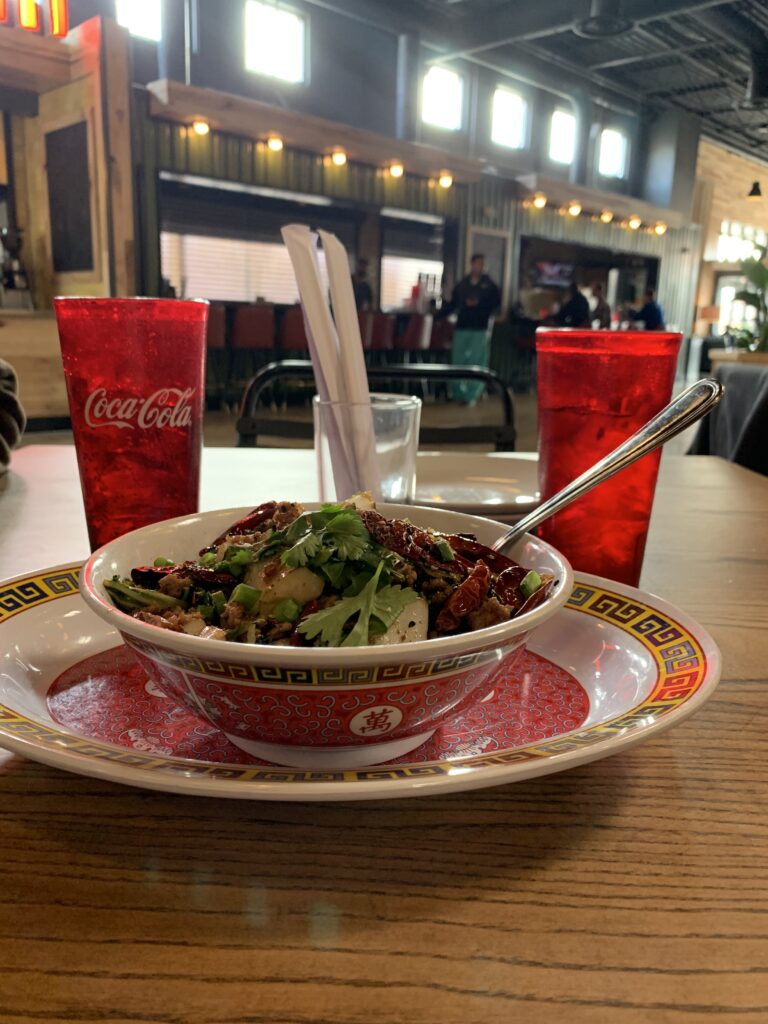 The building that houses Market South is truly a unique space. It's open with a warehouse vibe and an industrial style, which is not a design style we get to work with often. In the dining room, the restaurant has created several different seating vignettes and wanted their window coverings to act as a backdrop for each area.
In this post, we wanted to share more about the window coverings we created and installed for Market South. But, we also wanted to share a few window covering design tips you can learn from this commercial space so you can apply them to your own home or office.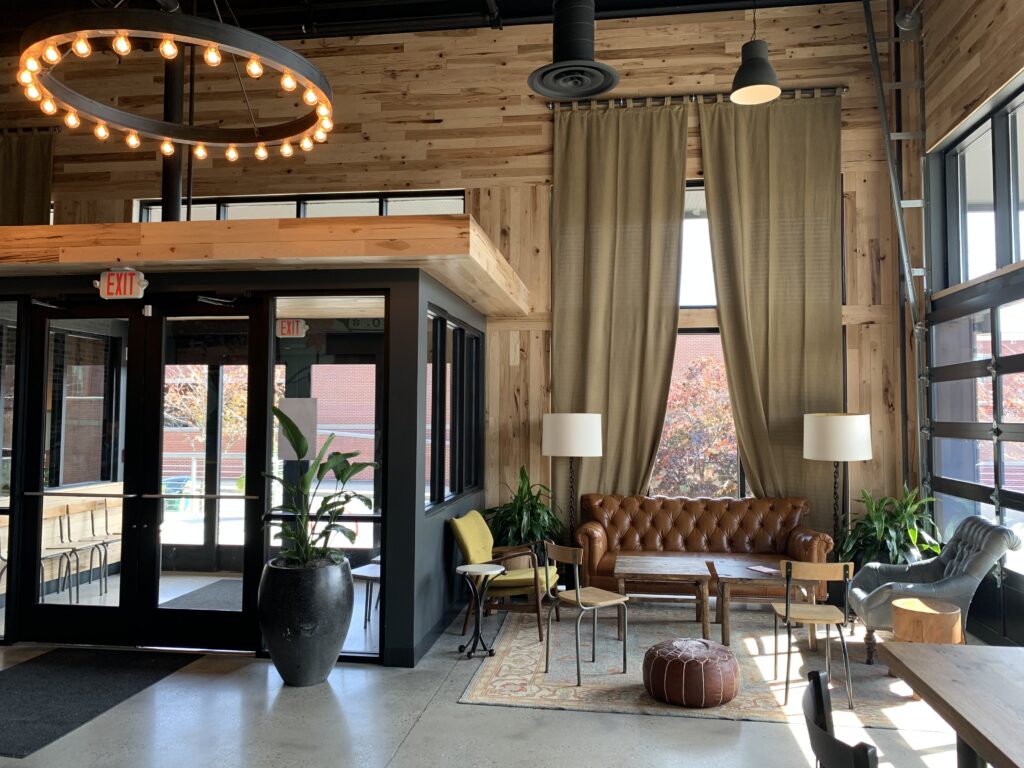 What are tab top draperies?
Tap top draperies have exposed loops (called tabs) that wrap around the drapery rod. The fabric loops are typically made of the same material as the rest of the drapery panel and expose more of the drapery rod than many other drapery styles.
Because these draperies aren't pleated, they have less fullness than other header styles. That means they require significantly less fabric than a ripplefold or box pleat drapery (for example) and are a more economical option for your home or office.
Read also: Glossary of Window Coverings Terms
Although tab top draperies are a relatively simple style, they can be casual or formal depending on the fabric choice. In the Market South dining room, we loved that they were fairly simple because we knew the window coverings needed to act as a backdrop for their seating vignettes. In this case, we did not want the window treatments to steal the show.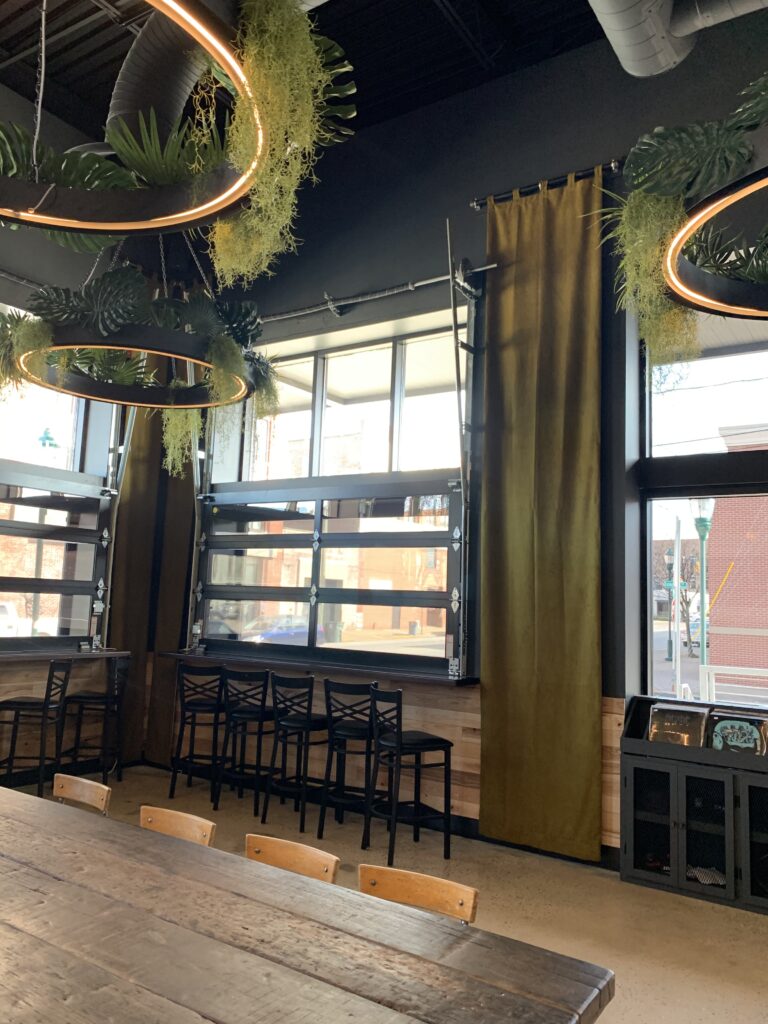 5 things to consider when choosing fabric
When choosing window coverings for your space, you have a wide variety of choices when it comes to fabric. Because your draperies can define a space and add another layer of style, it's essential to pick the right material.
There are five important things to keep in mind when choosing your material. Although Market South selected their fabric, you certainly don't have to do the same. For your next window covering project, we're here to help you every step of the way.
1. Safety
It's always important to remember safety measures when choosing your window coverings and the material from which they're made. In commercial spaces, for example, it's vital that the fabric is fire retardant. So we carefully reviewed Market South's fabric choice to ensure it met the necessary standards.
2. Color & pattern
No matter how simple or ornate the drapery style, draperies take up a large amount of visual space in a room. That means they will have a significant impact on the look of the space. The color and pattern you choose can help you make the statement you want.
As we've mentioned, Market South wanted the food and seating vignettes to be the stars of the show, not their window coverings. Because of that, they chose a material in a muted color without a pattern to act as a backdrop.
3. Durability
Some fabrics might appear attractive but may not stand up to the test of time. It's critical to select a durable material, especially in commercial spaces and high-traffic areas where many people may touch your window treatments.
4. Ease of maintenance
Material like silk can be more challenging to clean and require dry cleaning. If you expect to clean your draperies often, you'll want to choose fabrics that you can clean quickly and easily.
Read also: Child and Pet Friendly Fabric for Window Coverings and Soft Furnishings
5. Drapery size & style
Finally, the drapery panel itself will influence your fabric choice. If you choose a formal, elegant style, like a goblet pleat drapery, you might lean toward silk or something else with great drapability. Lightweight fabrics, like the material used in Market South, are better for tab top draperies and can help create a more casual aesthetic.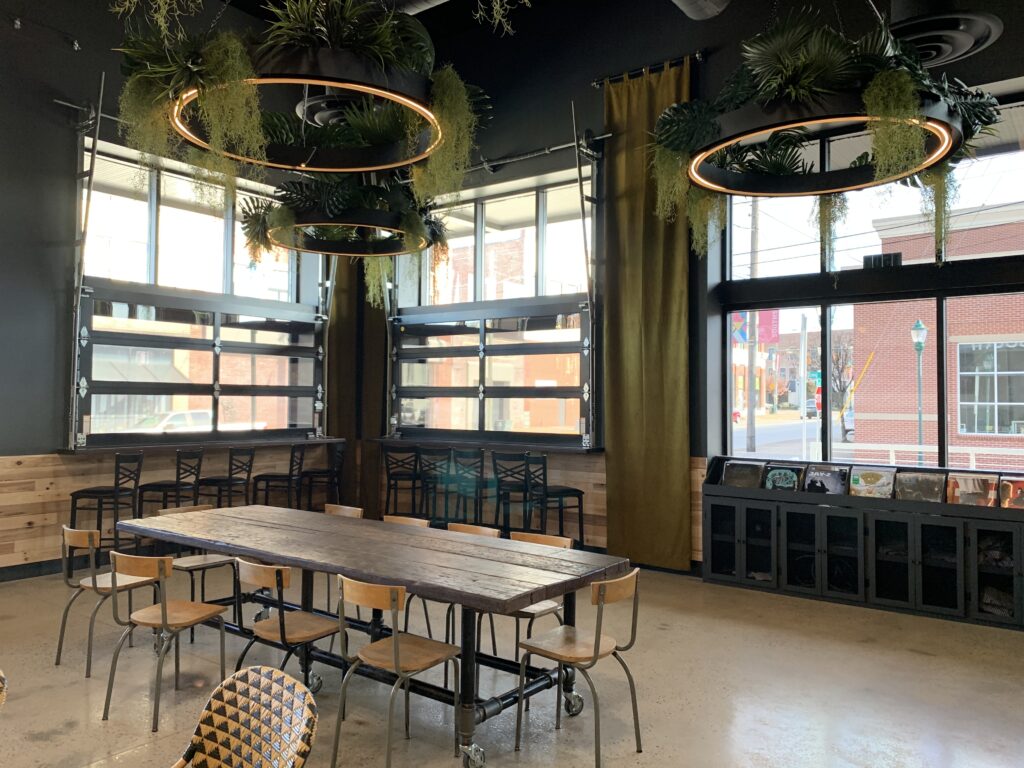 3 factors to remember when choosing drapery rods
Drapery rods are necessary for installing and supporting drapery panels in your home or commercial space. They're not only functional but can also be a piece of decor. Because of that, we recommend that you don't treat them as an afterthought and let us help you choose the perfect hardware for your panels.
When considering your drapery rod options, we'll consider a few factors.
1. The weight of your draperies
If you plan on having heavier draperies (because of the fabric choice or pleating style), you may need a drapery rod with a larger diameter or made of a stronger material to support the weight.
If you're using lightweight fabric and a simple drapery style, like a tab top, you can use a smaller diameter rod, as Market South did. Additionally, a drapery rod with a small diameter will not draw as much attention as one with a larger diameter.
If you have heavier draperies and don't want a large drapery rod, you still have options. We can install additional brackets to support the weight, or you might choose a french return rod because its properties will often require fewer brackets.
2. The drapery style
Some drapery and pleating styles require a specific type of drapery rod. For example, ripplefold draperies must use a specialized track system, which can limit your options. But don't worry! We can still help you find an attractive drapery rod that fits well into your space.
3. Your home's design style
As we mentioned earlier, drapery rods are not only functional; they're also decorative. Because of that, your home or office's design style will dictate which hardware styles and finishes will look great in your room. You want to choose hardware that complements and balances the other elements in the room.
Since Market South's dining room has an industrial aesthetic, they chose a pipe-style drapery rod. An industrial decor style uses architectural details, like bare brick, metals, and wood, and mixes them with salvaged and recycled materials. It's all about taking commercial elements and giving them new life. A pipe-style drapery rod is the epitome of industrial-style hardware.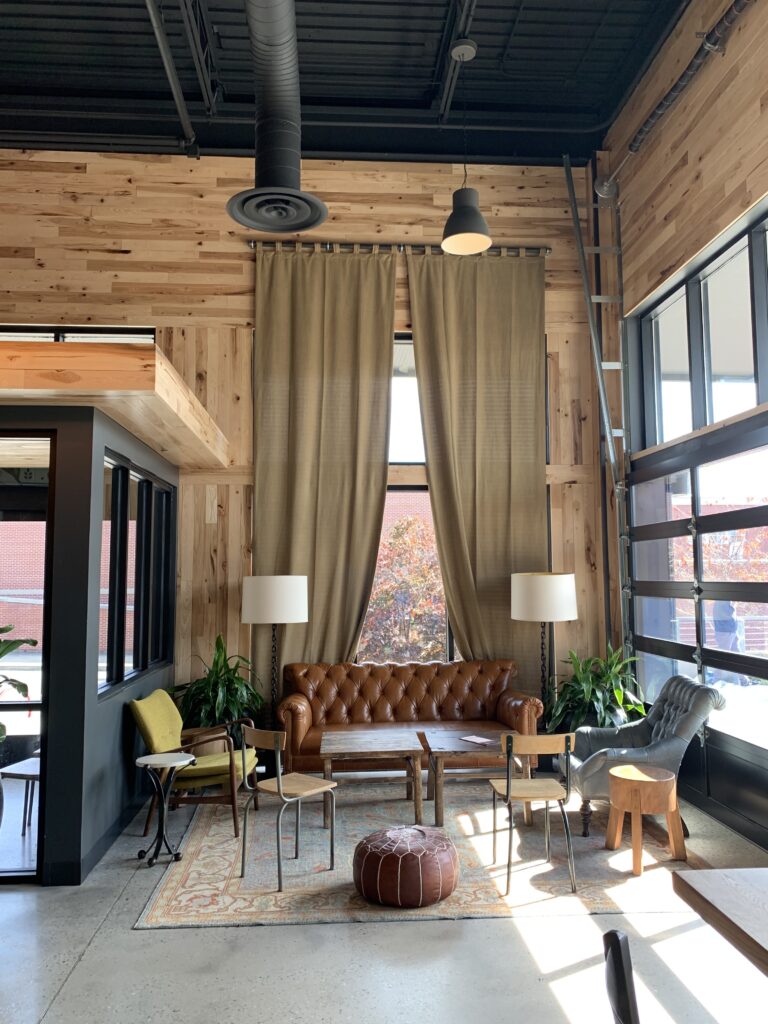 Do all your window coverings need to match?
Your window coverings do not all have to match exactly. It depends on what you want your window coverings to accomplish. For example, if you want a uniform theme for your decor, you might choose matching drapery styles.
Since Market South has several different vignettes set up throughout their dining room and wanted those to be the focal point of the space, they wanted window coverings that tied everything together. By selecting the same tab top draperies throughout the room, they created a cohesive look even with mixed-and-matched furnishings and decor.
When designing your home or decorating your business, we recommend having a specific style in mind. It will help you create a consistent and cohesive design that flows from room to room, even if you don't use the same fabric or window covering styles in each space. You can still maintain consistency by choosing similar color palettes or styles.
Are you ready to add character, warmth, and depth to your home or commercial space? Here at High Country Drapery Designs, we're excited to design the perfect window coverings for your space. Schedule a complimentary consultation today to get started!