What are Window Cornices? Here's Everything You Need to Know
May 16, 2022
We share a lot about soft window coverings, like draperies and Roman shades. Today, though, we wanted to tell you a little more about one of our favorite hard treatments: window cornices. Keep reading to learn more about them.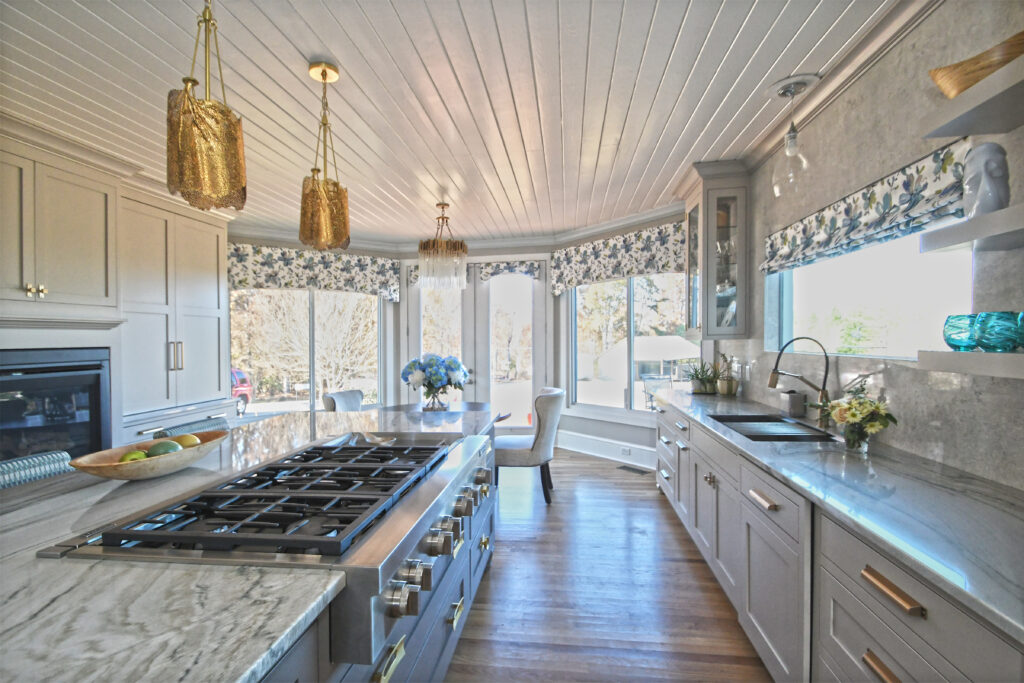 What are window cornices?
A cornice, also called a pelmet, is a solid framework placed on the top of a window. The sides and front of the frame are made of wood — or other solid material — and can be upholstered with fabric.
Before we go too much further, we wanted to point out that window cornices are not the same as architectural cornices. An architectural cornice is the decorative trim where a wall meets the roof on the inside or outside of a building.
Cornices vs. valances
The terms cornice and valance are often used interchangeably, but they are not the same thing.
Both cornices and valances are stationary window coverings that cover the top portion of a window. Valances are soft treatments hung from drapery rods and made of fabric that is left loose for a more unstructured, free-flowing look. On the other hand, cornices are structured hard treatments with a solid frame and no loose fabric.
Read also: Glossary of Window Covering Terms
Types of cornices
Although all window cornices have the same basic structure, there are three variations:
1. Wood cornices
Wood pelmets can be stained or painted to complement the other wood and colors in a room. They can have decorative and intricate patterns carved into the front and sides and may even be used as a shelf to display decorative items.
2. Upholstered window cornices
It should come as no surprise that upholstered cornices are our personal favorite type. They're wood pelmets that are then padded and covered with a fabric of your choice. The material can match your existing window coverings or add a complementary color or pattern. Upholstered pelmets are a modern take on the traditional cornice board, and we love that they can add softness to any room.
3. Lambrequin cornices
Lambrequin cornices extend down the sides of your window, either partway or to the floor. In the middle ages, they were used to decorate ornate, four-poster beds. Today, they adorn windows.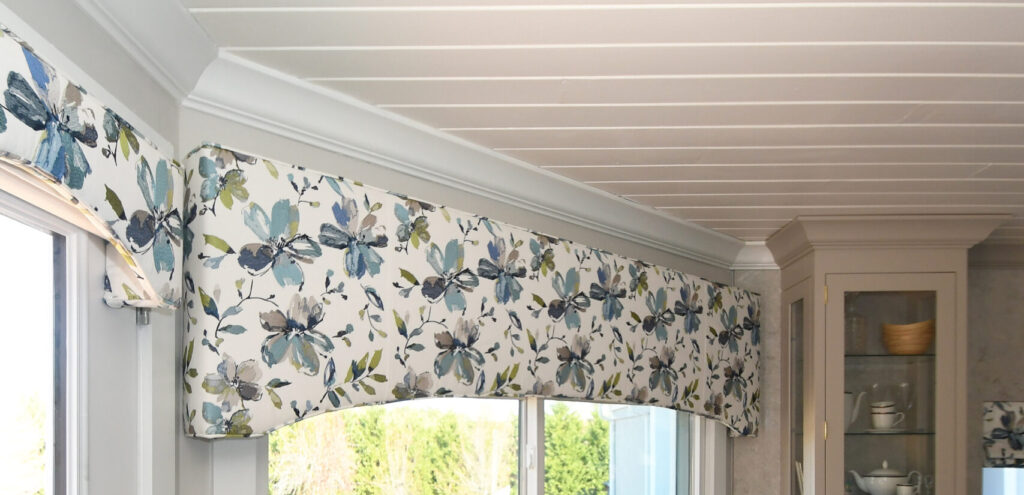 Customizing cornices
Because all cornices have the same basic shape, you have a lot of options when it comes to customization. We can design pelmets that match your home's style by choosing the shape, fabric and trim. You can also layer them with other window coverings for a truly one-of-a-kind look.
Shape
All cornices are solid boxes, but they come in various shapes that can help you add visual interest to a space or mimic architectural details used elsewhere in your home. Common shapes include:
straight
arched
partial arched
step arch
step straight
curve step arch
curve step straight
scalloped
raised top
skirted arch
tapered pleat with banner
Fabric & trim
Because we cover cornices in fabric and can add trim, you have unlimited options to make your window coverings match your home's aesthetic. You can choose material that blends naturally with the existing decor in your home, or you can use the upholstery to add a pop of color in a room.
If you want to customize your pelmets further, we can help you select coordinating trim that will really help your cornices make a huge design statement.
Layering cornices with other window treatments
Cornices are top treatments, which means they can be used on their own. But we love layering them with other window coverings because it gives you another opportunity for customization and helps you create a unique aesthetic in your home.
We recommend layering them with
draperies — Cornices will create balance by adding a solid profile to the flow of your drapery panels.
Roman shades — Pelmets will give your Roman shades a richer look. Plus, the Roman shades will completely disappear behind the window cornice when fully raised, if that's what you want.
motorized blinds and shades — Cornices are perfect for motorized window coverings because they can hide the hardware and operating system.
Read also: Window Treatment Operating Systems: Manual, Cordless, and Motorized
Are cornices outdated?
No, cornices are not outdated. Their functionality and beauty have kept them in style for hundreds of years. And now, with the customization options available, we can create pelmets that match any style home so they'll never look out of place.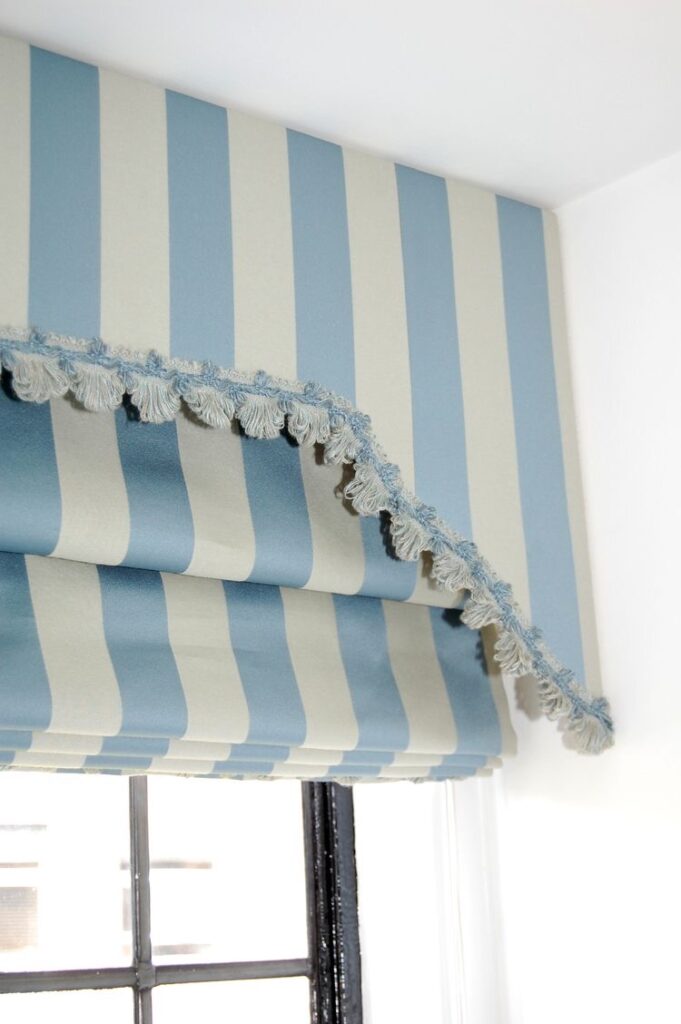 Benefits of installing cornices in your Chattanooga home
Cornices are a great addition to any home interior, but there are a few benefits that might make you decide to choose them for your house.
1. Add visual interest to a room
Cornices are the perfect hard treatment for adding visual interest to a room. By upholstering your pelmets, you can add additional texture and color to your existing decor.
You can also choose an intriguing shape to add architectural elements to a room that lacks interesting architecture. Besides choosing a unique shape, you can also add a Tableaux® Decorative Grille to your cornice to bring architectural details in from other rooms, as we did in this Chattanooga home.
2. Hide window covering hardware
Although you now have a lot of options when it comes to window treatment hardware, you still might want to it. Because cornices cover the top portion of a window, they can hide unsightly hardware, like a shade's headrail, a drapery rod, or the battery pack from a motorized shade.
3. Add height to your windows
By hanging your cornices low enough to cover the trim at the top of your window, you can make your window appear taller than they are. This, in turn, will make your ceilings seem higher.
4. Block unwanted light
We recommend using cornices in rooms where you want to block as much light as possible, such as bedrooms or a home theater. Because of how they're hung, pelmets help block unwanted light from seeping through the top of your windows.
Do you want custom cornices in your Chattanooga home? Then, let us design the perfect window coverings for you. Contact us today to get started!