What Drapery Length is Right for Your Chattanooga Home: Hover, Break, or Puddle?
May 16, 2022
If you're considering adding draperies to your Chattanooga area home, then you likely already realize that you have a lot of decisions to make. One of those choices is how long you want your panels to be. And the drapery length you select can really make or break the design of your room.
If you decide to buy off-the-rack draperies, you'll likely be limited to the five most common lengths — 63 inches, 84 inches, 94 inches, 108 inches, or 120 inches. But, if you go with custom-made drapery panels, you can have any length you want and will have to choose between several different hemming options. We recommend choosing custom panels over standard lengths because they'll be tailored to be the perfect length and will flawlessly fit into your home's interior design style.
Here are a few different hem options you'll have when designing your custom draperies.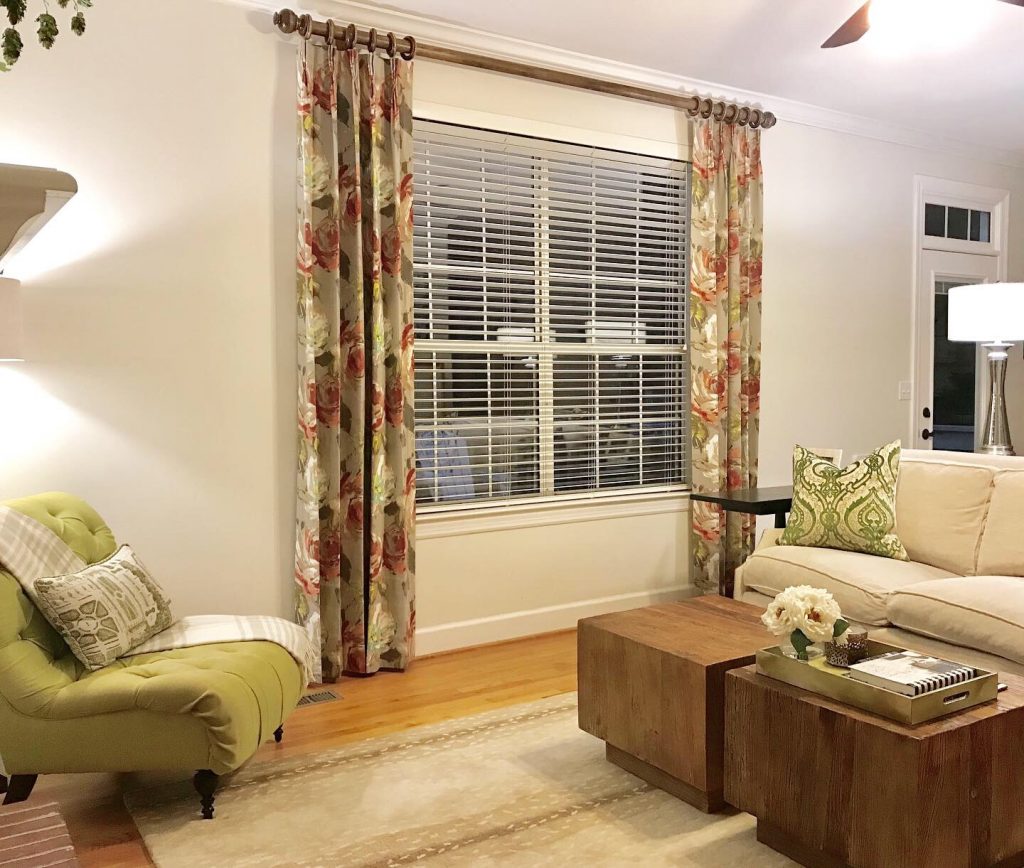 Floor-to-ceiling drapery panels
Choosing draperies that flow from your ceiling down to your floor is almost always the right decision. (We'll share when it might not be in a bit.) That's because they make your ceilings look taller as your eye naturally travels up the line. If you already have high ceilings, long drapery panels can complement the height and make the space seem even larger.
When it comes to floor-length draperies, you have three common hem types to choose from: hover, break, and puddle.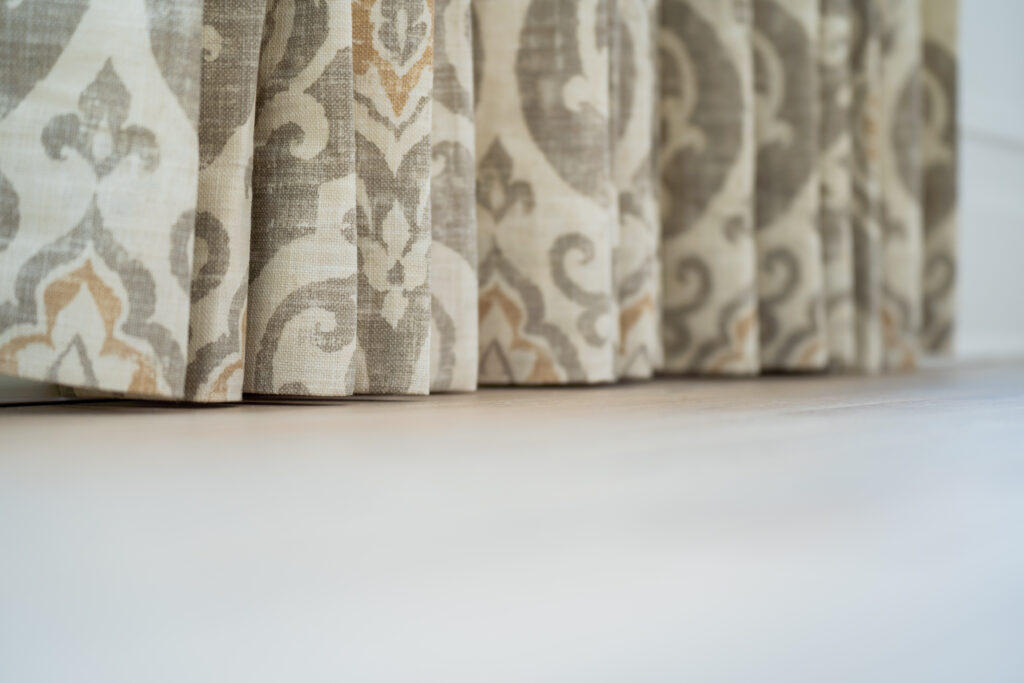 Hover
These drapery panels leave a small gap (typically a quarter of an inch to half an inch) between the hem and the floor. The space should be just big enough to fit a pencil underneath. If your panels are any shorter, they can look awkward and visually make your room seem smaller.
Draperies that hover are a very popular option in the Chattanooga, Tennessee area because they're practical. Not only do they make opening and closing your drapery panels easy, but they will not pick up dirt, dust, or pet hair since they do not quite touch the floor. These panels will look great in just about any room, but we particularly recommend them in living rooms and other high-traffic areas.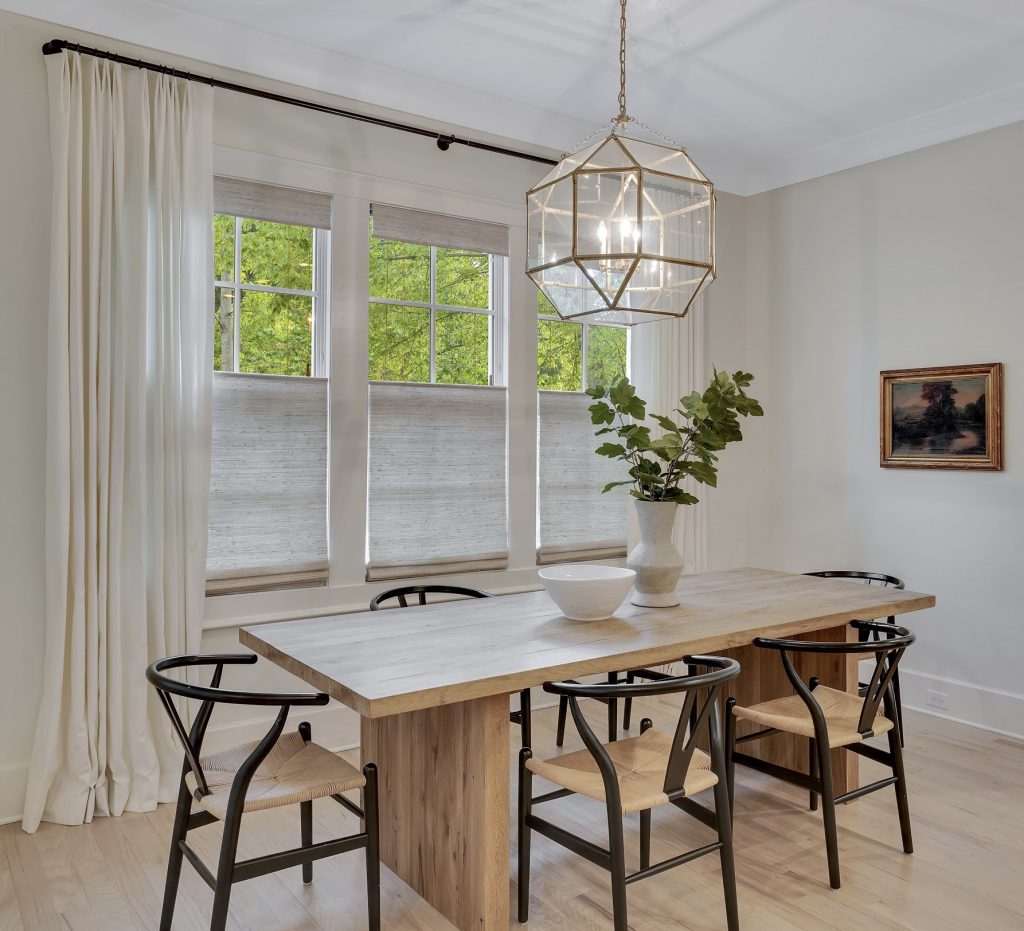 Break
This hem option, also known as a trouser break, falls somewhere between a hover and a puddle and provides a tailored, sophisticated look. Like men's trouser legs that rest gently on their shoes, these drapery panels will sit gently on the floor with a slight break in the bottom.
A break is a fold or bend above the hem. It's created when the fabric is slightly longer than required to reach the floor. You'll just need an inch (or less) of extra fabric to give you the look you want. Your window covering designer can help you determine the appropriate length so your draperies break in just the right place for an effortlessly chic look.
Depending on your fabric and header choice, these draperies can look somewhat casual (with gauzy fabrics and soft-top headers) or tailored and formal (with thicker fabrics and a pleated header). No matter what you choose, we recommend using them in bedrooms, formal dining rooms, or any space with less foot traffic and an elegant style.
Read also: Glossary of Window Coverings Terms
Puddle
Draperies that puddle or pool on the floor are the most dramatic floor-to-ceiling hem option. The fabric will extend multiple inches onto the floor to add extra flair and dimension to a room.
There are generally three types of puddle hems to choose from:
A minimal puddle uses an extra one to three inches of fabric to add softness and coziness to a room.
Moderate puddles extend onto the floor an extra three to six inches. They'll give your room a more formal look.
An opulent puddle is the most luxurious and glamorous option. The fabric will typically extend an extra six to eight inches onto the floor. They'll often flair out at the bottom in a way that will remind you of a classic wedding gown. We love how these draperies look in a traditional or historic home!
Of the three most common floor-to-ceiling drapery styles, the puddle is the least functional and the most high-maintenance. We recommend using them in rooms with less traffic, like formal dining rooms. But keep in mind that they are likely to collect dust and animal dander (if you have pets).
As with any drapery, your fabric choice makes a huge difference. Thicker cotton material may end up looking like you ordered your panels too long. But a beautiful sheer linen will puddle gracefully for a romantic, relaxed look. And silk can make a huge statement and be elegant and formal.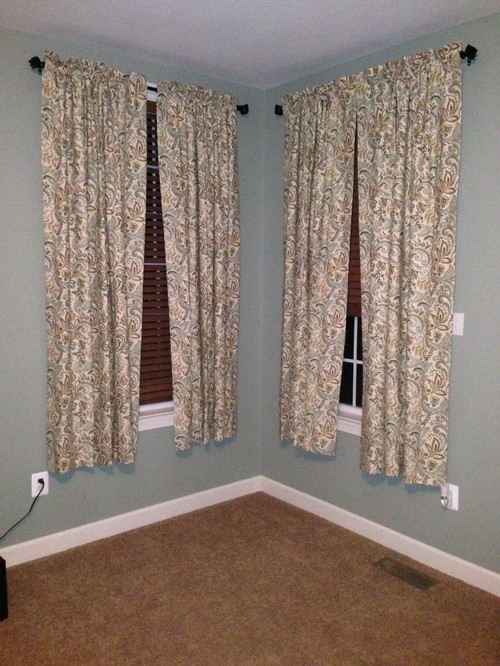 Short drapery panels
Draperies that don't reach the floor are not usually ideal because they can look outdated, if not used appropriately. But they might be right for your space if you're worried about children pulling on your window treatments or if there's something preventing your draperies from reaching the floor, like a radiator or kitchen counter.
Read also: Everything You Need to Know About Kitchen Window Treatments
If you want a shorter panel, there are three common types to choose from: window sill draperies, apron draperies, or café curtains.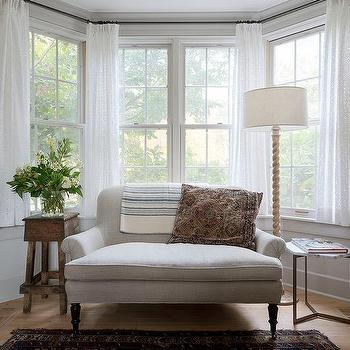 Window sill draperies
These panels end right at the window sill and tend to work well in kitchens or young children's bedrooms or playrooms. They take up less visual space than other draperies, so they're a good opportunity to have fun with pattern and color because you will not be overwhelmed by a bold choice in fabric.
Apron drapery panels
Apron draperies extend one inch to four inches past the window sill. They're not nearly as popular as they used to be but can still be very practical in casual areas like in a breakfast nook or above the kitchen sink.
Apron panels run the risk of looking too short. To ensure they feel intentional, we recommend using them only if something prevents you from using floor-length draperies, like a window seat or countertop.
Café curtains
These are usually hung at a window's halfway point or on the bottom pane of a two-part window and are great for spaces where you want a bit of privacy without sacrificing natural light, like in a bathroom. Café curtains are cute and give your room a more casual vibe.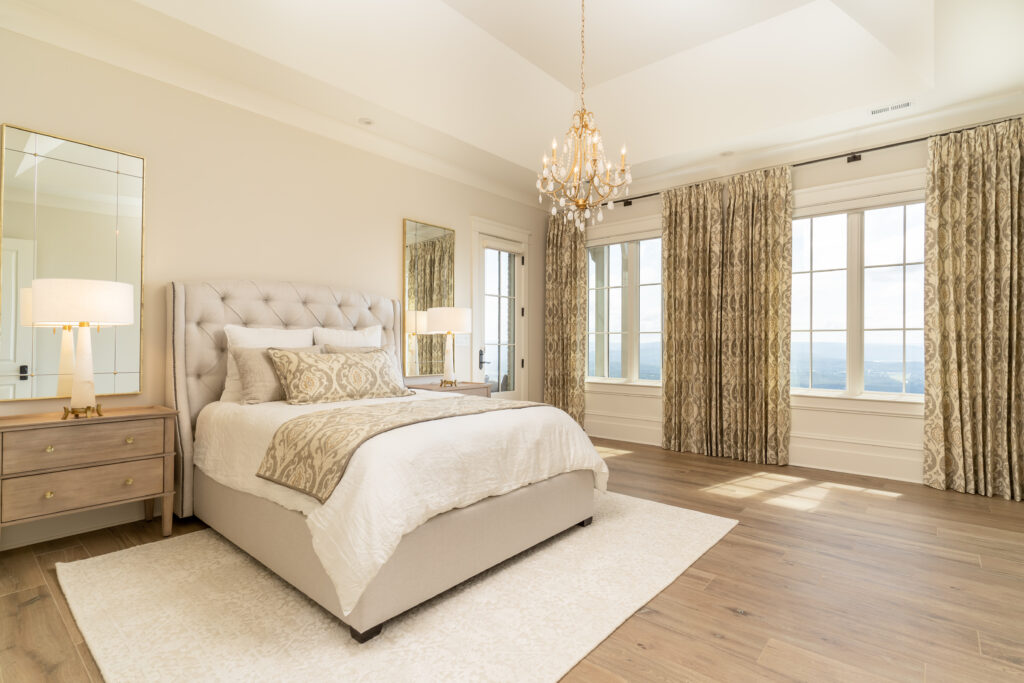 How can you be sure you've picked the right drapery length?
If you've made it this far, then you're likely still not sure which length is right for your Chattanooga area home. To start, ask yourself a few questions:
What's the room style? Is it formal or casual?
Does the room get a lot of traffic? (If yes, then do not choose a puddle.)
Do you have any pets? (If yes, we recommend selecting draperies that hover a quarter of an inch above the floor.)
Is your flooring wood, carpet, or tile?
What kind of furnishings will be near your drapery panels?
Is there a rug? Will you need to make any adjustments for the rug's height?
Above all, we want you to feel confident in your decision and love your custom draperies. So you don't have to choose by yourself. Here at High Country Drapery Designs, we'll guide you toward fabrics, patterns, pleating styles, hardware, and lengths to give you the look of your dreams. Contact us today to get started!