5 Energy-Efficient Window Coverings to Install in Your Southern Home
Aug 22, 2022
Your windows offer a thin barrier between your home's interior and the outside world. And heat can transfer through your windows easily. This can be a big problem throughout the year, especially during the warmest and coldest months. In the summer, heat can creep through a window's glass and warm up the room considerably. Then, heat can escape through the same glass during the winter, so the room stays cooler. This heat gain or loss through your windows can account for up to 30 percent of your home's energy use and have a big impact on your utility bills.
The right window covering acts as an insulator, trapping air between the window treatment and the window itself. It prevents heat from entering during the summer and escaping during the winter. This makes your space more eco-friendly and comfortable while lowering your energy costs.
Every window treatment offers some level of energy efficiency simply because it covers your window. But, some window coverings provide more energy efficiency than others. You can select a product and design that fits your home's decor style and meets your family's needs.
No matter which of the following window treatment options you choose, we recommend selecting an operable option: that is, any window covering that can be opened and closed. Then, be strategic about when you open and close it. In the winter, open your window treatments in the morning to allow the sun to heat your home throughout the day. But in the summer, keep your window coverings closed to reduce heat gain.
Keep reading to learn more about the best energy-efficient window covering options for your southern home.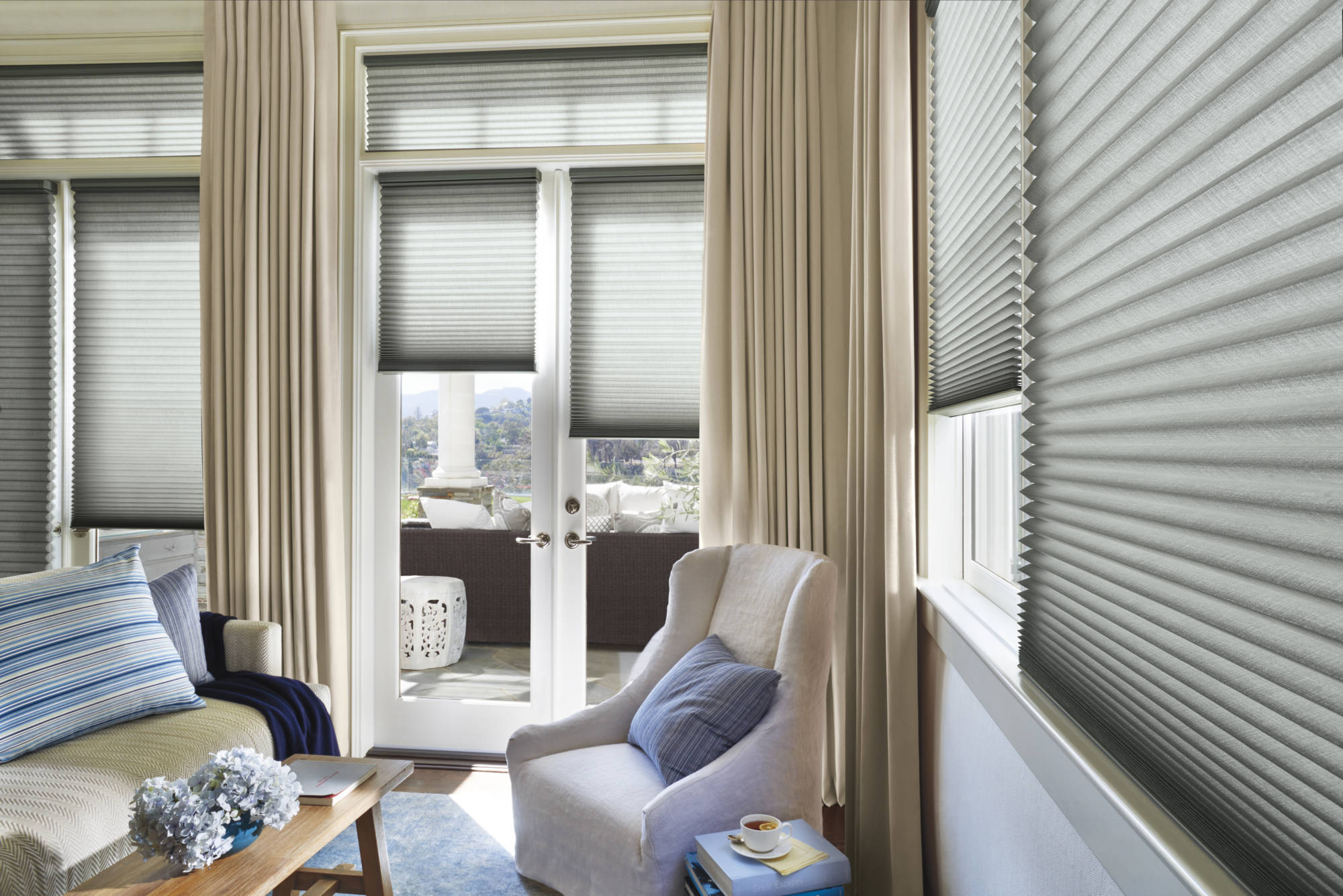 1. Cellular shades
Cellular shades, also known as honeycomb shades, are made of pleated material that forms insulating air pockets. These pockets (or cells) protect your window from heat gain or loss, increasing your R-value, which measures a material's resistance to conduct heat flow. Cellular shades are typically considered to have the highest R-value of all window treatments.
We recommend selecting a double cell shade for maximum energy efficiency because you will gain an additional layer of insulation. And choose an inside mount, which is where the window coverings are installed inside the window frame. This helps you avoid drafts in the winter and keep your air conditioning inside during the summer.
You may also choose a top-down/bottom-up operating system, which allows you to close the windows from either the top or bottom of the window. This will enable you to better control the amount of sunlight shining into the room during the day.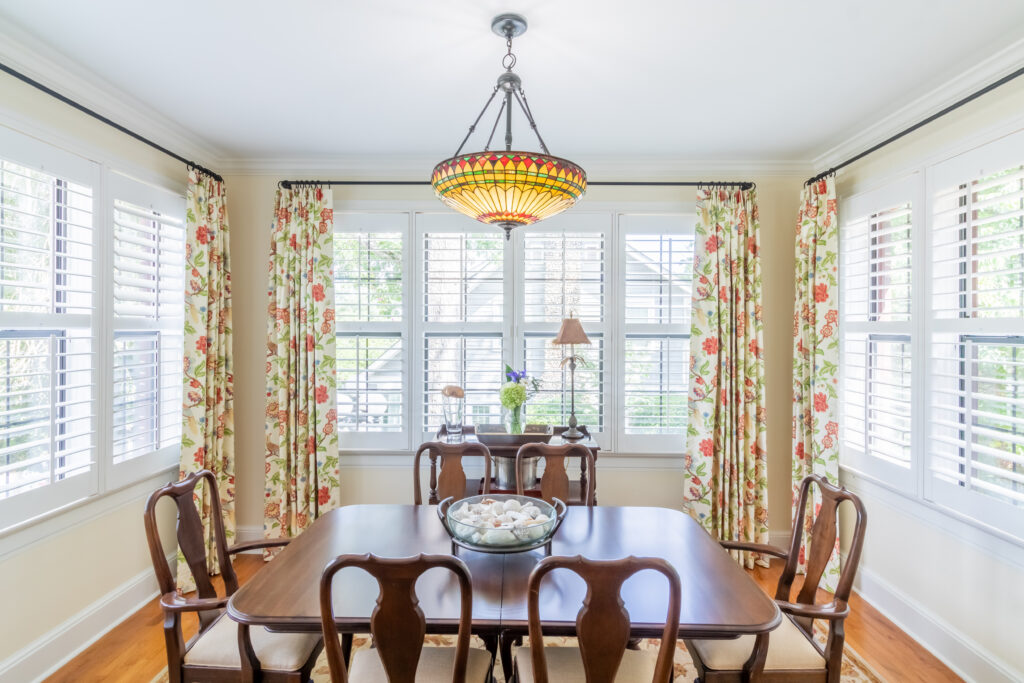 2. Draperies
Draperies can reduce heat loss and gain, depending on various factors, including the fabric type and color and the length of the panels. Medium-colored fabrics paired with light-colored lining, for example, can significantly reduce heat gains. And to minimize heat loss, we recommend that your panels fall to the floor.
During the summer, close draperies that cover a window receiving direct sunlight to prevent heat gain. Then, in the winter, keep draperies open if the window gets direct sunlight and close all your draperies at night to reduce heat loss. You can also install magnets on the inside of each panel to further prevent heat gain and loss when your draperies are closed.
For maximum energy efficiency, we recommend pairing draperies with a first layer of insulation (like cellular shades). Then, install a cornice at the top of your window.
Read also: Drapery 101: Everything You Need to Know
3. Roman shades
Roman shades are fabric window coverings that are drawn up into a series of evenly stacked folds when raised. For optimal thermal performance, select a heavier fabric and an inside mount. And consider a top-down/bottom-up mechanism to better control how the sun streams through your windows. We love Roman shades because they create a soft, comforting feeling while better managing the temperature inside your southern home.
Read also: Everything You Need to Know About Roman Shades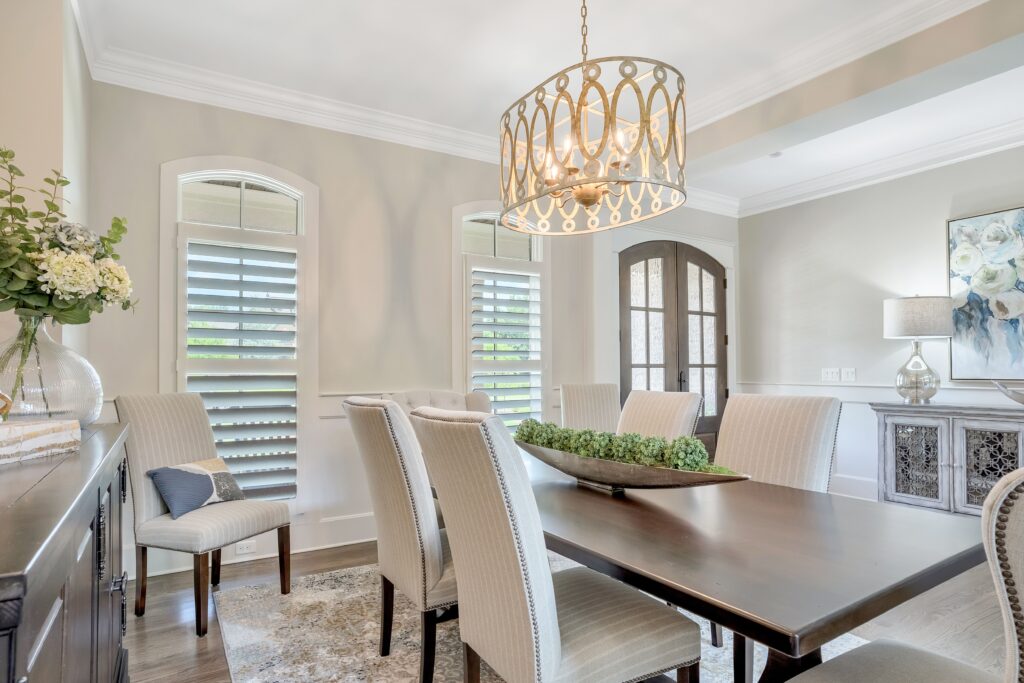 4. Interior shutters
Interior shutters are made with adjustable louvers that can be positioned up and down to redirect sunlight, preventing heat loss and gain without ever sacrificing privacy. Shutters, especially when installed as an inside mount, create a seal around your window, reducing the air that can escape from the edges of your window frame. This can help you save a significant amount on energy costs.
Interior shutters create a barrier to keep your home warmer during the winter. And when you close your shutters during the summer, they block sunlight and keep hot, humid air outside.
Read also: Everything You Need to Know About Plantation Shutters in Chattanooga, TN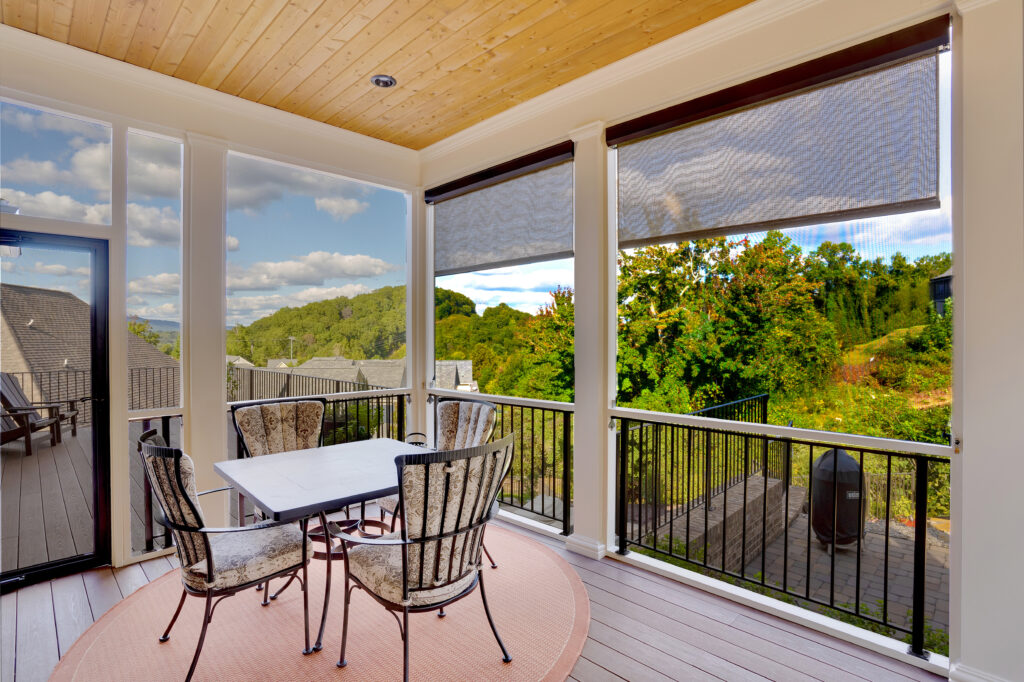 5. Roller shades
Roller shades are made from a solid sheet of material and raised and lowered from a roller bar fitted at the top of the window. It's a popular option because of its classic simplicity and versatility. Roller shades have a slim profile and minimal design, which will enhance your decor without detracting from your gorgeous views.
We recommend opting for an inside mount and carefully selecting the right fabric for maximum energy efficiency. Heavier, tightly woven material will typically offer better thermal performance. This is particularly true during the summer because your roller shades will reduce sun glare, which can heat your space.
Read also: Roller Shades: 5 Reasons You'll Love Them in Your Chattanooga Area Home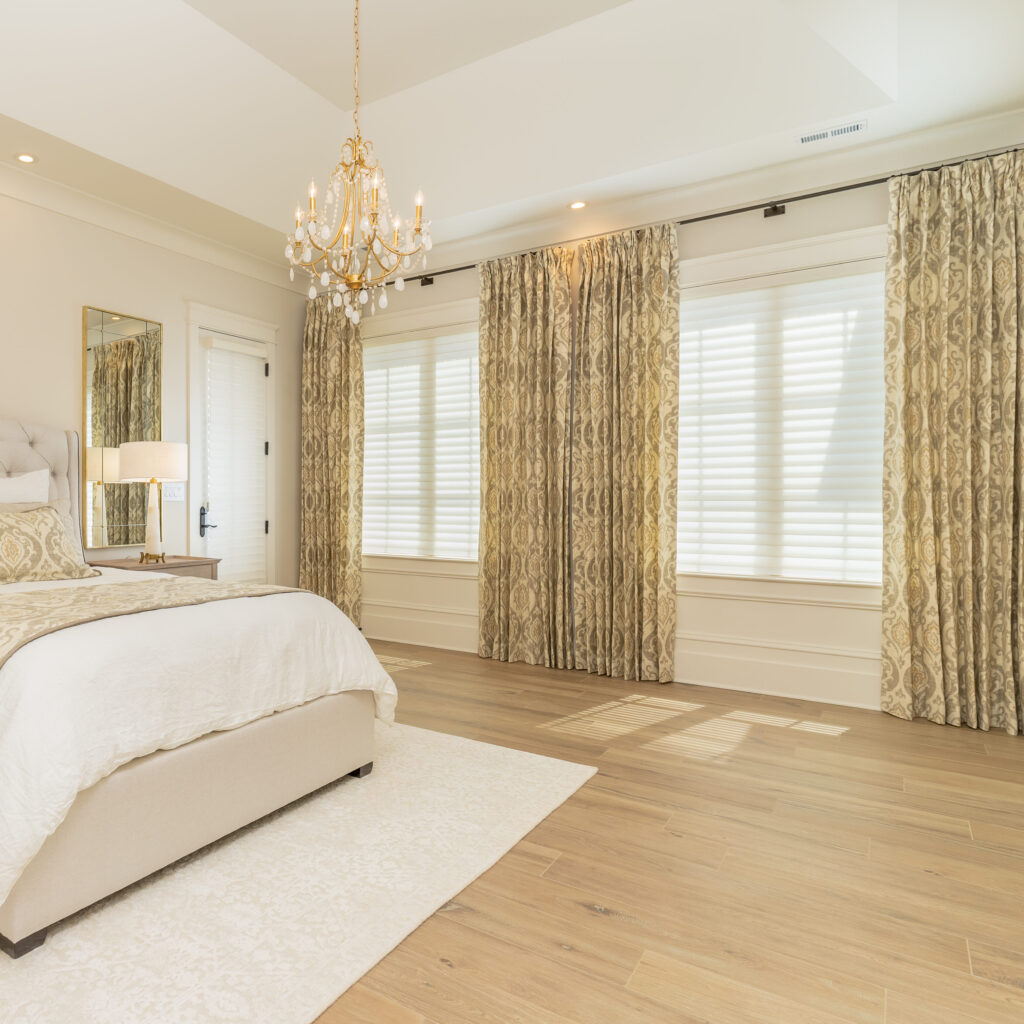 Make your home more energy efficient with High Country
You do not have to sacrifice fashion just because you want to invest in eco-friendly, sustainable, and energy-efficient window coverings. Whether you have something specific in mind or want a professional recommendation, we would love to design the perfect window treatments for your southern home. Our team can evaluate your needs and recommend the right solution for your needs. Our energy-efficient window coverings are custom-crafted using on-trend materials and designs.
We can even help you further increase your home's energy efficiency by installing motorized window treatments. With an automated operating system, you will not have to adjust your window coverings manually. Instead, you can have them raise and lower automatically based on a schedule, time of day, or the temperature.
Schedule a complimentary design consultation today to get started on your next project!