Everything You Need to Know About Plantation Shutters in Chattanooga, TN
May 16, 2022
Do you want your Chattanooga, TN home to look quintessentially southern? You can achieve that by choosing to install plantation shutters throughout your house. Plantation shutters, also called interior shutters, are classic window treatments that exude quality and add southern charm to any home. They earned their name from their size and aesthetic, which are reminiscent of the antebellum south.
Keep reading to learn more about these beautiful and classic window coverings.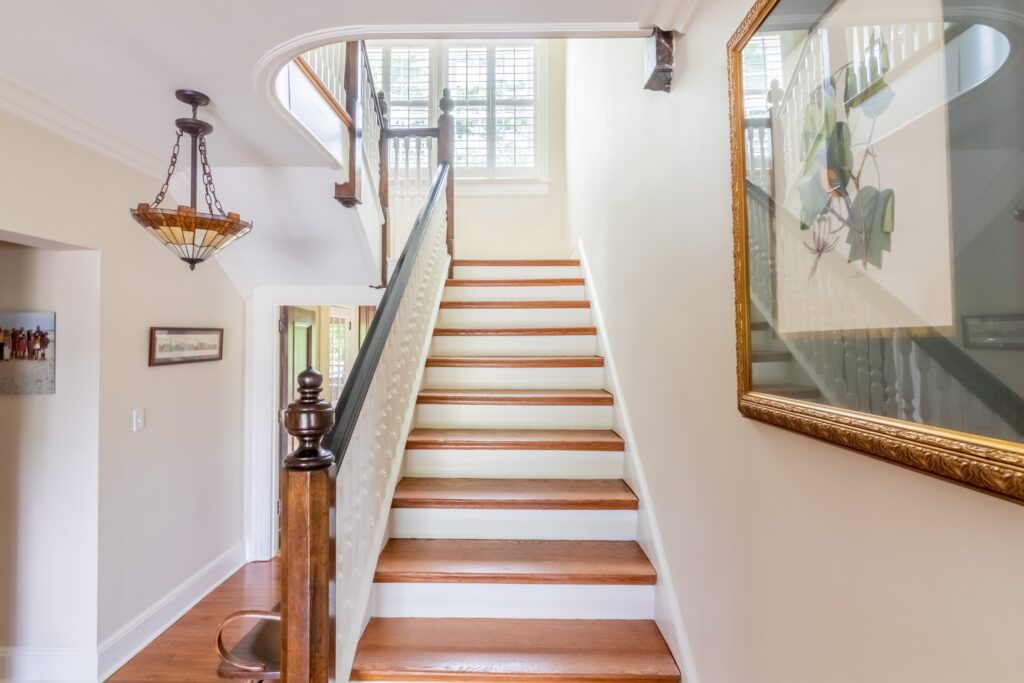 What are plantation shutters?
Plantation shutters are made of a rigid frame and horizontal louvers that can be tilted to control a room's light and privacy. They will work with any window, regardless of the size or shape. That makes them an excellent choice for circular, arched, or other unusually shaped windows.
How are plantation shutters different from blinds?
Because of their horizontal slates, plantation shutters and blinds are both great options if you want to control both light and privacy. But they are slightly different.
The main difference is the way they are fixed to your window. Blinds are attached inside or outside your window's recess, but plantation shutters are connected to the window frame itself. That makes plantation shutters a more permanent and durable solution.
Plantation shutters are controlled by a tilt wand, so you'll never have to worry about cords, making them a safer option for homes with children or pets.
Read also: Are Blinds Still in Style?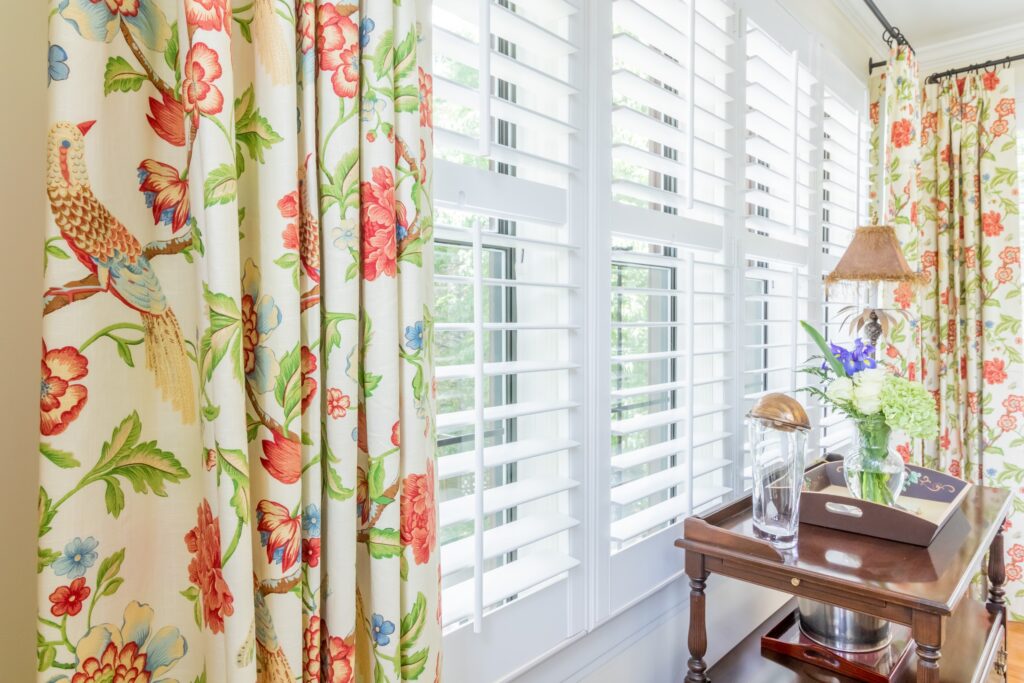 Are plantation shutters still in style?
Yes! They are still in style because they can be custom-made to match any interior design style.
Not only can you choose a color that complements your decor or trim, but you can also select the louver size for a truly unique look. Louvers typically range from two-and-a-half and four-and-a-half inches, and each size creates a different aesthetic and offers slightly different functionality. Larger louvers, for example, can give any room a more elegant look.
You can also choose between an inside and outside mount. If you choose to have your plantation shutters mounted inside your window frame, High Country Drapery Designs will carefully measure to ensure your window treatments fit snuggly.
Read also: Glossary of Window Coverings Terms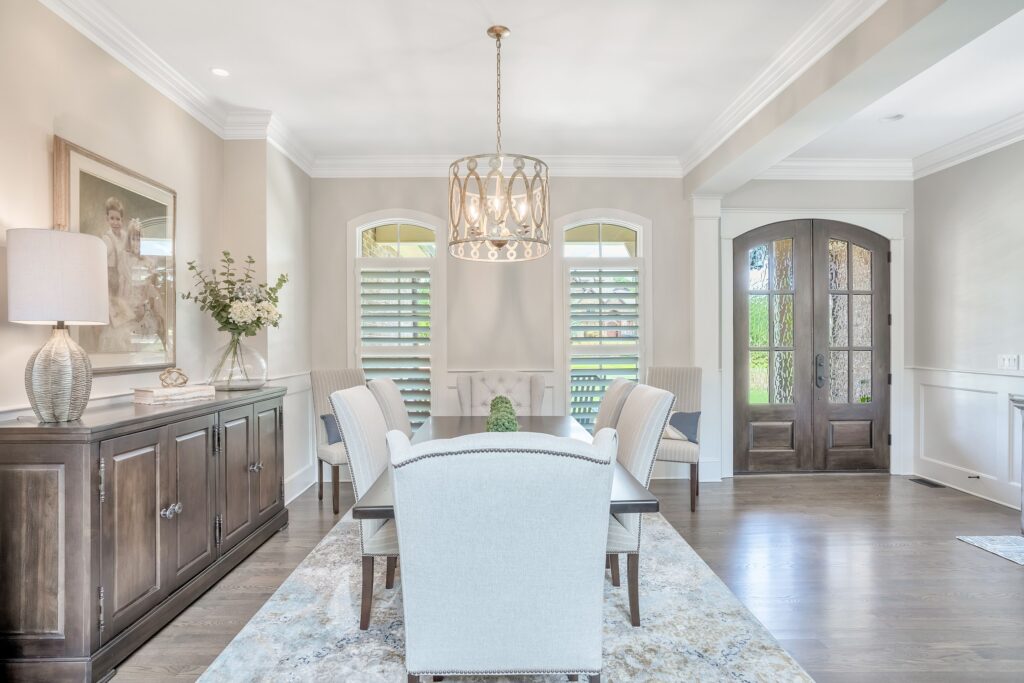 What materials are used for plantation shutters?
High Country can fabricate plantation shutters in two materials: wood or a medium-density fiberboard (MDF) composite. Both options are visually attractive and offer protection against heat and harmful UV light.
Wood shutters can be customized more than their MDF counterparts, so they're a great option if you have any odd-shaped windows. They can also be stained any color you like.
Composite shutters come in six different shades of white to match your trim color. They're very sturdy and resistant to humidity, so we recommend using them in bathrooms and kitchens.
Read also: Everything You Need to Know About Kitchen Window Treatments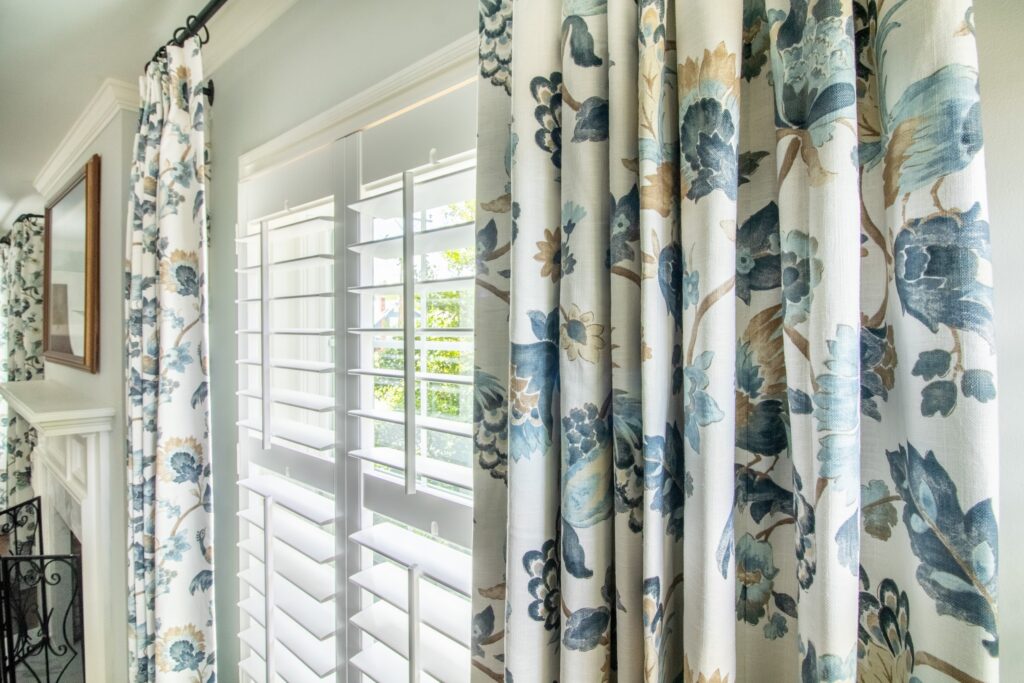 Are plantation shutters beneficial to your Chattanooga home?
Plantation shutters are one of the most popular hard window treatment options in the Chattanooga area. And no wonder — they offer many benefits to your home!
1. They offer privacy & light control
We can install a divider bar on your plantation shutters so you can operate the top louvers separately from the bottom louvers.
You can close just the bottom for privacy, letting light stream in through the top of your shutters. If you choose to close both the top and bottom of your shutters, you'll be able to block out a lot of natural light — perfect for bedrooms or home theaters. Leaving your shutters fully open, on the other hand, will let tons of natural light and allow you to enjoy your gorgeous mountain views.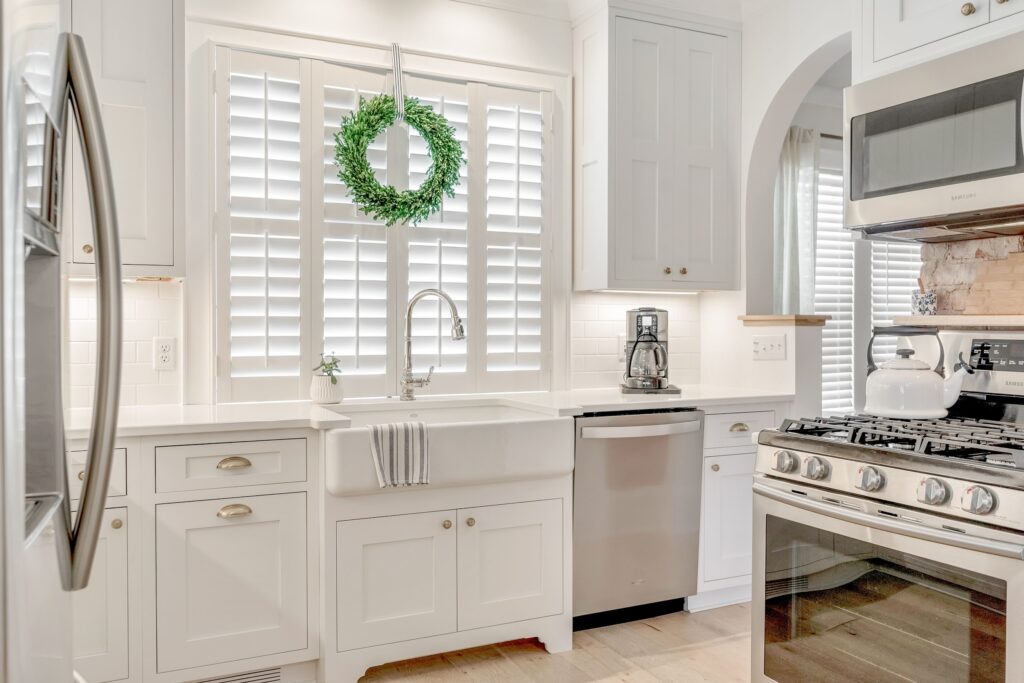 2. They increase the value of your home
Once plantation shutters are installed, they're considered a permanent fixture in your home. They'll actually increase your home's value the next time it's appraised. If you decide to sell your house, you might be able to ask for more simply because you've installed plantation shutters.
3. They make your home more energy efficient
Since plantation shutters are permanent fixtures that completely enclose your windows, they block out heat during the summer months and keep out cold during the winter. Since less heat is transferred into and out of the room, your home will become more energy efficient.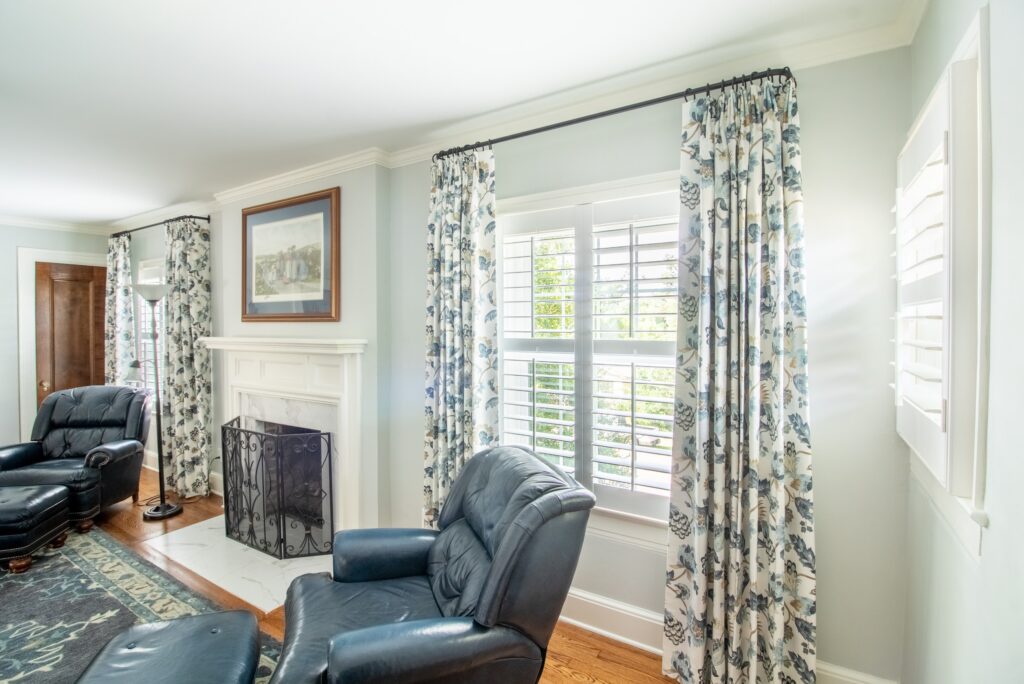 4. Plantation shutters reduce noise pollution
If you live on a busy street or next to noisy neighbors, you probably want to block out some of the sounds. When your shutters are fully closed, they can diminish the noise you hear from traffic or neighboring houses. Your home will feel like a private, quiet retreat.
5. They're easy to clean
If you're installing window coverings in areas where they'll need to be cleaned often (like in a kitchen or bathroom), you want an option that's easy to clean. Plantation shutters can typically be dusted with just a microfiber cloth.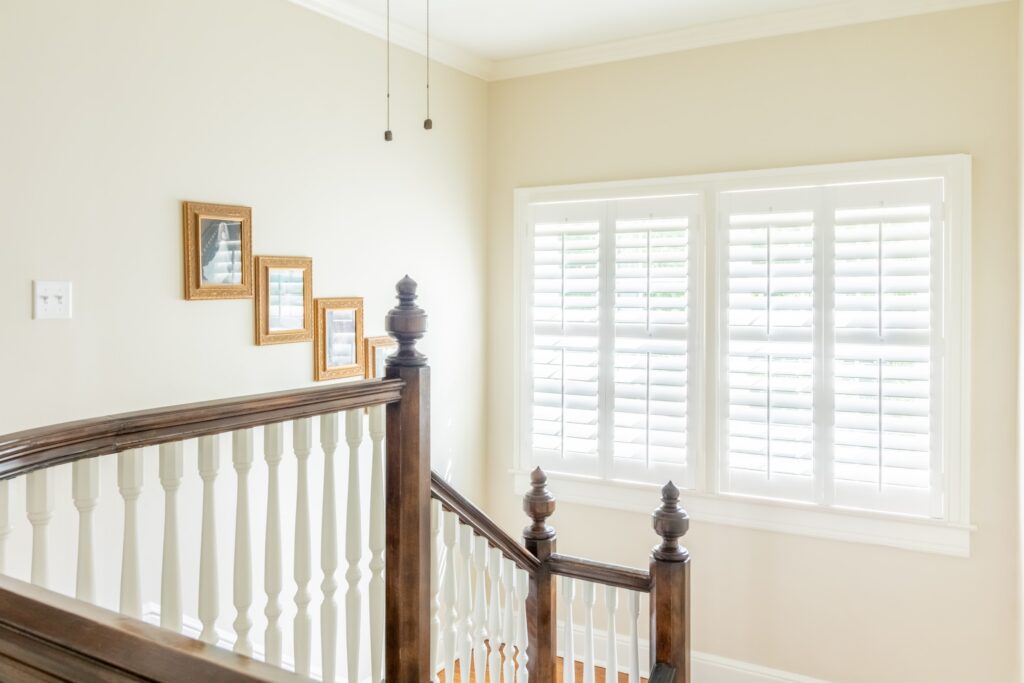 6. They're long-lasting
Plantation shutters are some of the longest-lasting window coverings you can have in your home. Depending on the material you choose and how often you use them, they can last for a long time — up to 80 or even 100 years! They stand up to moisture well, so they'll even last for years when installed in a bathroom.
Want to add southern charm and elevate your home's design? We'd love to create and install the perfect plantation shutters in your Chattanooga area home. Schedule a complimentary consultation today to get started!