2021 Review Window Coverings Clients
May 16, 2022
2021 was another great year here at High Country Drapery Designs. We were given many opportunities to create beautiful window coverings for clients across Tennessee and Georgia. And we submitted some of our favorite projects to the VISION Design and Workroom Competition. Today, we wanted to take a few moments to reflect on 2021 because we're proud of everything we've designed this year.
You allowed us to create stunning projects
We couldn't have accomplished anything this year without you letting us into your homes. You gave us the opportunity to fabricate breathtaking window coverings and upholstered furnishings! Many of you even allowed us to photograph your window treatments and share them with the community.
Here are just a few of the projects we shared this year: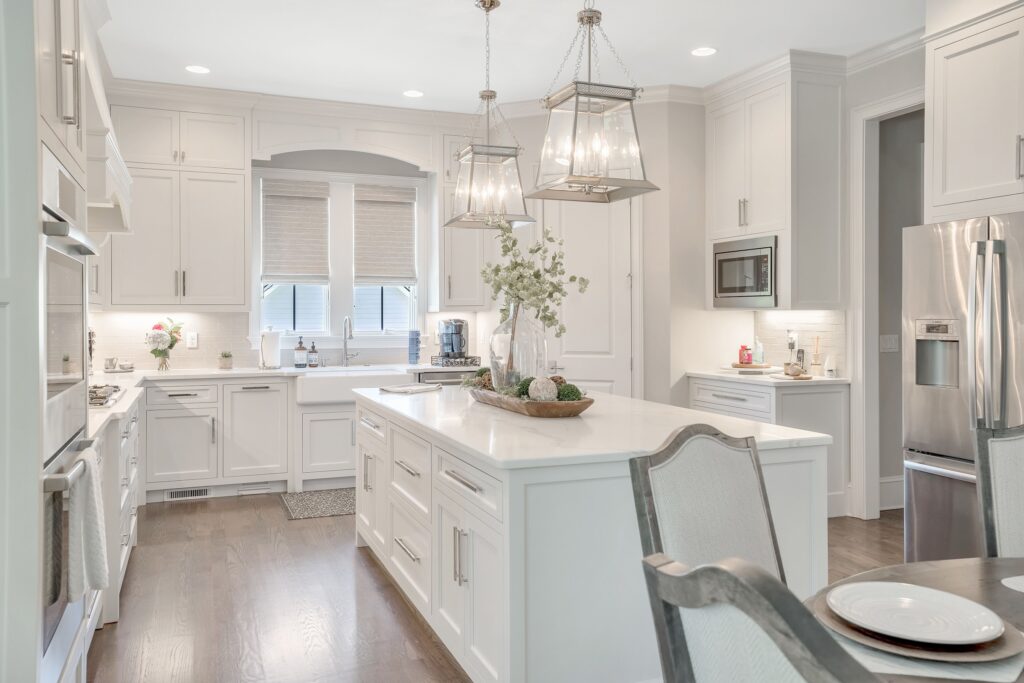 We were thrilled when this client asked us to design window coverings for multiple rooms throughout their home because we were able to create a beautiful, cohesive look. First, we fabricated draperies for the living room in this Rocky Face, GA home. Then, the homeowners asked us to return and create window treatments for their kitchen, powder room, and bedroom. We designed woven wood Roman shades for each room. Utilizing the same shades throughout the home created a clean and uncluttered look that provided privacy.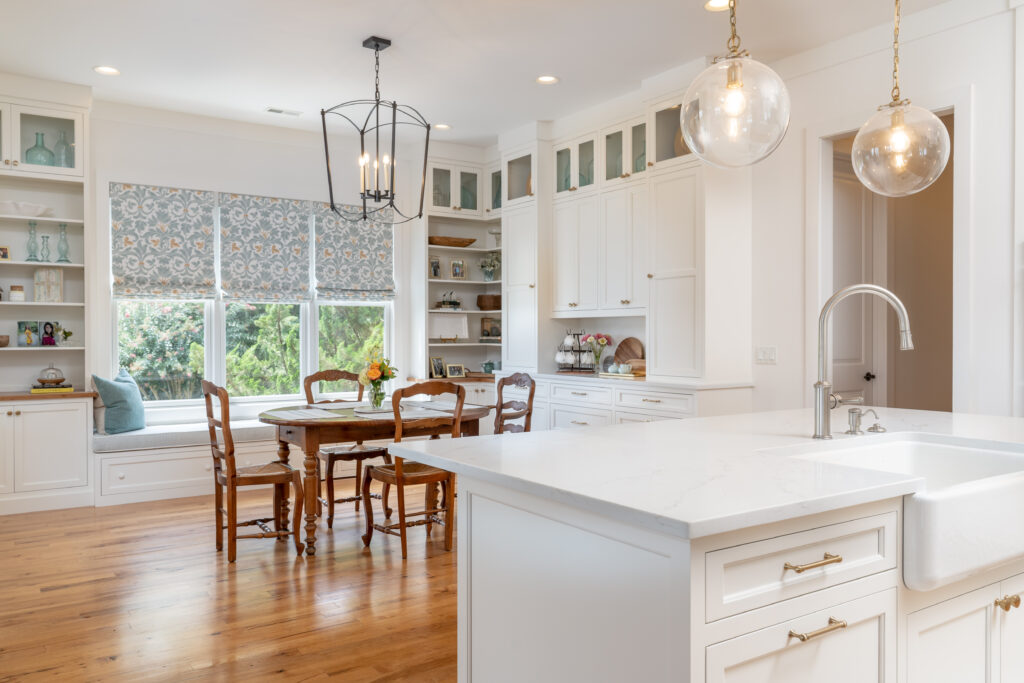 When the owners of this beautiful home were renovating their kitchen, they asked us to design window coverings that would accentuate their gorgeous lake view. They also asked us to create a comfortable and stylish custom cushion for their window seat so they could enjoy that view with a good cup of coffee. The homeowners wanted their window treatments and cushion to have a classic, tailored look to complement their white kitchen cabinets and wood countertops.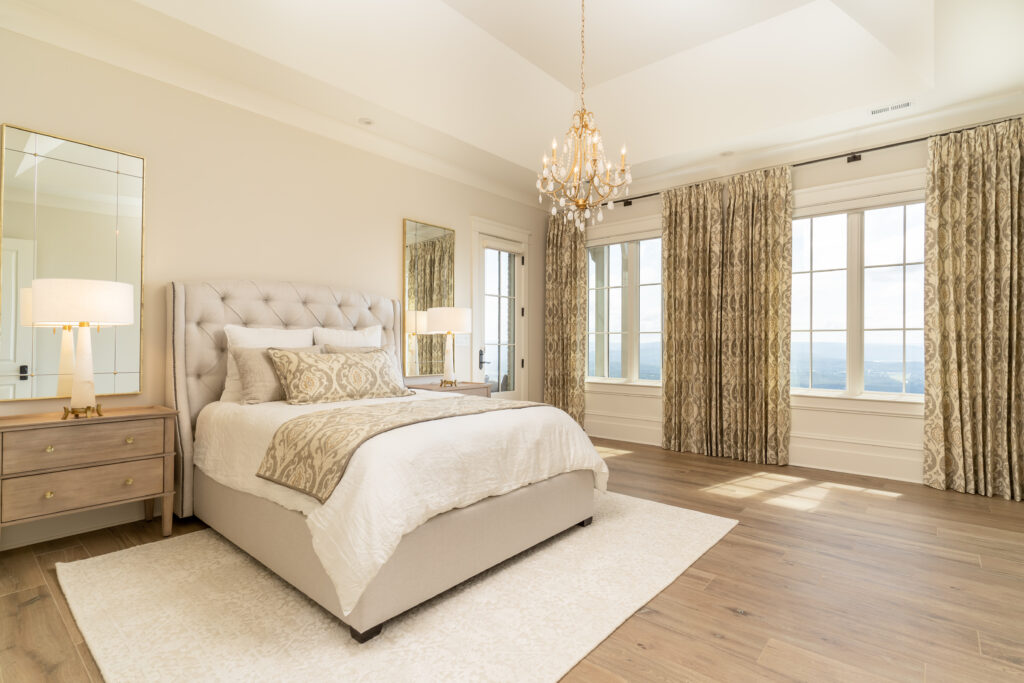 Jasper Highlands is a premier gated mountain community in South Pittsburg, TN. We're always excited to work with homeowners in the community and show off their spectacular mountain views. So naturally, we were ecstatic when a client asked us to create custom bedding and draperies for the primary bedroom in their Jasper Highlands home. We worked closely with the homeowners to turn their bedroom into a place of warmth, peace, and relaxation.
We won at the VISION Design & Workroom Awards
Window Fashion Vision is the premier industry publication, and each year they host the VISION Design and Workroom Competition to honor the top window covering designers throughout the country. This year, we're celebrating our fantastic CEO and principal designer, Jill Ballew, whose window coverings garnered three awards this year.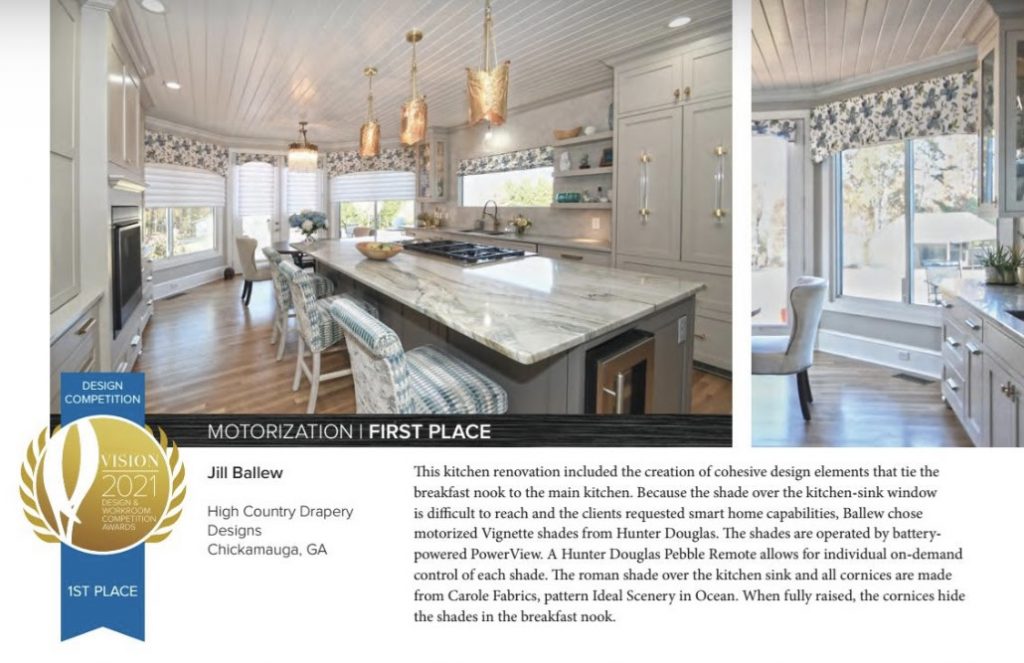 First Place: Motorization
This category included any custom window treatment that is motorized. We entered (and won first place) with this spectacular kitchen in Ringgold, GA.
Since the homeowners were remodeling the kitchen, they thought it was the perfect time to add smart-home capabilities. So they asked us to design motorized window treatments for the window over their sink and the picture windows in their breakfast nook. They wanted motorized window coverings over the sink because the window was difficult to reach, and they asked for motorization in their breakfast nook for better light control.
We designed a fabric Roman shade for over the sink and Hunter Douglas Vignette® shades for the breakfast nook. The Hunter Douglas PowerView® system controls all shades, which gives the homeowners convenient, individual control over each shade.
Although they were remodeling the kitchen, our clients did not want to cut into the drywall to hardwire their window treatments. Thankfully, the PowerView system is battery-operated, and we chose a rechargeable battery for added convenience.
When designing the window treatments, we drew inspiration from the homeowners' kitchen cabinets. We worked with their designer, Dawn D. Trotty, to choose fabric that complemented the gray cabinets and added a pop of color to the room. We love the seamless look we were able to create throughout the space!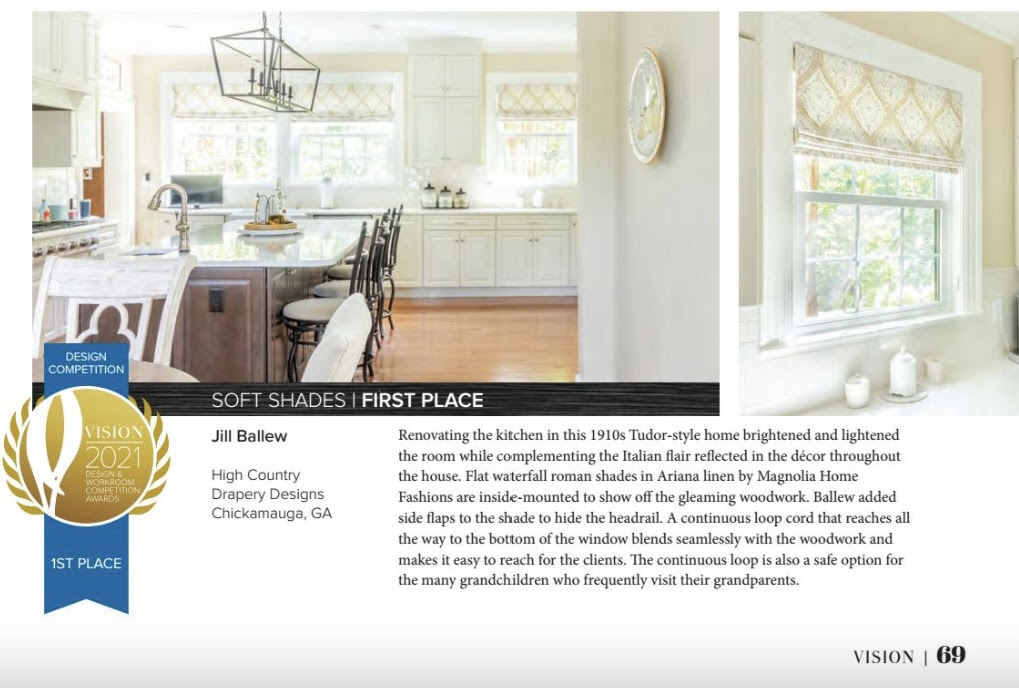 First Place: Soft Shades
This category included any operable soft shade. We won first place for the flat-fold Roman shades we designed for this bright and airy kitchen in North Chattanooga.
This home is a 1910s Tudor-style with a lot of Italian flair, and we loved having the opportunity to design window coverings for it. We wanted to embrace the homeowners' bright aesthetic in the window treatment design. We designed flat waterfall Roman shades in a fabric the homeowners loved and opted for an inside mount to showcase the beautiful window trim.
Because of their height, the homeowners would have had difficulty reaching their shades to pull them down, especially over the sink. They did not want motorized window coverings, so the Roman shades are operated by a continuous cord loop. Instead of having the cord stop halfway down the window, we made it the entire length of the window to allow the homeowners to reach it easily. Our clients have many grandchildren, so safety was also an important consideration. Since a continuous cord always stays the same length, it's a much safer option than another cord lift.
Read also: Window Treatment Operating Systems: Manual, Cordless, and Motorized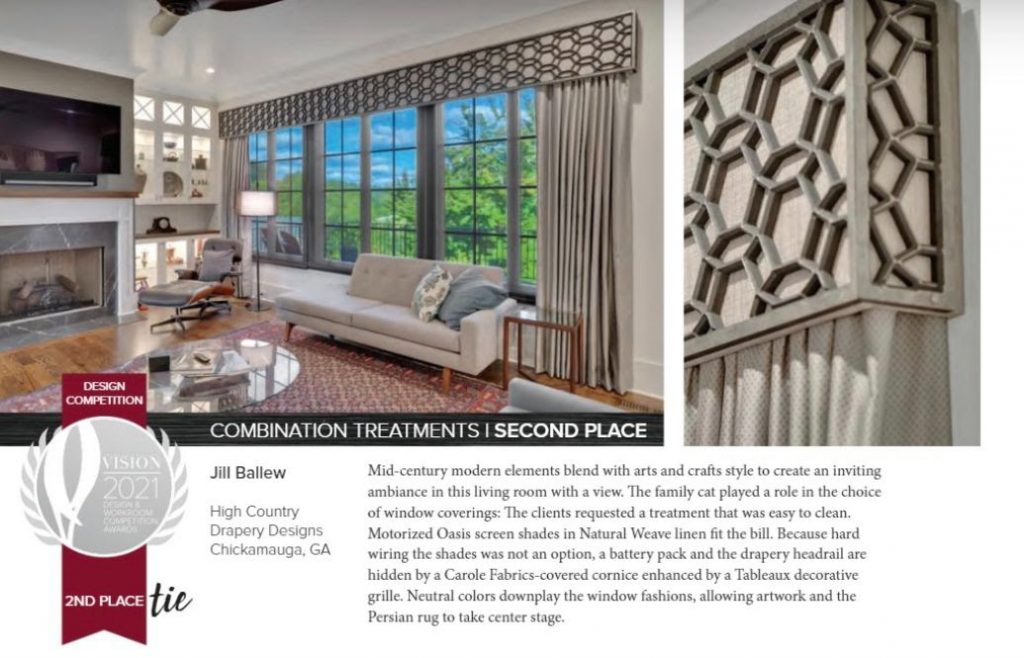 Second Place: Combination Treatments
This category included combining a soft window covering with a hard treatment, like shades, blinds, or interior shutters. We placed second for the layered look we designed in this Chattanooga home.
The homeowners enjoy taking luxury vacations and wanted to bring those automation experiences to their home by blending motorization with textiles. We layered motorized screen shades with draperies to soften the look. Then, we added a fabric cornice and faux iron Tableaux® Decorative Grille to give more depth to the room.
One of the challenges we faced during this project was that the clients had differing design styles. To overcome this, we combined an arts-and-crafts style with mid-century modern elements. Neutral fabrics with small-scale patterns minimized the window treatments and highlighted the red artwork and rugs throughout the room.
We also had to keep the clients' cat in mind. Instead of motorizing a soft treatment, as we initially considered, we chose to motorize screen shades because they are easier to clean and more durable. The screen shade also had the added benefit of reducing the sun glare in the living room.
When we designed these window treatments, the room was already drywalled. So we were unable to hardwire the motorized screen shades. Instead, we chose a battery pack. The streamlined fabric cornice hides the battery pack. We added a custom faux iron Tableaux Decorative Grille to the cornice to add depth and incorporate some of the architectural elements of the home into the window covering design.
Thank you for being a part of the High Country community! We couldn't have done anything this year without you. If you would like to help us grow in 2022 and are ready for new window coverings, schedule a complimentary consultation today.