Bright Airy Flat Fold Roman Shades in a Tudor-Style Home in North Chattanooga
May 16, 2022
We greatly enjoyed working on the kitchen in this 1910s Tudor-style home in North Chattanooga. One of the clients is Italian and brought a lot of Italian flair into their home. We absolutely love how amazing the white Carrara marble looks!
The homeowners worked hard to create a bright and airy feeling in the kitchen, so we wanted to embrace that when designing their window coverings. We created flat fold Roman shades in a beautiful fabric, which the homeowners had chosen before calling us. We also installed interior shutters for a healthy mix of soft and hard window treatments.
Keep reading to learn more about the window coverings we designed for this North Chattanooga kitchen.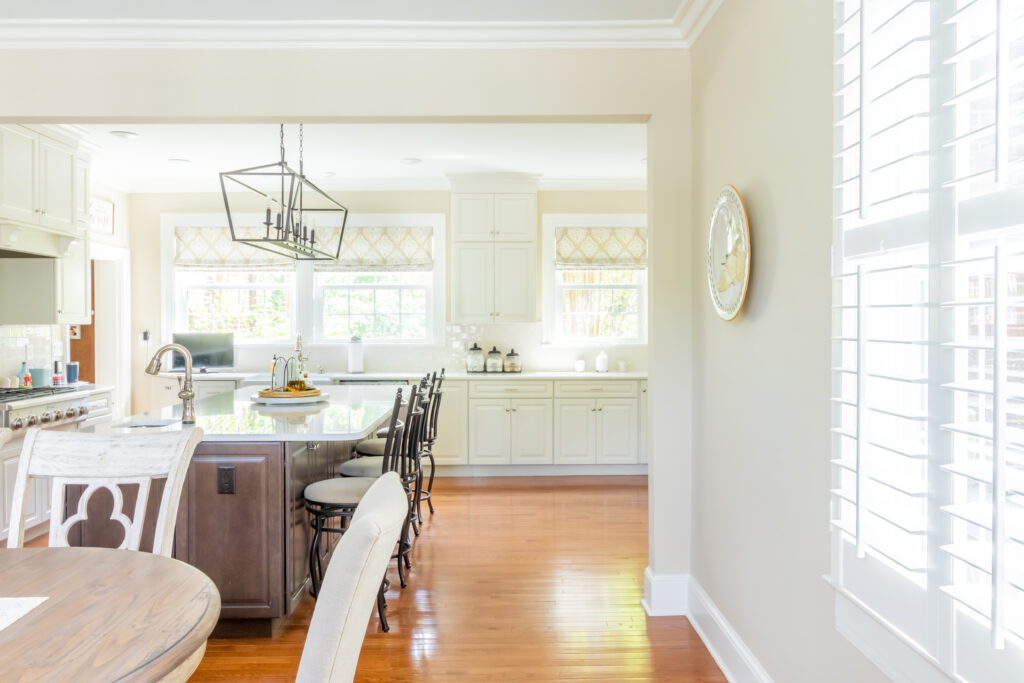 What are flat fold Roman shades?
When choosing Roman shades, you have a lot of pleating options. One of the most popular is a flat fold, also known as a flat waterfall.
Flat fold Roman shades are seamlessly made from one piece of fabric. When they're fully lowered, they lay completely flat, as their name suggests. When raised, they form soft folds.
Flat waterfall shades have a straight edge along the bottom of the window treatment, which gives them a clean and uncluttered look. We wanted that tailored look in this North Chattanooga home because it complemented the bright whites and airy feeling throughout the kitchen.
We also chose flat fold Roman shades because they're highly functional and do not require you to adjust the fabric when lowering or raising them. Nobody wants to fuss with their window coverings when cooking dinner or washing the dishes!
Read also: Everything You Need to Know About Kitchen Window Treatments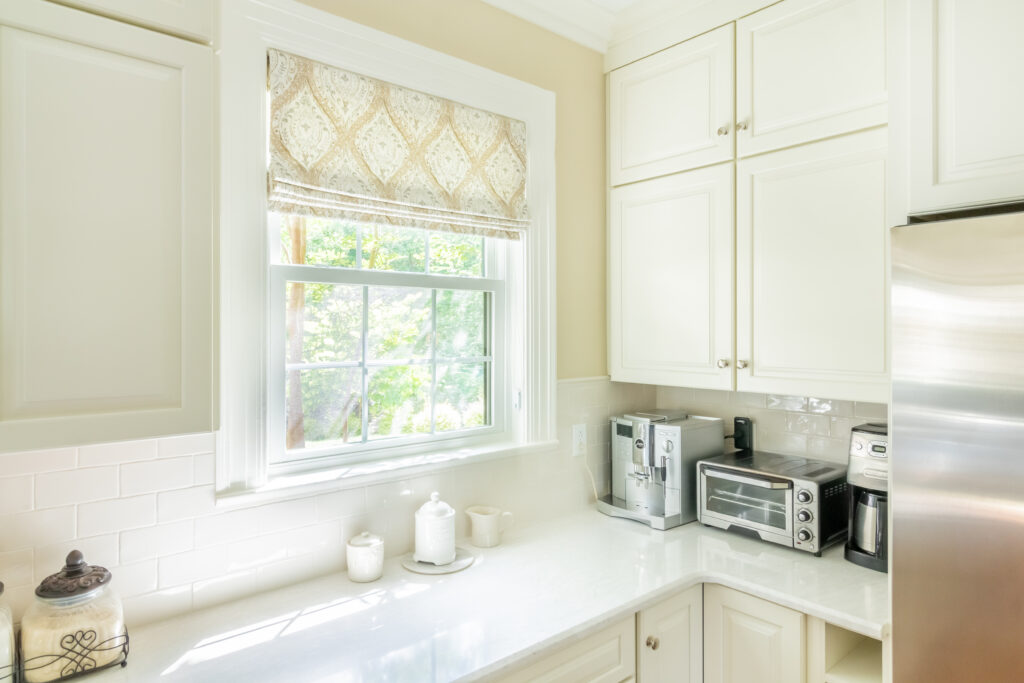 What are side flaps on a Roman shade?
Side flaps are attached to the sides of the tops of your Roman shade. They're made from the same material as the rest of your shades and prevent you from seeing underneath the Roman shade once it's installed. We highly recommend them if you choose an outside mount, but they offer a nice finishing touch on inside mounted window coverings, too.
What's the difference between an outside & inside mount?
If you want Roman shades in your kitchen, one of the first decisions you'll need to make is whether you want an outside or inside mount. It will affect how we measure for your new window coverings.
Read also: Glossary of Window Coverings Terms
Outside mount
If you choose an outside mount, your shades will be installed on the outside of the window frame. Because we can hang your window coverings as high and wide as you want, an outside mount gives the illusion of a bigger window. It can also help you block more light because it provides you with full coverage. But that's not likely an issue in a kitchen.
We recommend choosing an outside mount if you have shallow window frames because the shades will not fit properly inside the frame. You might also choose an outside mount if you want to hide your window trim for some reason.
Inside mount
With an inside mount, your Roman shades are installed inside the frame. It's a popular choice in the Chattanooga area because it provides a clean and minimalist look. That's one reason we chose an inside mount for this home — the minimalist look matched the kitchen's clean, bright aesthetic.
An inside mount is great if you don't have a lot of wall space around your windows, which is common in kitchens because of your upper cabinets.
We also recommend an inside mount if you want to show off your home's woodwork. The homeowners wanted to showcase as much of their Tudor-style home's charm as possible.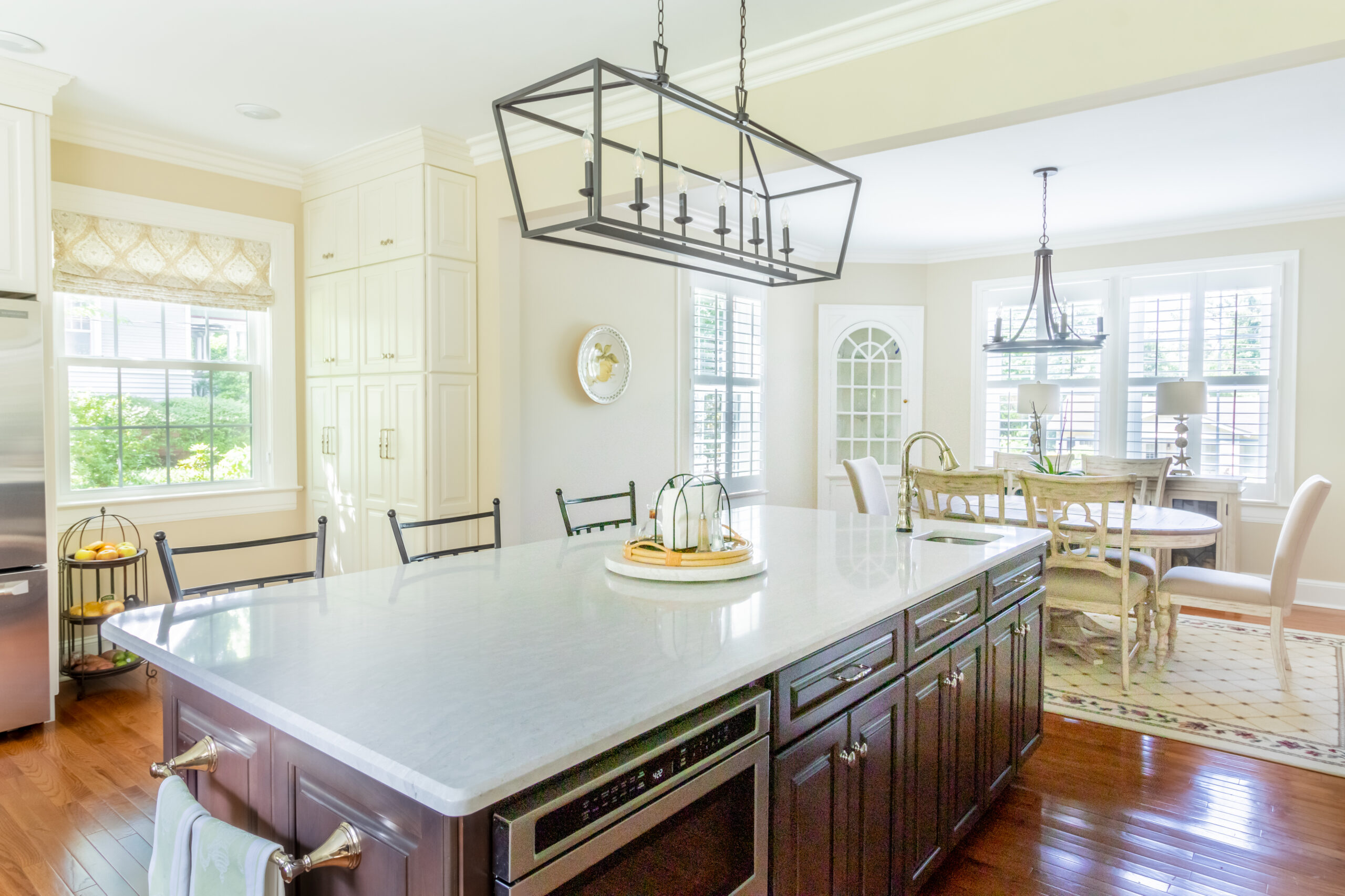 Why did we choose a continuous cord loop?
A continuous cord loop is a single cord attached to a pulley system at the top of your shade to lower and raise it. Unlike other lift cords, it always stays the same length.
We chose to operate these clients' Roman shades by continuous cord loop for a few reasons:
The length of the cord never changes. The homeowners would have a hard time reaching many of their window coverings to lower them, so we wanted an operating system that was easy to handle. We often make the continuous cord half the length of the window, but we made this one the full length of the window to make sure the homeowners could reach it without stretching.
A continuous cord loop makes it easy to raise and lower your shades. When designing your window treatments, we want to make sure you can effortlessly operate your window coverings today and ten years from now. Because continuous cord loops use a pulley system, it's easy to raise even heavier window coverings.
It's safe for children. The continuous cord loop can be attached to your window frame with a cleat to keep them out of the way, making them safer for everyone in your family. The owners of this North Chattanooga home have many grandchildren who visit frequently, so safety was a big factor when choosing the operating system.
If you're considering a continuous cord loop, you might be worried that it will clash with your decor. Continuous cords come in a few different colors, so they'll match your room style. In this home, we chose a white cord to blend in with the window trim.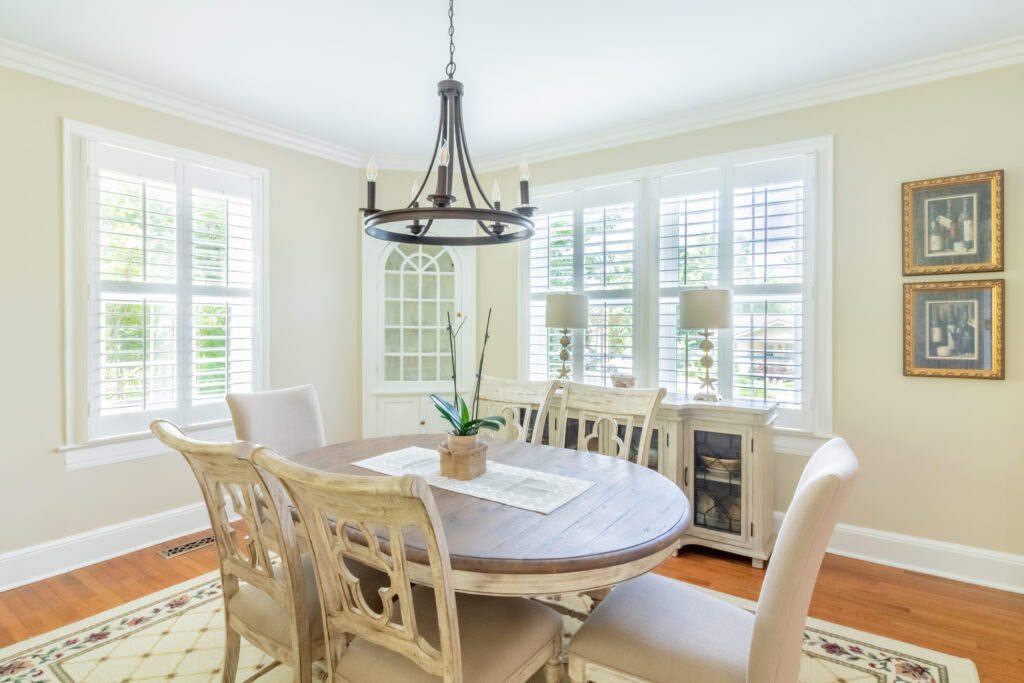 Do interior shutters work well in a kitchen?
The homeowners wanted a mix of soft and hard window coverings in their kitchen. We paired their flat fold Roman shades with interior shutters, also known as plantation shutters. Interior shutters offer a classic style and give any window an elevated look.
We love using interior shutters in kitchens because they can withstand water splashes and food stains, and you can clean them with just a damp cloth. You can easily adjust the angle of the slats to control the light and privacy your kitchen receives.
Are you ready to update the window coverings in your Chattanooga area kitchen? At High Country Drapery Designs, we can create beautiful Roman shades, interior shutters, or any other window treatment you want. Schedule a complimentary consultation today to start designing your dream kitchen!