Primary Bedroom in Jasper Highlands Transformed into a Luxury Retreat
May 16, 2022
We love working with homeowners in Jasper Highlands, a premier gated mountain community in South Pittsburg, Tennessee. The mountain views are absolutely spectacular! So naturally, we were thrilled when a client asked us to design custom bedding and draperies for the primary bedroom in their Jasper Highlands home.
When designing their primary bedroom, our client chose whites, soft grays, and a touch of metallic to create a serene space to start and end each day. And we thought that was an excellent decision because your bedroom should be a place of relaxation, and we often recommend decorating with soft whites and warm colors to keep the room cozy and peaceful.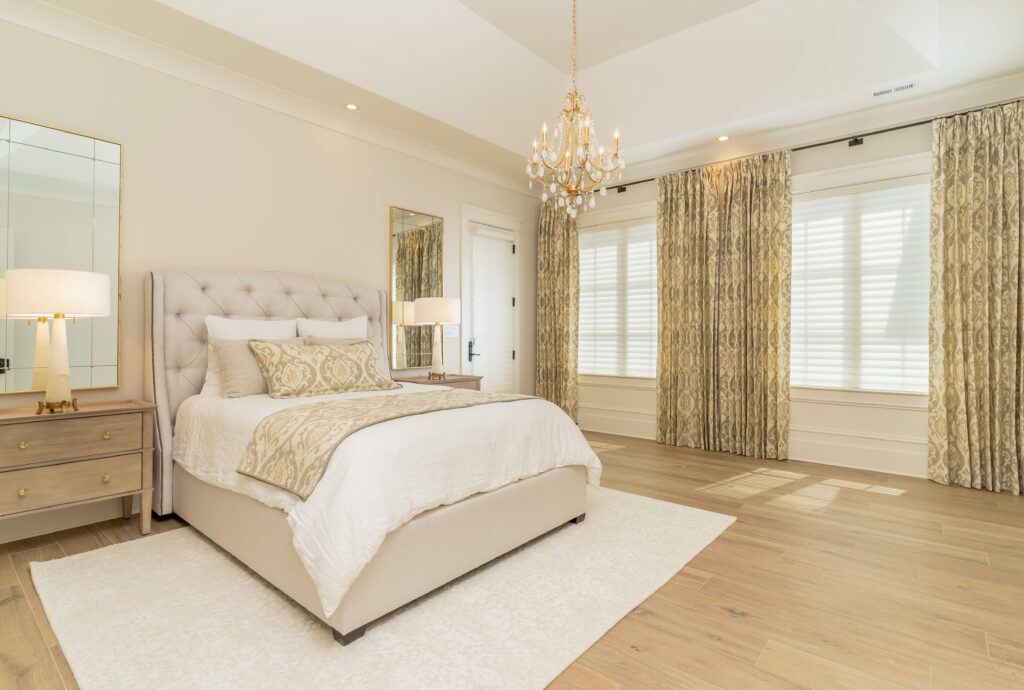 The bed is often the central focal point in your bedroom, so choosing bedding that adds to your overall design is critical. For this client, we drew inspiration from their current color scheme to create a custom bed scarf, pillow sham, and draperies that helped turn their primary bedroom into a luxurious retreat.
Keep reading to learn more and to see how this beautiful bedroom turned out!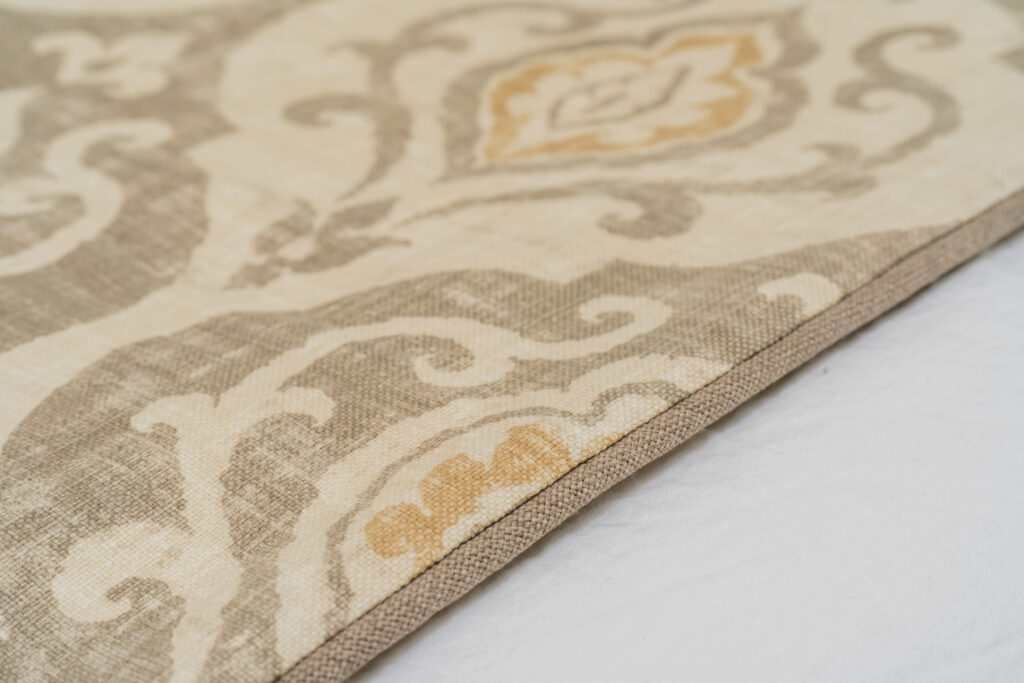 A custom bed scarf offers elegance & functionality
The trend of including a bed scarf began in the hospitality industry. And now it has overflown into home design because it can help turn your bedroom into a luxury retreat.
What is a bed scarf? It's simply a piece of fabric placed at the end of the bed that drops down on both sides of the mattress. You might think of it as a long fabric runner. A bed scarf isn't just decorative; it's also functional because it protects the duvet if someone lies down with shoes or places luggage on the bed to pack or unpack.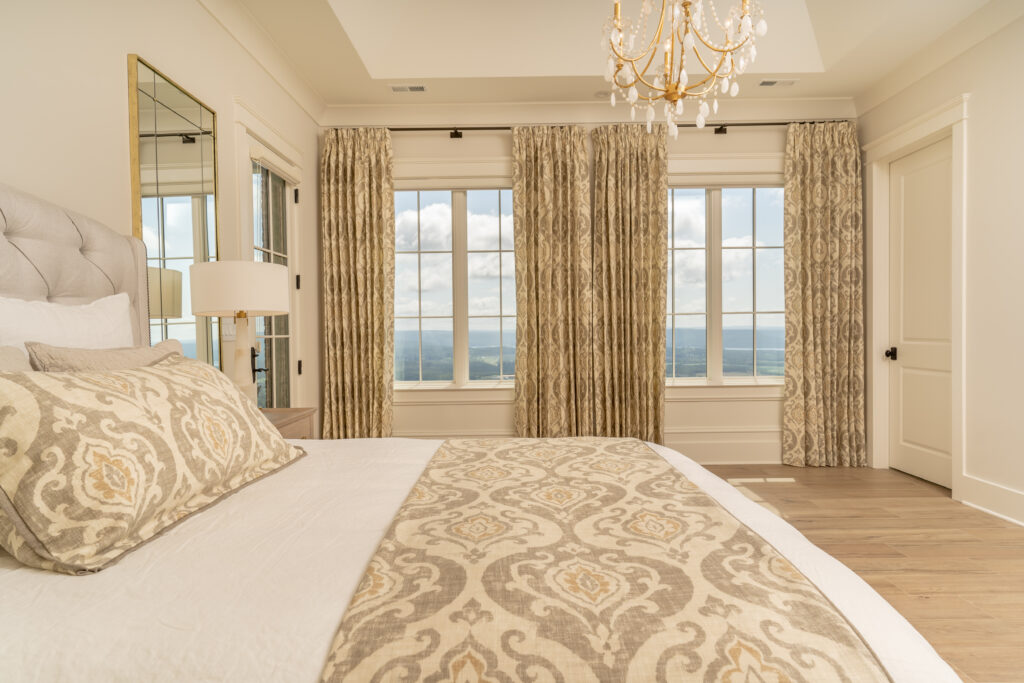 More and more homeowners in the Chattanooga area are requesting bed scarves because they're not as significant an investment as purchasing a new duvet (since they use significantly less fabric). Because of that, you can change the whole look of your bed by simply switching out the bed scarf. You may even choose to change it with each season!
Custom bed scarves make all the difference
Yes, you can purchase a bed scarf from a big box store, but a custom bed scarf will open a whole new world of possibilities. There are so many different options when it comes to mattress heights, so you don't want a one-size-fits-all bed scarf because it may look too small on your bed. With a custom bed scarf, We can ensure your bedding perfectly fits the look you want to create. Additionally, we can help you determine the best fabric for both functionality and design, coordinating it with other elements in your bedroom.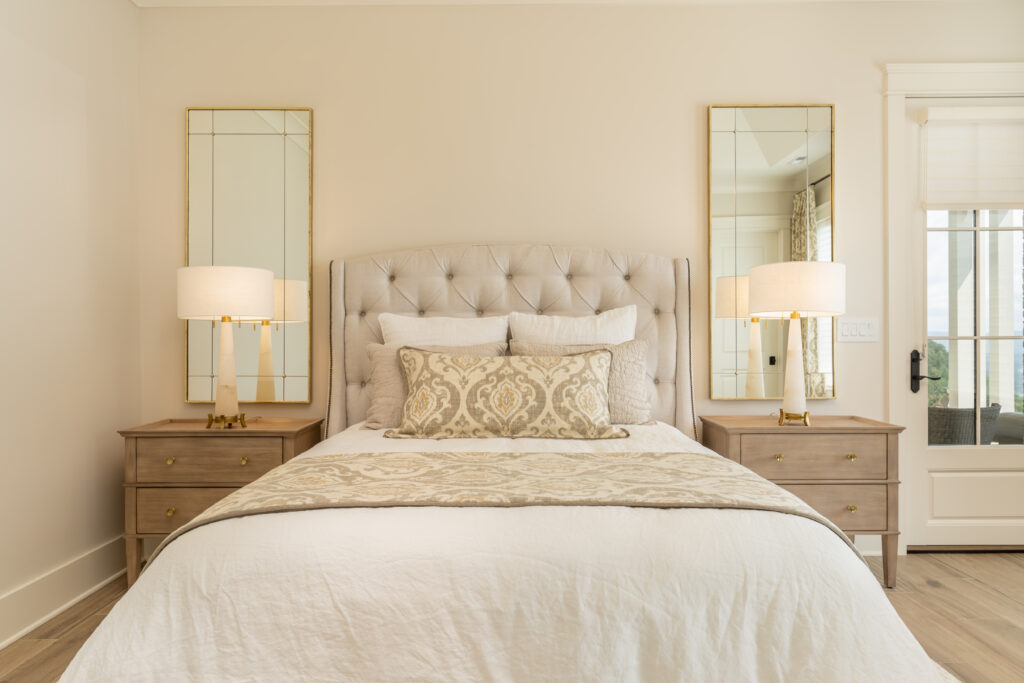 Bed scarves are also a fantastic way to enhance your bedding by adding color, texture, or pattern without overwhelming the space. We loved designing the bed scarf for this Jasper Highlands primary bedroom because the fabric from Ballard Designs adds warmth and a splash of color to the neutral bedding. We added taupe cording in the "Director's Cut" pattern from Carole Fabrics to finish the look. It's a small detail often overlooked in off-the-rack bed scarves, and a custom look is all about the details.
Read also: Color Trend Report: Is Gray Out of Style?
Custom pillow shams dress up your bed
If you want to dress up your bed further, add a splash of color at the foot of the bed with your bed scarf and the head of the bed with a coordinating pillow sham.
A pillow sham turns an ordinary pillow into a decorative piece of bedding. Like other pillows, you can use them to prop yourself up when lounging in bed with a good book, but they have the bonus of adding an extra layer of visual interest and personality to your bedding. Decorative, custom pillow shams offer comfort and luxury while making your bedding look more polished.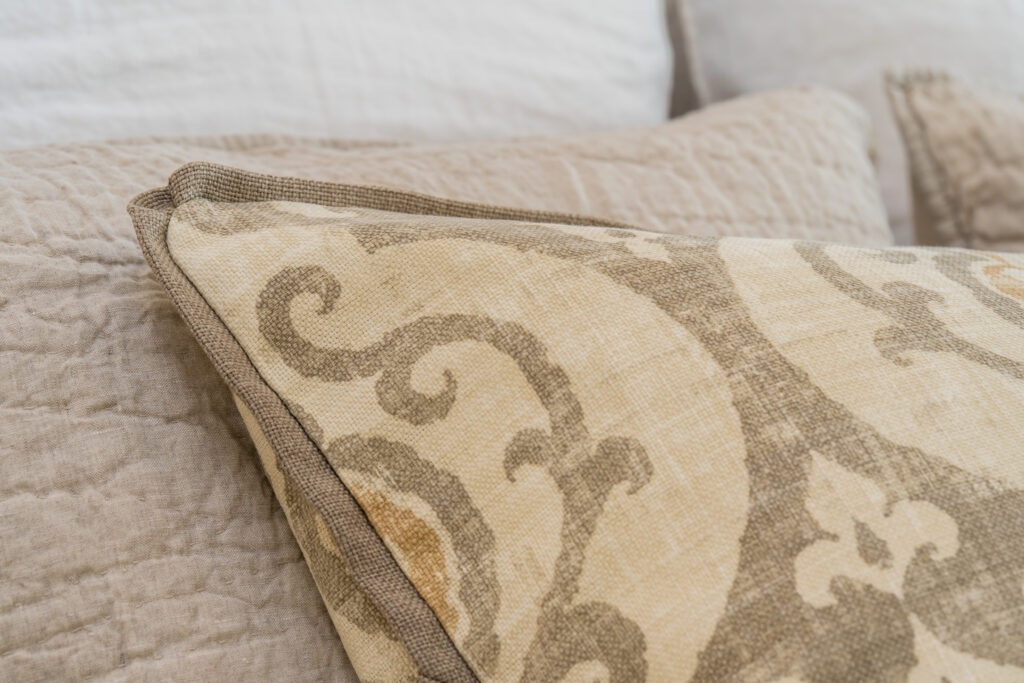 For this Jasper Highlands bedroom, we chose to use the same pattern as the bed scarf to create a balanced look. We also added a half-inch flange around the pillow sham in the same taupe fabric as the cording on the bed scarf.
A flange is a decorative accent added along all four sides of the pillow. It typically consists of a seam allowance between half an inch and three inches beyond the dimensions of the pillow sham to create an elegant flourish. Using coordinating fabric, as we did here, creates even more visual interest and adds more texture to your bedding. We are thrilled with how it turned out!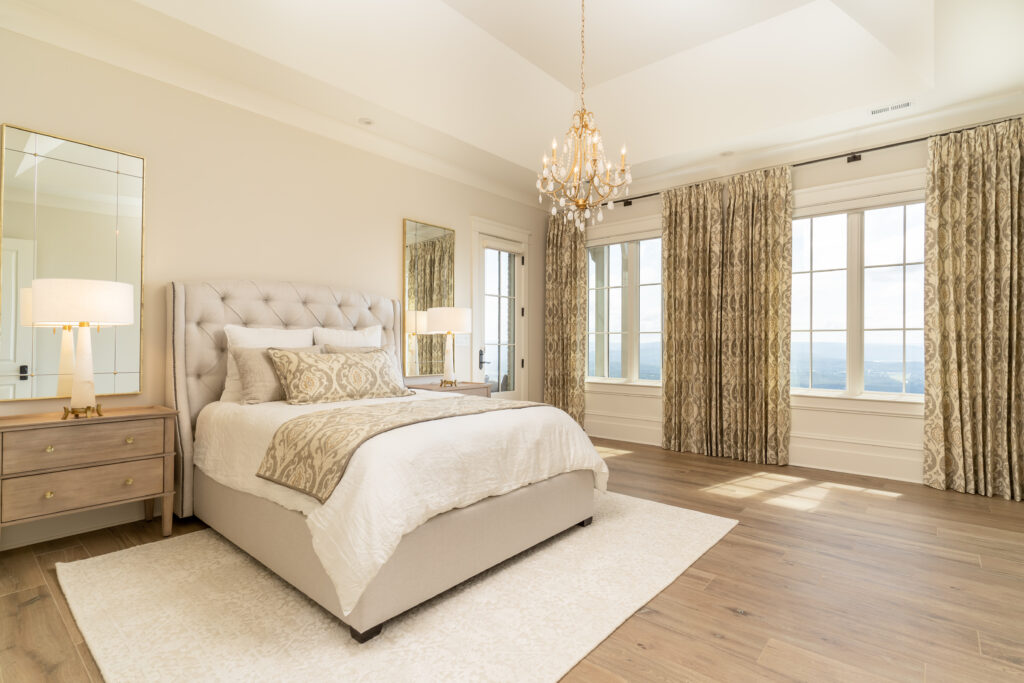 Custom draperies add sophistication to this Jasper Highlands bedroom
Of course, we do not think any bedroom is complete without custom window coverings. For this primary bedroom, we designed three-finger Euro pleated drapery panels in the same fabric as the bedding.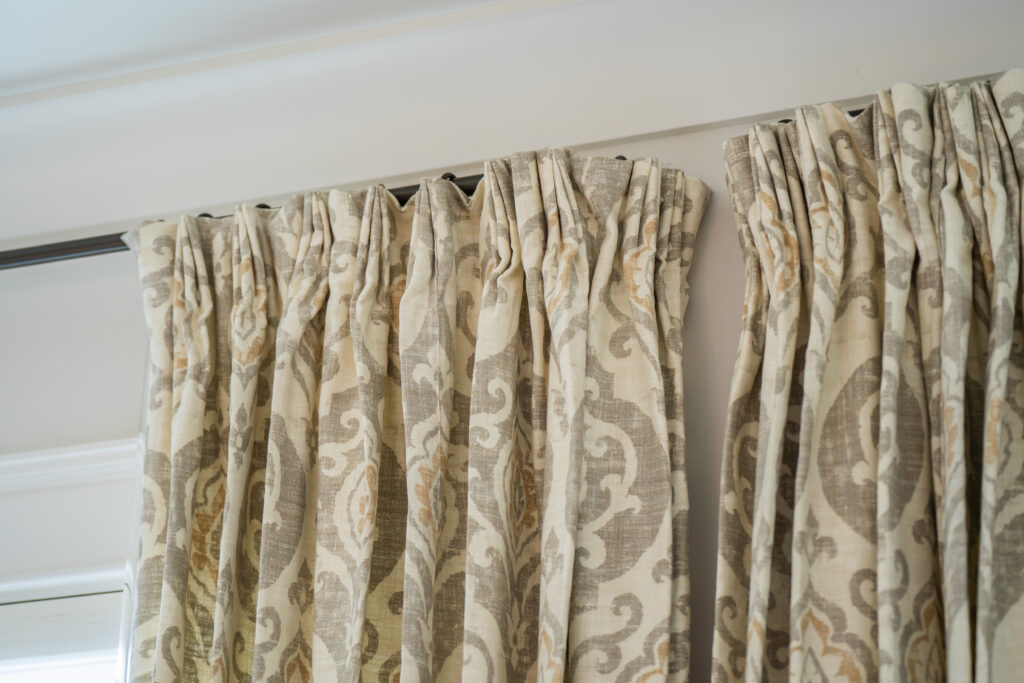 The Euro pleat is one of the most common drapery styles we see here in the Chattanooga area because it adds sophistication and elegance to a room. It's pinched together at the top and open at the bottom, allowing the fabric to billow gracefully to the floor. We chose a three-finger version (three pleats sewn together) to create a lush fullness.
Read also: 5 Popular Drapery Pleating Styles in Chattanooga, TN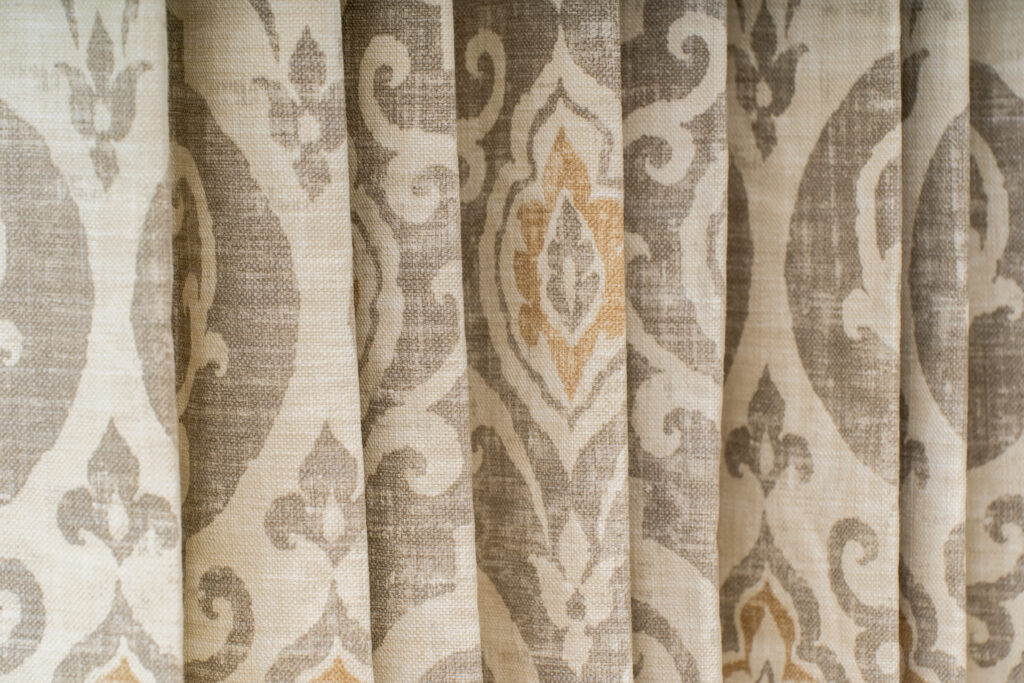 We love using long drapery panels in a primary bedroom because they add a sense of drama and luxury and can be pulled to the side to let in more light and gorgeous mountain views.
But we recognize that you don't want light pouring into your room all the time. So we chose to hang the drapery panels on French return rods, which ensure the draperies meet the wall to block any light that may come through the sides of your windows. After years of chunky finials, minimal hardware is becoming more popular, and we love to see it!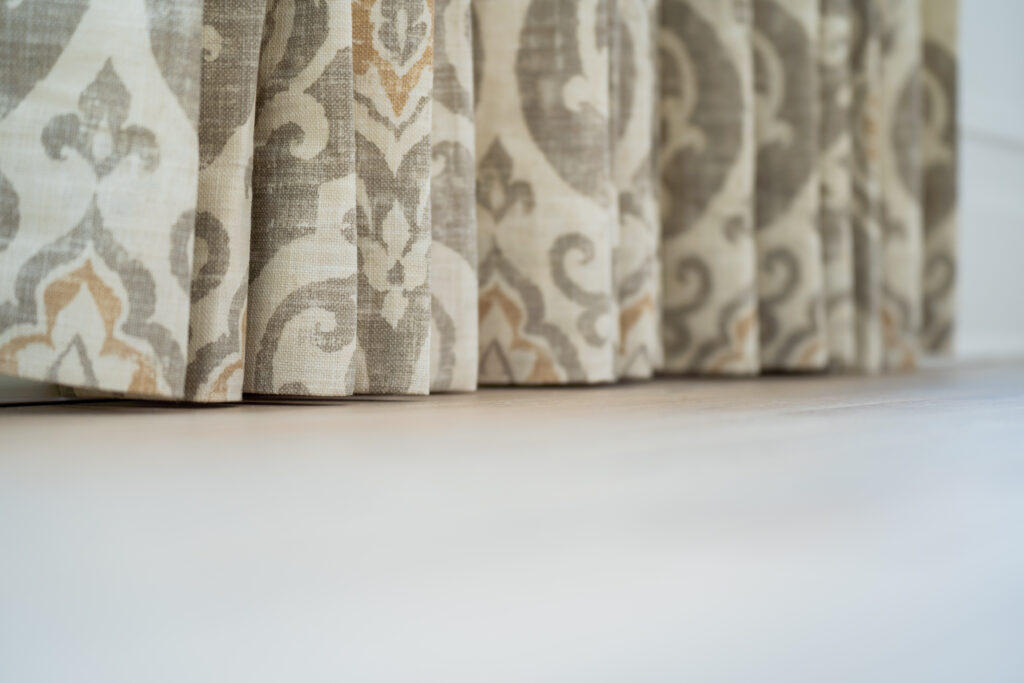 Matching draperies to your bedding
We used the same fabric for the bed scarf, pillow sham, and draperies in this primary bedroom.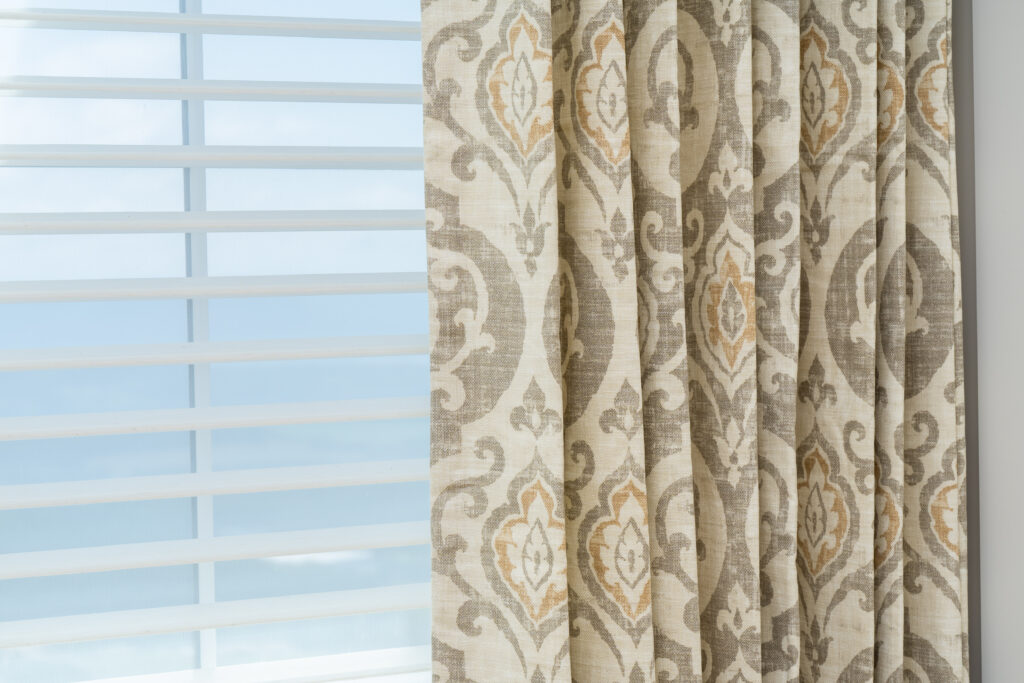 But is it necessary to match your window coverings and bedding?
It's entirely up to you, but we love it because it creates a unified, classic look. Using the same fabric throughout the room helps pull your design together. If you choose to use a patterned fabric, as we did in this Jasper Highlands bedroom, we recommend using a neutral color palette as the backdrop so that the pattern pops instead of overwhelming the space.
If you are not a fan of the matchy-matchy look, we recommend using coordinating fabric on your bedding and draperies to create a cohesive design. You can even repeat the fabric used on your drapery panels in the cording along the edges of your bed scarf to really pull the look together.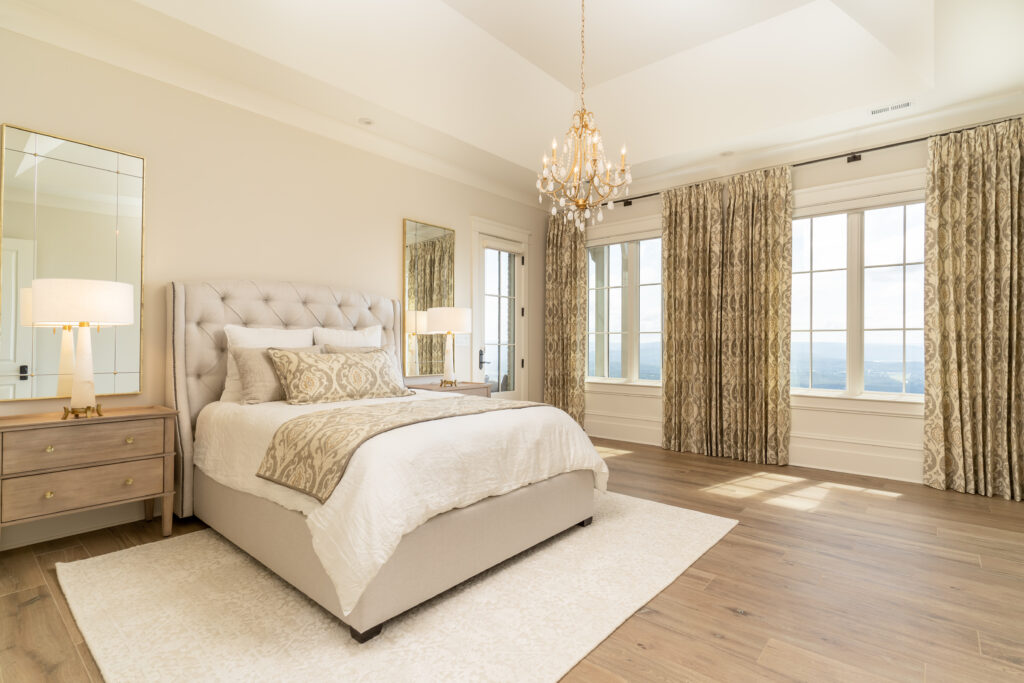 Are you ready to update your primary bedroom?
If your primary bedroom doesn't feel quite like you or hasn't been updated in a few years, it might be time for a makeover. Our principal designer, Jill Ballew, can help turn your bedroom into a luxurious retreat with custom draperies and bedding.
Ready to get started? Schedule your complimentary consultation with Jill today!