Does My Client Need New Custom Window Coverings?
Aug 22, 2022
As an interior designer, you know that custom window treatments can be invaluable in a home and greatly enhance your design. But when working with a client, you may wonder whether you can incorporate their existing blinds, interior shutters, or shades into your vision.
Your client may want you to make their current window coverings work because new custom products can be expensive. Or, they might want you to keep what they have because they have matching window treatments throughout their home to provide curb appeal. But window coverings have a limited lifespan, and swapping them out can keep your client safe and improve the home's overall aesthetic.
Today, we wanted to share more about how long window treatments last and a few telltale signs it's time to replace existing window coverings. After reading this post, you'll feel more confident making recommendations to your clients.
How long do window coverings last?
The lifespan of your client's window treatments depends largely on the materials used, the type of covering, and how well the product is maintained. If your client is properly cleaning and caring for their window treatments, most can last quite a long time.
Soft treatments, like draperies and Roman shades, typically have the shortest lifespan. If lined, they may last five to seven years. Unlined and sheer draperies may need to be replaced every three to four years. Blinds and shades can look beautiful and function well for about a decade. Interior shutters have the longest lifespan and can last for several decades if properly maintained.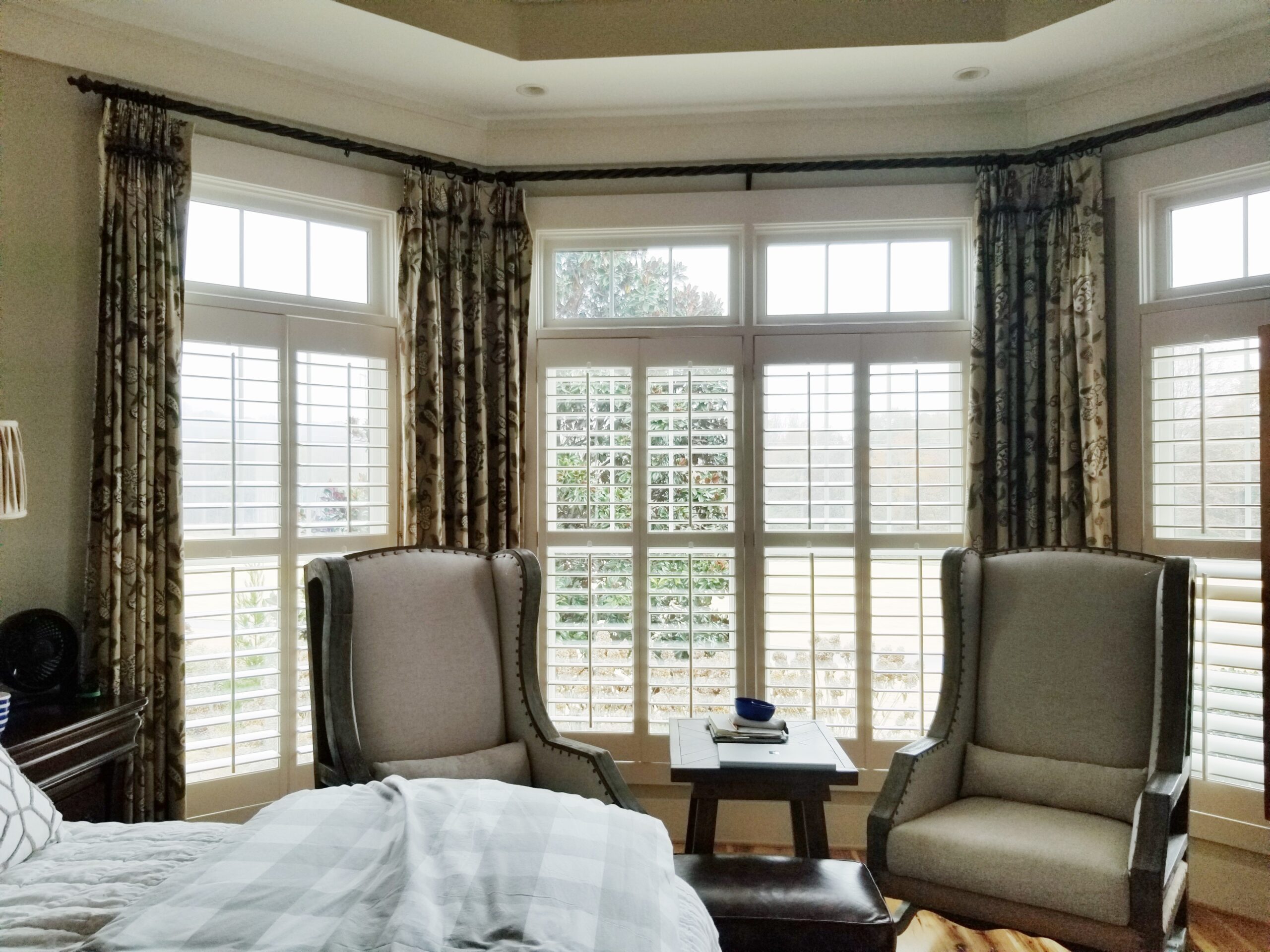 5 signs it's time to replace window treatments
As we mentioned earlier, your client may not want to part with their existing window coverings to save some money or to maintain their curb appeal. But sometimes, it's best to replace them. Here are a few signs that your client's window treatments have reached the end of their lifespan.
1. The window coverings look outdated
If you're working with a client on a total home renovation or refresh, their current window treatments might look outdated when paired with your design. If you don't replace them, your vision may not be able to fully come to fruition. Upgrade your client's window coverings to ensure the homeowners love your design and are proud of their home.
2. They're yellowing or fading in color
White wood blinds or interior shutters will eventually turn yellow and start to show dust and stains. After excessive exposure to harsh UV rays, fabrics will lose their vibrancy and start to fade. If you notice the color is changing on any window covering, replace it.
3. The material is cracking, bending, or frayed
With frequent use, a window covering's material can be broken because it's vulnerable to wear and tear. Wood can chip or develop mold if it's exposed to high humidity for years. Aluminum is sensitive to sunlight, so a blind's slats can become brittle and develop cracks. Holes and rips can develop in the corners and edges of draperies and Roman shades. Damaged material can be dangerous and make your client's home appear older.
4. The cord is worn out
If your clients rely on a cord to raise and lower their shades or blinds, that cord may eventually wear out and become frayed. This can be a significant safety hazard for all members of the family, particularly children and pets.
Read also: Window Treatment Operating Systems: Manual, Cordless, and Motorized
5. It's difficult to operate the window treatment
After frequent use for years, it can become difficult to raise and lower window coverings because the pulling mechanism becomes worn out. If your clients have older interior shutters, you may notice that they stick when you're opening and closing them. If a window treatment is challenging to operate, it's not functioning as it should and will need to be replaced.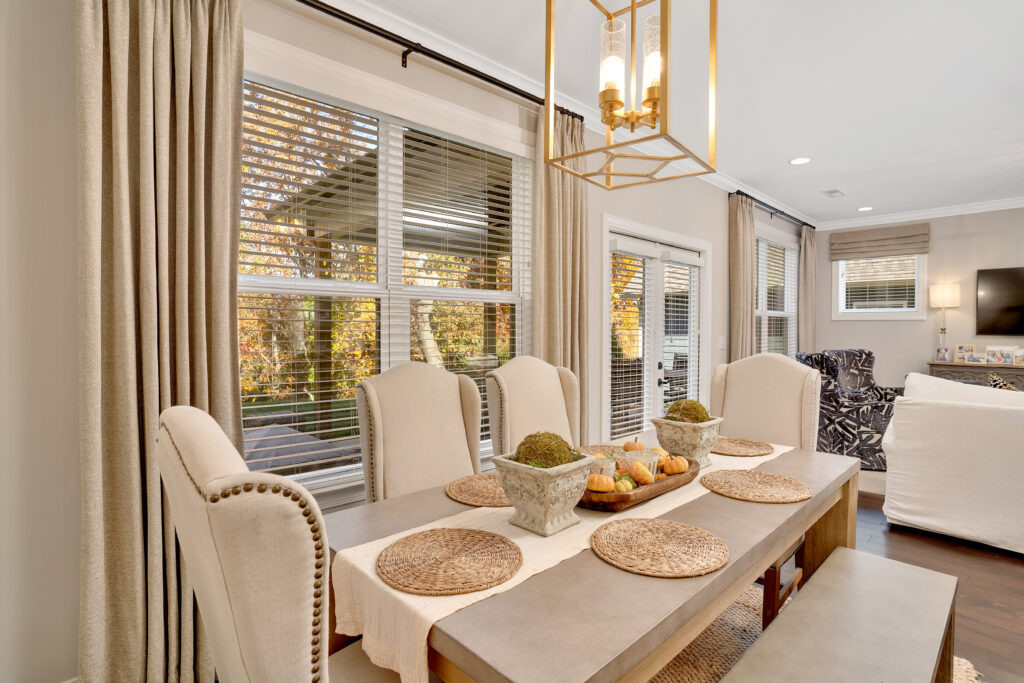 Can I incorporate existing window coverings into my design?
If your client's window coverings are still in excellent condition and can fit into your design, you might not need to replace them. But you can still inject more style into their home and stay true to your vision by layering those existing window treatments with new types. You can keep their existing blinds, shades, or interior shutters as a functional base layer. Then, add new custom draperies, Roman shades, or top treatments. The new window coverings will act as the star of the show, while the existing shades or blinds will recede into the background. But your client will still maintain a uniform look on their home's exterior.
We often recommend layering window coverings because it helps create a truly unique look and gives a room added depth and dimension. A layered look can also give your client more control over the light in the space while making their home more energy-efficient.
Check out this beautiful home in Red Bank, Tennessee to see how we layered soft treatments over a homeowner's existing blinds.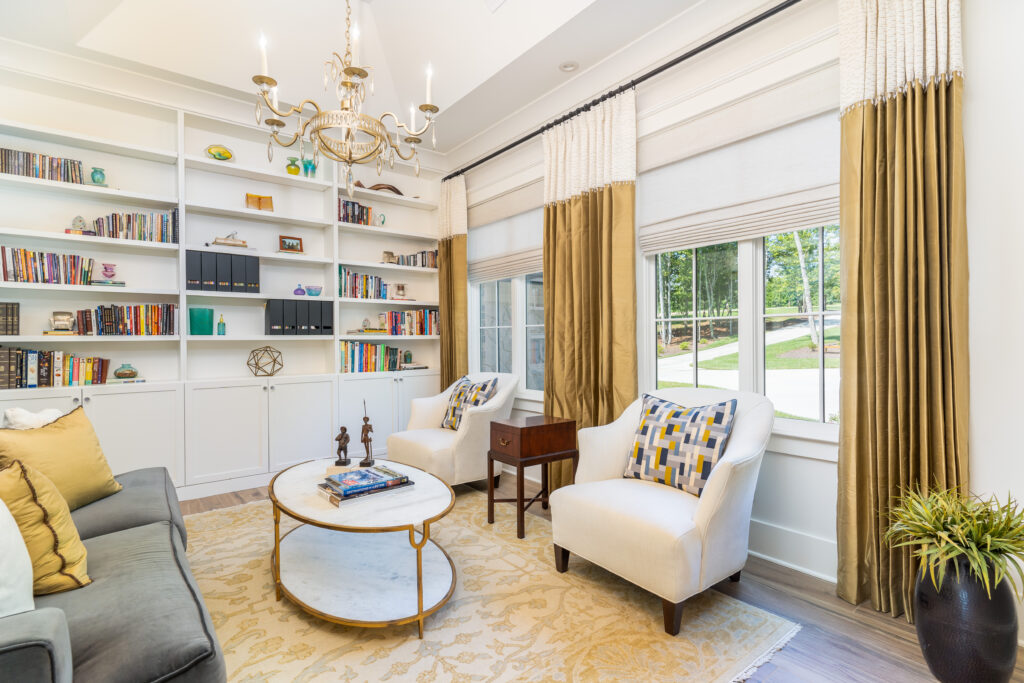 Partner with High Country Drapery Designs
Whether you want to replace your client's window treatments or add new layers, our team is here to help. We'll work with you every step of the way while ensuring you retain complete control of the design. We can help determine whether your client needs to replace their existing window coverings. Or we can design the perfect layered look that enables you to fulfill your vision. Contact us today to get started on your next project!