5 of Our Favorite Southern Living Room Projects
May 16, 2022
It might go without saying, but a living room is where you live your life. It's where you go to read a book, watch television, entertain guests, host a game night, or spend time with friends and family. When designing your living room, you probably start with where to place the sofa or TV. You'll likely prioritize comfort and community. Because of that, window treatments may not be high on your priority list of living room design elements. But they should be because they can make any living room more beautiful and functional.
Never underestimate the role window coverings can play in your living room design. They can perfectly fit into your lifestyle and improve how you'll use the room. Window treatments can serve as a visual focal point, express your personal style, provide privacy for your family, offer room-darkening capabilities for movie night, and so much more.
If you're redecorating your living room, don't let your window treatments be an afterthought. Instead, make them a priority to make the most of the space. To inspire you, we've rounded up some of our favorite living room projects so far. Keep reading to see them!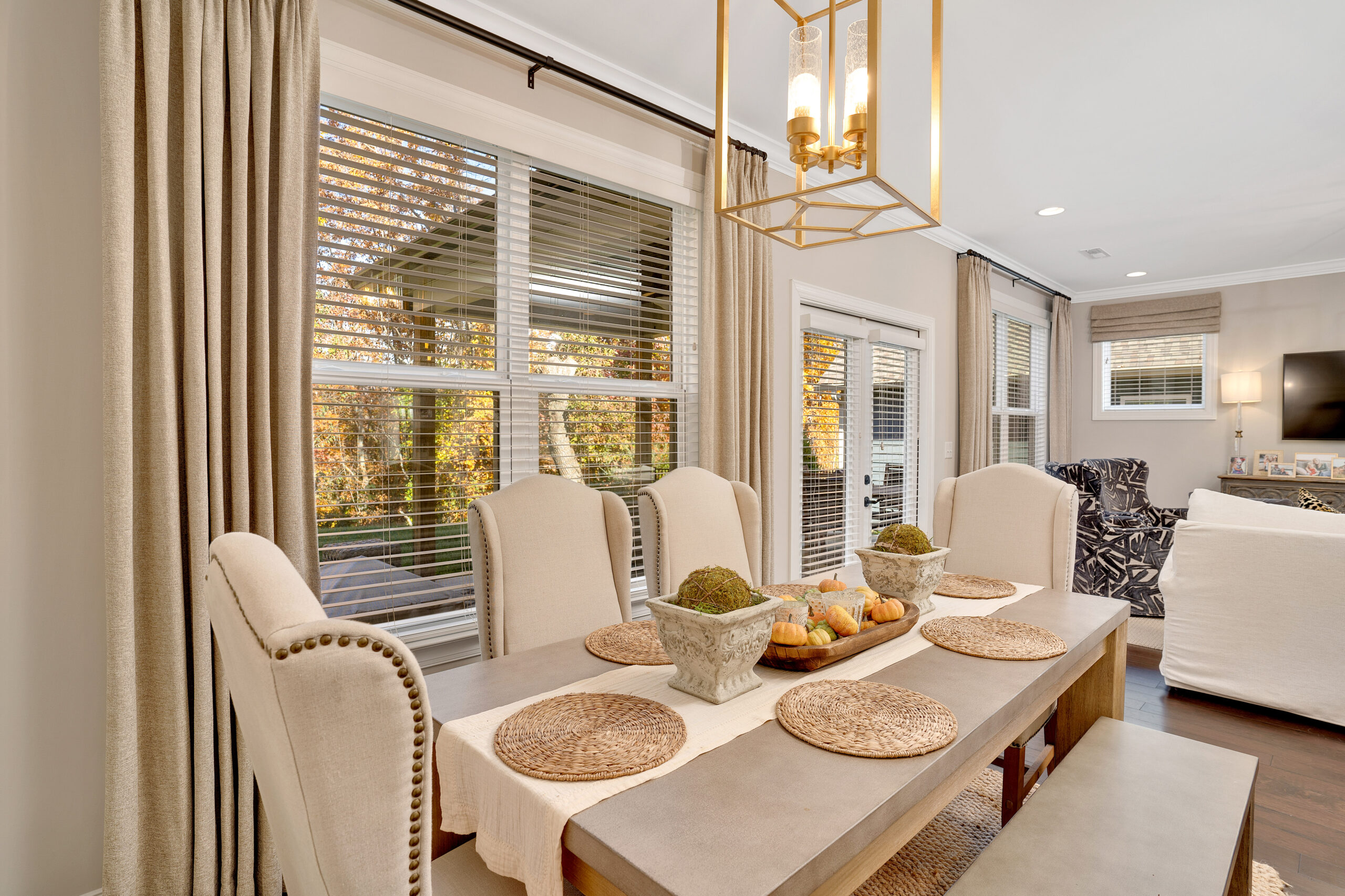 Soft Window Treatments for a Gorgeous Open Floor Plan in Red Bank, TN
The owner of this stunning new build in the Red Bank area already had blinds in place. So she didn't need window treatments that added functionality. Instead, she wanted living room window coverings that added beauty, movement, and visual interest.
The homeowner is certainly not afraid of patterned fabric, as evidenced by her chairs and decorative pillows. We didn't want to overwhelm the space or overpower the existing design, so we chose a subtle, neutral pattern for her custom window treatments. Then, we designed Roman shades and draperies for a timeless look. We briefly considered creating draperies for all the windows, but doing so would have made the living room look cluttered and heavy instead of open and airy.
See more of this gorgeous Red Bank home here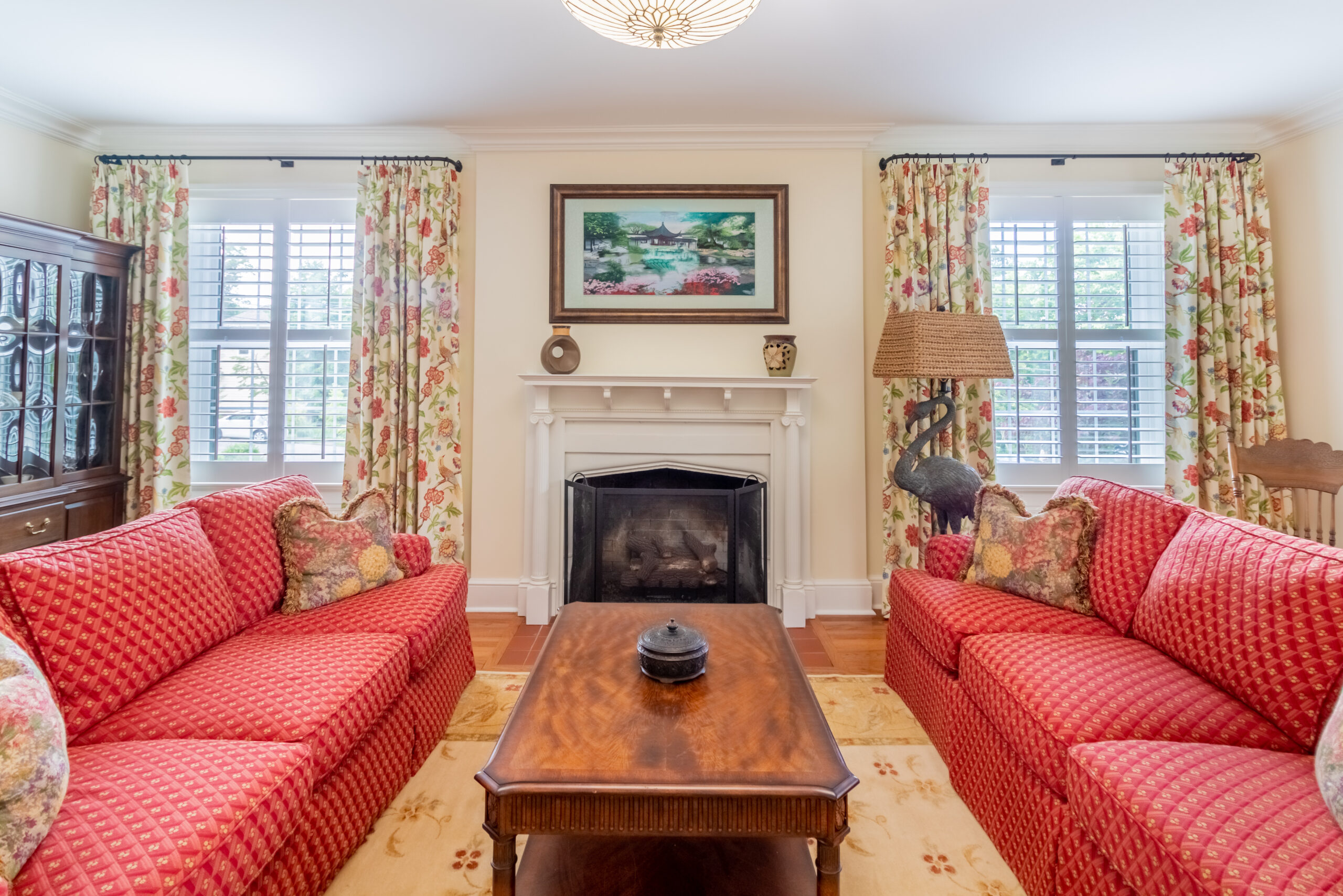 North Chattanooga Drapery Living Room & Dining Room
This North Chattanooga homeowner loved the red sofas in her living room. Bold furnishings like that can quickly look outdated or out of style. She wanted to ensure that didn't happen, so she asked us to design new draperies that updated the space and complemented her existing furniture and decor. We chose fabric from Jaclyn Smith Home that embraced the red from the sofas and updated the living room. We love being able to design window treatments that allow you to breathe fresh life into your beloved furnishings so you can continue enjoying them for years to come.
View more of this stunning North Chattanooga living room now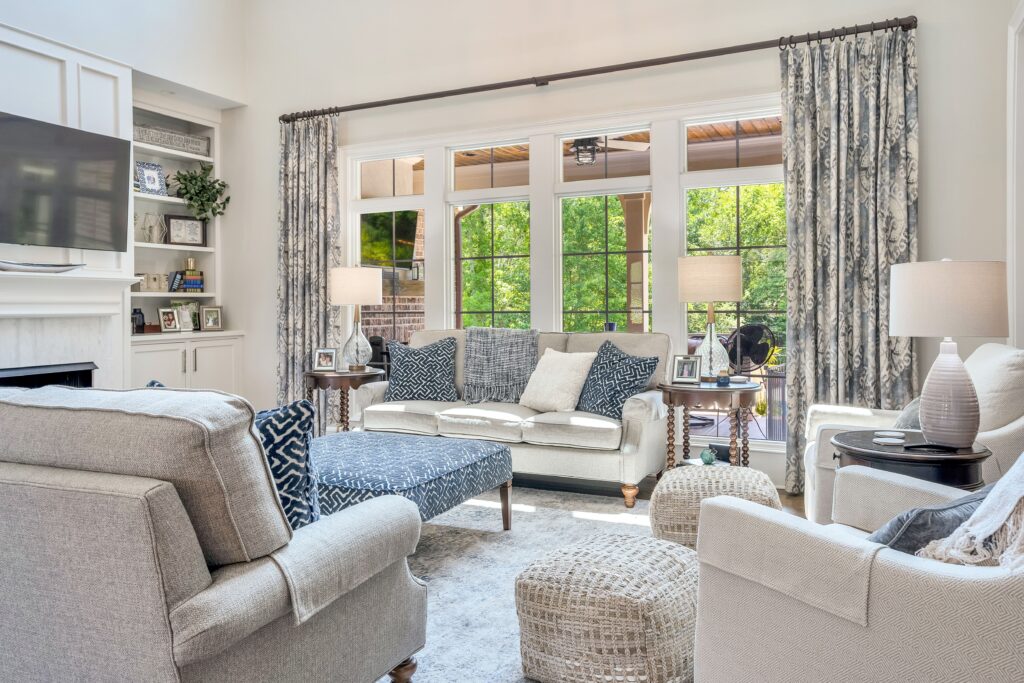 Living Room Drapery in Rocky Face, Georgia
It's no secret that we love a neutral and navy blue color scheme. So we absolutely adored having the opportunity to design window coverings for this living room in Rocky Face, Georgia. The homeowners had chosen neutral furnishings with decorative pillows in various patterns and shades of blue. To complement the decor, we chose a patterned fabric that incorporated those colors. We also color-matched the background of the material to the wall color to create a seamless look. We designed Euro-pleated drapery panels for a classic look and hung them on a French return rod. A French return rod is perfect for larger windows because it can withstand the weight of heavier window coverings. The result was beautiful window treatments that perfectly frame the view of the home's outdoor living space.
Enjoy more of this Rocky Face living room here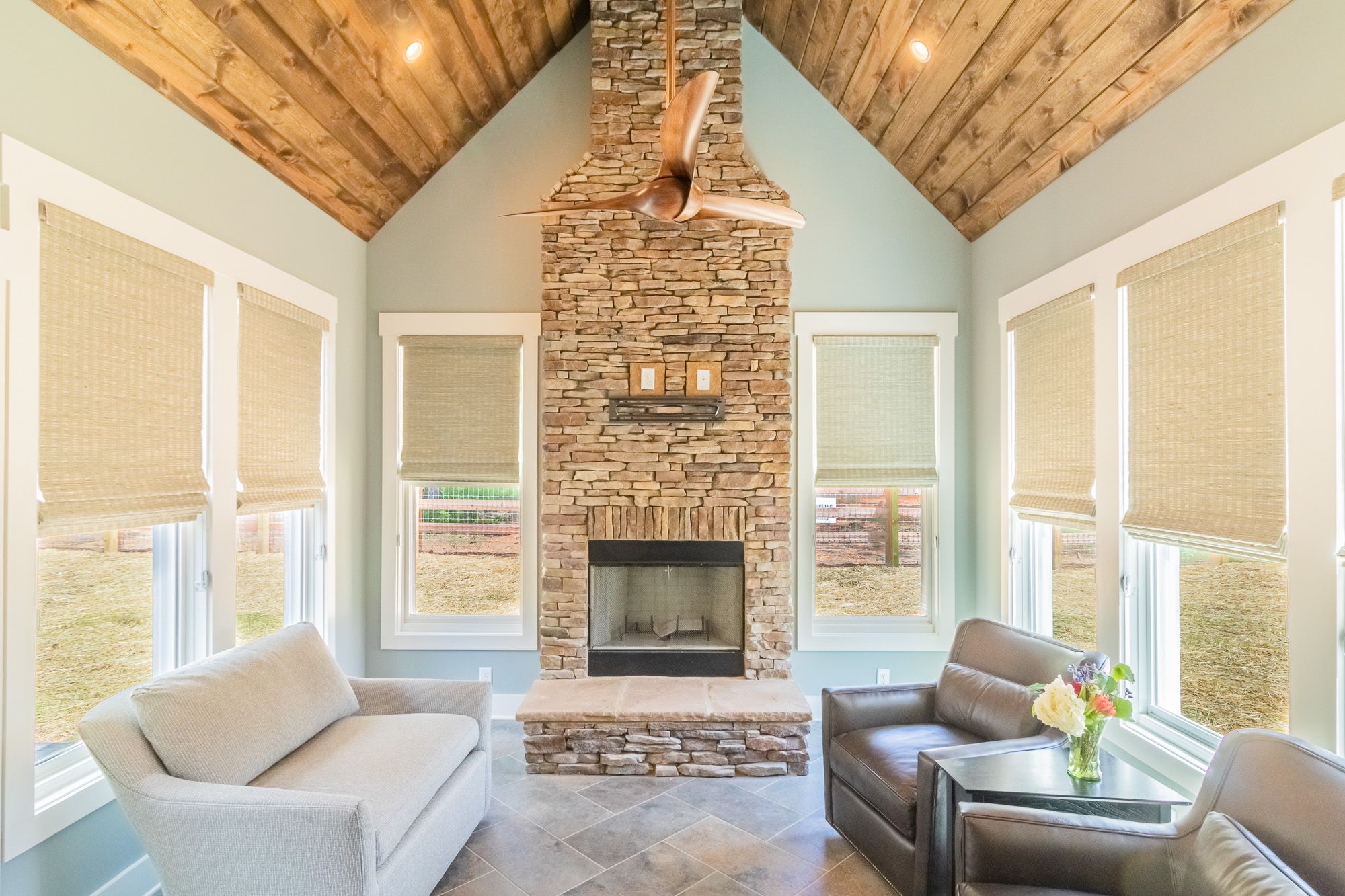 Window Shades in Jasper Highlands Sunroom
When you think of a living room, you may not consider your sunroom. We loved getting to design window coverings for this sunroom in the Jasper Highlands community. Cain Development built this home, and we worked with their lead interior designer Ashley Stinson to create window treatments. Together, we chose Hunter Douglas Provenance woven wood shades. We used woven woods to complement the feeling of the room, which included many natural and sustainable materials. We installed top-down/bottom-up shades because they can be lowered from the top or raised from the bottom (or both). This allows the homeowner to maintain privacy when needed without sacrificing natural light or blocking their stunning views.
See more of this breathtaking sunroom now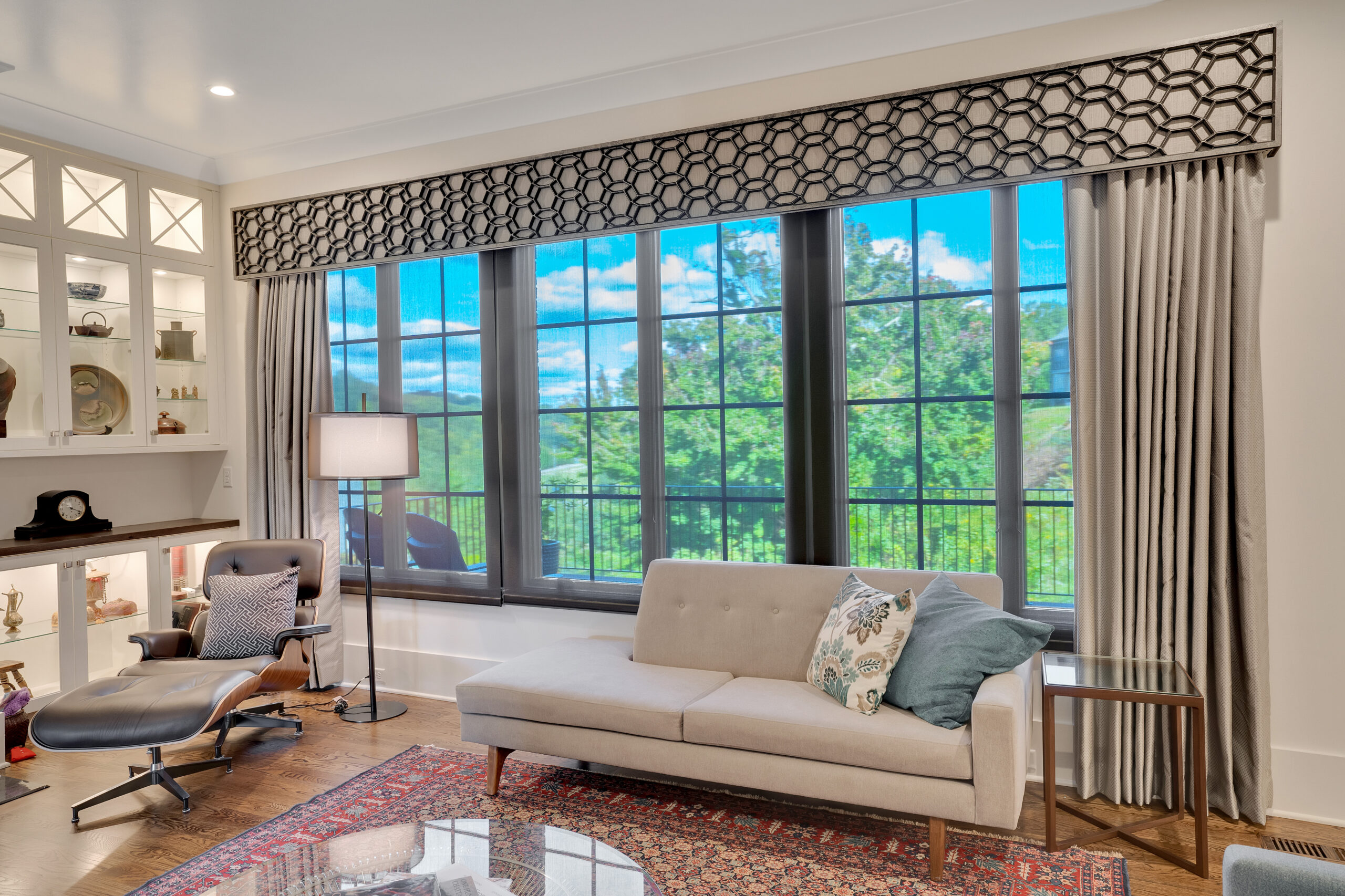 Adding Dimension to Layered Window Coverings with Tableaux in a Chattanooga Home
Designing window treatments for this home in Chattanooga was particularly fun because we got to work with design styles we don't get to work with often, namely midcentury modern. The homeowners have differing decor preferences, which meet by combining an arts-and-crafts style with a midcentury modern flair. To accommodate their needs in the living room, we married technology with a somewhat traditional style and combined the clients' affinity for high-tech with their love for textiles.
We initially thought about motorizing a soft treatment but considered the homeowners' cat. The homeowners required a motorized layer that could be drawn up easily and quickly cleaned. Because of that, we chose to motorize screen shades. This option also reduced the sun glare coming through the windows.
We then softened the look by layering the shades with draperies. We designed a streamlined cornice to hide the battery pack and headrail of the screen shades. We then installed a custom Tableaux Decorative Grille to add dimension to the room. For the grille, we drew inspiration from the home's existing architecture, particularly the glass kitchen cabinets.
For the fabric on the cornice and draperies, we chose small-scale patterns in neutral colors. The homeowners had a lot of reds in their rug and artwork and wanted those elements to be the center of attention.
View more of this midcentury modern living room
Did one or more of these living rooms inspire your next project? We would be honored to design custom window treatments for your living room in the southeast. High Country Drapery Designs proudly serves communities in Chattanooga, Nashville, Atlanta, Knoxville, and more. Request a complimentary design consultation today!