Motorized Sheer Roman Shades for a Primary Bathroom in Chattanooga
Aug 22, 2022
Last month, we shared the custom window coverings and border tape we created for a tween girl's bedroom. Today, we're sharing another space in that same project: the primary bathroom. We were privileged to work alongside Emily Yoakum throughout this Chattanooga home. Emily prioritized window treatments throughout the house.
Keep reading to learn more about the motorized Roman shades we designed for this home's primary bathroom.
Marrying the designer's vision with the homeowner's needs
One of the reasons we love working with interior designers is because it often allows us to stretch our creative muscles. We work hard to find a solution that fits the designer's vision and meets the client's needs.
In this primary bathroom, Emily wanted to create a tranquil, spa-like retreat for the homeowners. Unlike many bathrooms, privacy was not a concern, so Emily asked us to use a sheer material for the window coverings to evoke a relaxing feeling in the space. Her client, who suffers from migraines, likes to soak in the tub in complete darkness. Sheer window treatments would not provide the homeowner with the darkness she needs.
So how did we accommodate the homeowner's needs while staying true to Emily's design concept and vision? For the bay windows surrounding the tub, we designed waterfall Roman shades in Thibaut's Berkshire Stripe in "Ivory," which is a stunning sheer material. We then added a blackout lining to keep the primary bathroom dark when the shades are closed. We opted for an outside mount to block even more sunlight and provide full coverage.
Read also: Window Treatment Measurements: 7 Tips Every Interior Designer Should Know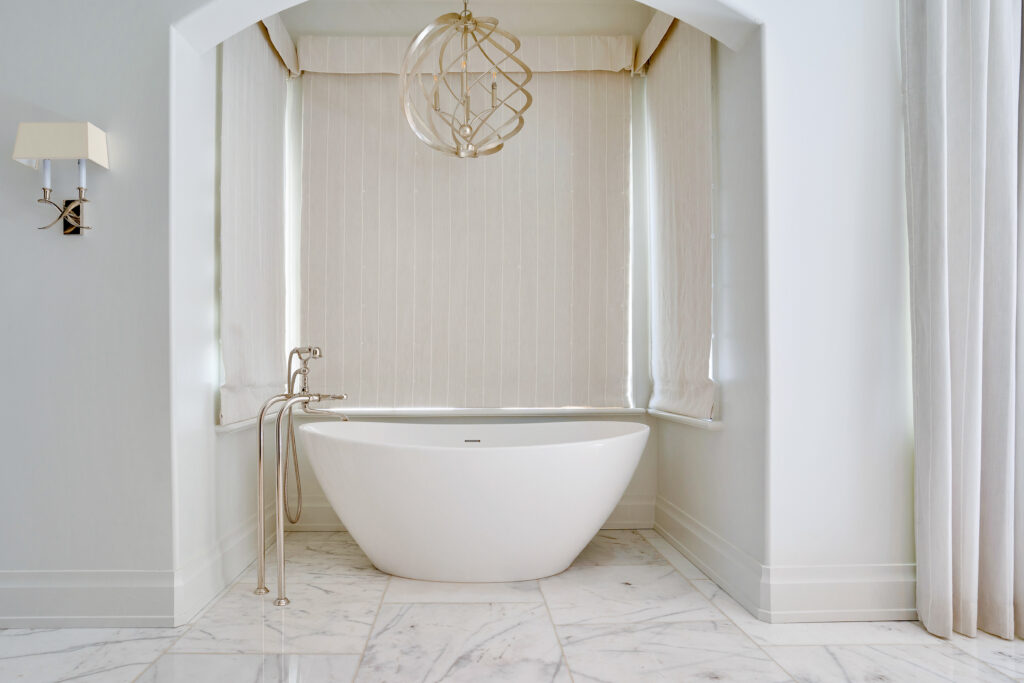 A unique spin on sheer shades
We love using sheers in a primary bathroom because it can go a long way toward creating a relaxing, tranquil, spa-like retreat. Left unlined, sheer draperies and shades provide privacy without blocking natural light. And the gentle texture of the fabric can soften the hard surfaces (like countertops and the bathtub) present in a bathroom. So we understood why Emily wanted us to design sheers for this primary bathroom. We happily sourced a sheer material to provide many of the style and benefits Emily was looking for but added a blackout lining to provide the functionality the homeowner needed.
Read also: Everything You Need to Know About Bathroom Window Treatments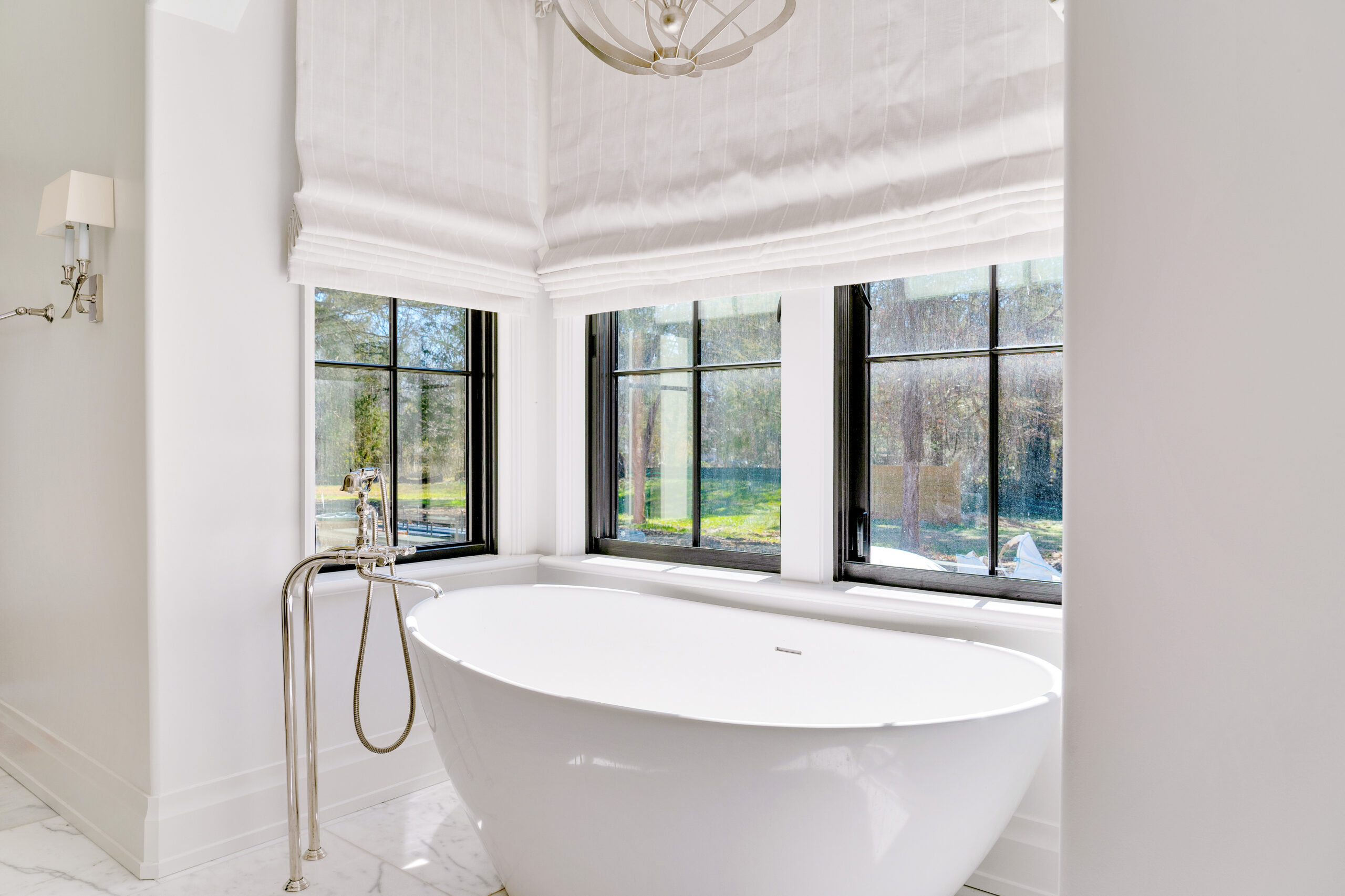 Motorizing the Roman shades in this Chattanooga primary bathroom
We had designed motorized window coverings elsewhere in this home and suggested them for the primary bathroom because they allow the homeowner to lower the shades before entering the space. This further allows her to relax when battling a migraine because the room will already be dark when she enters.
We used the Sivoia QS Wireless Shading System with Lutron® motors because it's a reliable option that we used elsewhere in the home. This hardwired solution offers quiet, precise control over all the Roman shades in the primary bathroom with the touch of a button. It also directly integrates with the homeowner's Lutron lighting control system, giving her total light control in the bathroom.
If you're designing for a new build, we recommend partnering with us as soon as possible, especially if your clients want motorized window treatments. With motorization, we often recommend hardwiring because your clients will not have to worry about batteries dying or unsightly wires that can detract from your beautiful design. By bringing us into the project early, we can ensure the necessary electricity is installed before the drywall to make the process easier.
Read also: 6 Benefits of Using Home Automation in Interior Design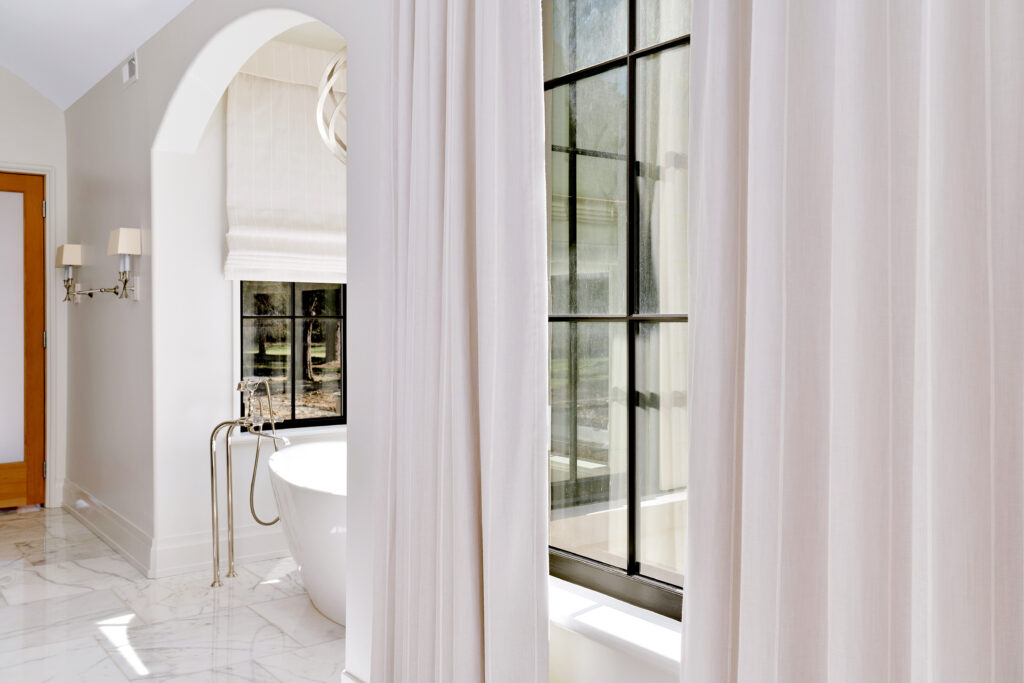 Mixing & matching soft treatments
We're often asked whether you should use the same window coverings throughout the space or mix styles. And it's really up to you and your client. If you or your client prefers simplicity and consistency, it might make the most sense to use the same type of window treatment throughout the room. You might also choose matching window coverings to create a cohesive look from the outside of the home (or you could layer window treatments for the same effect). But if you want a more interesting, custom look, you may opt for mixing products.
For this primary bathroom, we designed matching draperies for the window behind the vanity. This created a cohesive look and further made the space feel like a spa. We opted for a Euro pleat because it provides a sleek header and beautiful fullness while still being fully functional. These draperies, hung on a French return rod to block out light from the sides of the window, can be drawn closed to make the bathroom as dark as possible.
Let's partner on your next project
When you work with High Country Drapery Designs, you're gaining another partner in the interior design process. We'll work with you every step of the way without taking away your control of the overall design. You can tell us what to fabricate, or we can help you design the perfect window treatments by considering your vision and the home's aesthetic. We can help you select the suitable fabric, trim, and style, or you can have your preferred material shipped directly to our full-service workroom. Contact us today to tell us more about your next project!