Custom Cerulean Blue Trim for a Tween Girl's Bedroom in Chattanooga
Aug 22, 2022
A very talented interior designer, Emily Yoakum, brought us on board for a full-home project she was working on in Chattanooga, Tennessee. The project was a new build, and Emily asked us to design window treatments for each room. We'll be sharing quite a few of the rooms over the next several months, but we wanted to start by showing you a unique window treatment we designed for the homeowner's daughter. We knew right away that we would face a few challenges on this particular project, including how to combine Emily's vision with the daughter's preferences.
The homeowner's tween daughter is currently obsessed with the color cerulean blue. Her tastes and preferences will likely change over the next several years. We wanted to design window treatments that would match her current likes but that she would still enjoy for years to come. We also wanted the window coverings to fit into the Chattanooga home's overall aesthetic.
Keep reading to see and learn more about what we designed!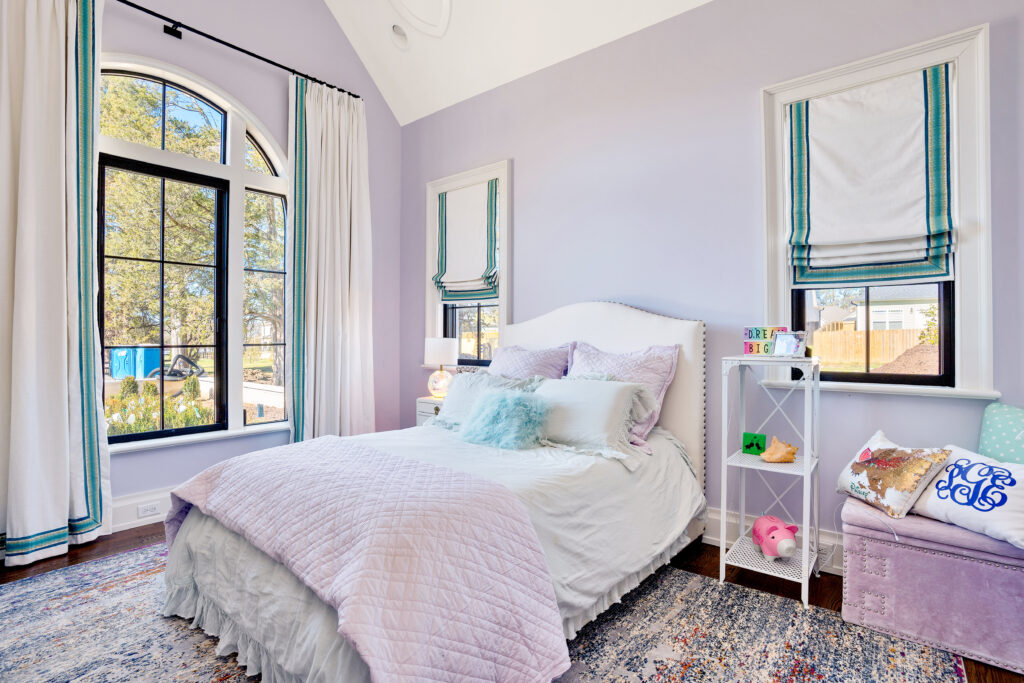 Classic window coverings for a tween girl's bedroom
We designed two different types of window treatments for this bedroom: Euro-pleated traversing draperies and flat Roman shades. The draperies were installed over a beautiful arched window in the room, and we used the Roman shades for the other windows. This combination prevented the corners of the bedroom from feeling crowded while also creating a classic look that the daughter will still enjoy well into her teenage years.
The Euro-pleat, also known as a Parisian pleat, is a modern twist on the traditional French pleat. For this drapery header style, the folds are pinched at the top of the window coverings and open at the bottom. This creates a full look that can still be easily opened and closed without requiring much styling, which is essential for a child's bedroom.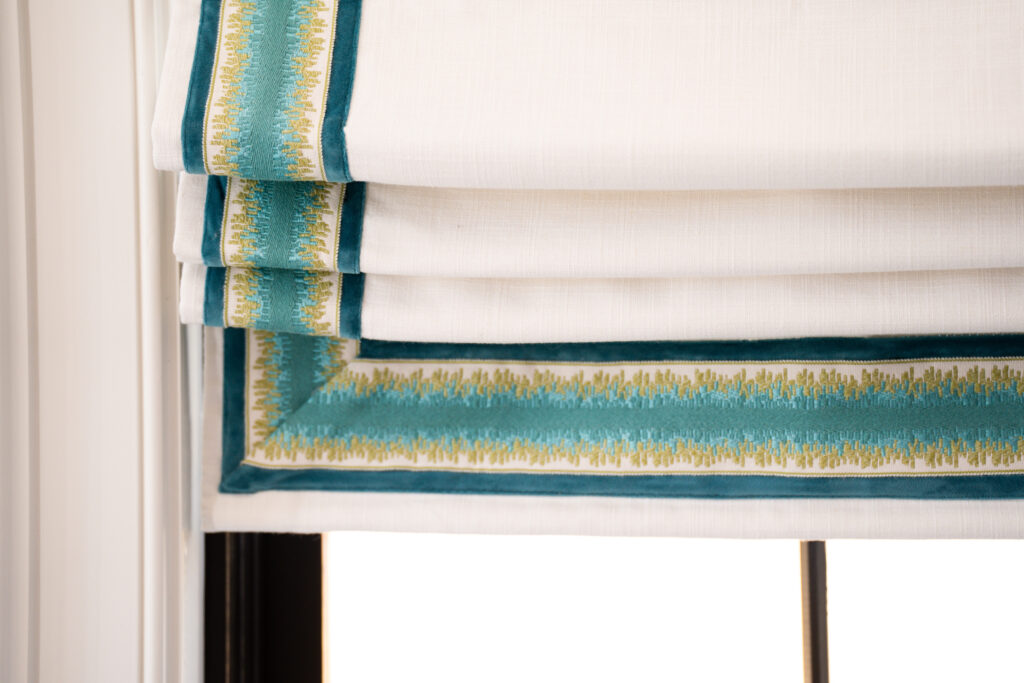 A flat-fold Roman shade is made of a continuous piece of fabric. It looks flat (like the name suggests) when the window treatment is fully lowered. But when raised, the fabric is arranged in a neat bunch of folds. It's a highly functional window covering that requires little-to-no styling or adjusting of the material. We love flat-fold Roman shades because they offer a clean, tailored look that matches many different decor styles.
When designing both the draperies and Roman shades, we added a blackout lining. This is key in any bedroom because the lining significantly reduces the amount of light coming in through each window. It also provides the room with more privacy and reduces noise pollution, all of which are essential for a peaceful night's sleep so the child can be well-rested for school.
Read also: Drapery Lining Guide: Choose the Right Lining for Your Custom Window Coverings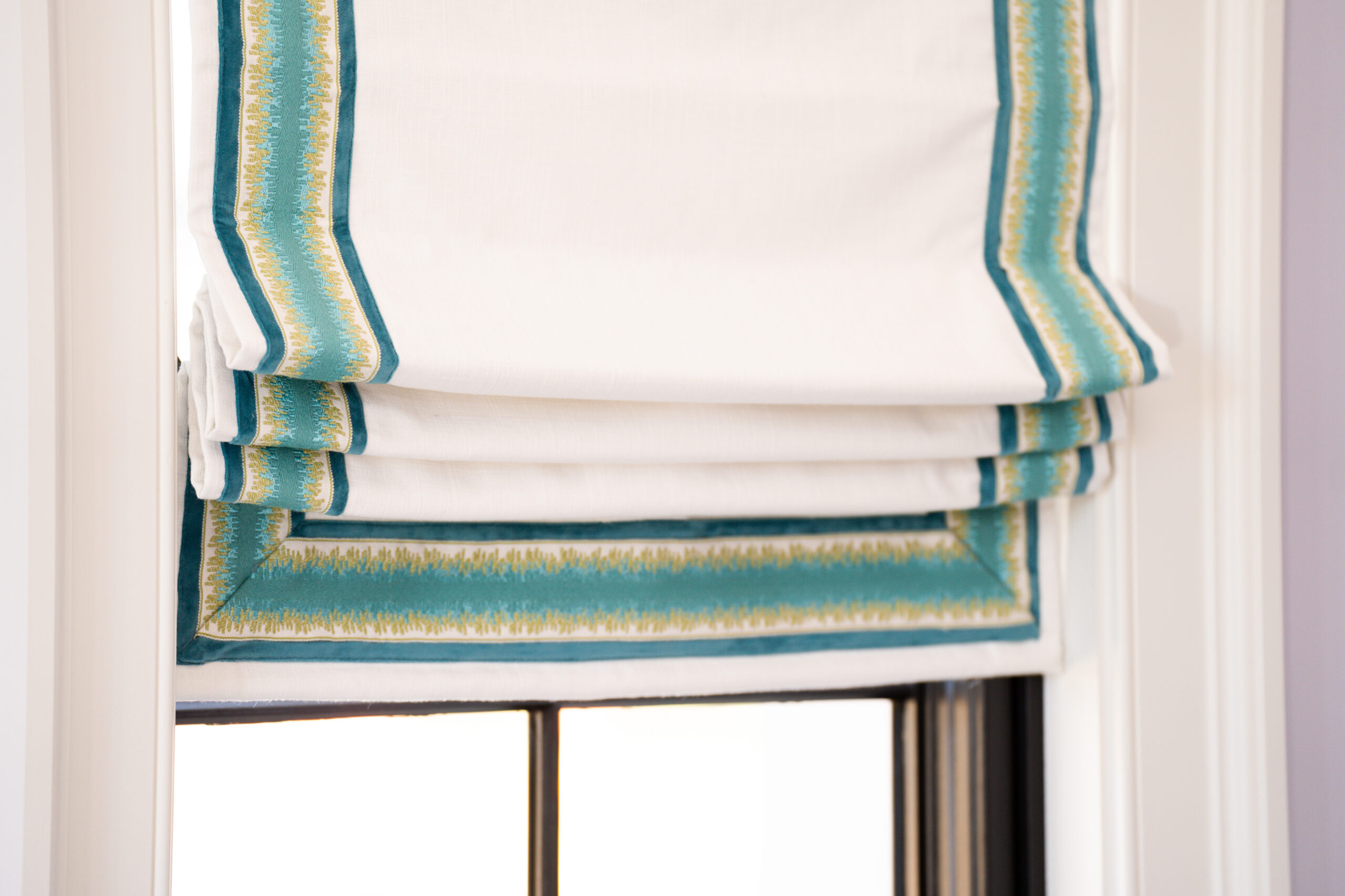 Finding the perfect fabric
When designing window treatments for this tween girl's bedroom, we wanted to highlight the cerulean blue color she loved. But we also wanted to ensure the color didn't overpower the space, so the homeowner's daughter didn't tire of the window coverings in just a few years. Ultimately, we chose Sheriff in "Powder" from Carole Fabrics for the primary fabric. The neutral material acted as the perfect backdrop for colorful trim and fit well into the designer's vision of the space.
Custom cerulean blue trim
Since we chose a neutral material for the primary fabric, we planned to add cerulean blue trim to incorporate the daughter's tastes. But, we were unable to find trim in the right color that fit the design. We overcame this obstacle by creating our own and installing it along the inner edges and bottom of the Euro-pleated draperies and around each side of the Roman shades.
To create the perfect trim, we started with a beautiful tape trim from Carole Fabrics. Tape trim is a flat piece of trim and comes in various widths. It can be used to embellish a multitude of products, and we particularly love using it to create a border around the edges of window coverings or to add detail to the bottom of a bed scarf.
Then, we added a cerulean blue flange on either side of the tape trim. A flange is a thin fold of fabric sewn into a seam to add dimension and texture. For this project, we used Presence in the color "Turquoise," also from Carole Fabrics. The flange highlights the daughter's current preferences but can be easily removed or replaced as her tastes evolve.
Read also: Everything You Need to Know About Decorative Trim & Embellishments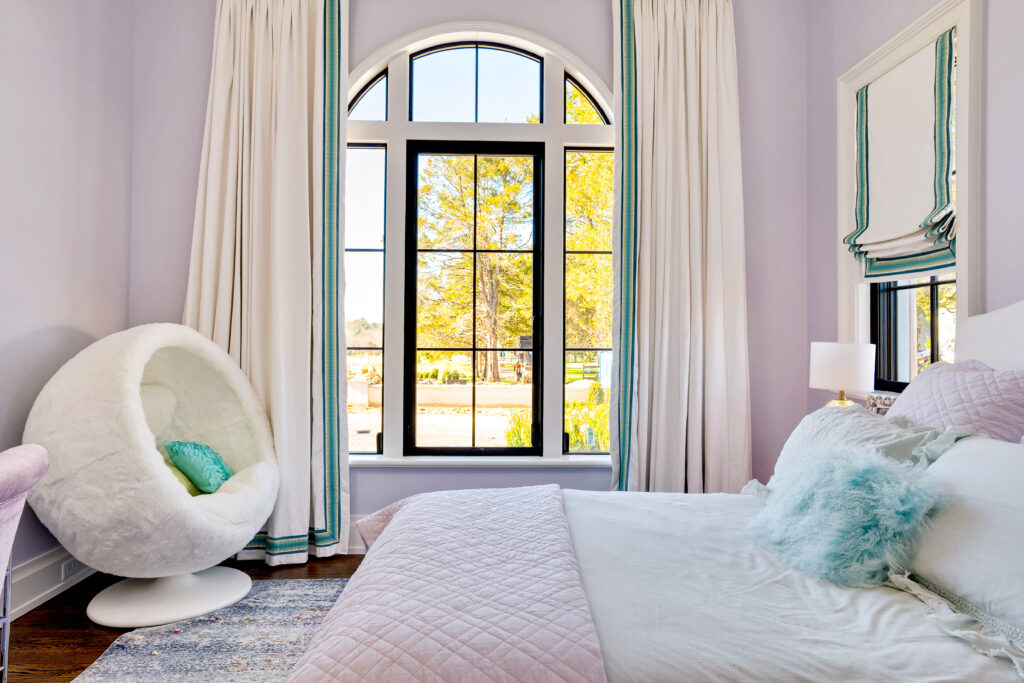 Let's design something beautiful together
This was one of our favorite projects because it caused us to stretch our creative muscles and allowed us to create something truly unique. By designing our own trim for the window coverings, we could stay true to Emily Yoakum's vision of the room and create a look that both the homeowners and their daughter love.
If you need new window coverings for your southern home, we will consider your preferences. And if the material required to create that look doesn't exist, we will design something truly unique to fit your wants and needs. Schedule a complimentary design consultation today!