Upcycling Existing Draperies for a Layered Look in a Jasper Highlands Reading Room
Aug 30, 2022
We greatly enjoy creating layered window coverings for our clients throughout the southeast. By designing a layered look, we can help homeowners inject their personal style, gain light control and privacy in their spaces, and create more curb appeal for the home. And that's exactly what we did for this reading room in Jasper Highlands.
This homeowner asked us to design window treatments and bedding throughout her house, which allowed us to focus on creating uniformity on the home's exterior. Throughout the home, we used either Hunter Douglas Silhouette® shadings or Horizons woven wood shades with an operable privacy liner to create a standard look from the outside of the house.
For this library in Jasper Highlands, we started with Horizons woven wood shades as the base layer and added beautiful drapery panels for a unique and stunning look. Keep reading to learn more about the design!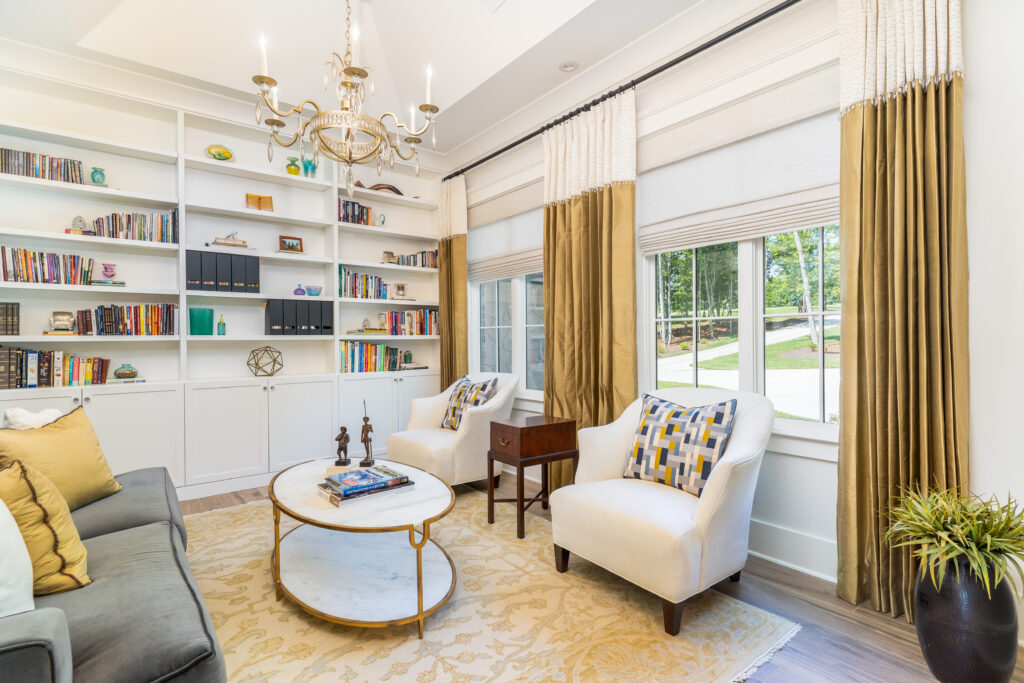 Can window treatments improve a home's curb appeal?
Yes, window coverings can absolutely improve a home's overall appearance. When you think about curb appeal, you may focus on gorgeous landscaping. But there are so many other factors that impact how your neighbors perceive your house. For example, your home's exterior color scheme, front door style, and even your window treatments can all impact curb appeal.
One of the easiest ways to increase curb appeal relatively quickly is to install matching window coverings in each room of your home. But you don't always want to have the same window treatments in each room because each space has its own needs and style. For example, in your bedroom, you may need to prioritize privacy. But in your kitchen, you might want to control the natural light that streams into the room.
So what can you do if you want to install different types of window coverings while still creating uniformity from the home's exterior? You can ask your window treatment designer to add a lining to your window coverings. From the inside of your home, your window treatments will all look different and fit each room's individual style. But from the outside, your window treatments will all match.
Read also: Top 10 FAQs Homeowners Ask About High Country Drapery Designs Window Coverings
Improving curb appeal in this Jasper Highlands home
Throughout this Jasper Highlands home, we used either Hunter Douglas Silhouette shades and Horizons woven wood shades in the color "Linden Meringue" as the base layer. In this reading room, we installed the Horizons woven wood shades. The window treatments are flat-fold roman shades and add soft depth and texture to the space.
Besides looking stunning on their own, they hide an operable white liner. The liner is installed on a roller shade behind the woven wood shades. When the liner is raised, it appears to disappear and allows the homeowner to enjoy beautiful views. But when lowered, the roller shade gives the homeowner better light control. By installing these operable liners, we could meet the homeowner's needs for the space and create a more uniform look on the home's exterior.
Read also: Woven Wood Shades Add Texture & Warmth to Your Chattanooga Area Home
Can High Country Drapery Designs reuse existing drapery panels to create something new?
We are often asked to reuse textiles from an existing drapery panel or another type of soft good (like bedding) into something new. We love doing this because it breathes new life into materials you already love, and it's more environmentally friendly to upcycle existing textiles.
This Jasper Highlands homeowner had existing drapery panels she wanted to use, but they were not long enough and no longer matched her design aesthetic. We overcame these obstacles by designing topped color-blocked stationary drapery panels for either side of both windows (including between the two).
When designing topped color-blocked draperies, we add a band of fabric to the top of the drapery panel, usually with a 1:3 ratio. This style draws the eye upward, making a room feel taller and more open.
Read also: Color-Block Drapery Panels: Add Drama & Color Without Pattern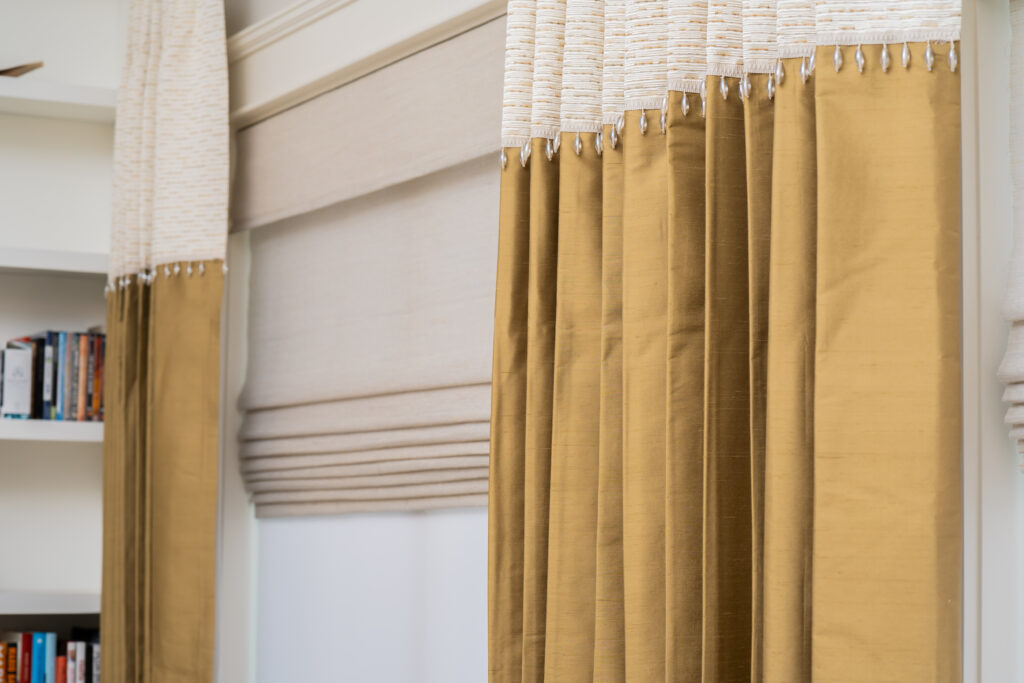 Upcycling existing draperies in this Jasper Highlands home
We created the top banding of these drapery panels using Carole Fabrics' Birch Paper in the color "Parchment." The fabric was color-matched with the wall to help make the room feel bright and airy. We aligned the banding with the headers of the woven wood shades to create a seamless line across both windows.
We then added Lumiere glass beaded crystal fringe from Samuel & Sons to add subtle yet elegant visual interest. The trim complements the euro-pleat to add sophistication to the room.
Finally, we used our client's existing drapery panels for the bottom of the color-blocked drapery panels. The golden tone of the material creates a stunning backdrop whether the homeowner is reading or lounging. And the color perfectly frames the furnishings in the library.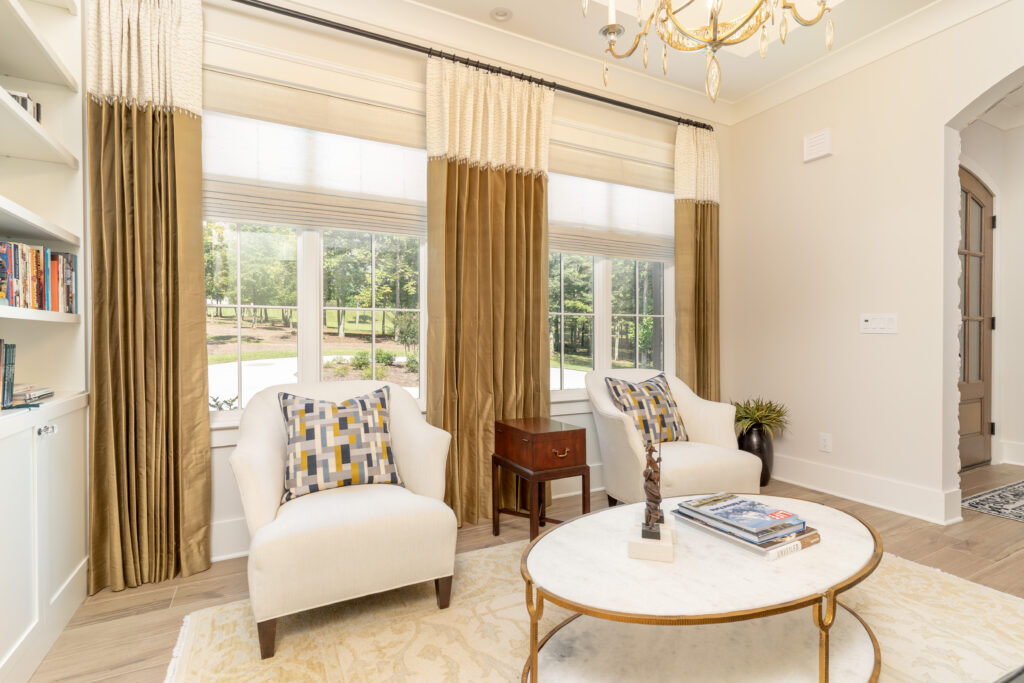 Are you ready to improve your client's home's curb appeal?
If you're looking for a solution to increase a client's home's curb appeal while elevating your interior design, the High Country Drapery Design team can help. We can design matching window coverings for each room or help create a uniform look with different products. Schedule a complimentary consultation today to get started!