Color-Block Drapery Panels: Add Drama & Color Without Pattern
May 16, 2022
Custom draperies are like adding the perfect pair of statement earrings to your outfit. By installing draperies, you complete the interior design of your room and give the space extra style. When selecting fabric for your drapery panels, we love playing with pattern. But sometimes, you may not want to use a print because it will overwhelm the room. Or you may not choose a pattern because you're unsure whether you will still like it after several years. If you don't want to commit to a print but still want drama or color, color-block drapery panels are the way to go.
The softness and elegance of the draperies are offset by the rigid structure of clean lines and defined shapes. This gives your window coverings a powerful, flawless look that emphasizes certain lines and architectural elements, like your window frame or decorative molding.
Keep reading to learn more about the color-blocking trend.
What is color blocking?
Color blocking uses blocks or panels of different colors (often bright or bold) to create a contrasting look. Like many of our favorite interior design trends (like bouclé), this one started on the fashion runways before making its way into our homes.
When using color blocking on draperies, choose two solid fabrics. We'll use one of the selections at the bottom and/or top of your drapery panel to create a single, bold look. You can choose similar shades for a subtle look, but we particularly love creating color block panels with contrasting colors.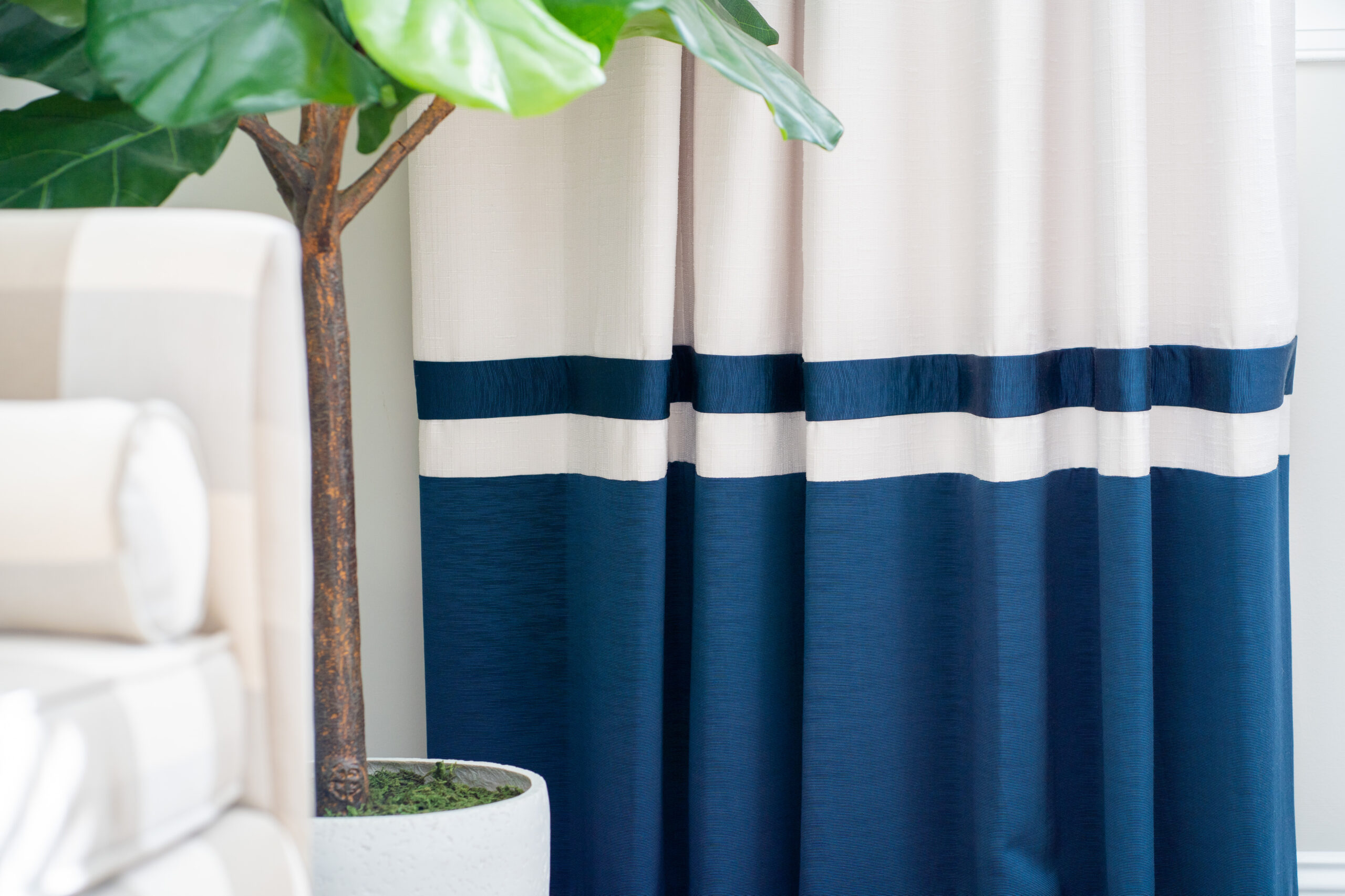 Here's why you'll love color block drapery in your home
Color block drapery panels are great if you want a window covering that's more visually interesting than a solid but don't want to select a patterned fabric. Patterns and prints have been ruling the drapery market for a long time, and color blocking is a welcome reprieve that still adds a dramatic effect to your windows.
When designing color block drapery panels, we typically use sections with a ratio of 1:3 or 1:5 to maintain a sense of balance between the two materials. This allows us to create a gorgeous, unique covering that will make a lasting impression on anyone who visits your home.
To create a cohesive look, we typically try to line up the color block with an architectural detail in the room, such as your wainscoting or window sill. The carefully chosen ratio and alignment create lines that lead the eye up, down, and all around the room to draw attention to your perfectly designed space.
Color-block draperies look fantastic no matter where you use them. They are eye-catching whether you choose bold, complementary colors or a subtle tone-on-tone look. They can offset a monochromatic design, add a punch of color to an otherwise neutral room, or tie a room's color scheme together.
Want to see how color-block drapery can tie a color scheme together? Check out this stunning navy and mustard yellow guest bedroom in Red Bank, Tennessee.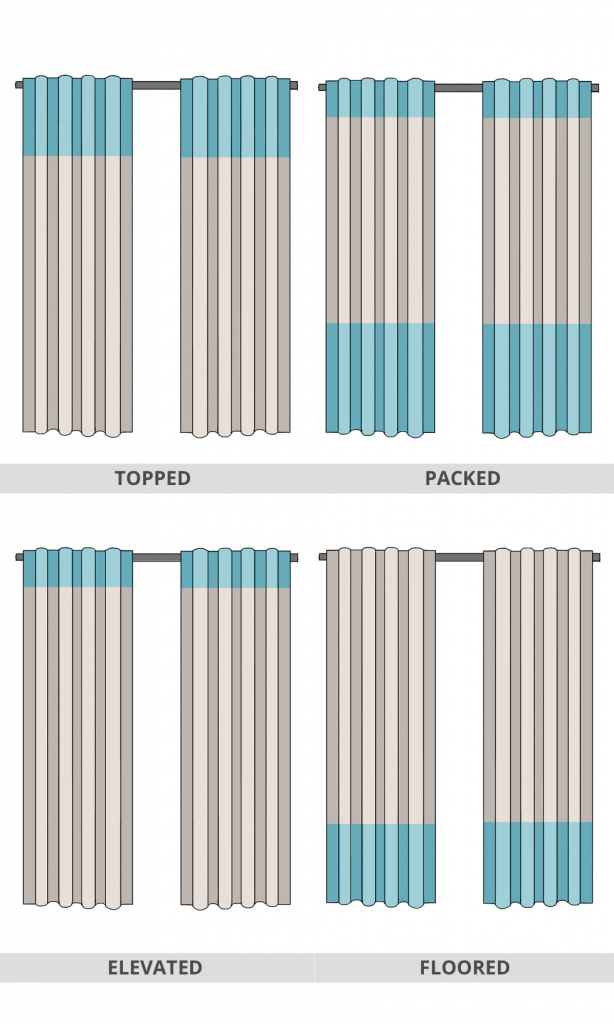 Color blocking styles for your drapery panels
There are a few different ways to design color-block drapery panels. But some of our favorite include: floored, topped, packed, and elevated.
When you choose High Country Drapery Designs for your window coverings, we'll help you pick the perfect option for your home. For now, though, let's explore each of these styles a bit more closely.
Floored color-block drapery
If you prefer floored color-block draperies, we'll add a band of color at the bottom of each panel. We will typically use a 1:3 ratio and align the color block with the top of your wainscoting or your window sill. Choosing a darker fabric for the bottom band will add a touch of unexpected detail. It will also anchor the room, which is particularly significant if you have tall ceilings and want to bring the eye down.
Topped color-block drapery panels
Topped color-block drapery panels are the opposite of a floored style. The band of color is sewn at the top of the drapery panel, usually with a 1:3 ratio. We will typically align the color block with the top of your window. Choosing a topped color-block style will move the eyes upward and make your ceilings and windows appear taller.
Selecting a lighter color for the top can add a casual feeling to an otherwise formal space. By choosing a lightweight fabric for the band, you can allow more sunlight to stream through the top of your window, creating an ethereal feel when your draperies are closed.
Read also: Light-Filtering vs. Room-Darkening Window Coverings
Elevated color-block drapery
Elevated color-block draperies are similar to the topped option but with a smaller band of color at the top. It often has a 1:5 ratio and lines up with your crown molding. That hint of color at the top will make your ceilings appear higher because it'll draw the eye upward.
Packed color-block drapery panels
Packed color-block drapery panels combine the floored style with elevated draperies. We'll add a small band of fabric to the top of your window coverings that lines up with your crown molding and a thicker band of color to the bottom to align with your window sill. Packed color-block draperies have the benefit of both anchoring your space and making your ceilings appear higher.
Are you ready to try the color-blocking trend in your home in Chattanooga, Nashville, or Atlanta? High Country's team of design experts would love to work with you. We will consider your room's entire design and color scheme when helping you select fabrics, color-block style, and header type to create the perfect look for you. Schedule your FREE design consultation today!