Project Reveal: Stunning Guest Bedrooms in Red Bank New Build
May 16, 2022
When the owner of this beautiful new build in Red Bank, Tennessee moved in, she asked us to design window coverings throughout the house. She already had blinds installed, so she wanted us to create draperies for her living room, dining room, master bedroom, two guest bedrooms, and office. Today, we're sharing the guest bedrooms.
When designing each room, our client used a lot of neutrals, including creams, whites, blacks, and browns. She included pops of green in her back guest room and pops of navy blue in the front guest bedroom. The homeowner asked us to use solids or patterns in neutral colors when choosing fabrics for her new draperies.
Before we share the full details of these rooms, we wanted to tell you about two elements the drapery in each space had in common: they were stationary and used a french pleat.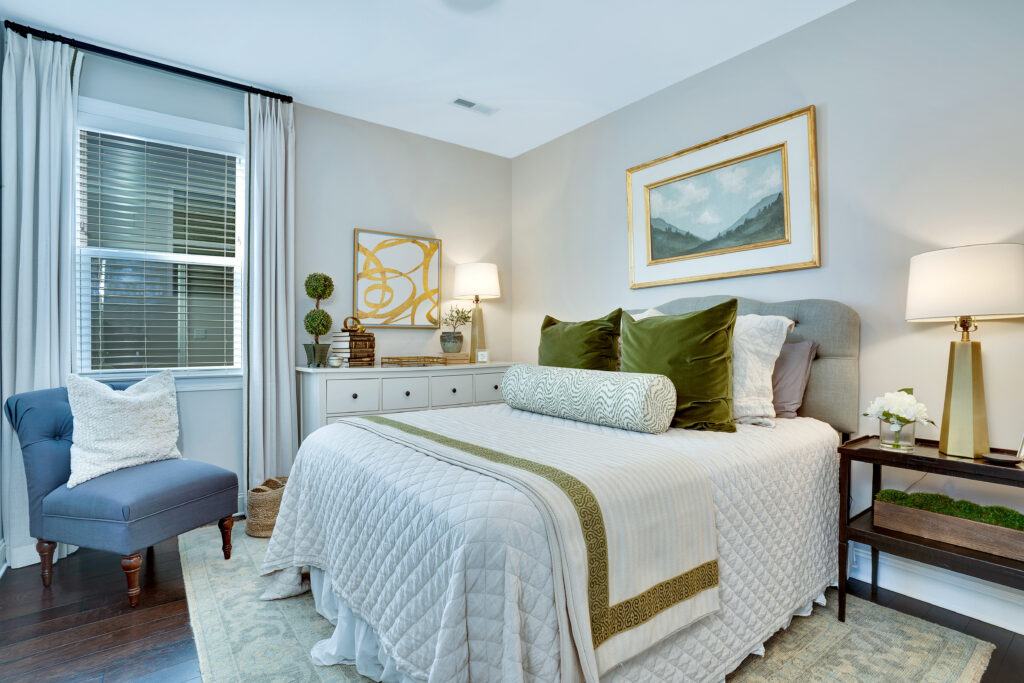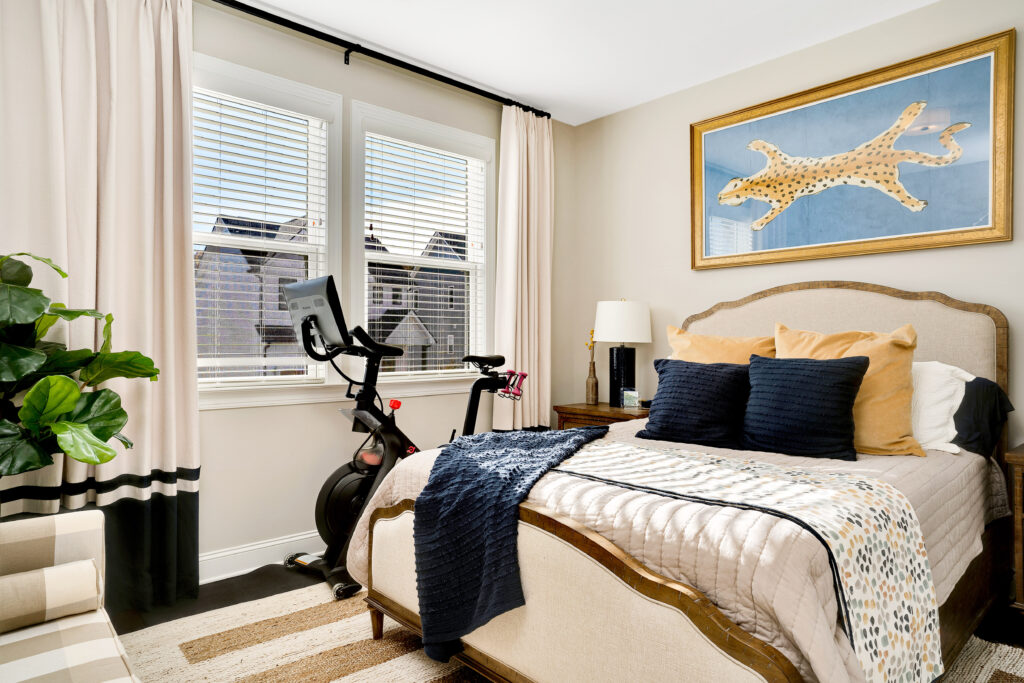 Why install stationary drapery panels?
Since this home already had blinds installed, our client was not worried about privacy or light control. Because of that, stationary drapery panels were a great option. Stationary draperies are not always the right choice, so let's look at why they might work for your Chattanooga area home.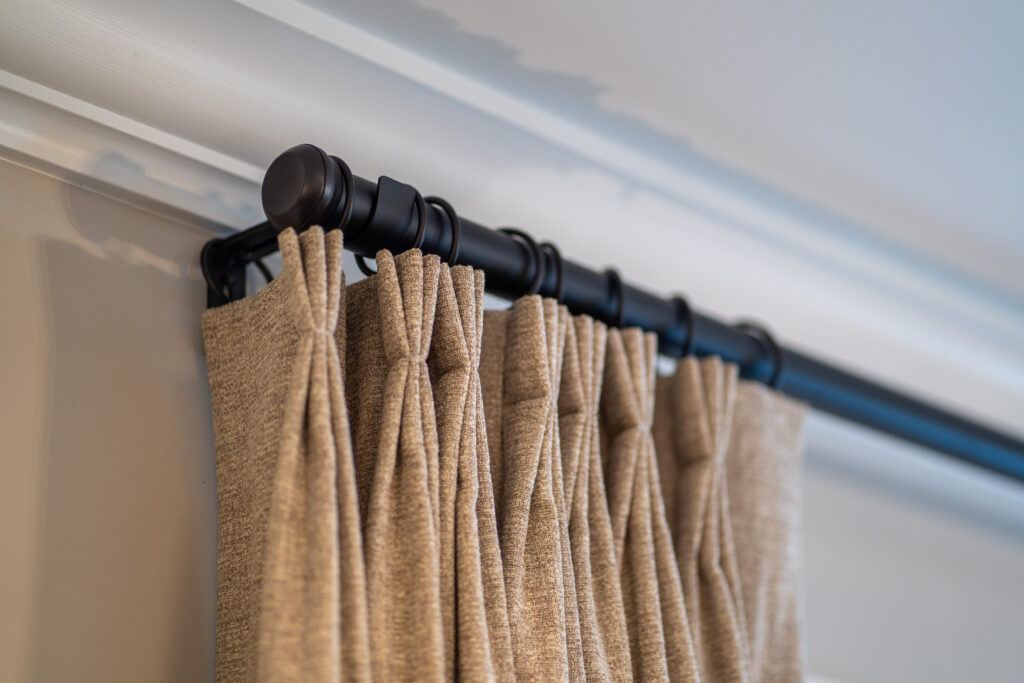 Stationary drapery panels are not operable, meaning they cannot be opened or closed. They are fixed side panels that flank each side of your window and are primarily decorative. These panels look rich and substantial, elevating your decor and creating pleasing visual illusions within your home.
Read also: Window Treatment Operating Systems: Manual, Cordless, and Motorized
One of the primary reasons we love layering shades or blinds with stationary draperies is because it makes your windows appear bigger. We hang your drapery panels wider than the window, which adds to the effect. If you have narrower windows, stationary draperies create the illusion of wider windows. But if your windows are already large, they make your windows the true focal point of the wall. The draperies also frame your windows so you can better enjoy your beautiful mountain views.
French pleats give your home a classic, elegant look
We chose a three-finger French pleat, also called a pinch pleat, in this Red Bank home. It's a classic, timeless header style where the folds are equally spaced. Each pleat is pinched at the center, forming fans above and below the pinch.
We love using the french pleat because we can control the drapery panel's fullness based on how much fabric is used. If there is not a lot of wall space on each side of a window, we will use less material to limit the stack back. Stack back is the amount of space the drapery panel takes when opened. Each of the rooms in this Red Bank home had a different amount of wall space available. We adjusted the fullness while using the same pleating style throughout the house.
Read also: 5 Popular Drapery Pleating Styles in Chattanooga, TN
A neutral guest bedroom with touches of green
The back guest bedroom of the Red Bank home is so relaxing. It features a neutral palette with touches of gold and green. If you regularly read our blog, you already know that green is a huge color trend in 2022. It's a timeless color that pairs well with natural elements, as you can see with the greenery used in this room.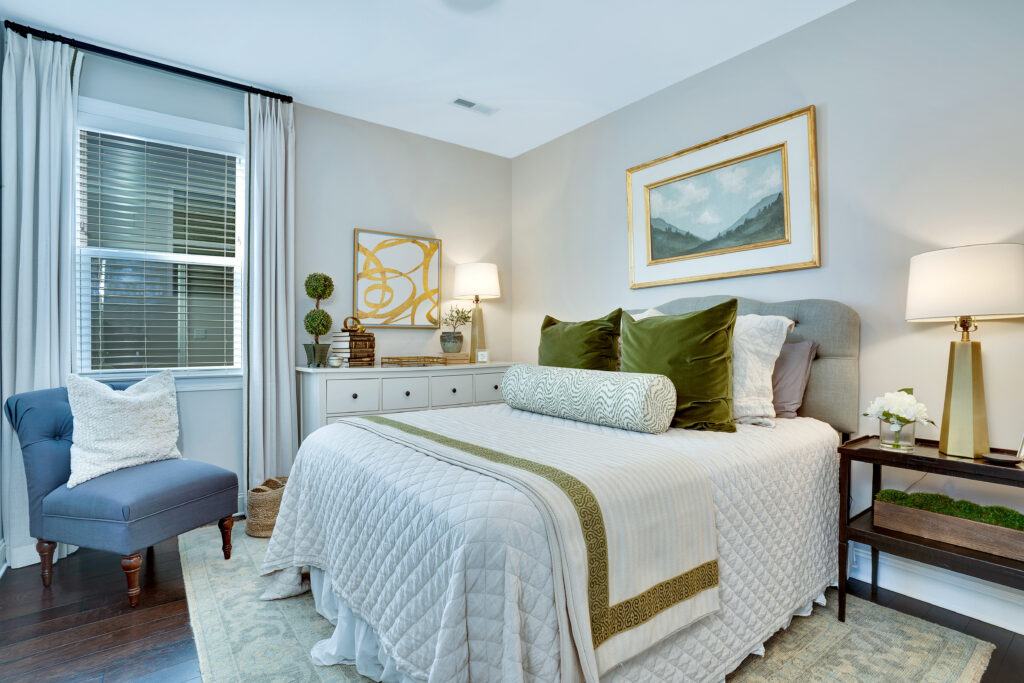 The homeowner wanted to keep the focus of this bedroom on the bedding. And who could blame her? The Euro pillows and bolster pillow are gorgeous and inviting. Our client asked us to design a bed scarf to bring the green from the pillows to the foot of the bed. The primary fabric used on the bed scarf is Citiscape in "Linen" from one of our favorite fabric sources, Carole Fabrics. We then added a three-inch Espadrille woven border from Samuel and Sons in "Oliva" to add a hint of green.
The sole window in this guest bedroom is somewhat narrow, with a small amount of wall space to one side. The stationary drapery panels give the illusion of a wider window, and we did not use extra fabric, which minimized the stack back. To keep the focus on the room's bedding, we chose a neutral fabric from Thibaut (Wembley in "Natural").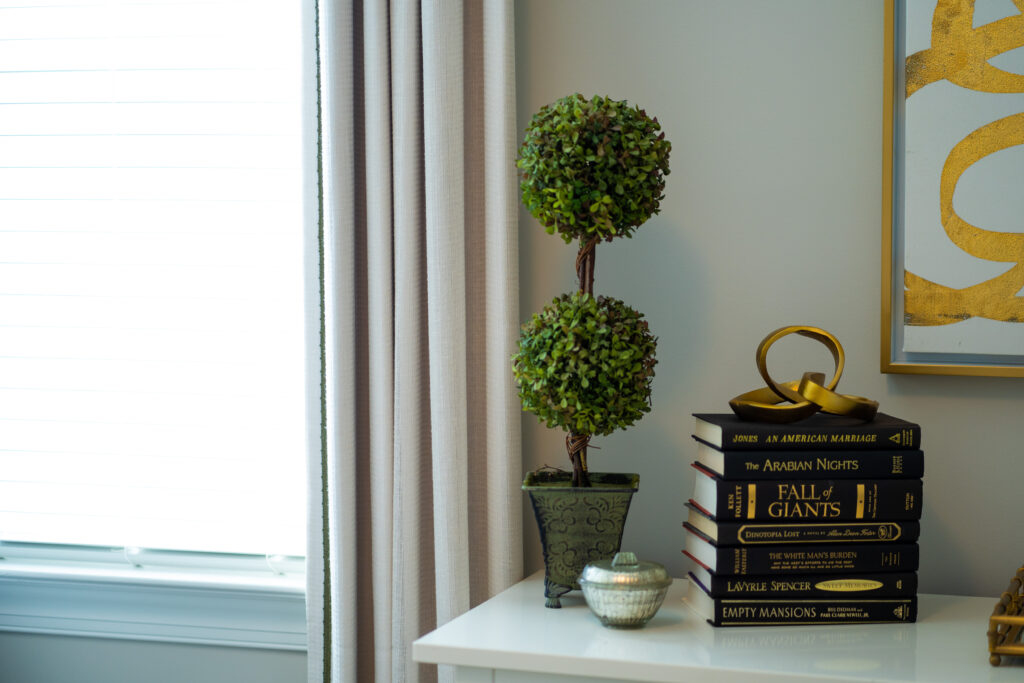 We still wanted to add a hint of green to the guest bedroom's draperies, so we added a leading edge. A leading edge is a vertical border on the inside of two drapery panels that gives your draperies a pop of color and texture. We selected Samuel and Son's Espadrille cord in the same color as the bed scarf trim ("Oliva") to tie the draperies into the bedding.
Read also: Everything You Need to Know About Decorative Trim & Embellishments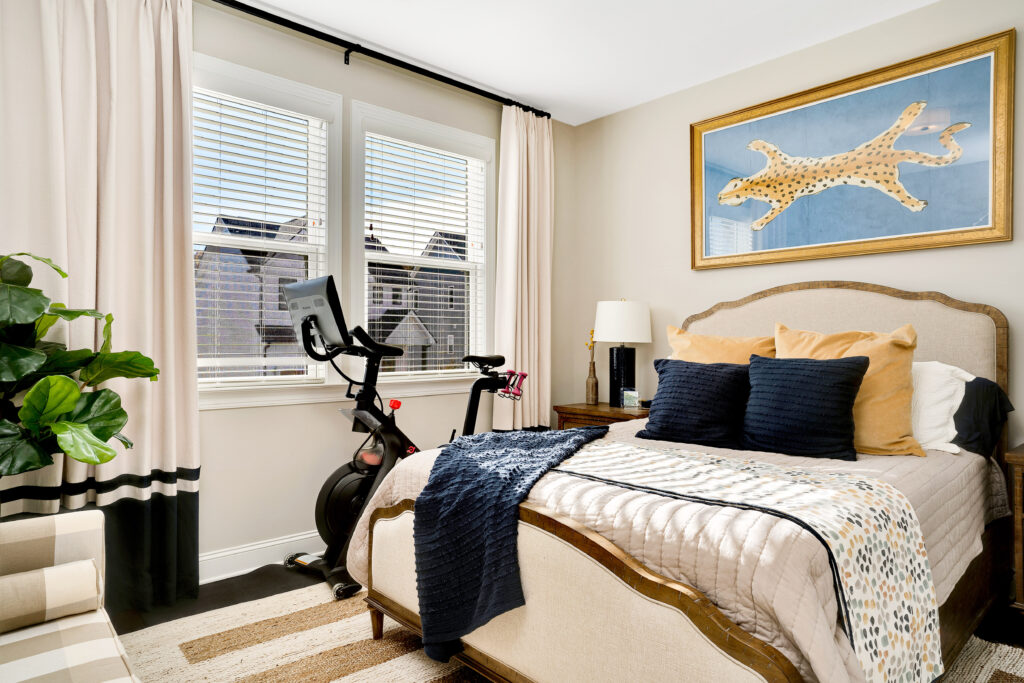 Color blocking adds interest to a neutral guest bedroom
The front guest bedroom has pops of navy and mustard yellow over a neutral backdrop. The colors play off the unique and delightful artwork hanging over the bed. And we wanted to incorporate the leopard's spots in our design. So we selected Carole Fabrics' Kicked Stones in "Canyon" for the bed scarf. We trimmed it in First Novel in "Navy" (also from Carole Fabrics) to give the bed scarf a finished, polished look.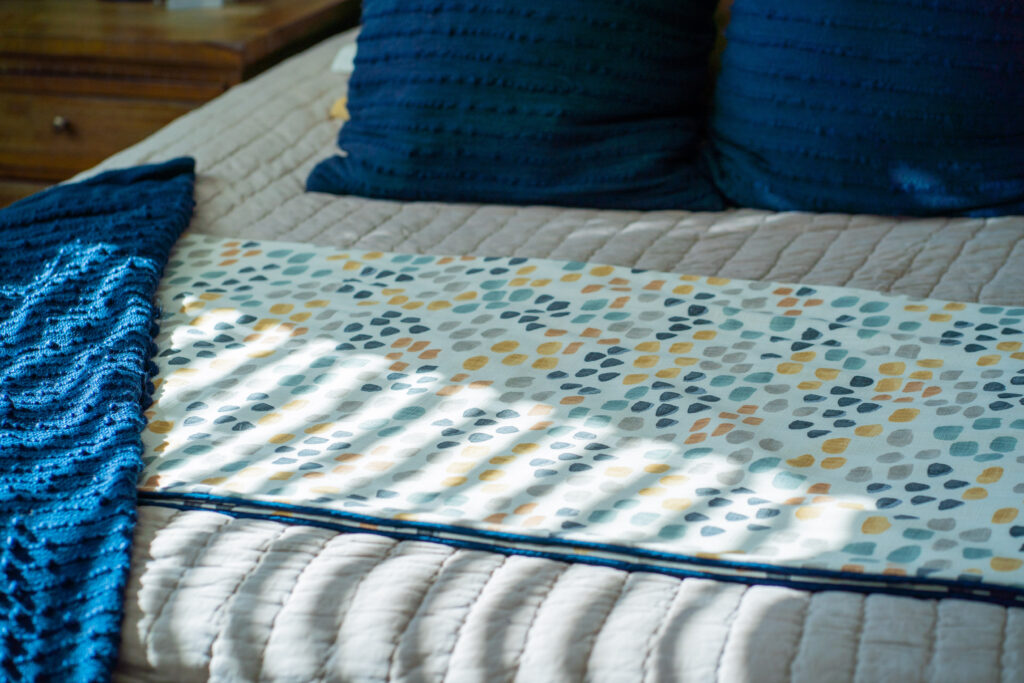 To focus on the bed and artwork, we designed subtle window coverings and color-matched the fabric to the wall color, Sherwin Williams' Agreeable Gray. We ultimately decided on Plush Textures in "Parchment" from Carole Fabrics and used one-and-a-half times the material to give the drapery panels a fuller look.
We wanted to add visual interest to the draperies and a pop of navy. But we did not want to use another pattern or overwhelm the space by repeating the pattern from the bed scarf. So we designed color-blocked panels using First Novel in "Navy." Color blocking uses a band of color at the bottom or top of a neutral drapery panel to subtly help anchor the room. We designed floored draperies, which means the color is added to the bottom of the drapery panel. It makes the draperies more visually appealing without drawing attention away from the bedding or artwork in the room. We love the final result and hope you do, too!
Are you moving into a new build? We'd love to work with you to design window coverings and create the home of your dreams. Schedule a complimentary consultation today to get started!