Top Color Trends for 2022: Green is the New Blue
May 16, 2022
At the end of each year, paint companies reveal their Color of the Year, which is often inspired by pop culture, fashion, tech, and designs from around the world. Like every year, we were excited to learn about color trends from top paint companies, like Sherwin-Williams, Behr, Benjamin Moore, PPG, and more.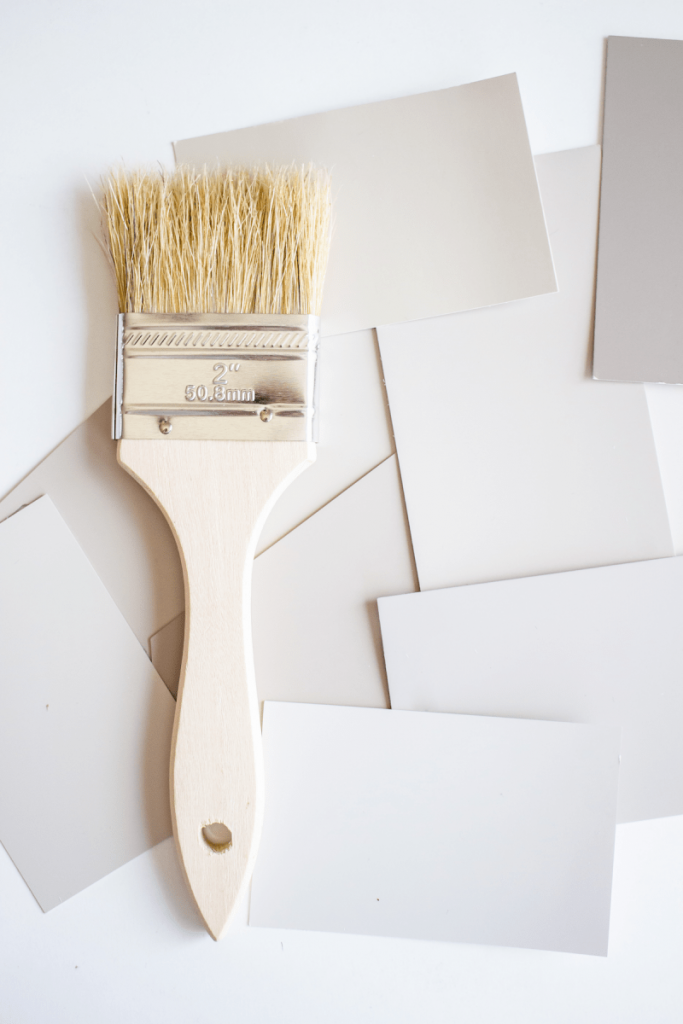 The color trends for 2022 reflect what we imagine life will look like post-pandemic. The hues are optimistic and point to our craving for new beginnings. They're full of deep, vibrant tones but also include soothing, familiar shades.
As we started looking into 2022 color trends, we noticed quite a bit of biomimicry, which is when design resembles elements found in nature. This points toward the continuing biophilia trend. Just as a reminder, biophilia is our need to connect with nature and our tendency to use natural elements in interior design.
Ready to learn more about the 2022 color trends? Keep reading!

Green is the new blue
We saw different shades of green throughout High Point Market this year, so we were not entirely surprised to learn that a version of green is the 2022 Color of the Year for many major paint companies. These muted shades of green are timeless and pair well with natural elements and neutral tones.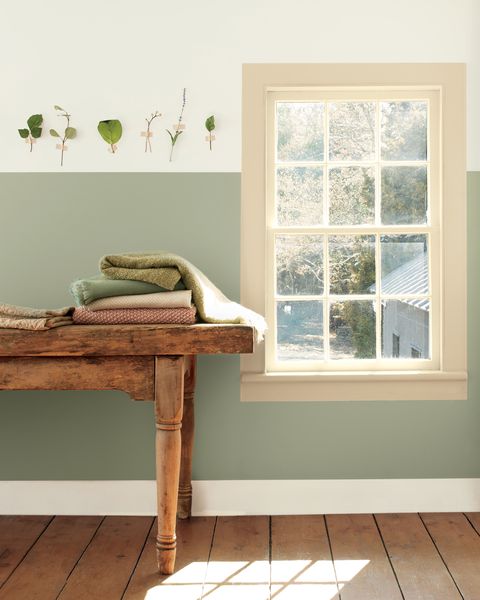 Benjamin Moore
Benjamin Moore's 2022 Color of the Year is October Mist, a calming and harmonious sage hue. October Mist evokes the silver-green color of a flower stem, which creates the perfect canvas for other colors.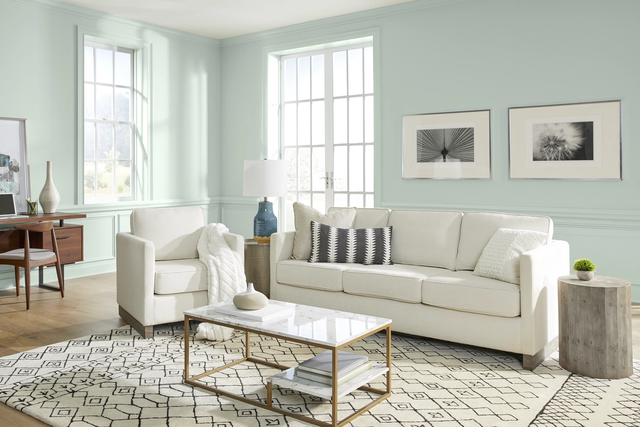 Behr
The Behr 2022 Color of the Year is Breezeway, a silvery-green hue that draws inspiration from earth's beauty. Breezeway mimics the naturally stunning sea glass you might find on salty beaches. That biomimicry makes it feel peaceful while helping us welcome a sense of renewal, restoration, and healing as we move forward in a post-pandemic world.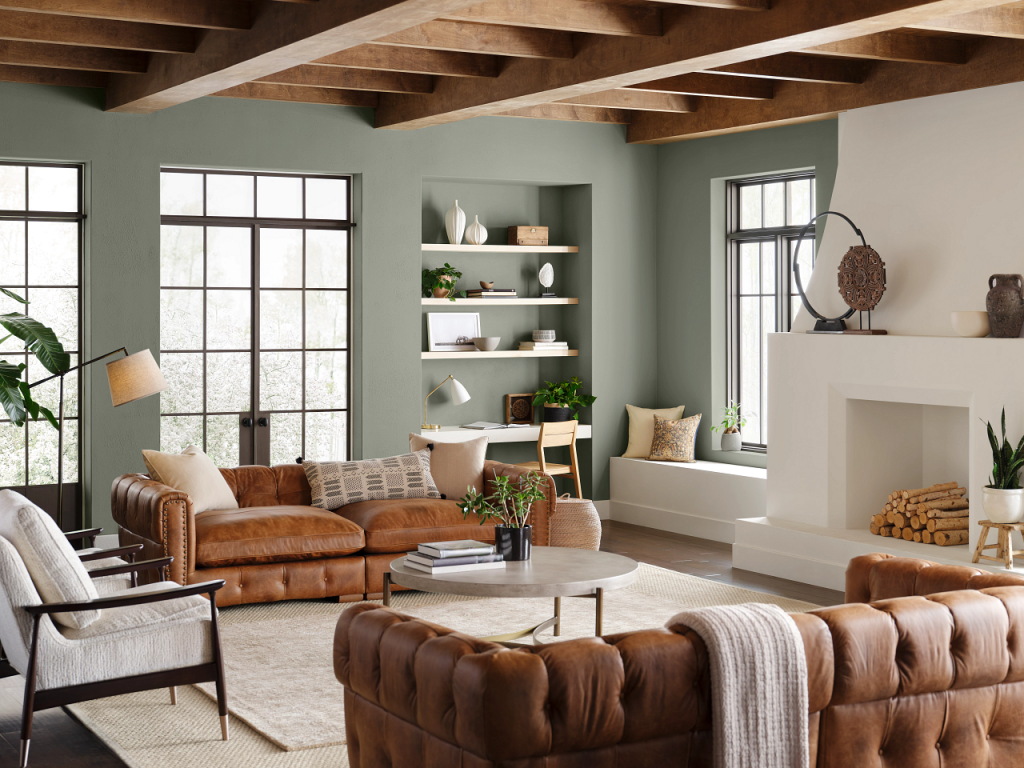 Sherwin-Williams
Sherwin-Williams chose a nourishing, sophisticated gray-green color called Evergreen Fog for their 2022 Color of the Year. The color is familiar and comfortable to create a reassuring backdrop that can freshen up your Chattanooga area home. It adds more depth and texture to your space when paired with natural textiles. And it looks equally stunning coupled with metals, like champagne gold or warm brass, for a more luxurious look. No matter how you style Evergreen Fog, the color will inspire you to begin again.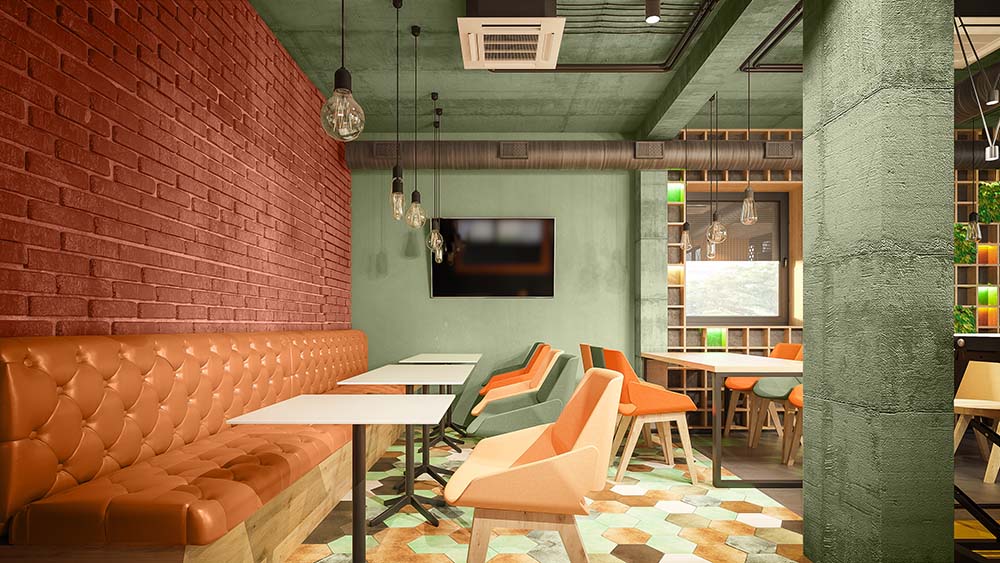 PPG
PPG chose a green-gray shade called Olive Sprig for their 2022 Color of the Year. It's a relaxed and natural hue that can create a soothing look in your Chattanooga home, especially when paired with other natural elements like raw wood or natural plant fibers (consider complementing it with our woven wood shades).
Green isn't the only color you can expect to see in 2022, though. Each paint company also put together a color palette (or a few palettes) to showcase upcoming color trends.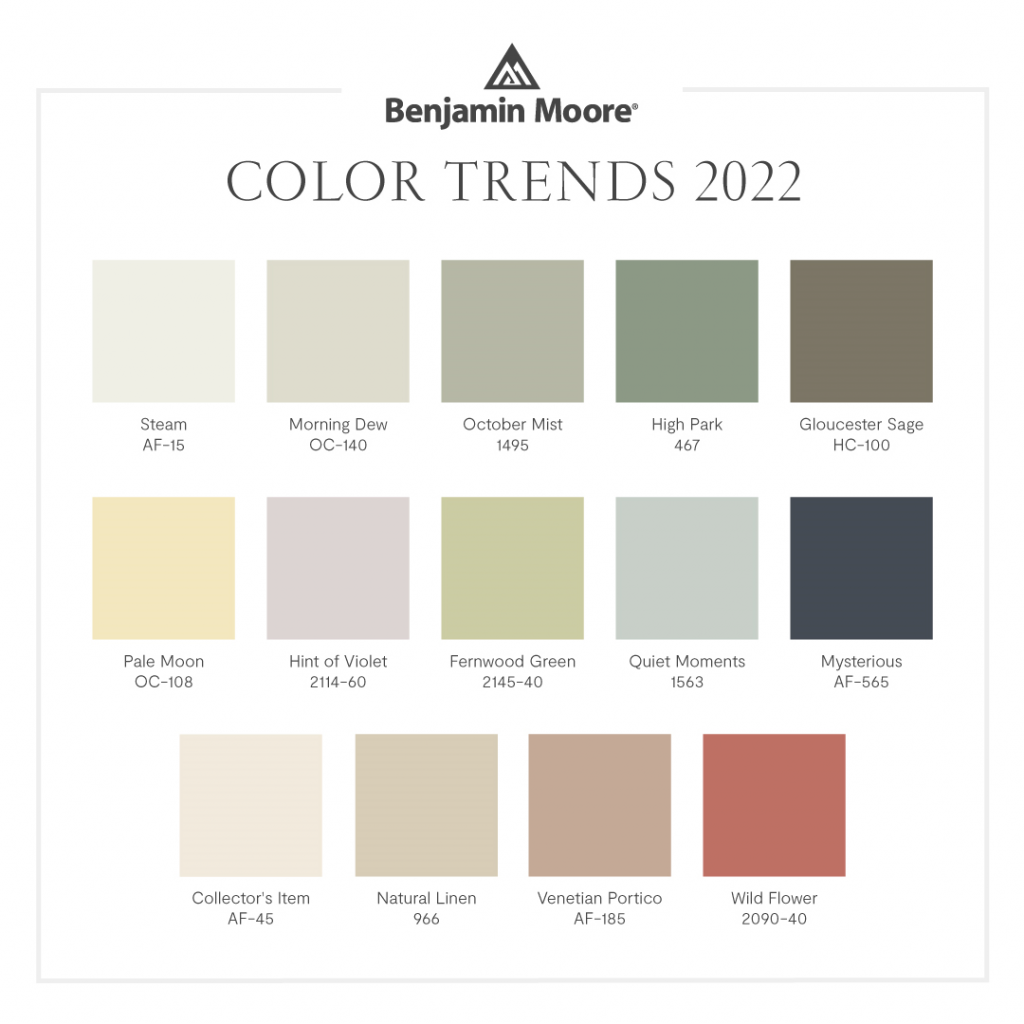 Benjamin Moore 2022 Color Palette
Benjamin Moore created a diverse but harmonious palette of 14 different shades that range from primary colors to natural hues. The palette draws inspiration from everyday observations, hobbies, personal rituals, and cultural influences. You can combine the colors in endless ways to create a fresh new look that encourages experimentation.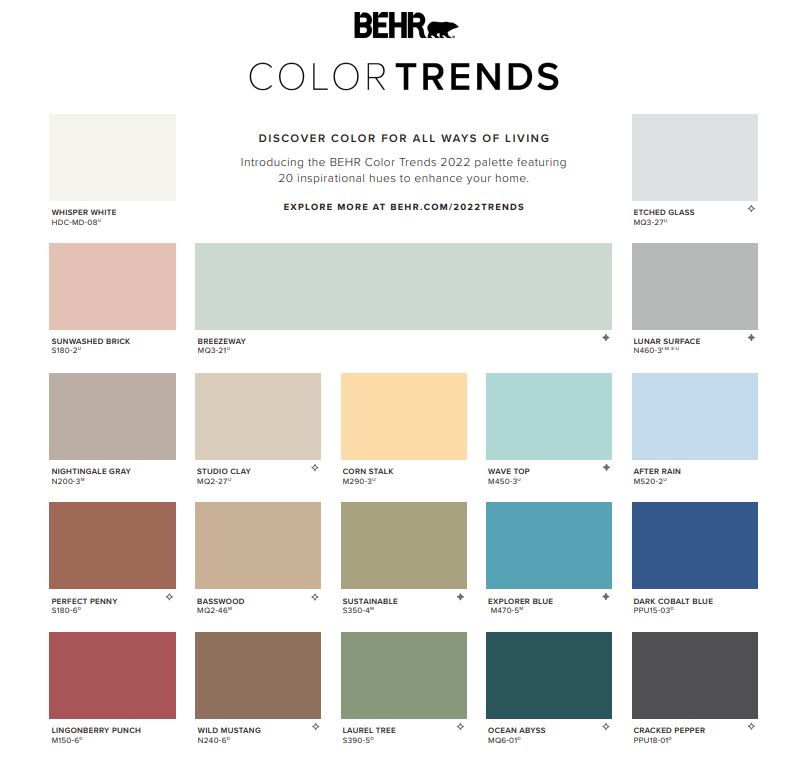 Behr 2022 Color Trends
This year, Behr put together a collection of 20 inspirational colors to enhance your home. The palette includes soothing shades and warmer tones. Behr hopes this grouping will inspire you to enter the new year on a hopeful note while still treating your home as the ultimate oasis.
Sherwin-Williams 2022 Color Forecast
Sherwin-Williams' color forecast, called MODE, includes 40 different shades across four curated palettes and embraces creativity, intention, and discovery. The company hopes that these colors will help you hold on to the stillness of the last year while embracing growth and adaptability.
Let's take a look at these four palettes.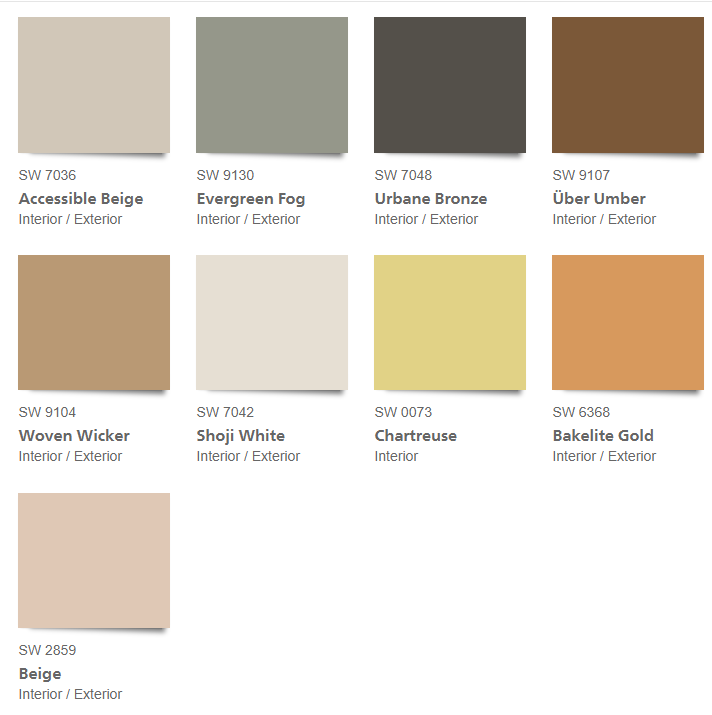 Method Palette
This collection celebrates natural order by balancing organic neutrals with tonal luxury. The palette was inspired by art deco styles, modern organics, and 1980s postmodernism. We love that it embraces yellow, which is another color we saw throughout High Point Market this year.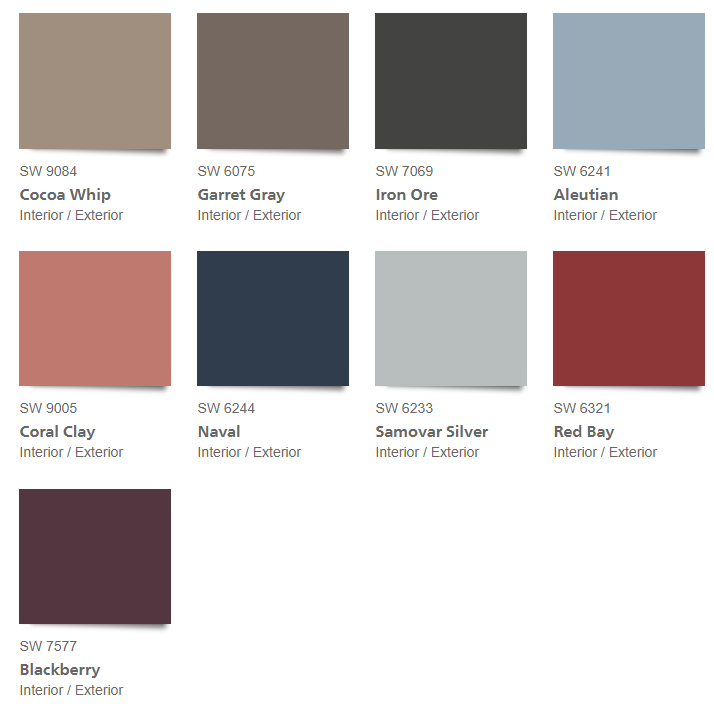 Opus Palette
The Opus Palette is a mysterious and grandiose collection grounded in modern maximalism. It takes its cues from dark luxury and bold metallics.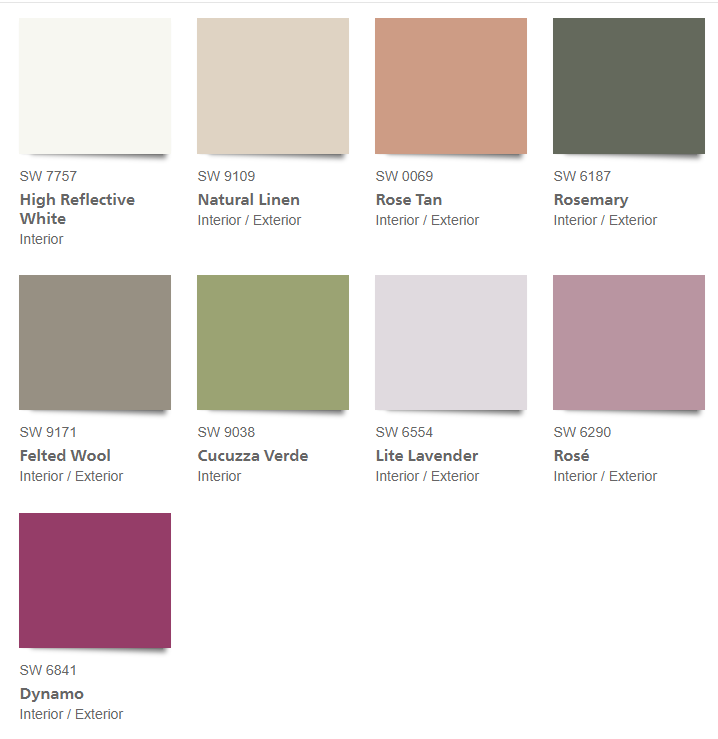 Dreamland Palette
Sherwin-Williams' third 2022 color palette is inspired by the fullness of living well and is influenced by biomimicry and sustainability. It includes berry tones and organic greens to highlight balance and the fresh sweetness of bud and bloom. The whole collection is fresh and life-giving.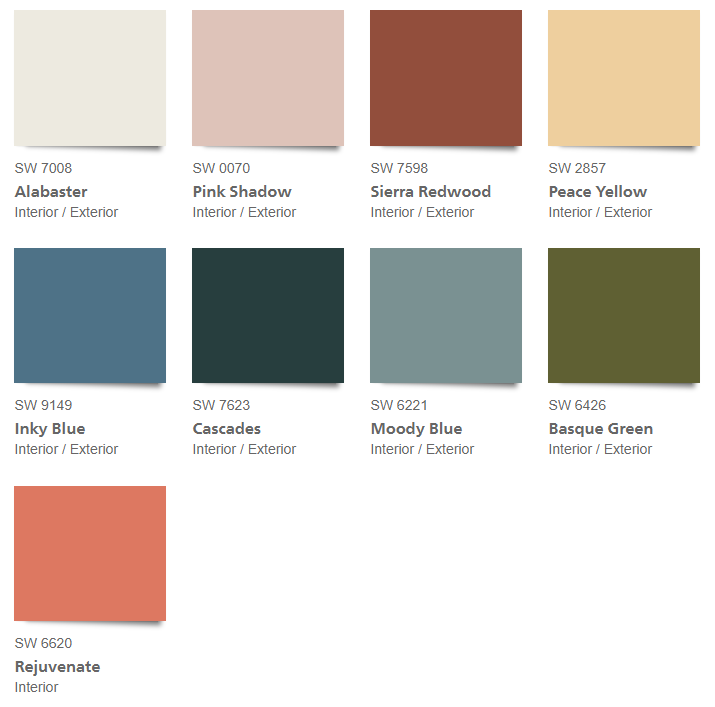 Ephemera Palette
The Ephemera Palette is nostalgic and offers unwavering optimism that encourages us to remember the past while looking toward the future.
PPG 2022 Color Trends
PPG created three color palettes that represent the current state of hope, reflection, and new beginnings.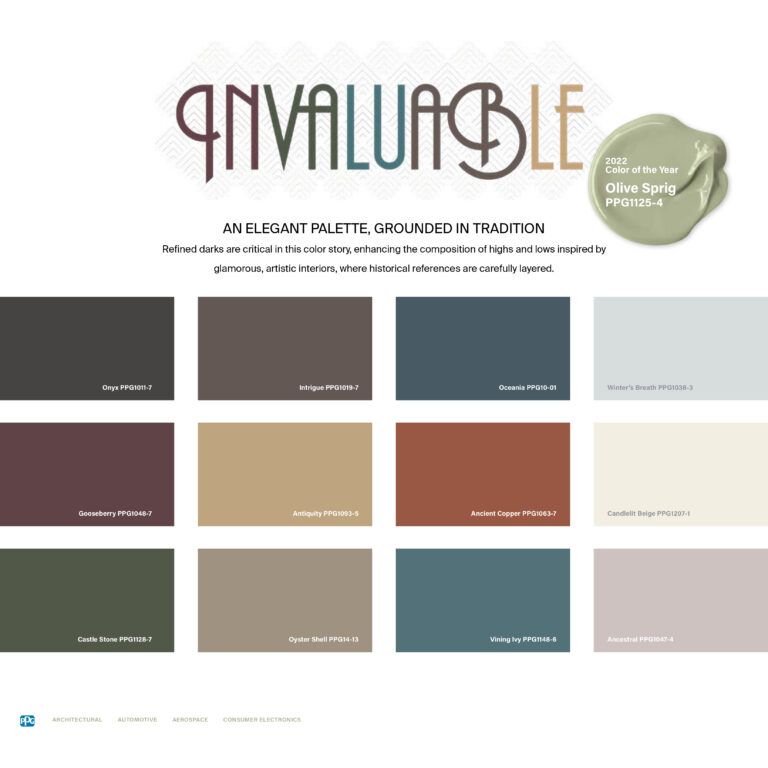 Invaluable Palette
This collection is a rich library that draws inspiration from Gatsby-esque styles and connects it to a modern, glamorous palette. It's not afraid to be bold, and we love that it fully embraces the ongoing neo-deco trend.
Read also: Neo-Deco: The Interior Design Trend Taking Us into the 2020s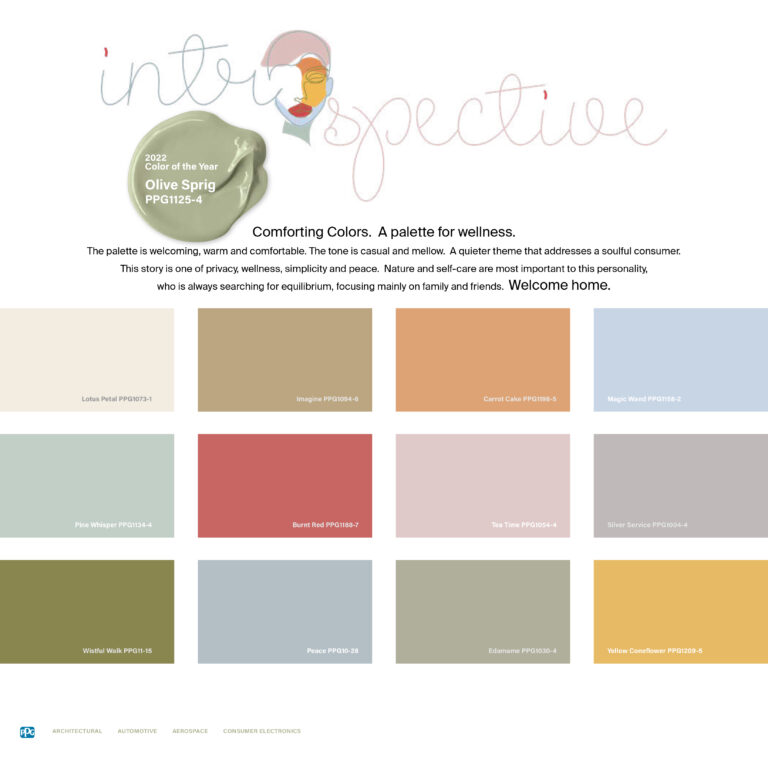 Introspective Palette
PPG's second 2022 color palette is for people who prioritize self-care and strive to appreciate life's simple pleasures. It's welcoming, warm, and comfortable, making it perfect for an elegant bedroom retreat or a meditative home office.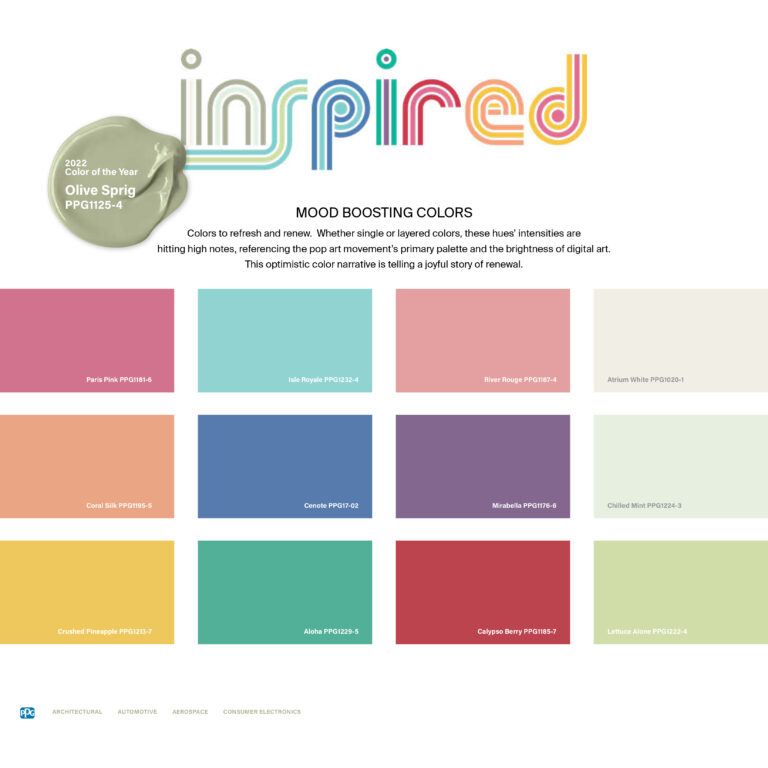 Inspired Palette
This collection is full of mood-boosting hues that add a jolt of energy to any space. These colors can help you refresh and renew your Chattanooga home.
Adding new custom window coverings or accent pillows is a fantastic way to incorporate these color trends into your home and update the look of your space. There's still space on our calendar for new projects in 2022, so schedule your complimentary consultation today!