Trend Alert: Everything You Need to Know About Bouclé Fabric
May 16, 2022
Good interior design turns your home into a safe haven that helps you instantly relax every time you step back inside. Because of that, we're seeing a revival of curvy furnishings upholstered in cozy, touchable fabrics, like bouclé. Bouclé was the star of the show at High Point Market this past fall, and it's about to take over your Chattanooga area home. Today, we wanted to answer any questions you might have about this luxurious material.
What is bouclé?
The term bouclé comes from the French word boucler meaning "curled" or "ringed." The material is known for being visually interesting and super soft.
Bouclé is a textured fabric woven or knitted from yarn of the same name. Boucle yarn is created when a weaver keeps tension on one strand while keeping the other strand untaught as they work. The loose strand forms new loops because the second stand acts as an anchor. The weaving process is intensive but results in a beautiful fabric with a nubby texture.
While bouclé is traditionally made from wool, it can also be created from other natural, sustainable materials, like silk, cotton, or linen.
Is bouclé a new material?
No, bouclé first became popular in the 1940s when designer Eero Saarinen used it in his iconic Womb chair. That led to the material being used in other midcentury modern furnishings because it softened up the aesthetic of style's clean, sleek lines. The fabric then moved to the fashion industry. Coco Chanel featured it prominently in her famous two-piece suits in the 1950s.
Since then, the trend has faded a bit. But bouclé is now making a noticeable comeback because it helps you create a warm, safe place within your home. It also evokes a warm, nostalgic feeling of 1970s interior design.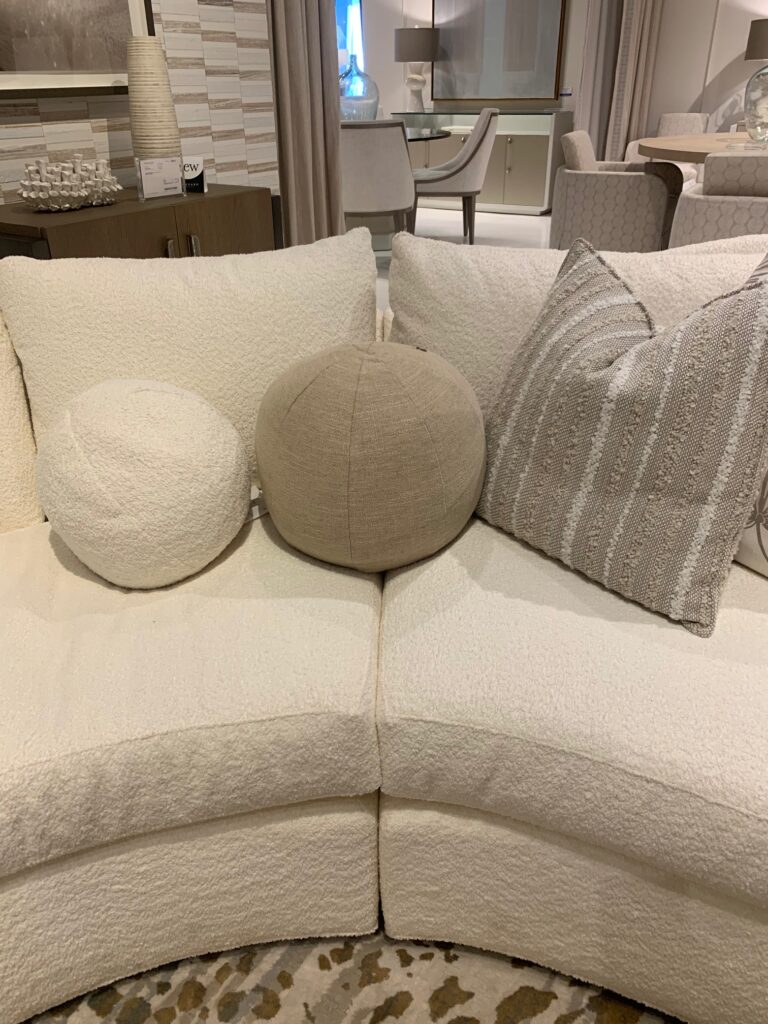 How can you use bouclé in your Chattanooga area home?
You can use bouclé on anything you want to look bespoke and feel luxurious. The material adds softness to sofas, throw blankets, accent pillows, and even drapery panels. Because of its texture, the fabric will turn your home into a warm, inviting, and comfortable haven for your whole family.
Soft seating
Bouclé is a wonderful fabric for upholstered furnishings, like sofas, chairs, and ottomans. It works particularly well with curvilinear-shaped furniture, as demonstrated by its heavy use in midcentury modern design. The fabric will soften the edges of any silhouette, making your furniture both warm and inviting.
We love pairing bouclé with raw wood, which was another trend we saw at High Point Market. The soft fabric softens up the harder elements and creates a visually interesting space.
Accent pillows
Throw pillows made from bouclé add an inviting layer of softness to beds and sofas. And they're the perfect choice if you want to embrace the bouclé trend without committing to a piece of upholstered furniture. A bouclé pillow will add just a hint of texture to your interior design.
Draperies
If you want to liven up your window coverings, bouclé might be the right fabric choice. The heaviness of the material does a fantastic job of filtering light streaming through your windows and offering some acoustic absorption. But it will also add a strong vertical line of texture and softness to your room.
Read also: Light-Filtering vs Room-Darkening Window Coverings
What is the texture of bouclé?
Bouclé is made of nubby ringlets and is known for being super soft. But you have many options when it comes to the final texture of the material. Some bouclé fabrics have very short loops to create a subtle effect, while others have bigger ringlets to achieve an almost Sherpa-like texture. When working with a designer to create a custom piece of upholstery, consider what kind of statement you want to make and choose the texture to match.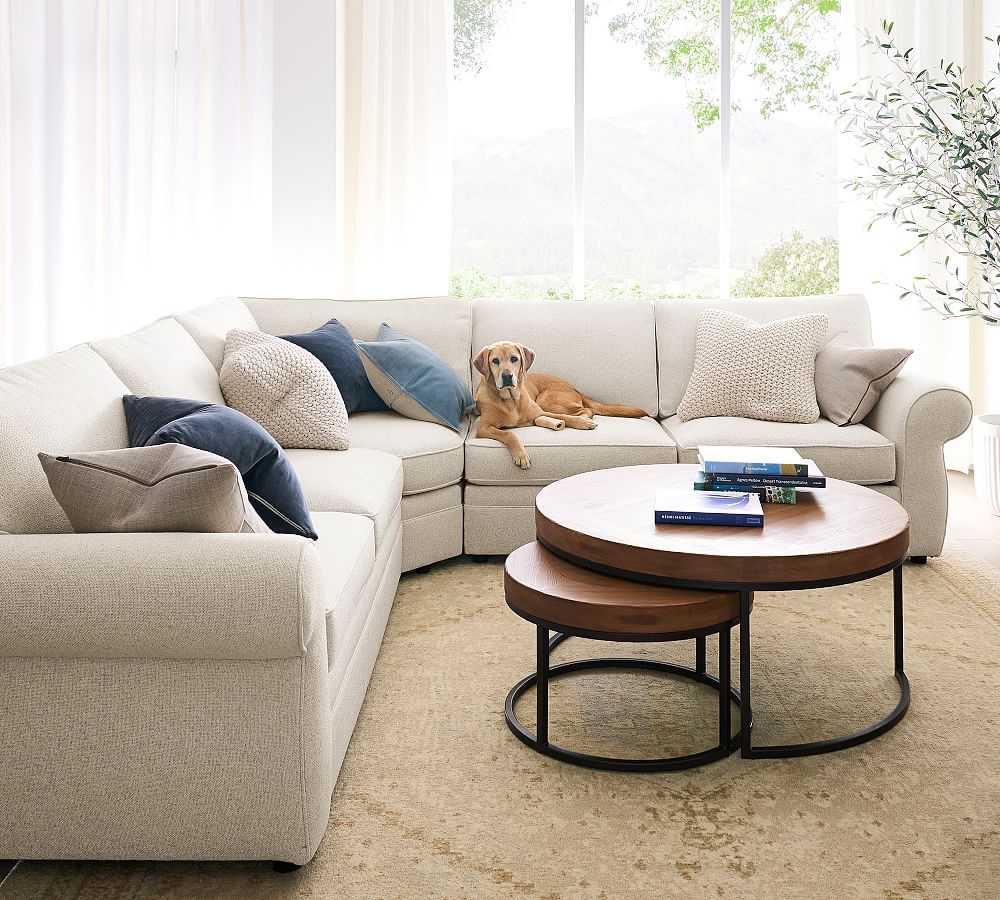 Is bouclé durable?
Yes, bouclé combines softness and durability. It can typically withstand regular use without showing huge signs of wear and tear. Because of that, we recommend using it in spaces of your Chattanooga area home where life happens — like on an upholstered stool in your kitchen or a cuddly chair in your living room. Depending on the texture you choose, though, it might not be pet friendly because bouclé has an affinity for catching pet hair within its loops.
Read also: Child and Pet-Friendly Fabric for Window Coverings and Soft Furnishings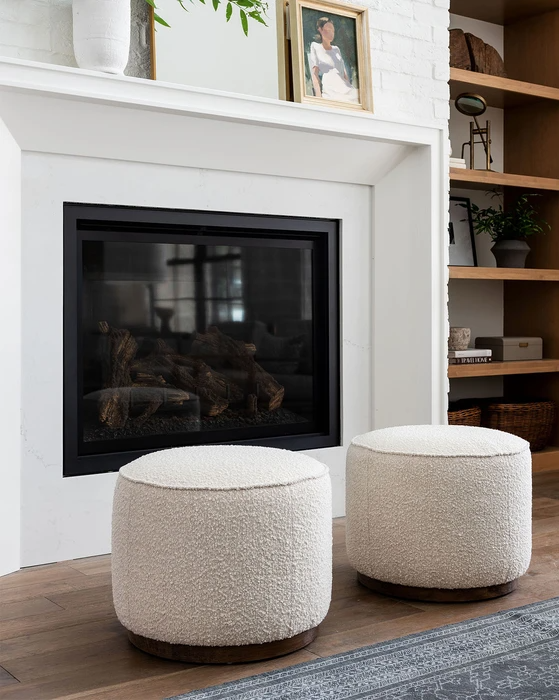 Will bouclé stay in style?
Bouclé will likely always be an on trend material to use as an accent fabric and add more texture to your interior. But right now, it's in vogue to use it as the primary fabric on furnishings or draperies. If you choose to use it as a primary material, we recommend choosing an option that is not too nubby so it will not look outdated in the future.
No matter where you use it, bouclé is typically used in creamy whites and light neutrals, making it perfect for any decor style. It will bring an additional layer of interest to a room without adding color.
Ready to add an extra touch of coziness to your home? We would love to design a project using bouclé for you. Schedule a complimentary consultation today!