What are the Best Window Coverings for Transitional Design?
Aug 22, 2022
Today, we're continuing our series on window treatments for various styles to help you create a cohesive design from beginning to end. One of the most popular styles in the southeast is transitional design because it always looks on-trend. Transitional celebrates natural light and a relaxed feeling by blending details to create warm but modern rooms. Keep reading to learn more.
What is transitional design style?
Transitional style combines two other popular styles: traditional and modern. And it's all about balance — masculine and feminine, angular and curved, classic decor and modern functionality. By designing a room that balances all these elements, you create a space that always feels contemporary and on-trend, even when filled with elegant, vintage furnishings. If your client wants a timeless, classic, and harmonious look, transitional style might be the perfect choice.
Transitional spaces tend to evoke a clean, serene atmosphere by using soothing, neutral color palettes, like creams and taupes paired with a splash of black or dark brown for depth. This means that the transitional aesthetic is ideal for rooms designed with relaxation in mind.
Furnishings in transitional spaces are sophisticated yet straightforward. You'll often find pieces with right angles and crisp lines sharing a space with furniture with more rounded profiles. Because of the mix of silhouettes, the overall style is often more contemporary than a traditional room but less bold than a modern style space.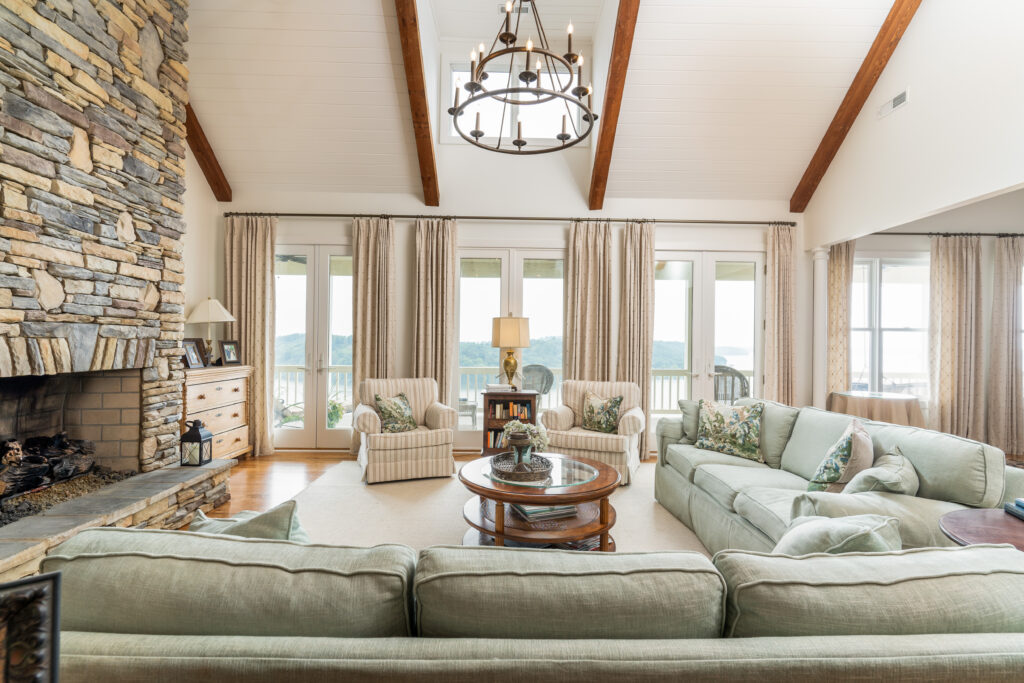 Transitional style at a glance
A few telltale characteristics of transitional style include:
neutral, tone-on-tone color palettes, including creams, taupes, and grays with a splash of black or dark brown
classic furniture that mixes simple lines with elegant curves
a beautiful mix of textures and fabrics like suede, chenille, and leather
understated decor with minimal accessories and wall art
materials like refurbished wood or exposed brick
simple focuses, like an accent wall
Mirrored, glass, and metallic finishings
textures and tones highlight contrast
What are the best window covering options for transitional style homes?
There's longevity in the transitional style, which means homeowners often don't mind investing in furnishings and window coverings. This means you can have a lot of fun with window treatments in your design and use them to add interesting texture to the room.
Let's look at a few of our favorite window covering products for a transitional style design.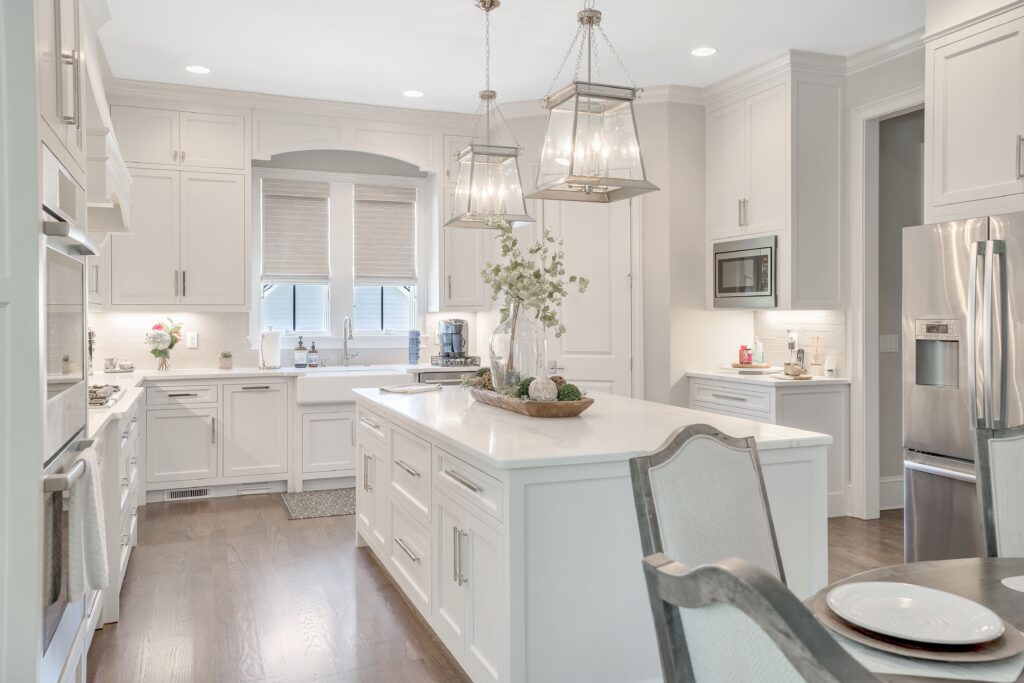 Woven wood shades
Woven wood shades are made from natural materials, including bamboo, grasses, rattan, reeds, and jute. These woods are woven, braided, or tied together to create the fabric for these beautiful window coverings.
Woven woods are fantastic for transitional style homes because they combine a soft, warm neutral color with textured wood materials. They offer an elegant simplicity and a lot of character, making them a great combination of traditional and modern styles. And the organic style offered can help make any home feel polished and comfortable. Because of the wide array of materials available, you can be sure to find the perfect hue to match your overall design.
Read also: Woven Wood Shades Add Texture & Warmth to Your Chattanooga Area Home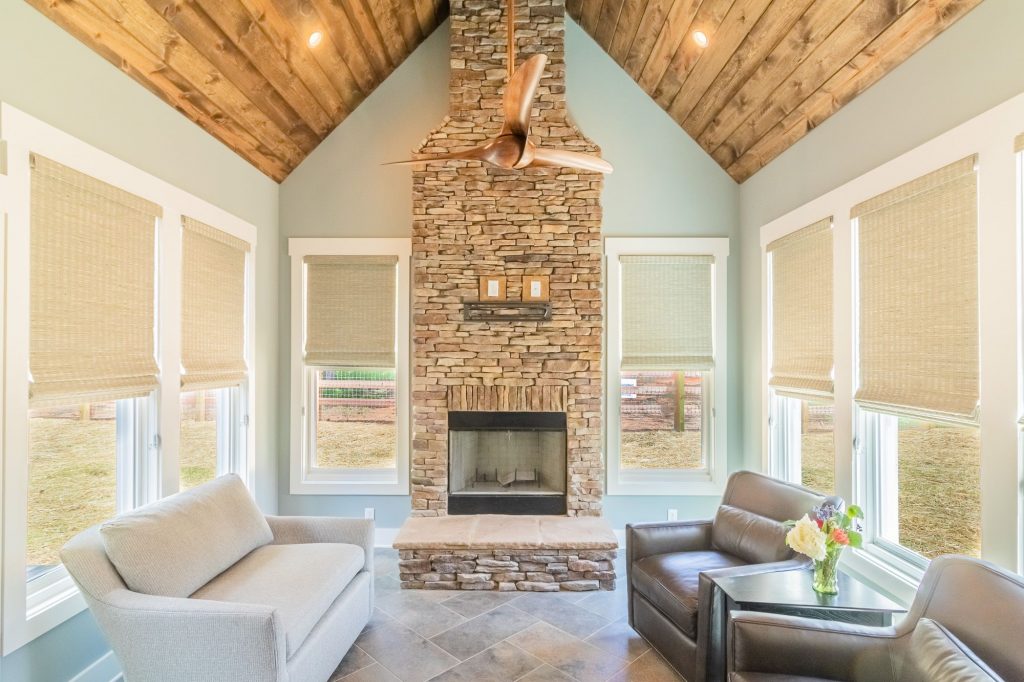 Vignette® Modern Roman Shades
The Vignette Modern Roman Shades from Hunter Douglas certainly lean toward the modern side. They work beautifully in a transitional style room when paired with more traditional furniture or accessories.
The Vignette shade is Hunter Douglas' modern take on a more traditional Roman shade. The gorgeous fabrics and soft folds give this window treatment a clean, tailored, and crips look that still manages to add warmth and depth to the space. The materials come in various textures, so you can find the perfect option to fit your vision and match your client's style.
One of the great benefits of the Vignette shade is that it's more energy-efficient than a traditional Roman shade. It creates an extra layer of insulation to keep your client's home cooler in the summer and warmer in the winter.
Read also: Hunter Douglas Vignette Shades: A Modern Take on the Traditional Roman Shade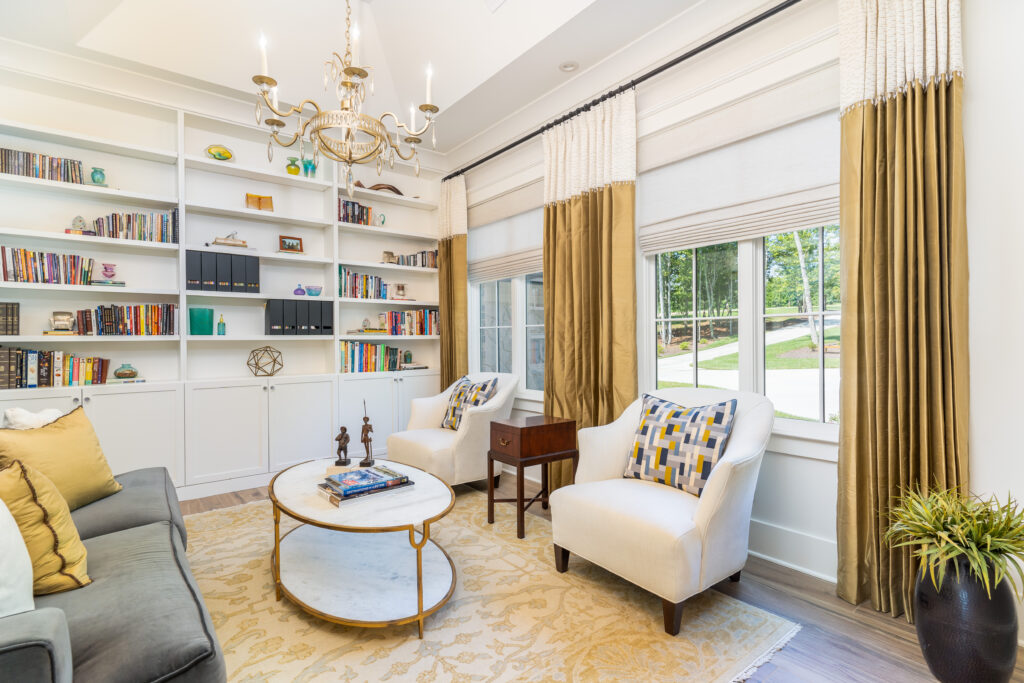 Layered window treatments
We'd be remiss if we did not include layered window coverings in our list of best window treatments for transitional style homes. When you layer window coverings, you have the opportunity to combine a traditional product (like patterned draperies) with a more modern option (like sleek roller shades). That makes a layered look the ultimate choice for transitional style because it perfectly balances traditional and modern styles and gives your clients the best of both worlds.
Read also: Everything You Need to Know about Layering Window Treatments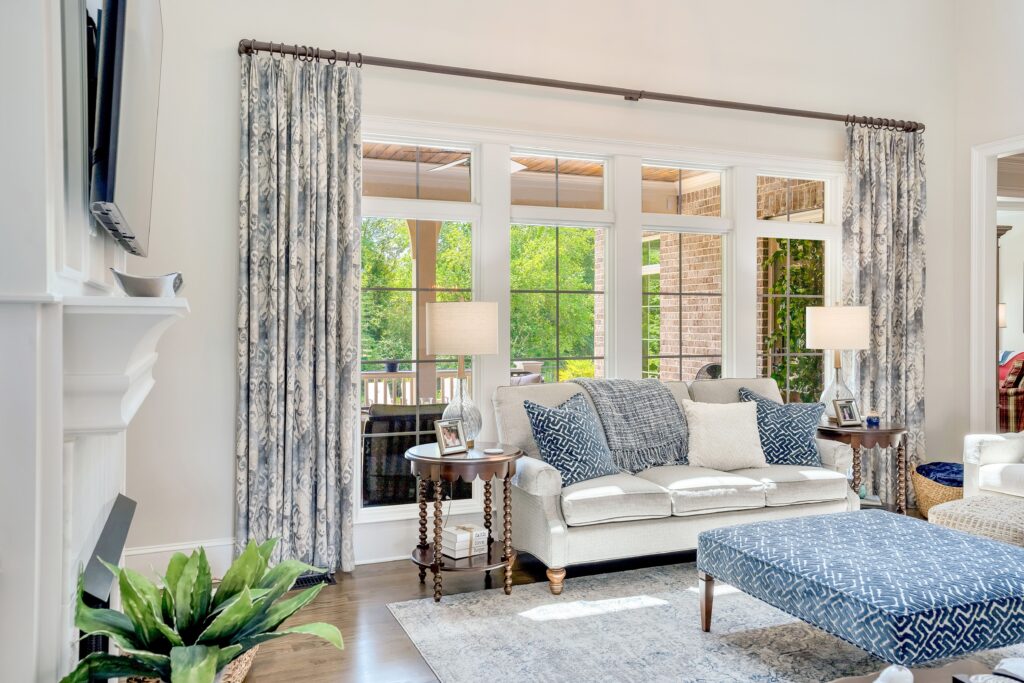 Let's partner together to design the perfect look for your clients
Our team has years of experience and an understanding of many different design styles and up-and-coming trends. We can work with you to select the right products to execute your vision. Or, we can help you create a layered look that seamlessly blends traditional and modern window coverings into a transitional design.
Schedule a complimentary consultation today to get started on your next project!