7 Outdoor Living Trends We're Loving This Fall
May 16, 2022
Outdoor design has never been better, which is great news since staying in is the new going out. Up until now, beautiful design details have been mostly saved for indoors. But now, you can incorporate your favorite design ideas in your outdoor living spaces and create areas that are extensions of your interior living spaces.
This fall's outdoor living trends allow you to transform your backyard, porch, or patio into stylish and well-designed spaces that are perfect for the experiences you crave. Keep reading to learn more about the seven outdoor living trends we're loving right now.
1. Natural materials & elements
Creating an outdoor space that embraces natural elements is about more than simply relying on being outside. Instead, you can be purposeful about incorporating natural materials by introducing a trellis fence, decorative plants, or natural wood in your deck flooring. By embracing nature, you'll add more dimension and create a seamless transition from your indoor living spaces to your backyard.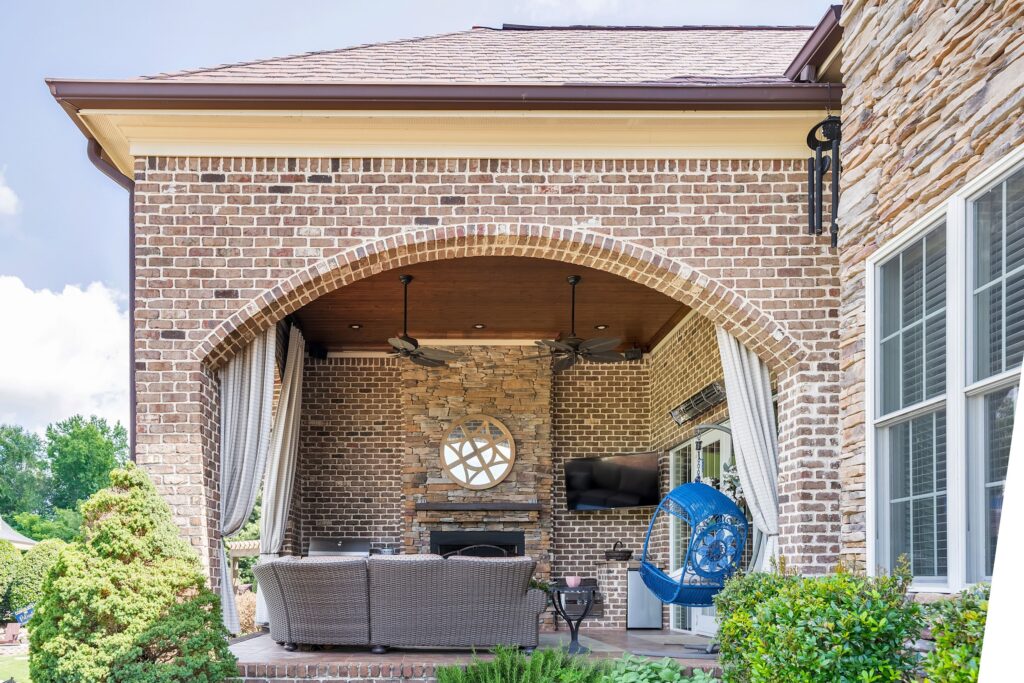 2. Experience-based spaces
Creating the ideal outdoor living space involves more than using conversational patio arrangements. It also consists of designing the space to focus on how you live and plan to use the area. When you're designing your backyard or patio, think about all the experiences you want to have there.
For example, if you love a morning mimosa or afternoon aperitif, you might include an outdoor bar to entertain your guests and make open-air relaxation a breeze. Or, if your family spends Saturday afternoons cheering on your favorite football team, you can set up the perfect area to watch the game while still enjoying the mountain views.
By considering how you want to enjoy your outdoor space when designing your backyard, porch, or patio, you'll create a place you will never want to leave! Learn more about how to create the perfect staycation location.
Photo: Sunbrella.com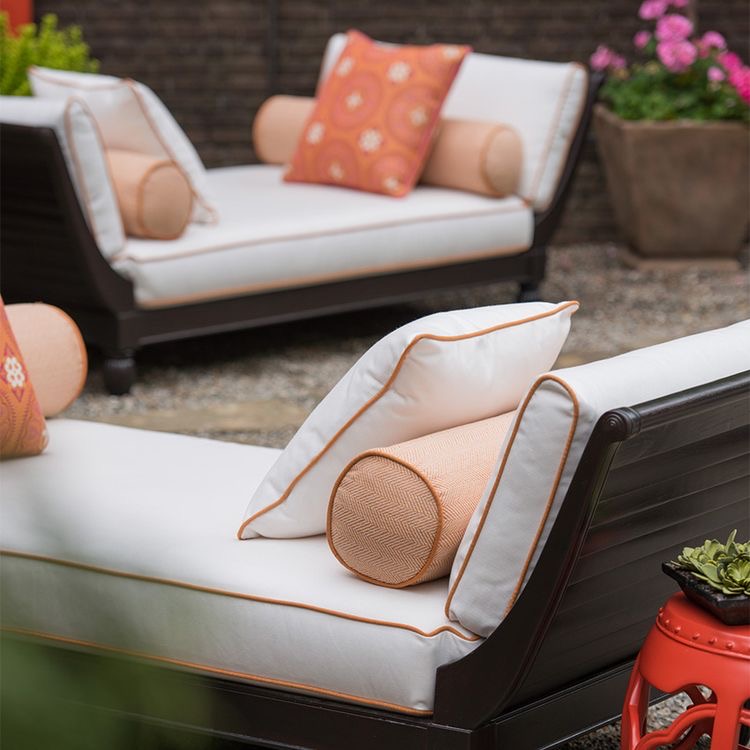 3. Outdoor cushions with contrast piping
One of our favorite ways to make a bold statement this year is by adding contrast piping to outdoor cushions or pillows. Contrast piping lets you sneak in another color to your outdoor decor for a fun, dimensional look.
It's the perfect detail for any style and is equally strong in neutrals or by mixing and matching vibrant colors:
Add black piping to a white cushion for a new and contemporary personality.
For a grounded yet modern style, add neutral piping to a brightly colored cushion. For example, you can add deep charcoal piping to a bright yellow cushion.
If you prefer a subtle aesthetic with a little dimension, choose contrasting piping in a shade that's a slightly darker shade than the upholstery.
Not only does contrast piping create a dimensional look, but it can also help you build a cohesive and unified style – use piping that matches your drapery or by edging several pieces of furniture with the same color.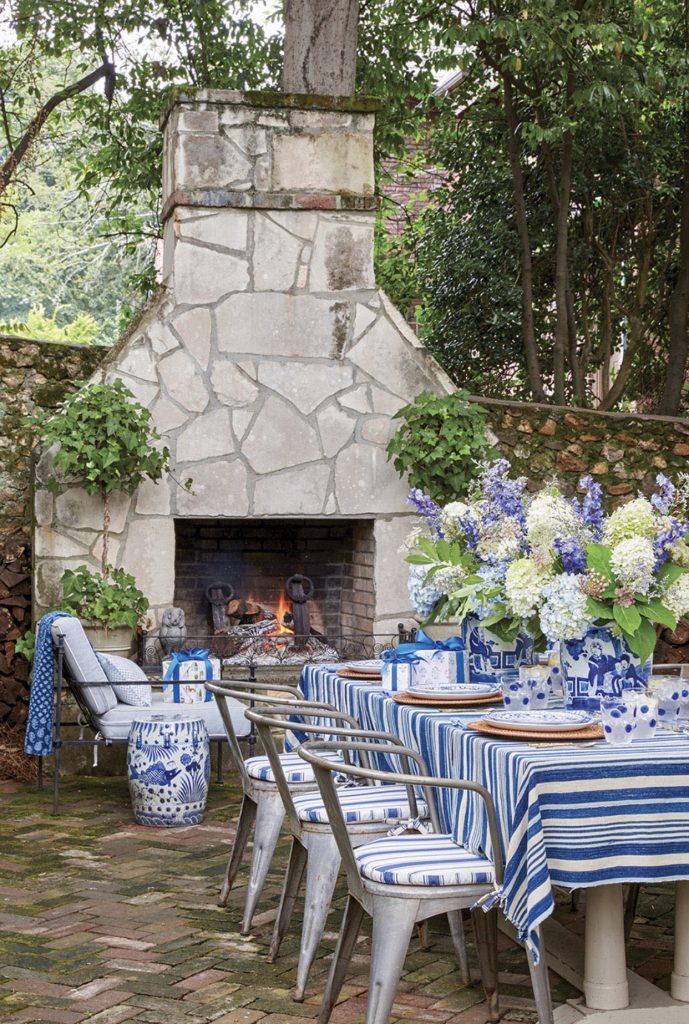 4. Garden stools and drink drop tables
Over the past several years, you've probably spotted a Chinese garden stool or two on HGTV or in your favorite interior design magazine. And, for a good reason. Garden stools and drink drop tables look great and allow you to easily insert color into your space.
They also provide a lot of versatility. You can use them as a place to put your drink without worrying about it being knocked over or even for some quick seating.
5. Upholstered ottomans
Like garden stools, upholstered ottomans are extremely versatile. They can provide comfortable seating or, by adding a tray, allow you to serve charcuterie and drinks.
By choosing fabric that complements your furniture, cushions, and window coverings, an upholstered ottoman also allows you to mix and match styles.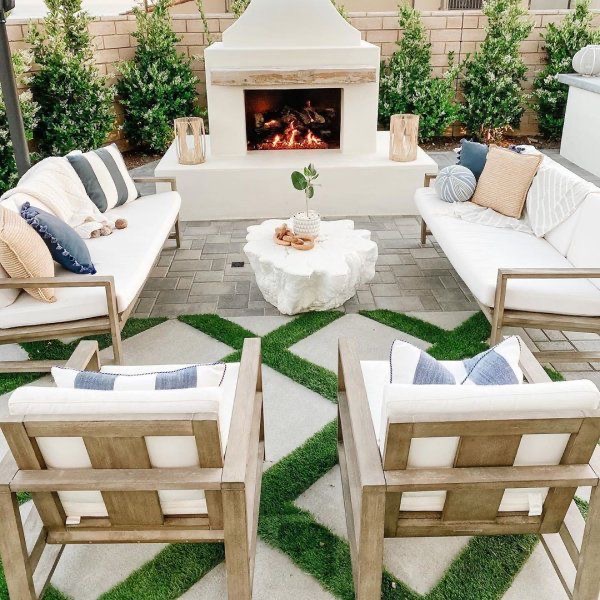 6. Flange edge outdoor pillows
Flange edge outdoor pillows allow you to have a larger looking pillow for an elegant and classic style.
A flange edge is a decorative accent added along all four sides of your throw pillow. It consists of fabric that has a seam allowance of half an inch to three inches beyond the dimensions of your pillow.
You can even use two coordinating fabrics for the flange to create a more dimensional look. If you prefer a more tailored style, consider using a flange edge with a mitered corner, where the two pieces of fabric meet on an angle.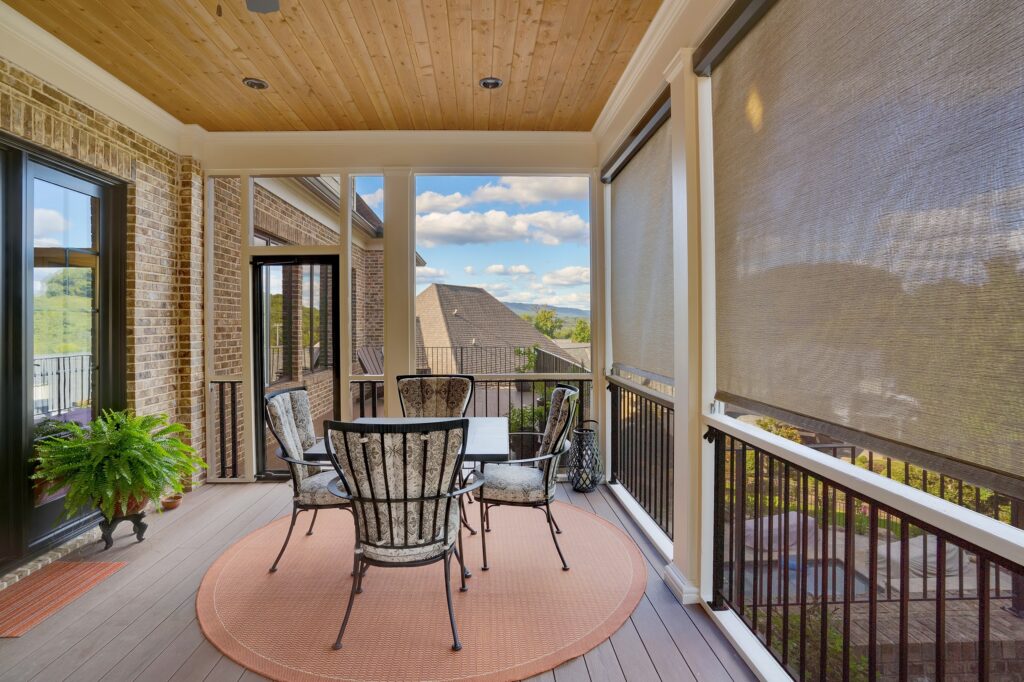 7. Motorized solar screens
If you want to reduce sun glare and prevent TV glare, consider adding motorized solar screens to your outdoor living space.
One of our clients' favorite things about motorized treatments is that they can be programmed to open or close throughout the day. You'll only need to set them once. Then, sit back and relax as they adjust themselves when the sun rises or sets. Our programmable treatments make manual adjustments a thing of the past!
Our expert installation crews are ready to install motorized window shades in your Chattanooga, TN area home. Want to start adjusting your window shades at the touch of the button? Request a quote today!