4 of Our Favorite Southern Dining Room Projects
May 16, 2022
A dining room is an area designed for gathering and celebrating with friends and family. So you want your dining room to feel welcoming yet elegant and composed. Window treatments can play a huge role in achieving the look you wish to create. They can help richen the space's overall aesthetic by adding dramatic flair as a striking addition to your decor scheme.
The design team here at High Country Drapery Designs is often asked what type of window covering is best for dining rooms. We're always thrilled to create the perfect look that meets the various requirements you may need from your window treatments. You may need your window coverings to reduce sun glare and make meals more comfortable. Or, you may want them to add privacy, making your dining room feel cozier and more intimate. When done well, window treatments can also give you more control over your lighting, allowing you to adjust the ambiance of your dining room with ease.
To give you some inspiration for your dining room, we're sharing just a few of our favorite dining room projects so far. We hope you're delighted by our work, and our team would be honored to design window coverings for your southern home.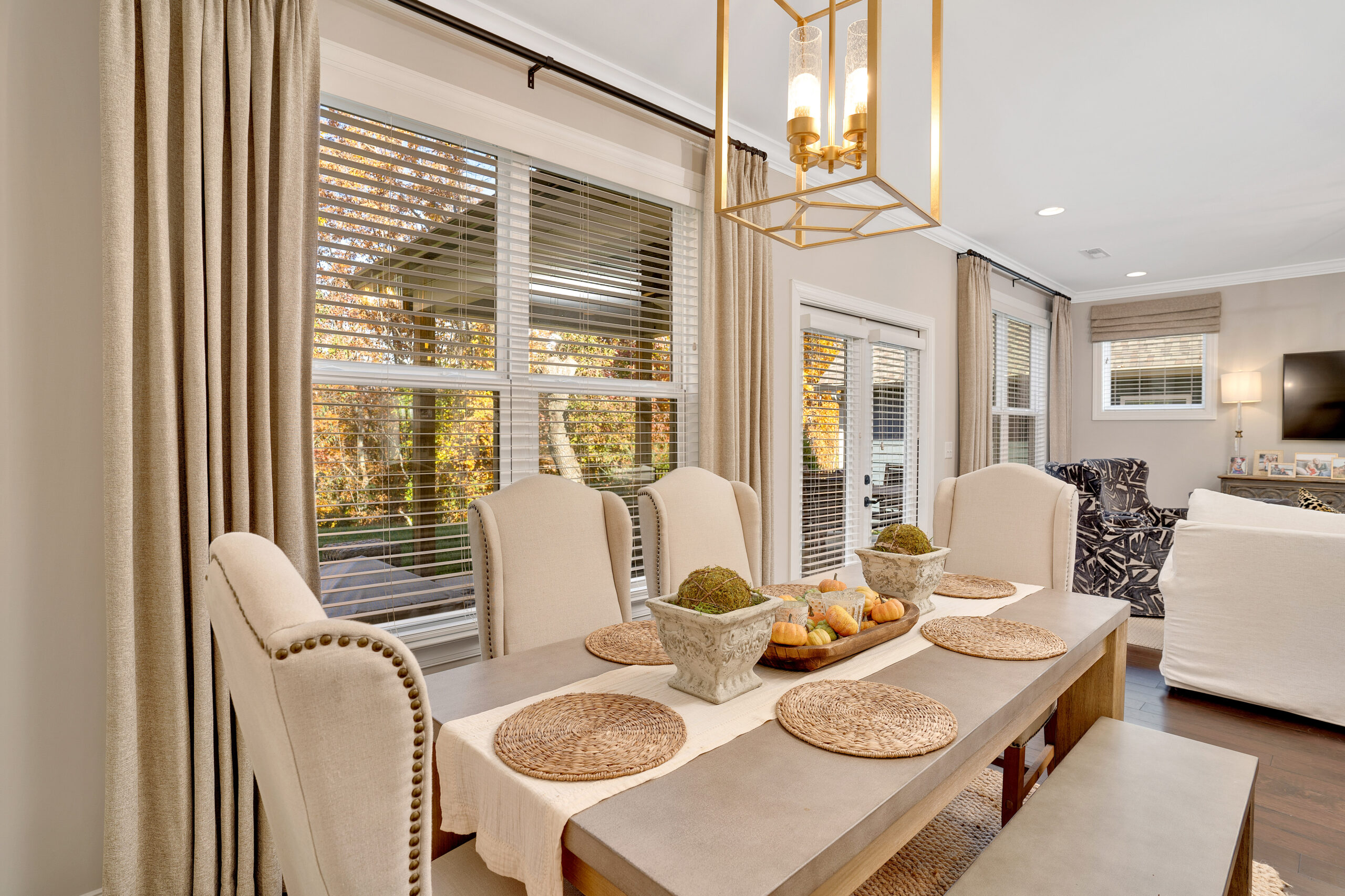 North Chattanooga Drapery Living Room & Dining Room
The owner of this beautiful North Chattanooga home loved her red sofas. She wanted the High Country Drapery Designs team to update her draperies to update the look of her house without reupholstering or replacing her sofas. Using fabric from Jaclyn Smith Home, we created draperies for her living room that embraced the bold sofas. Although not an open floor plan, you can see the dining room from the living room. Because of that, we continued the same drapery into the dining room to create a cohesive look between the two spaces. Although we do not offer full-concept interior design services, we consider your entire home when designing your window coverings to ensure they match your style and give your space a sense of continuity.
See more of this North Chattanooga home here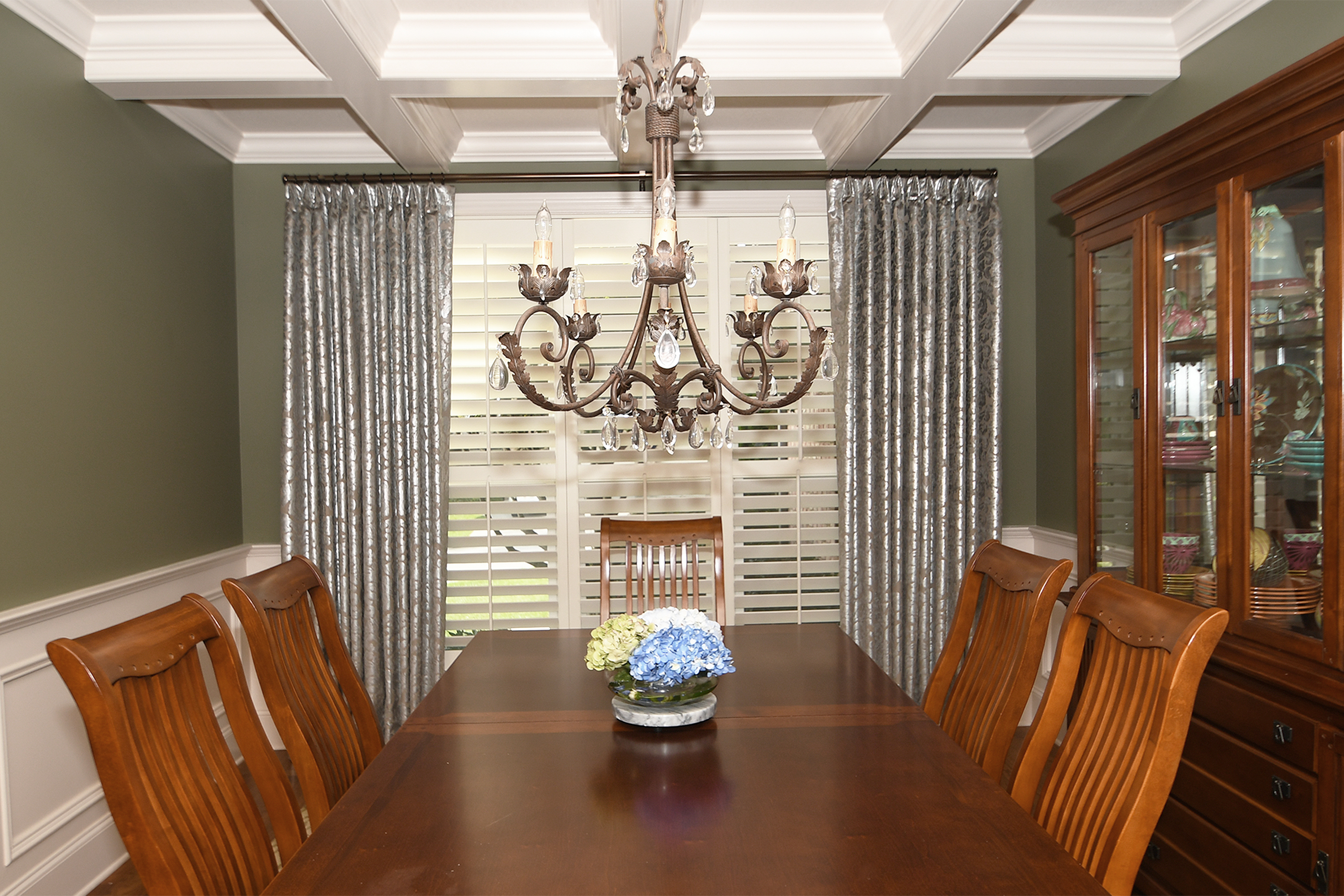 Dining Room Drapery Reveal
We absolutely love how this dining room drapery project in Ooltewah, Tennessee turned out. The homeowner was referred to us by a real estate agent friend. Our client wanted her window treatments to be updated to something more on-trend. Our principal designer, Jill Ballew, recommended cool tones for the drapery fabric to balance out the warmth of the wood present in the room. Although the material's background is neutral, it includes a metallic pattern. This marries the cool and warm tones present in the room and updated the space's overall look. Jill matched the rod with the finish of the light fixture for continuity.
The homeowner had installed white interior shutters in an upstairs bedroom facing the street. Since the dining room also faces the street, Jill recommended installing matching interior shutters for added curb appeal. Southern style is all about layering, so installing both draperies and shutters richened the space and added more style.
View more of this elegant dining room here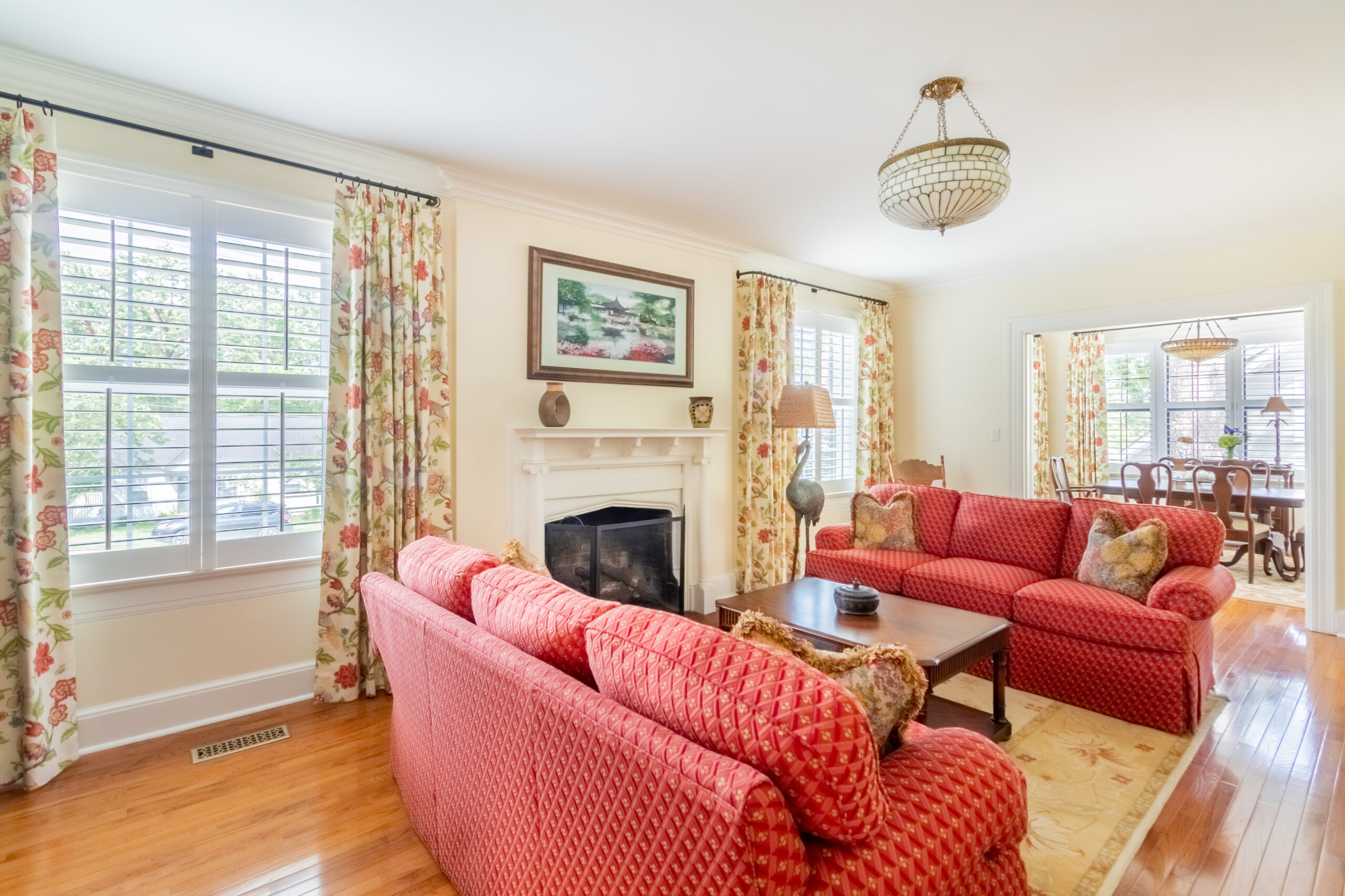 Soft Window Treatments for a Gorgeous Open Floor Plan in Red Bank, TN
This client asked us to design window coverings throughout her Red Bank home. We were honored to be able to create window treatments for her guest bedrooms, primary bedroom, office, living room, and dining room. The home already had blinds installed, so privacy and light control were not a concern. Because of that, we designed stationary drapery panels for her living and dining rooms, which are part of an open floor plan.
With an open floor plan, you can take advantage of the natural light and fewer walls to create the appearance of a more spacious area. But it can be tricky to find the right type of window coverings to create a cohesive look among the various living spaces. In this home, the living and dining rooms have distinct aesthetics. We designed the same drapery panels for both areas to create a unified look without compromising those differences. We used Carole Fabrics Malvern in "Dune," a subtle, neutral pattern. The pattern adds visual interest, particularly in the dining room, but does not overpower the patterns included in the living room design.
Enjoy more of this gorgeous Red Bank home here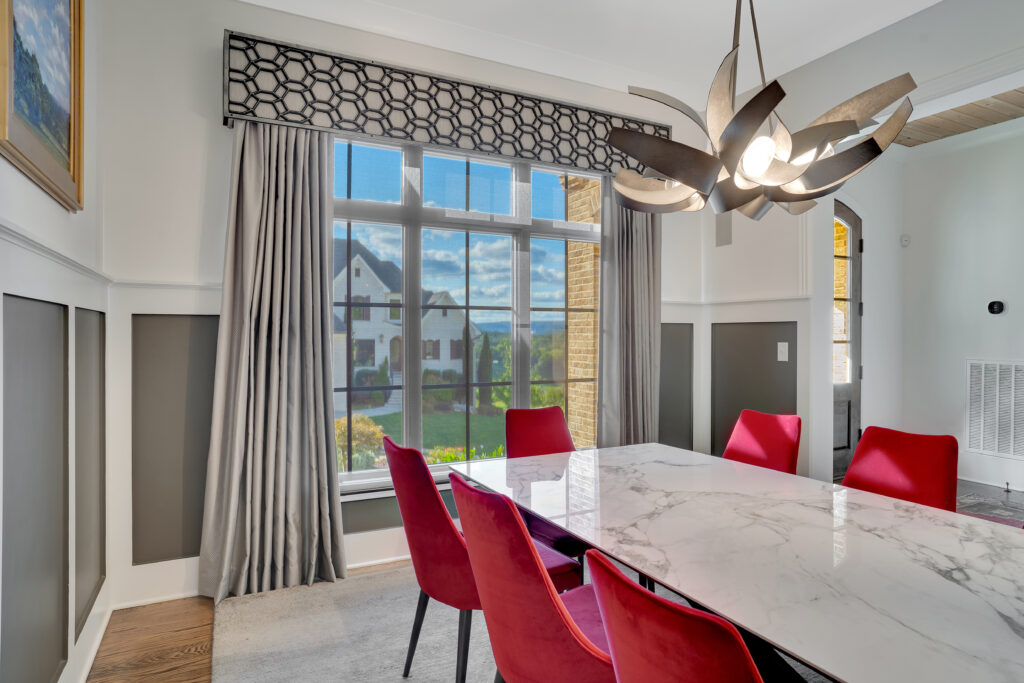 Adding Dimension to Layered Window Coverings with Tableaux in a Chattanooga Home
We had so much fun working on this home because it allowed us to create one-of-a-kind window coverings to match the homeowners' unique design style. Our clients have two different styles that meet on the platform of arts-and-crafts with a lot of midcentury modern flair. We married those two styles and blended the homeowners' affinity for high-tech with their love of textiles by creating a layered look in their dining room. We love layering window treatments because it allows us to mix and match styles and fabrics to create a look tailored to each home.
The dining room in this home occasionally receives some sun glare, making meals uncomfortable. To overcome this, we installed a motorized screen shade. We then added a layer of drapery to soften the look. But we also wanted to hide the battery pack that powered the screen shade, so we designed a cornice. Finally, we installed a Tableaux Decorative Grille over the cornice to add more depth. We drew inspiration for the Tableaux from our clients' glass kitchen cabinets, tying the whole look together.
See more of this midcentury modern home here
We hope you drew inspiration from these dining room projects, which are but a small selection of our work. Whether you seek to add style or reduce sun glare, we can create window treatments that meet all your needs and embrace your desired aesthetic. We proudly serve communities throughout the southeast, including Chattanooga, Nashville, Atlanta, Knoxville, and more. Request a complimentary design consultation today to get started on your next project!