Is Acrylic Drapery Hardware Right for Your Next Project?
Aug 22, 2022
Drapery hardware is like jewelry for your window coverings. It completes any look and can affect the style of your drapery design. When selecting hardware, you have several materials to consider, including wood, metal, and acrylic.
Acrylic is a versatile, transparent plastic material. When it comes to drapery hardware and home furnishings, you may also hear it referred to as lucite. Technically speaking, lucite is the brand name for the acrylic product developed by DuPont in the late 1930s. But, the term is now used to describe the highest quality, best version of acrylic available on the market. Lucite is lightweight, strong, and flexible enough to mold into interesting shapes, making it the perfect choice for drapery rods.
Acrylic is one of the hottest trends in drapery hardware right now because it's beautiful, modern, and elegant. But it's not right for every project. Keep reading to find out if lucite drapery rods are suitable for your next window treatment project.O
Pros of using lucite drapery hardware
There are plenty of reasons to incorporate acrylic drapery rods into your next design project. Let's look at just a few of those reasons now.
Acrylic hardware is versatile
Because of its flexibility, lucite drapery rods and finials are available in a variety of shapes to match any design. Then, you can choose from various finishes for the brackets to complement the look. It's common to pair acrylic rods with brass brackets and rings, but you can achieve a completely clear look by choosing lucite rings and brackets.
Read also: What is Drapery Hardware?
Lucite drapery rods can elevate a room's look
Acrylic drapery hardware can help you take your already exquisite design to the next level. You can pair lucite drapery rods with metal fittings (like finials, rings, and brackets) to create a chic and glam look that's perfect for updated, high-end spaces.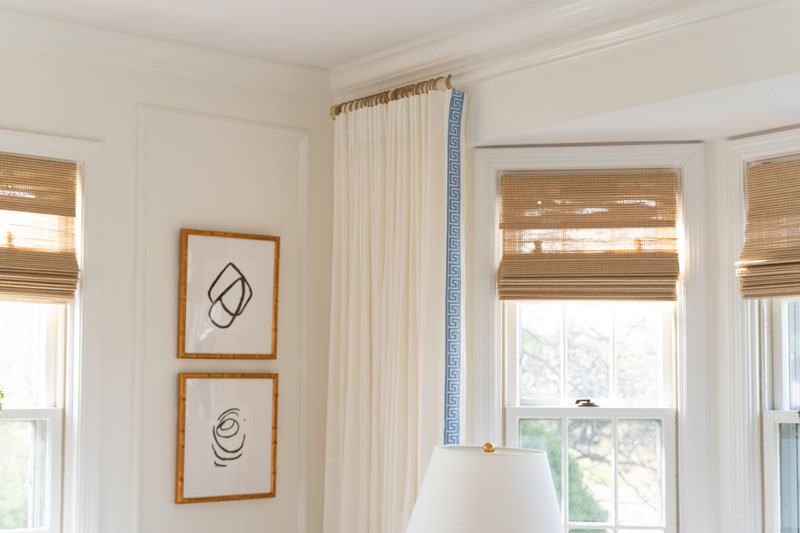 They complement bold fabrics or wallpaper
If you have selected bold, patterned fabric or wallpaper for your design, the drapery hardware needs to offer an understated beauty that will not detract from your other design choices. Acrylic drapery rods are the perfect choice because they will not visually block the room, letting your other design choices take center stage.
Acrylic drapery rods provide an airy look and feel
Although lucite may not be quite as clear and transparent as glass, it will still offer a similar look and feel in your interior design. Like glass, acrylic drapery rods will help a room look and feel light and airy. It can even help the space feel larger because the eye will not stop at the drapery rod but will continue all the way up to the ceiling.
Lucite drapery hardware provides a modern, sleek look
If you're designing a modern space with attention-grabbing artwork, acrylic hardware offers clean lines that will perfectly complement the overall look.
It's durable
Acrylic provides a similar look to glass but is not nearly as fragile. The glass shards could be very dangerous if a glass drapery rod or finial falls. Acrylic is much sturdier and less likely to break if, for some reason, the drapery rod falls.
Acrylic is easy to clean
Lucite drapery rods can be wiped down with a cleaning solution designed for plastic and a soft cotton microfiber cloth.
Cons of using acrylic drapery hardware
As we mentioned earlier, lucite drapery rods are not right for every drapery project. Let's look at a few of the disadvantages of this type of hardware so you can make an informed decision.
Lucite drapery rods don't support as much weight as wood or metal rods
Because acrylic drapery rods don't hold nearly as much weight as their wood or metal counterparts, they typically work best with stationary drapery panels. The weight of operable panels can cause the hardware to bow without enough bracket support. And using those additional brackets may disrupt the look you're trying to achieve.
If you want to embrace the lucite trend but need something more functional, choose acrylic details like finials and holdbacks. Then, use a different material for the rod itself.
Read also: Drapery 101: Everything You Need to Know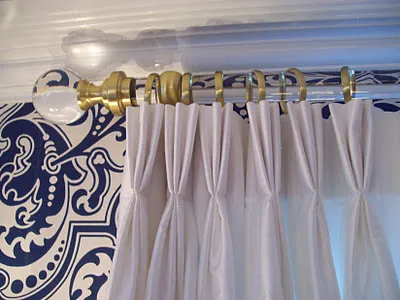 They tend to be heavy
Acrylic drapery rods often need additional brackets just to support the weight of the rod itself. Without enough brackets, the rod may sag in the middle.
Acrylic scratches easily
You might want to avoid lucite drapery rods for functional draperies not only because of the weight but also because acrylic tends to scratch fairly easily. If your clients will be opening and closing their drapery panels frequently, the rings can scratch the rod and mar the surface.
Do you want to incorporate acrylic in your next window covering project?
If you love the look of lucite drapery rods but cannot use them on your project, we can help you embrace the trend in other ways. We can help you select the perfect acrylic finials or holdbacks to achieve the look you want while selecting a drapery rod that will support the drapery panels. Contact the High Country Drapery Designs team today to get started on your next project!