Chattanooga Spotlight: Business Owner Jamey Elrod
May 16, 2022
We are excited to introduce you to our client, Jamey Elrod. We met Jamey through a local interior designer, Cassie Courtney at Feather Lane Design Co. Cassie designed Jamey's bedroom and looped us in to create the drapery.
We started our spotlight series to highlight women-owned businesses within the Chattanooga area & Jamey is our first tech business owner. Jamey co-founded the company "Text Request" and serves as the Chief Customer Officer.
We hope that you enjoy our interview with her below!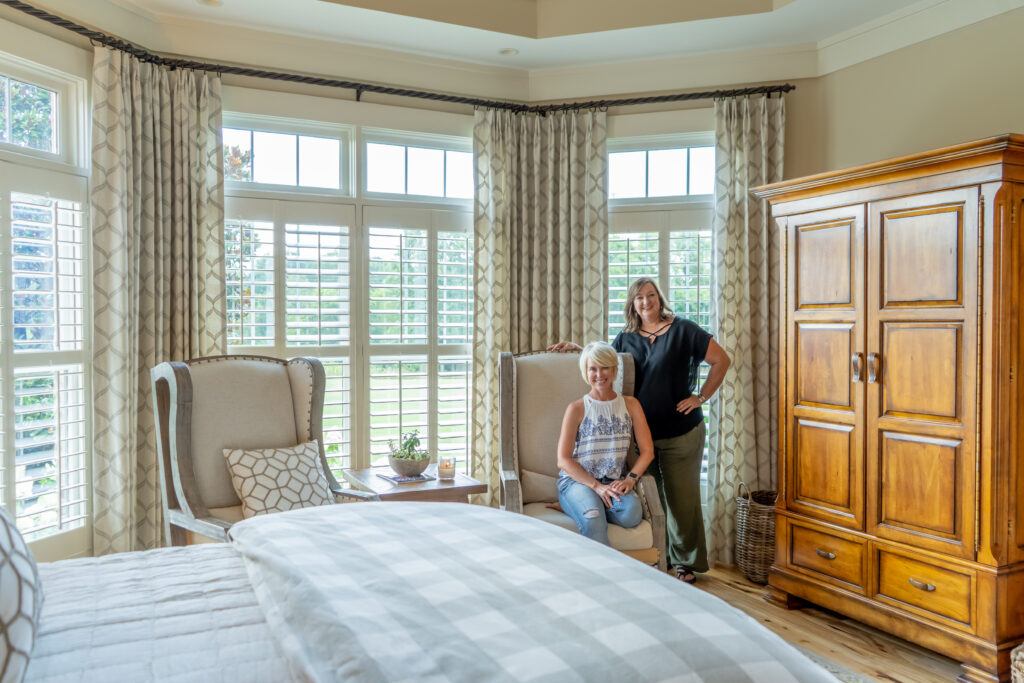 How did you get started in your industry?
It started with a problem. Brian (my husband and business partner) and I were eating out with our 2-year-old. He was having a "toddler moment," and we wanted to bag our food and go, but we couldn't get our server's attention. I turned to Brian and said "Why can't you just text them?" We've always been entrepreneurially minded, so when we got back to the car we looked at each other and said, "You know, that's not a bad idea."
At the time there was no way for a business to have text conversations with customers. This seemed like a huge problem, because everyone was texting and no one was answering calls. The more we dug into it, the more we realized how big this problem was and how much it was hurting businesses not to be able to communicate effectively.
We had someone build a mobile app for us first, but it didn't meet our standards or our vision. Then we were introduced to our tech partner and third founder, Rob Reagan, who was a software consultant before joining us. We hit it off and built an online software as a service (SaaS) tool for Text Request, so that businesses could text from a computer or any other device. We've evolved since then, but the problem is the same problem: Customers don't want to call or email, and these broken communications cost businesses revenue. You've got to text if you want to reach your customers, and we give businesses a way to manage texting professionally as a team.
What is your speciality & who do you serve?
We focus primarily on conversational text messaging for small businesses, but we work with thousands of organizations of all sizes who represent about 100 industries across the U.S. and Canada.
What is your favorite part of your job?
Working with our amazing team at Text Request and helping our customers achieve their communication goals.
How do you distinguish yourself from others in your industry?
There are many features and departments within Text Request that distinguish us from our competitors. However, our Customer Success team certainly sets us apart from others in our industry — our goal is to make sure customers thrive, have great experiences, and improve their businesses because of us. The time and attention and care we give makes us stand out from others who are either too focused on "process" or won't give customers attention unless they spend a certain amount. Every customer is a part of our family, and we treat them that way. You can see it in our Google reviews, too. There are 100 5-star reviews that all talk about how much they appreciate the support and service.
What is one thing that most people enjoy finding out about you?
This one makes me chuckle a bit because it's hard to just name one, but I'm a tomboy at heart. I don't really like dressing up or fixing my hair. I remember my mom used to send me to school all dressed up with hair in pig-tails and bows. As soon as I got on the school bus, those cute, little hair-bows were gone! I love high-school and college football, baseball—almost any sport!
What's the best business advice that you've ever received?
In today's world, we all want instant gratification, me included. Brian, my husband and business partner, needs to remind me occasionally that 'Success never comes overnight."
What is your favorite drink?
I can't just mention one because they are all equally my favorite. I love coffee, and water with fresh fruit. I hate to admit it, but I do love a really cold Diet Dr. Pepper (caffeine free of course). I also have a drink I love to treat myself with at the end of the week. I squeeze equal parts of a lemon and orange with one small lime. Sometimes I'll add muddled blueberries or strawberries when I'm feeling the need for extra fruit. Then, add simple syrup, egg white, and bourbon. Shake well with ice, pour, sit on back porch and enjoy. AHHH!
Want to read more in our Chattanooga Spotlight series? Check out our interviews with realtor & designer Rachel Bettis and realtor Linda Brock.