What is a Zebra Shade ?
Jan 19, 2023
Zebra shades are a modern roller blind alternative to horizontal blinds. Consisting of alternating horizontal opaque and sheer fabric stripes, these blinds transition from day to night easily. By adjusting the stripes, you're in control of how much light and privacy your room receives. Simply overlap the opaque stripes to be able to see through the sheer stripes and allow light to filter in. When you're in need of more privacy or room darkening, adjust your blinds to allow the opaque stripes to be spaced out. Zebra shades are an interesting modern window treatment that adds a unique style to any room.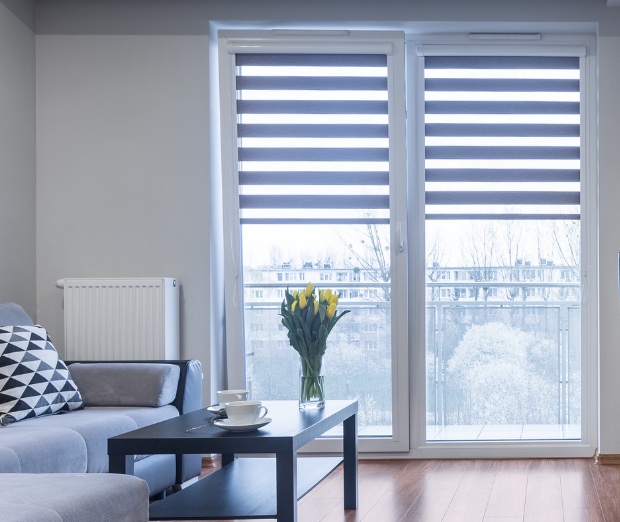 How Do Zebra Shades Work?
Zebra shades are one continuous loop of fabric that rolls through the bottom bar. When adjusting the shades by cord or motor, the alternating horizontal stripes roll to overlap. If you're looking for light control, adjust your shades so that the opaque stripes overlap to allow light to filter through the sheer stripes. For more privacy or room darkening, spread out the opaque stripes. Roll the shades all the way to the top of your window to have the maximum light and view. These alternating stripes give you control in terms of how much light and privacy you need in your space. Zebra shades can transition from light to dark in seconds.
5 Reasons why Zebra Shades are Popular:
Privacy and Light Filtering
Zebra blinds offer both light filtering and privacy protection in one roller shade. You simply adjust the shade for the light/privacy needs you have at that time. The sheer stripes provide light filtering, glare reduction, and UV protection. When the opaque stripes are overlapping, your blinds will allow for light to filter through, giving your space the brightness it needs. The light filtering stripes also allow you to see outside. The opaque stripes provide privacy and room darkening. When the opaque stripes are spaced out, your blinds will become unable to see through and will make your space darker.
Transition Into Blackout When Needed
Because Zebra shades alternate between opaque and sheer horizontal stripes, it's easy to transition from light to dark in an instant. Zebra shades can be blackout when you need room darkness or privacy, but can allow light to pass through when you make a simple adjustment to the shades.
Versatility
Zebra shades offer a number of options. Not only can you customize your blinds to have the fabric and color choice for your style, these blinds can be installed in any room. From contemporary to traditional, these modern window treatments can fit into any home style and match any color scheme.
Energy Efficiency
Zebra shades can help to lower utility costs. Zebra shades help keep the temperature outside from coming into your home through your windows. Because of the double layer of fabric, Zebra shades can offer greater insulation over other window treatment options.
Zebra Blinds Can Be Motorized
Adding motorization makes adjusting your window treatments even easier. When integrated with your Smart Home system, you can simply press a button and your blinds will raise or lower. You can even set schedules for your blinds to be raised or lowered. Pair your smart hub with your Amazon Alexa or Google Assistant to use voice commands to adjust your window treatments. In addition to convenience, motorized shades also provide additional safety because no cords, wands or pulls are required. For homes with children or pets, this is an added benefit.
Located in the Southeast?
With over 25 years of experience, High Country Drapery Designs is your trusted custom window treatment company in Chattanooga and Knoxville Tennessee and in the Greenville South Carolina area. Contact us today to learn more. Our designers would be delighted to help you.